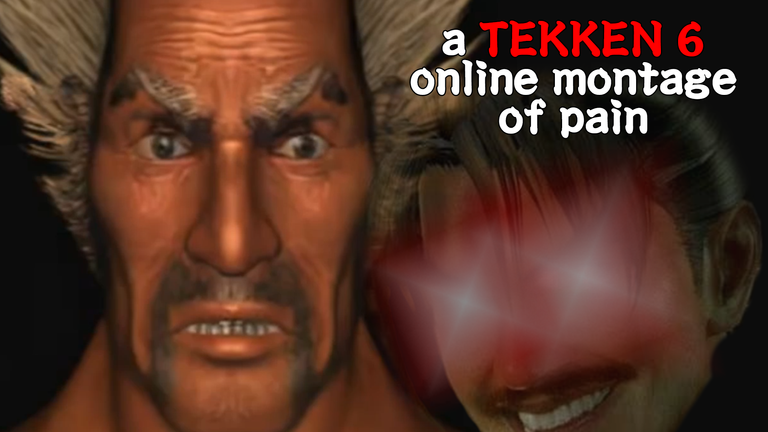 ---

---
This was an experience in many ways. Playing Tekken online with someone else after a good while, getting to put up a fight ocasionally and then failing miserably to keep up, figuring out ideas to edit this on a meme montage and working on that after 5 days straight, getting to finally see the result of my work here...and then have no idea how to get the thing to spread on the internet. I've posted it on some places but while 38 views (as of writing this post) is not something to scoff to when you're starting a brand new channel and video (since I uploaded it on a new channel separate from my original channel where I upload a lot of random stuff, wanting this one to focus on content like this), but having an idea about how to get more eyes on this is always the deadliest trap in wanting to make stuff on the internet.
...But oh well. I've shown it to my friends and they found it entertaining, and I know for sure that I made the best out of the 40 minutes of footage I played into a montage that sums up how that huge session went; specailly with how it has been the most ambitious I've been on video editing since long ago. Coming up with dumb ideas then thinking about how to put them in was definitely an excercise in creativity and editing.
As I probably have mentioned everywhere where I have tried sharing this, I was inspired by Masood and Arsenalty's videos where they also throw their fair share of Tekken moments edited with comedic timing and such, but I'm aware that I've both sizzled this WAY more with memes AND still is a cut below those videos with how it all comes from a single session on a single stage (because we constantly rematched over and over that night) as well as the practical structure. I still had some fun with the edits as well as how some stuff timed to music actually showed up by accident and I decided to run with it (but most of the time it was designed to be like that; specifically that one moment timed to "THERE WILL BE BLOODSHED" where I actually edited the music a bit to fit with the clip, and the whole moment of suffering while being door stuck).
Even though it does look stupid, some stuff is actually much harder to do than what you think, not being a matter of slapping a simple motion setting or a button to do certain movements, but having to adjust the movement of videos and pictures frame by frame so that they match up in VEGAS is actually no joke (that one bit with Heihachi's name being JOHN CENA and his smile being overlayed on his face? That took me 20 minutes to get right), and making the screen shaking effects in impacts involved adjusting those movements frame by frame at the start then easing them out gradually; I sometimes even ditched the motion crop feature for moving images around and instead split an image several times frame by frame then moved them depending of where I wanted them to be (Notably did that trick when overlaying the faces on that bit with Yoshi and Baby Bowser). And the less I say about working with layers over layers of several videos and audios on top of each other at once, the better; I think for that case a picture says more than 1000 words (that's actually 14 tracks total there).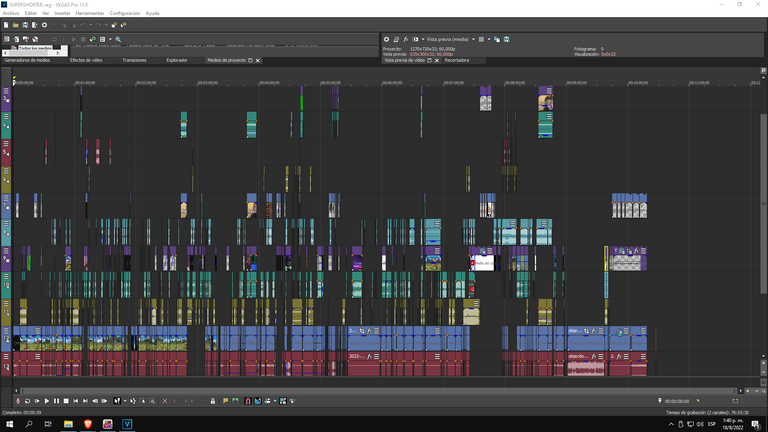 And on the note of the edits themselves, it all came around silly stuff that I remembered or that I had recently found: The "I'm not gonna sugarcoat it" moment is based off another Tekken meme video, the Heihachi throw that ends with "BIG IRON ON HIS HIP" originally was timed to another song but since I stumbled upon those Big Iron memes I threw that in there instead, I put in another Heihachi throw a layer of Darun's Super Brahma Bomb from Street Fighter EX2 Plus, there were some videogamedunkey voice clips (specifically from this video) thrown in there because I also found Dunkey's antics amusing, and the Door Stuck bit is something that I was already picturing on my head from having to cover it (because it was going to be all from a streak of endless defeats) with the One Winged Angel music; albeit I used a remix instead of the original version as I was thinking to do in first place. Some of the most notable stuff is the TerminalMontage clips (I LOVE TerminalMontage and the slap stuff was too good to pass up using here) and the Dross voice clips; while it might not be as obvious for English speakers, he's a very obvious meme to notice for any Spanish speakers (and I'd say that even for English speakers, those screams have become that iconic to be recognized).
The ending footage of F-Zero GX is actually something I had recorded for a different purpose, as I was playing that quite often and also wanted to dedicate a montage of the pain that beating Diamond Master in that game has been after finishing this one. And that's definitely going to come soon as that journey has finally, FINALLY come to close (but how that happened is something that you'll only find out when you'll see it). But for now, I can tell you that it was very fun to excercise this much creativity and dedication to something after a long while, and I'm proud of the result even if it might not be as good as what more known names like the ones I mentioned (as well as King of Skill and ZaWarudo, which do Smash montages instead of Tekken montages but also were my inspiration for this). If you're interested in getting to see how some few more days of work added to the video (if someone's even remotely interested on that), you can see an older WIP of it here which had a bit less of edits on the first half, and the second half was pretty much different as it used a different "The Only Thing I Know For Real" edit (a mashup with the FNAF theme instead of the Eurobeat remix) and wasn't as polished as the one here.
So yeah, this is the first time in a good while I actually make some work out of raw footage instead of uploading it directly to my channel as I usually did and actually finished a montage idea. Even if barely anyone ends up watching this, at least I know that I put out something creative that I liked to make, enjoyed the process, and that I'm looking forward to do more stuff like this on my own from what I like to play. And of course it will be something that people can stumble upon out of nowhere one day after weeks, months or even years; the algorithm can work like that sometimes (or someone deciding to sharing it with others), but that's something that only time will tell...and I ain't gonna be waiting any longer to do stuff on my own 😎
---
super bonus bonus - today's bonus image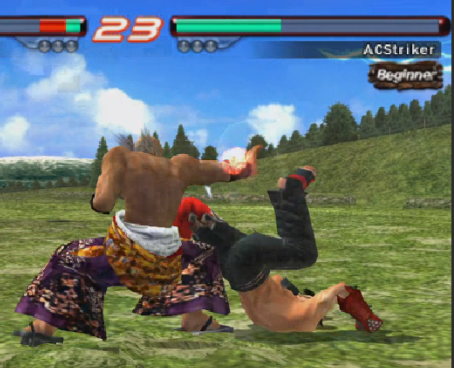 When you have to sometimes scroll through footage frame by frame to time sound effects properly, sometimes you can see the cracks on the game like this 🤠
---

---
Spanish translation with DeepL. All screenshots were captured by myself.
---
Español
---
Esto fue una experiencia en muchos sentidos. Jugar a Tekken online con otra persona después de un buen rato, conseguir dar guerra de vez en cuando y luego fracasar estrepitosamente en el intento de mantener el ritmo, idear ideas para editar esto en un montaje de memes y trabajar en ello después de 5 días seguidos, conseguir ver por fin el resultado de mi trabajo aquí... y luego no tener ni idea de cómo conseguir que la cosa se difunda en internet. Lo he colgado en algunos sitios, pero aunque 38 visitas (hasta el momento de escribir este post) no es algo para burlarse cuando estás empezando un canal y un vídeo completamente nuevos (ya que lo subí en un nuevo canal separado de mi canal original donde subo un montón de cosas al azar, queriendo que este se centre en contenido como este), pero tener una idea sobre cómo conseguir más ojos en esto es siempre la trampa más mortal al querer hacer cosas en internet.
...Pero bueno. Se lo he enseñado a mis amigos y les ha parecido entretenido, y tengo claro que he sacado lo mejor de los 40 minutos de metraje que he reproducido en un montaje que resume cómo fue esa enorme sesión; sobre todo porque ha sido la más ambiciosa que he hecho en edición de vídeo desde hace tiempo. El hecho de que se me ocurrieran ideas tontas y luego pensar en cómo ponerlas fue definitivamente un ejercicio de creatividad y edición.
Como probablemente he mencionado en todas partes donde he tratado de compartir esto, me inspiré en los videos de Masood y Arsenalty donde también lanzan su parte justa de momentos de Tekken editados con el tiempo cómico y tal, pero soy consciente de que he chisporroteado esto MUCHO más con memes Y todavía es un corte por debajo de esos videos con la forma en que todo viene de una sola sesión en un solo escenario (porque constantemente rematched una y otra vez esa noche), así como la estructura práctica. Aún así, me divertí con las ediciones y con el hecho de que algunas cosas sincronizadas con la música aparecieron por accidente y decidí seguirlas (pero la mayoría de las veces estaban diseñadas para ser así; en concreto, ese momento sincronizado con "THERE WILL BE BLOODSHED", en el que edité un poco la música para que encajara con el clip, y todo el momento de sufrimiento mientras la puerta estaba atascada).
Aunque parezca una tontería, hay cosas que son mucho más difíciles de hacer de lo que se piensa, no es cuestión de dar un golpe a un simple ajuste de movimiento o a un botón para hacer ciertos movimientos, sino que tener que ajustar el movimiento de los vídeos y las imágenes fotograma a fotograma para que coincidan en VEGAS no es ninguna broma (¿esa parte en la que el nombre de Heihachi es JOHN CENA y su sonrisa se superpone a su cara? Me llevó 20 minutos conseguirlo), y para hacer los efectos de vibración de la pantalla en los impactos tuve que ajustar los movimientos cuadro a cuadro al principio y luego reducirlos gradualmente; a veces incluso dejé de lado la función de recorte de movimiento para mover las imágenes y, en su lugar, dividí una imagen varias veces cuadro a cuadro y las moví en función de dónde quería que estuvieran (en particular, hice ese truco al superponer las caras en esa parte con Yoshi y Baby Bowser). Y cuanto menos diga de trabajar con capas sobre capas de varios vídeos y audios superpuestos a la vez, mejor; creo que para ese caso una imagen dice más que 1000 palabras (en realidad son 14 pistas en total ahí).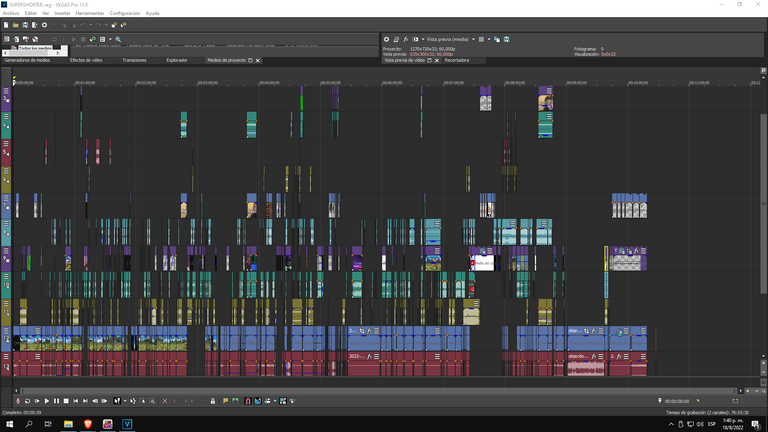 Y sobre la nota de las ediciones en sí, todo vino en torno a cosas tontas que recordaba o que había encontrado recientemente: El momento "No voy a endulzarlo" está basado en otro vídeo de memes de Tekken, el lanzamiento de Heihachi que termina con "BIG IRON ON HIS HIP" estaba originalmente sincronizado con otra canción pero desde que me topé con esos memes de Gran Hierro lo metí en su lugar, puse en otro lanzamiento de Heihachi una capa de la Super Brahma Bomb de Darun de Street Fighter EX2 Además, había algunos clips de voz de videogamedunkey (específicamente de [este vídeo](https://www. youtube.com/watch?v=yRiZ1MoAa5c)) lanzados allí porque también encontré divertidas las travesuras de Dunkey, y la parte de la Puerta Atascada es algo que ya me imaginaba en la cabeza por tener que cubrirla (porque iba a ser todo de una racha de derrotas interminables) con la música de One Winged Angel; aunque usé un remix en lugar de la versión original como pensaba hacer en primer lugar. Algunas de las cosas más notables son los clips de TerminalMontage (me encanta TerminalMontage y el material de las bofetadas era demasiado bueno como para dejar de usarlo aquí) y los clips de voz de Dross; aunque puede que no sea tan obvio para los angloparlantes, es un meme muy obvio de notar para cualquier hispanohablante (y diría que incluso para los angloparlantes, esos gritos se han vuelto tan icónicos como para ser reconocidos).
El video al final de F-Zero GX es, en realidad, algo que había grabado con un propósito diferente, ya que lo jugaba con bastante frecuencia y también quería dedicar un montaje del dolor que ha supuesto vencer a Diamond Master en ese juego después de terminar éste. Y eso definitivamente va a llegar pronto, ya que ese viaje por fin, POR FIN, ha llegado a su fin (pero cómo ha ocurrido es algo que sólo descubriréis cuando lo veáis). Pero por ahora, puedo deciros que ha sido muy divertido ejercer tanta creatividad y dedicación a algo después de mucho tiempo, y estoy orgulloso del resultado aunque no sea tan bueno como el de otros nombres más conocidos como los que he mencionado (así como King of Skill y ZaWarudo, que hacen montajes de Smash en lugar de Tekken pero también fueron mi inspiración para esto). Si estáis interesados en ver cómo algunos días más de trabajo se añadieron al vídeo (si alguien está remotamente interesado en ello), podéis ver un WIP más antiguo del mismo aquí que tenía un poco menos de ediciones en la primera mitad, y la segunda mitad era bastante diferente ya que usaba una edición diferente de "The Only Thing I Know For Real" (un mashup con el tema de FNAF en lugar del remix de Eurobeat) y no estaba tan pulido como el de aquí.
Así que sí, esta es la primera vez en un buen tiempo que realmente hago un trabajo a partir de material en bruto en lugar de subirlo directamente a mi canal como solía hacer y realmente terminé una idea de montaje. Aunque apenas nadie acabe viendo esto, al menos sé que he sacado algo creativo que me ha gustado hacer, que he disfrutado del proceso, y que tengo ganas de hacer más cosas así por mi cuenta de lo que me gusta jugar. Y por supuesto que será algo con lo que la gente pueda tropezar de la nada un día después de semanas, meses o incluso años; el algoritmo puede funcionar así a veces (o que alguien decida compartirlo con otros), pero eso es algo que sólo el tiempo dirá... y yo no voy a esperar más para hacer cosas por mi cuenta 😎
---
super bonus bonus - la imagen extra de hoy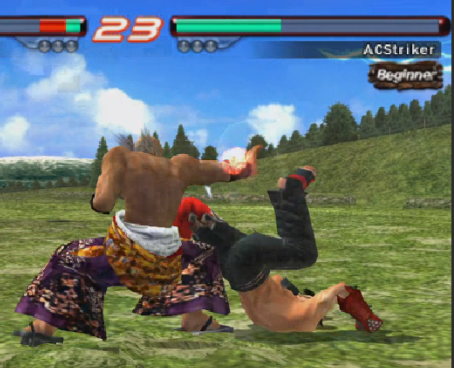 Cuando a veces hay que desplazarse por las secuencias fotograma a fotograma para cronometrar bien los efectos de sonido, a veces se ven las grietas del juego así 🤠

---
Traducción al español hecha con DeepL. Todas las fotos capturadas por mí.