Hola a todos los que estén leyendo esta publicación espero se encuentren bien. Hoy les voy hablar y comentar sobre un gran juego, sumamente divertido y a la vez desafiante con elementos de "Roguelike" y "bullet hell", Siendo este un Spin-off de "Enter the Gungeon". Se trata del nuevo título "Exit The Gungeon".
Hello to all who are reading this publication I hope you are well. Today I am going to talk and comment on a great game, extremely fun and at the same time challenging with elements of "Roguelike" and "bullet hell", this being a Spin-off of "Enter the Gungeon". It is the new title "Exit The Gungeon".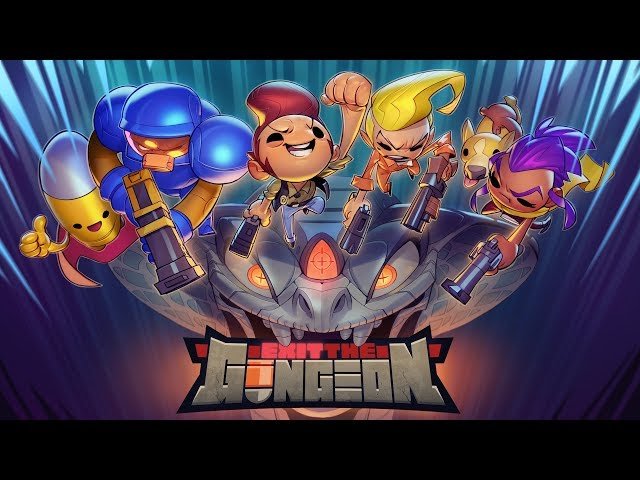 Source
Como les acabo de comentar "Exit The Gungeon" se trata de un Spin-off del famoso fuego "Indie" "Enter The Gungeon"de igual manera fue desarrollado por "Dodge Roll" y publicado por "Devolver Digital", su lanzamiento oficial fue el 17 de septiembre del 2019 en el Apple Arcade y fue publicado para Nintendo Switch, PS4 y PC el 17 de marzo del 2020. Fue una "secuela" muy esperada por todos los fanáticos del juego por más que se tratara de un Spin-off.
As I just told you "Exit The Gungeon" is a Spin-off of the famous fire "Indie" "Enter The Gungeon" was also developed by "Dodge Roll" and published by "Devolver Digital", its official release was on September 17, 2019 in the Apple Arcade and was released for Nintendo Switch, PS4, and PC on March 17, 2020. It was a "sequel" highly anticipated by all fans of the game, even if it was a Spin-off.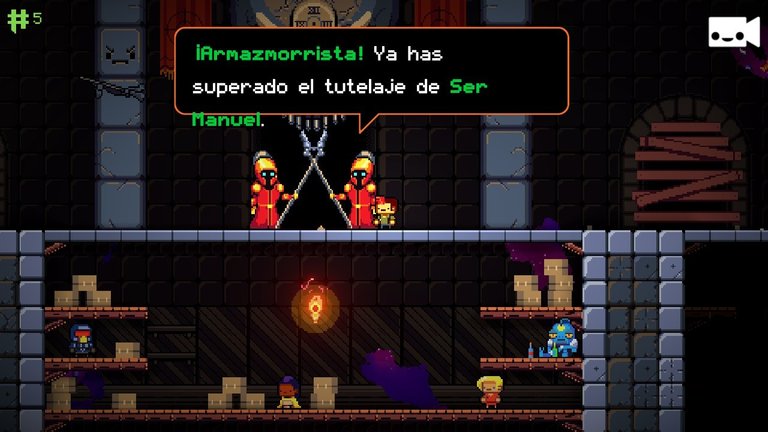 Source
A Igual que en "Enter The Gungeon" contaremos con los mismos personajes disponibles para jugar los famosos "Armazmorristas" y la gran mayoría de los "NPCs" del mismo modo con algunos nuevos que descubriremos en este juego. Como una variante en esta entrega nuestra misión será escapar de "La Armazmorra" que se está derrumbando por motivos extraños mediante el uso de una serie de ascensores para nuestra fuga de la misma.
As in "Enter The Gungeon" we will have the same characters available to play the famous "Gungeoneers " and the vast majority of "NPCs" in the same way with some new ones that we will discover in this game. As a variant in this installment our mission will be to escape from " The Gungeon " that is collapsing for strange reasons by using a series of elevators for our escape from it.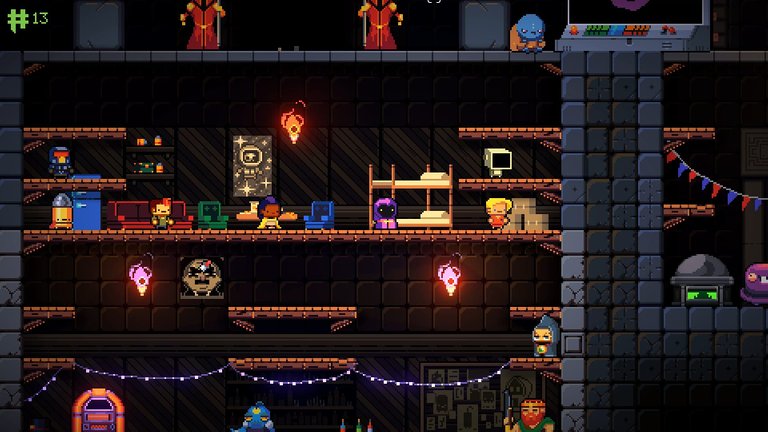 Source
Este juego tiene la vista de los famosos juegos Arcade de plataformas en 2D con desplazamiento lateral lo cual hace que sea un cambio bastante considerable a la entrega anterior. Y al ser de estilo "Roguelike" cada partida será una aventura diferente y sin continuidad a la anterior, la muerte significara dar por terminada esa partida y tendremos que empezar otra nueva sin nada de lo obtenido en la anterior. A medida que vayamos avanzando en la aventura y jugando partidas podremos ir desbloqueando a distintos "NPCs" que nos podrán ayudar en las siguientes partidas o darnos algún beneficio en la sala inicial donde escogemos el personaje.
This game has the view of the famous 2D side scrolling Arcade platform games which makes it quite a considerable change from the previous installment. And as it is in the "Roguelike" style, each game will be a different adventure and without continuity to the previous one, death will mean ending that game and we will have to start a new one without anything obtained in the previous one. As we progress in the adventure and playing games we can unlock different "NPCs" that can help us in the following games or give us some benefit in the initial room where we choose the character.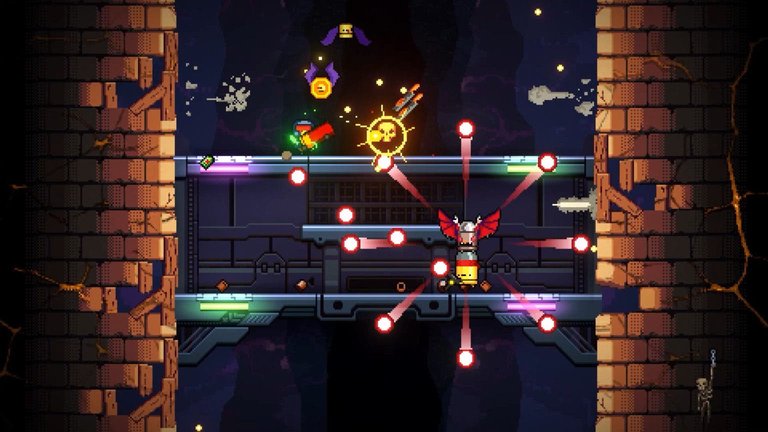 Source
Del mismo modo que "Enter The Gungeon" a lo largo de nuestra aventura iremos encontrando tiendas para mejorar nuestra capacidad ofensiva así como objetos que nos den benéficos, los cofres en esta entrega los encontraremos en salas de paso entre ascensores en las cuales también tendremos que derrotar enemigos para que nos otorguen el cofre. De igual manera a lo largo de los ascensores podrán aparecer mejoras temporales que se podría decir que son objetos pero que solo los tendremos por un tiempo limitado, llegando algunos de estos a ser muy beneficiosos y los aprovecharemos al máximo durante el tiempo que los tenemos.
In the same way that "Enter The Gungeon" throughout our adventure we will find stores to improve our offensive capacity as well as objects that give us benefits, the chests in this installment will be found in passage rooms between elevators in which we will also have to defeat enemies to give us the chest. In the same way, temporary improvements may appear along the elevators that could be said to be objects but that we will only have them for a limited time, some of these becoming very beneficial and we will make the most of them during the time we have them.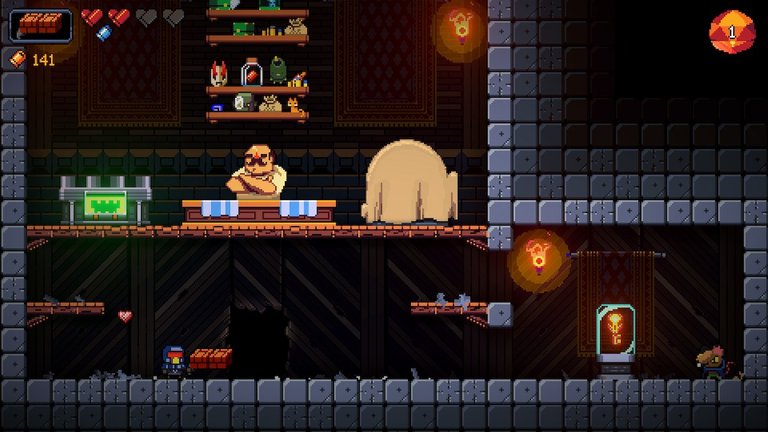 Source
Los enemigos que aparecerán en nuestra aventura son los mismos que en "Enter The Gungeon" aunque los jefes si representaran ser nuevos enemigos a descubrir en esta entrega y con mecánicas muy diferentes debido al estilo lateral y de movimiento que tendremos. Algo que será una gran dificultad para los jugadores novatos pero a las vez representa un desafío bastante interesante es el estilo de juego en 2D lateral ya que la forma de esquivar y movilizarse por los ascensores recuerda totalmente a los juegos Arcade de hace algunas décadas, lo cual nos trae mucha nostalgia a los que disfrutamos de todas esas entregas en esa época ya algo lejana.
The enemies that will appear in our adventure are the same as in "Enter The Gungeon" although the bosses do represent being new enemies to discover in this installment and with very different mechanics due to the lateral and movement style that we will have. Something that will be a great difficulty for novice players but at the same time represents a quite interesting challenge is the 2D lateral game style since the way of dodging and moving through the elevators is totally reminiscent of the Arcade games of a few decades ago. which brings us a lot of nostalgia to those of us who enjoyed all those installments at that time and somewhat distant.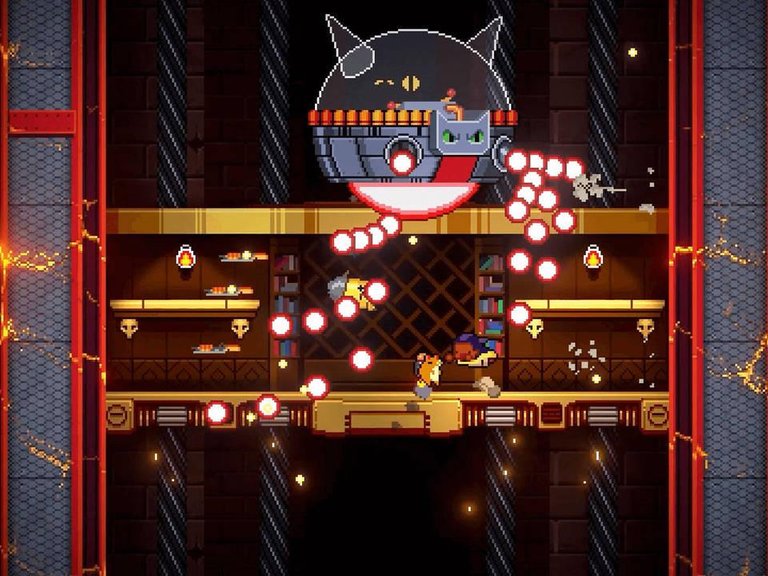 Source
Un punto muy importante en este juego y que termina por enfatizarlo más en el género Arcade es el hecho de que al momento de empezar la partida la diosa de este universo "Kaliber" nos dará su bendición que la misma se podría considerar más una maldición ya que consiste que nuestra arma cambiara aleatoria mente a cualquier otra que tengamos desbloqueada, esto causa que tengamos que estar muy pendiente al momento de percibir un brillo verdoso en el arma pues esto indica que el cambio esta próximo. Si no estás bien posicionado al momento del cambio o tienes la mala fortuna que te aparezca un arma no tan beneficiosa para tu situación actual eso puede desembocar en un impacto o hasta más por parte los proyectiles enemigos o el contacto físico con los mismos. Un ejemplo podría ser una situación en la cual estés rodeado de múltiples enemigos y te entreguen un arma de disparo muy lento y un daño no el suficiente para eliminarlos de un solo disparo.
A very important point in this game and that ends up emphasizing it more in the Arcade genre is the fact that at the start of the game the goddess of this universe "Kaliber" will give us her blessing that it could be considered more of a curse already which consists of our weapon changing randomly to any other that we have unlocked, this causes us to be very vigilant when perceiving a greenish glow on the weapon as this indicates that the change is near. If you are not well positioned at the time of the change or you have the misfortune that a weapon appears not so beneficial for your current situation, this can lead to an impact or even more from enemy projectiles or physical contact with them. An example could be a situation where you are surrounded by multiple enemies and they give you a very slow firing weapon and not enough damage to eliminate them in one shot.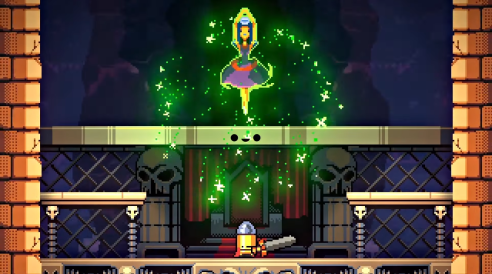 Source
Adicionalmente tendremos un contador de combo en la parte superior derecha que irá subiendo según el número de enemigos derrotados hasta llegar a un número máximo de 20 y desciende a cero si recibimos algún impacto, este tiene como función calcular la calidad de las armas de la rotación aleatoria tomando en cuenta que entre mayor sea el combo es más probable que el arma dada sea de un valor mayor.
Additionally, we will have a combo counter in the upper right that will go up according to the number of defeated enemies until reaching a maximum number of 20 and it goes down to zero if we receive any impact, this has the function of calculating the quality of the weapons in the rotation Random taking into account that the higher the combo, the more likely that the given weapon is of a higher value.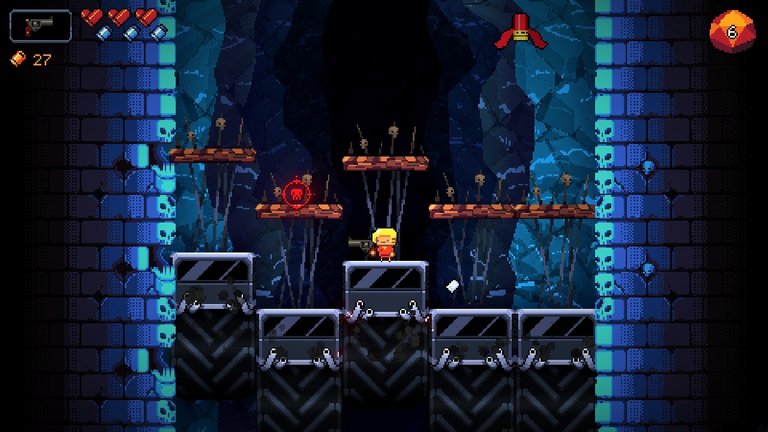 Source
Con todo lo anterior junto tenemos como resultado un juego muy entretenido y desafiante a la vez junto con un estilo de juego que tal vez ya no sea tan usado hoy en día pero aún muy complicado cuando empiezas a jugar, el hecho de cambiar a un estilo de plataformas en 2D le da un aire totalmente fresco y mantiene de igual forma la diversión y aprecio de sus fanáticos como la entrega anterior, sin duda un juego que vale la pena probar y así se te dificulte mucho al inicio sigue jugando partidas que tarde o temprano lo consigues superar.
With all of the above together we have as a result a very entertaining and challenging game at the same time together with a style of play that may not be so used today but is still very complicated when you start playing, the fact of changing to a style platform in 2D gives it a totally fresh air and maintains in the same way the fun and appreciation of its fans as the previous installment, without a doubt a game that is worth trying and thus it is very difficult for you at the beginning keep playing games that later or early you get over it.

Muchas Gracias por leer esta publicación espero estés muy bien y te haya gustado el contenido de la misma. Instagram: andryovalles_
Thank you very much for reading this publication. I hope you are very well and you liked the content of it. Instagram: andryovalles_
El separador de texto fue tomado de la siguiente publicación:
The text separator was taken from the following post:
https://www.tutorialesteemit.com/recomendaciones/separadores-de-texto-para-blog/