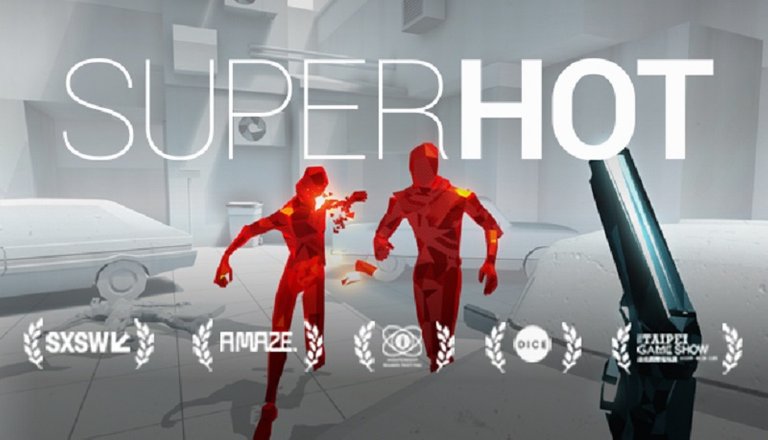 A los que creen haberlo visto todo en este género de los FPS, les traigo SuperHot para sacarlos de su error. Y es que este título viene a revitalizar este desgastado género, y a vestirlo con nuevos ropajes (muy minimalistas) que dejará con la boca abierta a más de uno.
SuperHot es un indie game creado por desarrolladores polacos (liderado por Piotr Iwanicki) para PC. Es el resultado de una muy productiva Game-Jam, donde el reto era crear un FPS en 7 días: y el resultado es esta maravilla de videojuego innovador que nació para marcar un hito en este género.

To those who believe they have seen everything in this genre of FPS, I bring SuperHot to get them out of their error. And it is that this title comes to revitalize this worn genre, and to dress it with new clothes (very minimalist) that will leave more than one person open-mouthed.
SuperHot is an indie game created by Polish developers (led by Piotr Iwanicki) for PC. It is the result of a very productive Game-Jam, where the challenge was to create an FPS in 7 days: and the result is this innovative video game wonder that was born to mark a milestone in this genre.
---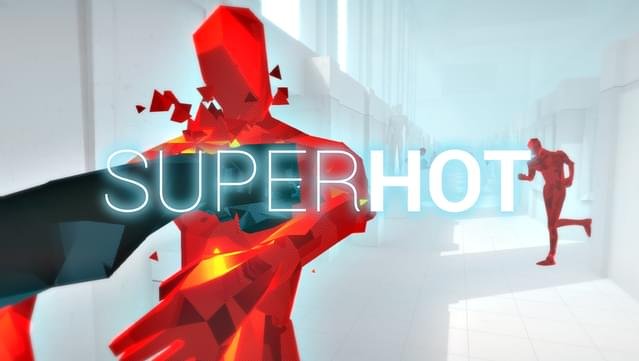 Source
HISTORIA
El apartado narrativo resulta tambien innovador: porque retrata la historia del juego mismo.
Un sujeto sin identificar enciende una vieja PC y recibe un mensaje de un amigo, dentro de un sistema operativo de línea de comando similar a DOS.
El mensaje le dice que hay un nuevo juego muy innovador que esta seguro podría interesarle. Al rato recibe el crack y un archivo nombrado superhot.exe se descarga en su PC. El jugador lo inicia y todo parece marchar bien; hasta que un fallo en el sistema le impide seguir jugando. Su amigo se entera de esta anomalía y le envía el crack actualizado.
Pronto el sujeto se dará cuenta de que SuperHot es más que un simple juego.
Al finalizar el juego nos quedamos con más preguntas que respuestas.
STORY
The narrative section is also innovative: because it portrays the story of the game itself.
An unidentified subject turns on an old PC and receives a message from a friend, inside a DOS-like command line operating system.
The message tells you that there is a very innovative new game that you are sure might interest you. After a while you receive the crack and a file named superhot.exe is downloaded to your PC. The player starts it and everything seems to be going well; until a system failure prevents you from continuing to play. Your friend finds out about this anomaly and sends you the updated crack.
Soon the subject will realize that SuperHot is more than just a game.
At the end of the game we are left with more questions than answers.
---

Source
GRÁFICOS
SuperHot presenta una estética minimalista (como se puede evidenciar en las imagenes presentadas).
Nuestros antagonistas se destacan sobre el fondo del entorno, pues presentan un color rojo y están diseñados, además, con poco poligonado.
El escenario, igualmente, posee una paleta de color única, con predominio del blanco y el gris; que evidencian efectos de post-proceso y sombreado: lo que destaca las texturas y profundidad del entorno.
GRAPHICS
SuperHot presents a minimalist aesthetic (as can be seen in the images presented).
Our antagonists stand out against the background of the environment, since they have a red color and are also designed with little polygon.
The stage also has a unique color palette, with a predominance of white and gray; that show post-process and shading effects: highlighting the textures and depth of the environment.
---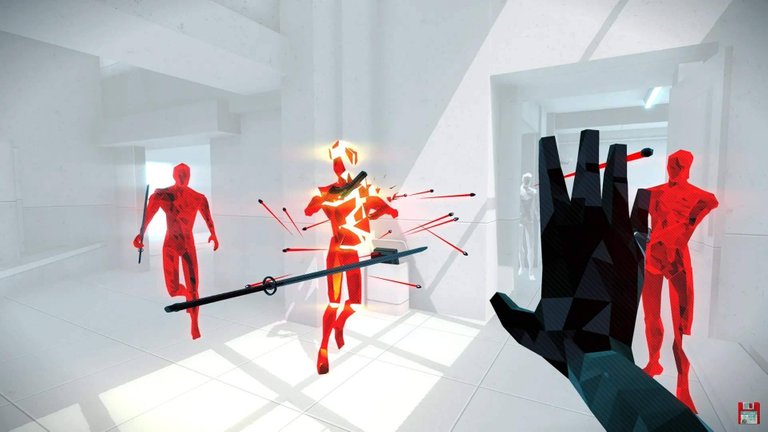 Source
MECÁNICA
El elemento más destacado de SuperHot es su gameplay: aquí el tiempo avanza solo cuando nos ponemos en movimiento ("time moves only when you move").
Esto nos hace sentir dentro de la película The Matrix y nos brinda una gran ventaja; porque si nos detenemos, el tiempo hará lo mismo, y esto nos permitirá ver con facilidad la trayectoria de los proyectiles a cierta distancia: lo que hará más fácil esquivarlos, obviamente.
Esta manera de manejar el tiempo nos da tiempo, además, para pensar en nuestro próximo movimiento; por lo que este es un juego en el que siempre estaremos tomando decisiones (creando un hiper-dinamismo que aumenta nuestros niveles de adrenalina).
MECHANICS
The most outstanding element of SuperHot is its gameplay: here time progresses only when we move ("time moves only when you move").
This makes us feel inside the movie The Matrix and gives us a great advantage; because if we stop, time will do the same, and this will allow us to easily see the trajectory of the projectiles at a certain distance: which will make it easier to avoid them, obviously.
This way of managing time also gives us time to think about our next movement; so this is a game in which we will always be making decisions (creating hyper-dynamism that increases our adrenaline levels).
---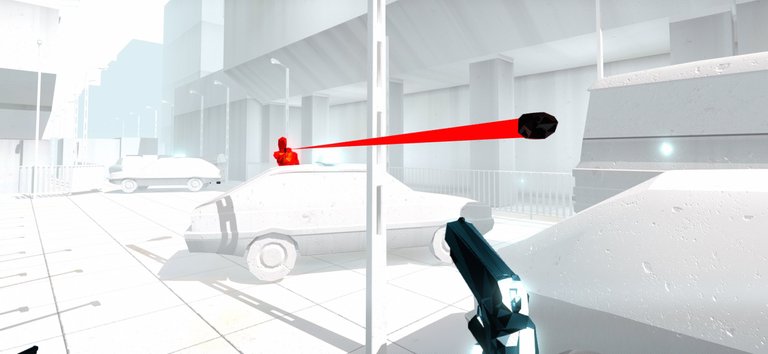 Source
BANDA SONORA
El apartado sonoro de SuperHot comparte el mismo estilo minimalista que sus gráficos: no busca el espectáculo.
Se puede decir que la banda sonora pasa desapercibida. Se percibe su presencia tan solo para ambientar algunos pasajes y ciertos momentos con unas pocas notas.
Aquí el protagonismo sonoro se le llevan los efectos de sonido (sea a velocidad normal o ralentizada):
Los sonidos de golpes.
Rotura de vidrios (los enemigos emiten este sonido al ser eliminados).
Disparos.
SOUNDTRACK
SuperHot's sound section shares the same minimalist style as its graphics: it doesn't look for the show.
It can be said that the soundtrack goes unnoticed. Its presence is perceived just to set some passages and certain moments with a few notes.
Here the sound prominence takes the sound effects (either at normal speed or slowed down):
The sounds of blows.
Glass breakage (the enemies emit this sound when eliminated).
Shots.
---
CONCLUSION
Gracias a la magia de su Diseño de Juego (el tiempo solo avanza cuando nosotros nos movemos), SuperHot es una montaña rusa de constantes descargas de adrenalina; y esto le convierte en un videojuego completamente diferente a cualquier FPS del que tengamos noticia.
Y con esto me despido amigos de la Comunidad Hive Gaming hasta mi próximo post donde les estaré brindando valiosa información que permita ampliar nuestra Cultura Gamer. Bye.
PS: actualmente SuperHot se puede jugar gratis online.
CONCLUSION
Thanks to the magic of its Game Design (time only moves when we move), SuperHot is a roller coaster of constant adrenaline rush; and this makes it a completely different video game than any FPS of which we have news.
And with this I say goodbye friends of the Hive Gaming Community until my next post where I will be providing you with valuable information that allows us to expand our Gamer Culture. Bye.
PS: SuperHot is currently free to play online.
---