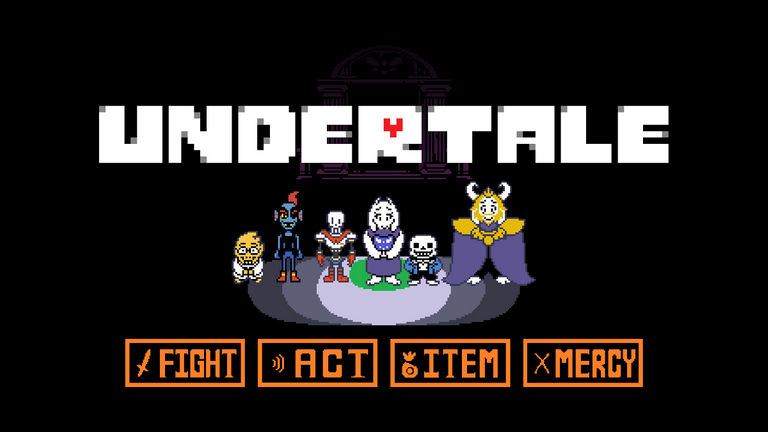 Undertale es un Indie Game que rompe la cuarta pared y nos sumerge en una historia que va cambiando según las consecuencias de nuestras propias decisiones.
En Undertale nuestro pequeño protagonista desciende al inframundo en un viaje lleno de aventuras, exploración y batallas estilo Bullet Hell. Nuestro pequeño amigo supera innumerables peligros, obstáculos y al final nos demuestra que mediante la bondad y la tolerancia: los humanos y las monstruosas criaturas del inframundo pueden convivir en sana paz.
Este es un videojuego RPG por turnos con puzzles y batallas estilo Bullet Hell. Creado en su totalidad por el desarrollador y compositor indie Toby Fox: incluyendo el guion y su banda sonora. Se trata de un videojuego sumamente original que mezcla rol, con la narrativa de los videojuegos más clásicos del género RPG y los presenta con una apariencia visual nostálgica: muy cercana a los 8 bits (pero con una atractiva personalidad propia).
Undertale fue lanzado al mercado para PC en 2015, posteriormente para PS4 y PS Vita en 2017​ y para Nintendo Switch en 2018.​

Undertale is an Indie Game that breaks the fourth wall and immerses us in a story that changes according to the consequences of our own decisions.
In Undertale our little protagonist descends to the underworld in a journey full of adventures, exploration and Bullet Hell style battles. Our little friend overcomes innumerable dangers, obstacles and in the end shows us that through kindness and tolerance: humans and the monstrous creatures of the underworld can coexist in healthy peace.
This is a turn-based RPG video game with Bullet Hell style puzzles and battles. Created entirely by indie developer and songwriter Toby Fox - including the script and soundtrack. It is a highly original video game that mixes role playing with the narrative of the most classic video games of the RPG genre and presents them with a nostalgic visual appearance: very close to 8 bits (but with an attractive personality of its own).
Undertale was released for PC in 2015, later for PS4 and PS Vita in 2017, and for Nintendo Switch in 2018.
---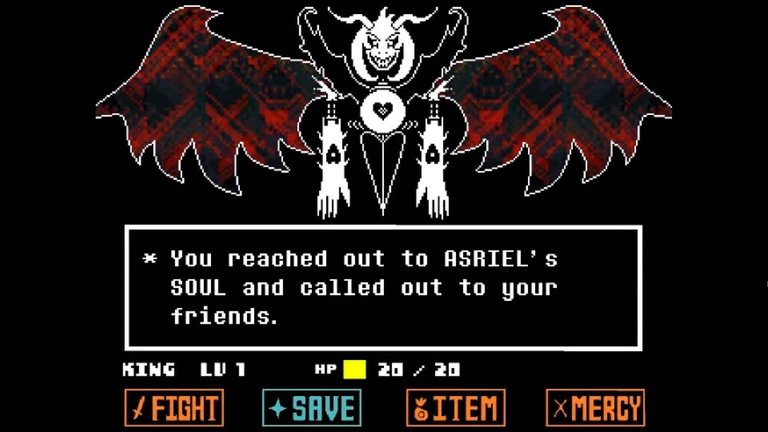 Source
Historia
En Undertale acompañamos a un pequeño niño humano que luego de caer en un misterioso pozo, se encuentra en un mundo subterráneo conocido como el subsuelo. El subsuelo es una enorme región aislada (separada por una barrera mágica), debajo de la superficie de la tierra poblada de extrañas criaturas y monstruos.
Para sobrevivir en este mundo de fantasía nuestro protagonista se ve obligado a tomar decisiones que van cambiando el curso de la historia.
A lo largo de este viaje de nuestro héroe (que tiene por objetivo el regresar a salvo a la superficie), se tropieza con monstruos y las más extrañas criaturas que le presentan oposición en dinámicos combates a través de ataques al estilo Bullet Hell. En estas circunstancias el jugador debe tomar decisiones y cada opción tomada afecta de manera directa:
La historia.
Los personajes.
Los diálogos.
La jugabilidad.
Etc.
De esta forma el juego va cambiando en función de las decisiones tomadas: matar, pacificar (hacerse amigos) o huir de los monstruos para salvarlos en lugar de matarlos.
Story
In Undertale we accompany a small human boy who after falling into a mysterious well, finds himself in an underground world known as the subsoil. The subsoil is a huge isolated region (separated by a magical barrier), below the surface of the earth populated by strange creatures and monsters. To survive in this fantasy world, our protagonist is forced to make decisions that change the course of history.
Throughout this journey of our hero (whose objective is to return safely to the surface), he meets monsters and the strangest creatures that present opposition to him in dynamic combat through attacks in the style of Bullet Hell. In these circumstances the player must make decisions and each option taken directly affects:
The story.
Characters.
The dialogues.
The gameplay.
Etc.
In this way the game changes depending on the decisions made: kill, pacify (become friends) or flee from monsters to save them instead of killing them.
---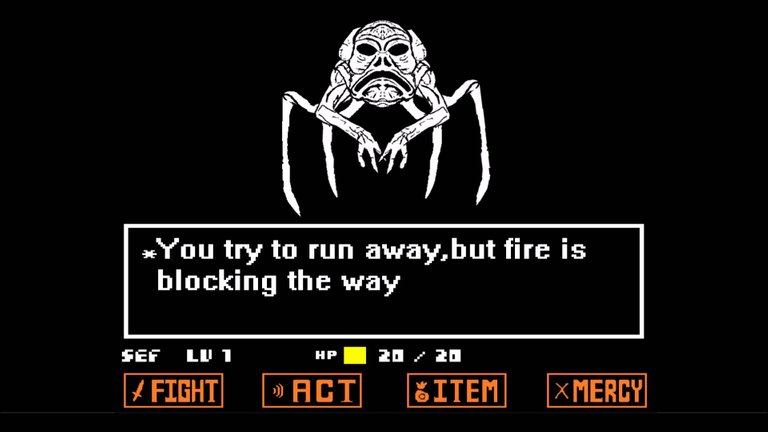 Source
Gameplay
Undertale tiene unas mecánicas sencillas, pero aun así es un videojuego increíblemente complejo.
Se trata de un videojuego RPG por turnos que utiliza una perspectiva aérea. Aquí, el jugador controla a un niño que debe explorar un mundo subterráneo (el inframundo), resolver puzzles y completar misiones para avanzar en la historia.​
En este mundo subterráneo habitan criaturas que desafían al jugador a combatir. El jugador debe decidir entre:
Huir.

Eliminarlos.

Hacerse amigo de ellos.
Dependiendo de lo que el jugador decida, la trama y el rumbo del juego se vera afectada directamente. Es decir, que lo que el jugador decida en cada ocasión (su moral) actúa como la Piedra Angular para el desarrollo del juego.
Los monstruos pueden dialogar con el jugador durante la batalla, y el juego hará explicito al jugador cuáles son los sentimientos y las acciones del monstruo. Los monstruos van dando pistas en sus comentarios sobre como poder evitarlos para no matarlos
Cuando el jugador, de manera aleatoria, se enfrenta con enemigos entra en Modo de Batalla. Durante estas batallas estilo Bullet Hell, el jugador posee un pequeño corazón que representa su alma. Mientras avanza el juego, van apareciendo nuevos elementos cambiantes según las decisiones tomadas: como obstáculos de colores y batallas de jefes que cambian la forma en que los jugadores controlan el corazón.
El jugador puede atacar a los enemigos hasta que tengan un HP bajo (y aún seguir con vida), o puede elegir perdonarlos y terminar la lucha sin matarlos.​ Matar enemigos hace que el jugador gane EXP (lo que aumenta su LOVE) y oro. Se puede usar la opción ACT para realizar diversas acciones, que varían según el enemigo.
Para qué las batallas contra los Jefes se puedan completar pacíficamente, el jugador debe sobrevivir hasta que este Jefe haya terminado su diálogo.
Las batallas contra los enemigos cambian en función de las decisiones tomadas en cada circunstancia (cómo el jugador interactúan con ellos): si el jugador elige opciones no violentas, los ataques que se reciben del enemigo resultan más fáciles, mientras que si se eligen opciones violentas los ataques se vuelven difíciles.
Gameplay
Undertale has simple mechanics, but it's still an incredibly complex game.
It is a turn-based RPG video game that uses an aerial perspective. Here, the player controls a boy who must explore an underground world (the underworld), solve puzzles, and complete missions to advance the story.
Creatures inhabit this underground world that challenge the player to fight. The player must decide between:
Run away.

Delete them.

Befriend them.
Depending on what the player decides, the plot and direction of the game will be directly affected. In other words, what the player decides on each occasion (their morals) acts as the Cornerstone for the development of the game.
Monsters can converse with the player during battle, and the game will make it clear to the player what the monster's feelings and actions are. The monsters are giving clues in their comments about how to avoid them so as not to kill them.
When the player, randomly, faces enemies, he enters Battle Mode. During these Bullet Hell style battles, the player possesses a small heart that represents their soul. As the game progresses, new changing elements appear depending on the decisions made: such as colored obstacles and boss battles that change the way players control their hearts.
The player can attack enemies until they are low HP (and still alive), or they can choose to spare them and end the fight without killing them. Killing enemies earns the player EXP (increasing their LOVE) and gold. . The ACT option can be used to perform various actions, which vary depending on the enemy.
In order for the boss battles to be completed peacefully, the player must survive until this boss has finished his dialogue.
Battles against enemies change depending on the decisions made in each circumstance (how the player interacts with them): if the player chooses non-violent options, the attacks received from the enemy are easier, while if violent options are chosen attacks become difficult.
---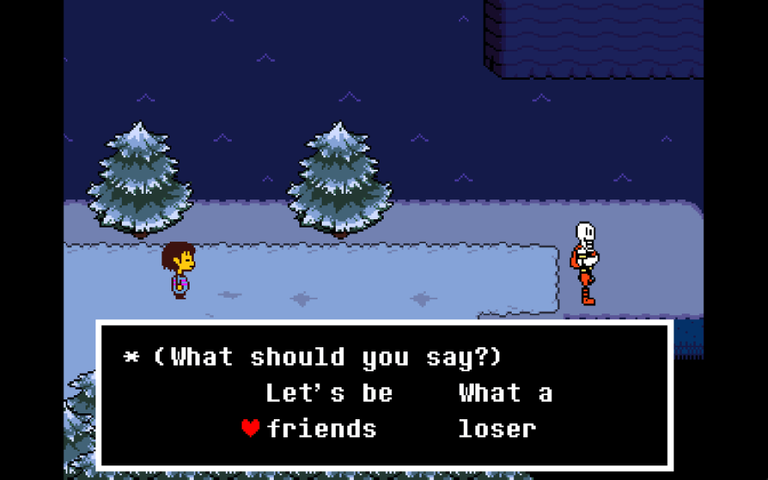 Source
Conclusión
Undertale fue aclamado por su estética retro, la originalidad de su tema y de como todo va cambiando a lo largo del juego: sus diálogos, sus personajes, su Apartado Sonoro y su Sistema de Combate intuitivo.
Este videojuego ha vendido más de 1 millón de copias y fue nominado para múltiples premios y reconocimientos. Varias revistas de videojuegos incluyeron a Undertale como videojuego del año.
El desarrollador Toby Fox nos dice haber encontrado inspiración en varias fuentes, entre estas se pueden mencionar:
El programa de comedia Mr. Bean.
La serie Bullet Hell Touhou Project.
La serie de juegos RPG Mother, Brandish y Mario & Luigi.
Y con esto me despido, queridos amigos de la Comunidad Hive Gaming. Y nos vemos en mi próximo post donde estaré compartiendo con Uds buena información que nos permita ampliar nuestra Cultura Gamer. Bye.
Conclusion
Undertale was acclaimed for its retro aesthetic, the originality of its theme, and how everything changes throughout the game: its dialogues, its characters, its Sound Section and its intuitive Combat System.
This video game has sold over 1 million copies and was nominated for multiple awards and accolades. Several video game magazines listed Undertale as Video Game of the Year.
Developer Toby Fox tells us that he found inspiration from several sources, including:
The comedy show Mr. Bean.
The Bullet Hell Touhou Project series.
The RPG series of games Mother, Brandish and Mario & Luigi.
And with this I say goodbye, dear friends of the Hive Gaming Community. And see you in my next post where I will be sharing with you good information that allows us to expand our Gamer Culture. Bye.
---