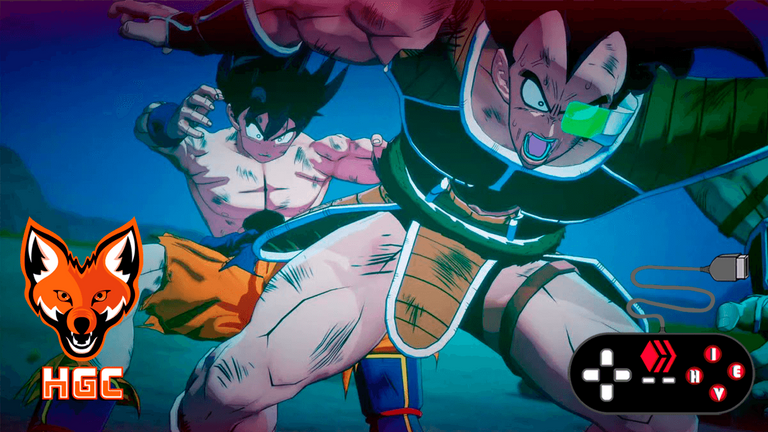 Hello everyone, I'm c22 and today I bring you a Dragon Ball Z Kakarot Gameplay, an action rpg in which we can relive all the adventures of this classic 90s anime series.
[ESP]

Hola a todos, soy c22 y hoy les traigo un Gameplay de Dragon Ball Z Kakarot, un rpg de acción en el que podremos revivir todas las aventuras de esta clásica serie de anime de los 90.
Dragon Ball Z Kakarot
Year / Año: 2020
Genre: Action, RPG / Género: Acción, RPG
Steam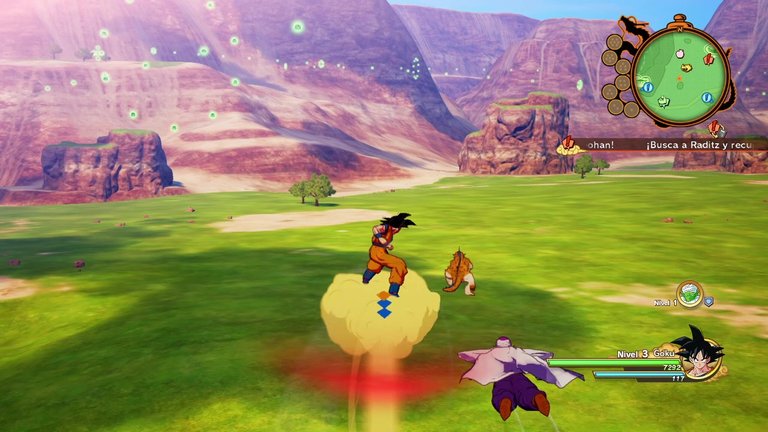 We continue with the rescue of Gohan, by Piccolo and Goku, our heroes go at full speed to the place where Raditz is.
[ESP]

Continuamos con el rescate de Gohan, por parte de Picoro y Goku, nuestros héroes van a toda velocidad al lugar donde está Raditz.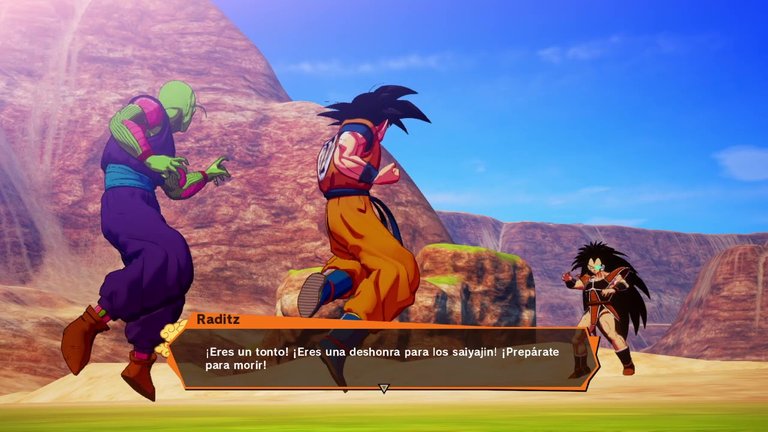 After having a little fight with Raditz, Piccolo asks Goku to distract his brother while he prepares a new technique with which they can achieve victory.
[ESP]

Luego de tener una pequeña pelea con Raditz, Picoro le pide a Goku que distraiga a su hermano mientras prepara una nueva técnica con la que pueden lograr la victoria.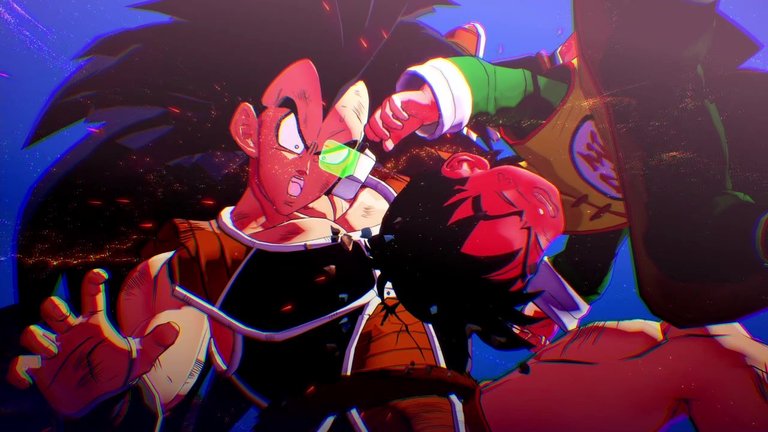 After entertaining Raditz, Goku manages to hold his brother by the tail, however he deceives him and manages to free himself and begins to beat him until he awakens the anger of little Gohan and manages to hurt his evil uncle.
[ESP]

Luego de entretener a Raditz, Goku logra sujetar a su hermano por la cola, sin embargo lo engaña y logra liberarse y comienza a golpearlo hasta que despierta la ira del pequeño Gohan y consigue lastimar a su malvado tío.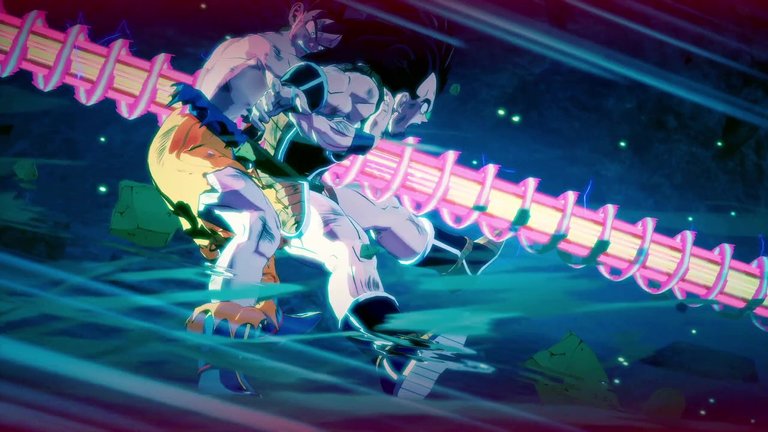 After this Goku manages to hold his brother again and Piccolo launches his new technique on the brothers, ending their lives, although Raditz tells them while dying that the two remaining Saiyans will come in a year to get the dragon balls. After this Piccolo decides to take Gohan to train him for a whole year.
[ESP]

Luego de esto Goku logra sujetar a su hermano nuevamente y Picoro lanza su nueva técnica sobre los hermanos, acabando con la vida de ambos, aunque Raditz les dice mientras agoniza que los dos Saiyajin restantes vendrán en un año para conseguir las esferas del dragón. Luego de esto Picoro decide llevarse a Gohan para entrenarlo durante todo un año.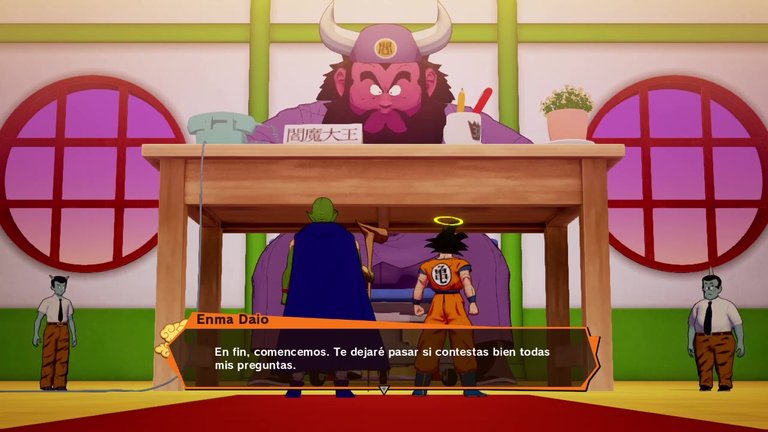 Kami upon hearing all this, brings Goku's spirit before King Yemma and asks her to let him go to train with King Kai. Meanwhile little Gohan wakes up and Piccolo tells him that his father died and that he is going to train him, but first he has to learn to fend for himself in nature.
[ESP]

Kami-sama al escuchar todo esto, lleva el espíritu de Goku ante Enma Daio-sama y le pide que lo deje ir a entrenar con Kaio-sama. Mientras tanto el pequeño Gohan se despierta y Picoro le dice que su padre murió y que él lo va a entrenar, pero primero tiene que aprender a valerse por sí mismo en la naturaleza.
Gameplay #03 | Dragon Ball Z Kakarot

And this is all for today, I hope you liked my content, and for those who want more similar content I invite you to follow me, in the same way if you wish you can support me with a like or by sharing the publication. And tell me, Do you think Gohan and Goku can finish their training in time?. Thanks and see you in a next video. 😎 🎮
[ESP]

Y esto es todo por hoy, espero que les haya gustado mi contenido, y para los que quieran más contenido similar les invito a seguirme, de igual forma si lo desean me pueden apoyar con un me gusta o compartiendo la publicación.
Y dime, ¿Crees que Gohan y Goku puedan terminar su entrenamiento a tiempo?. Gracias y nos vemos en un próximo video. 😎 🎮

All content, including screenshots, were taken by me.
Todo el contenido, incluidas las capturas de pantalla, fueron tomadas por mí.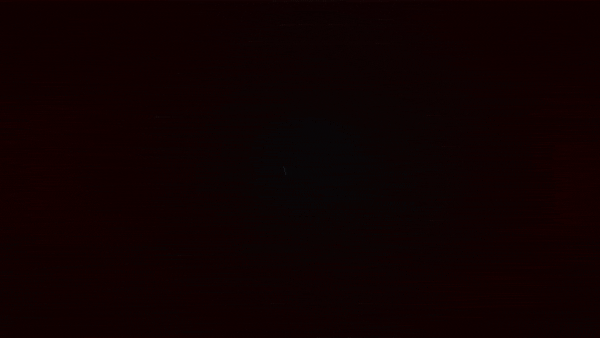 GIF by @thepeakstudio

Blockchain Games | Juegos Blockchain

Splinterlands - Amazing Trading Card Game
Splinterlands - Asombroso Juego de Cartas Coleccionables


Rabona Soccer Manager - Take control of your soccer club in this game for the Hive Blockchain
Rabona Fútbol Manager – Lleva las riendas de tu club de fútbol en este juego para la Blockchain Hive