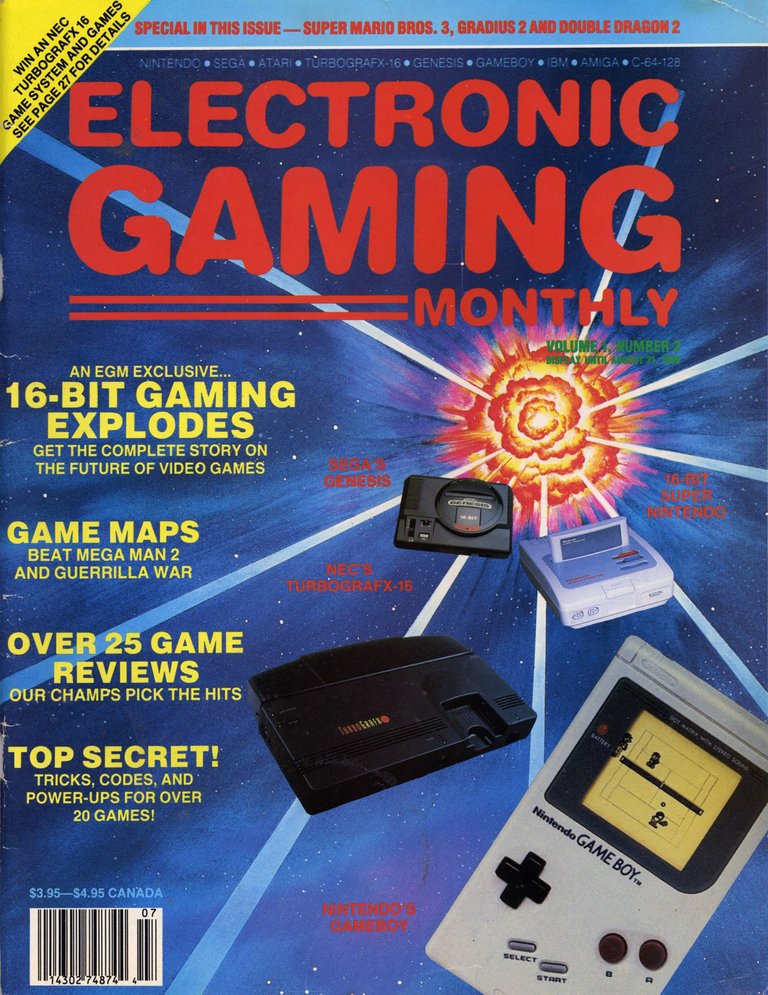 Cover of the July 1989 issue of Electronic Gaming Monthly
While VideoGames & Computer Entertainment may have been my favorite gaming magazine, EGM was a close second. It got its start basically at the dawn of 16-bit gaming. The July 1989 issue covered a wide variety of systems from the Genesis, TurboGrafx-16 and of course NES to the PC, Amiga and even the Commodore 64, a testament to its staying power (though not for too much longer). This issue includes:
Cover Story - Next Generation Gaming - An article covering the next wave of gaming systems including the Sega Genesis, TurboGrafx-16, Super Famicom/Nintendo (The U.S. version was still a couple of years away at this point), the Game Boy (the first successful cartridge based mobile). There is detailed information for each including technical specs and early games and peripherals.


EGM's Review Crew - Reviews of the following games:

Guerill War (NES) - A translation of SNK's top down action arcade game.
Ironsword (NES) - A decent sequel to Wizards & Warriors.
Fester's Quest (NES) - I'm convinced this game is impossible. If you say you finished it you are a liar.
Mega Man 2 (NES) - The second game in what was one of the most famous franchises for the NES.
3 Stooges (NES) - Really, a collection of mini-games. It was better on the Amiga.
Adventures of Lolo (NES) - An action/puzzle game with lots of addictive game play.
Operation Wolf (NES) - One of the better light gun games available for the NES. I remember a friend renting this one from Blockbuster.
Q*Bert (NES) - A classic arcade game I never really liked. However, if you like the original or other ports, then you will like this one.
Mappyland (NES) - Another good translation of a classic arcade game.
Flying Dragon (NES) - A karate game that really isn't anything special.





Table of Contents from the July 1989 issue of Electronic Gaming Monthly



Next Wave - Sneak peeks at upcoming games including Double Dragon II: The Revenge (NES), P.O.W. (NES), Thundercade (NES), and Super Dodge Ball (NES).
International Outlook - Previews of some games released internationally (usually Japan) and that may make it to North America. Games looked at include Super Mario Bros. 3 (NES) and Gradius (NES).


Top Secret! - Tips, tricks, strategies and maps for various games including Blaster Master (NES), Zanac (NES), Mega Man (NES), Star Soldier (NES), Wizards and Warriors (NES), Milon's Secret Castle (NES), Kid Icarus (NES), Ring King (NES), John Elways' Quarterback (NES), Metal Gear (NES), RBI Baseball (NES), Metroid (NES), Posiden Wars 3-D (SMS), Track and Field II (NES), R-Type (SMS), Simon's Quest (NES), Rambo (NES), Double Dragon (NES), Legacy of the Wizard (NES), Desert Falcon (Atari), Zanac (NES), and many more!


Interface: Letters to the Editor - Questions about the Mega Drive (Genesis), Mega Man 2, the chip shortage going on at the time, and more.


Press Start - A look at a new joystick for the NES from Beeshu called Gizmo. It looks a little odd and this whole thing read like an advertisement.


Gaming Gossip - Rumors and gossip from Quartermann including rumors that Namco and Atari are developing 16-bit machines, Dragon Warrior is coming to the U.S. for Christmas and much more.


Read more: https://www.megalextoria.com/wordpress/index.php/2022/03/16/electronic-gaming-monthly-july-1989/