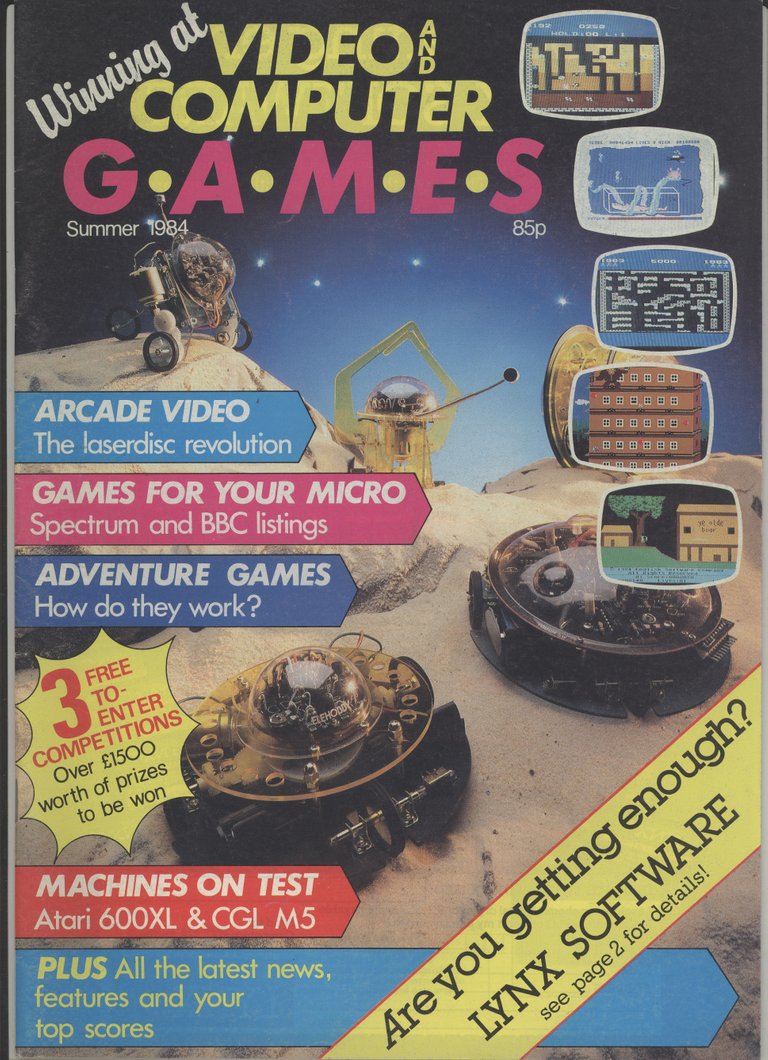 I'm not really sure of the history of this magazine but Winning at Video and Computer Games was another 1980s video gaming magazine published in the U.K. It covered both console and computer games. The name makes it sound like it emphasizes tips or strategy guides but that does not seem to be the case. I've only found a couple of issues online so I don't get the impression it was very popular or around very long. The Summer (May/June) 1984 issue includes:
News
Software News - Computers on video
Hardware News - The Ultimate Trip!
Test File
Atari 600XL - All keyed up?
CGL M5 - The game brain?
Features & Regulars
Readers Letter - Have your say
The Perils of Piracy - Go directly to jail
The Adventure Game Maze - How do they work?
Arcade Blockbusters - Arrival of the laser games
Profiles
The Sharp Edge - In Sharp Focus
The Nasty Programmer - Games with a difference
Listings
Beebkey - A type of game!
Star Trek 48 - Drive Scotty potty
Competitions
The Coleco Double - Two top games consoles
A Ton Of Tapes - 100 games to be won
Missing Lynx - Two 48K Lynxs to be won
...and more!


---
Check out some of my other recent retrogaming and retrocomputing posts!
Return to Zork (DOS, 1993)
https://hive.blog/hive-140217/@darth-azrael/return-to-zork-dos-1993-1c2df44d5be9c
Digital Archaeology: Floppy Disk #10 – FOR166.DOC
https://hive.blog/retrocomputing/@darth-azrael/digital-archaeology-floppy-disk-10
The IBM PCjr
https://hive.blog/retrocomputing/@darth-azrael/the-ibm-pcjr-83435894890c9
Compute!'s Amiga Resource (Summer 1989)
https://hive.blog/retrocomputing/@darth-azrael/compute-s-amiga-resource-summer
Big K (March 1985)
https://hive.blog/hive-140217/@darth-azrael/big-k-march-1985
Sega Visions (August / September 1992)
https://hive.blog/hive-140217/@darth-azrael/sega-visions-august-september-1992-c66eb967ca0aa