I just asked for my founder card and OH MY, MY MY MY MY! IT LOOKS SO COOL!
This is my gig panel now: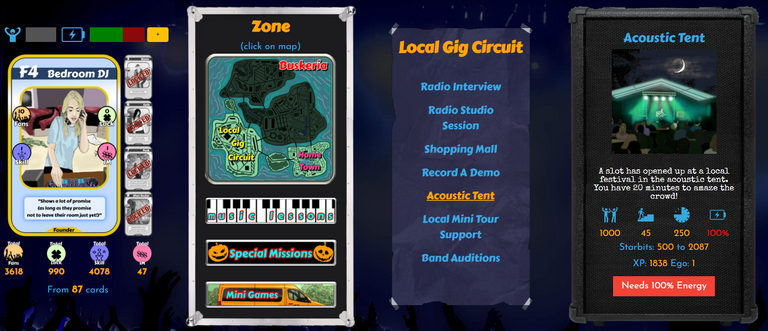 I asked for F4 Bedroom DJ, isn't she amazing?!
If you want a Founder card you need to start playing before the Beta launch on November 1st, these cards are only for Alpha players and it's only one per person!
These are the available Founder cards

They all have the same stats: 10 fans, 0 luck, 1 skill and 1 IM. I picked the one I liked the most by design.
Which one will you choose? You need to go to Rising Star discord server and send a message to the dev to ask for it.
Please use my referral link to start playing now:
https://www.risingstargame.com?referrer=fabiyamada
I am also on my way to Band auditions, I only need to make one more Local mini tour support, which I plan to start in a few minutes 🎸 🔥
Also at this moment I am rendering a crypto art I had pending in Blender to finish, I hope to tokenize it very soon too! It will go to Pixeos gallery 🎨 my favorite platform to mint art.
Have fun!! See ya later!!