English
Greetings everyone, this is probably one of the best videos I've done to share here and I don't even play Ekko or Diana....
This time I bring Gwen, a champion that when I saw her I didn't like her at all, but once I played her I thought she was one of the best in the game. Her weapon is a scissors and that already seemed strange to me, but when you hit the Q with four charges it's one of the best feelings of fun in the game.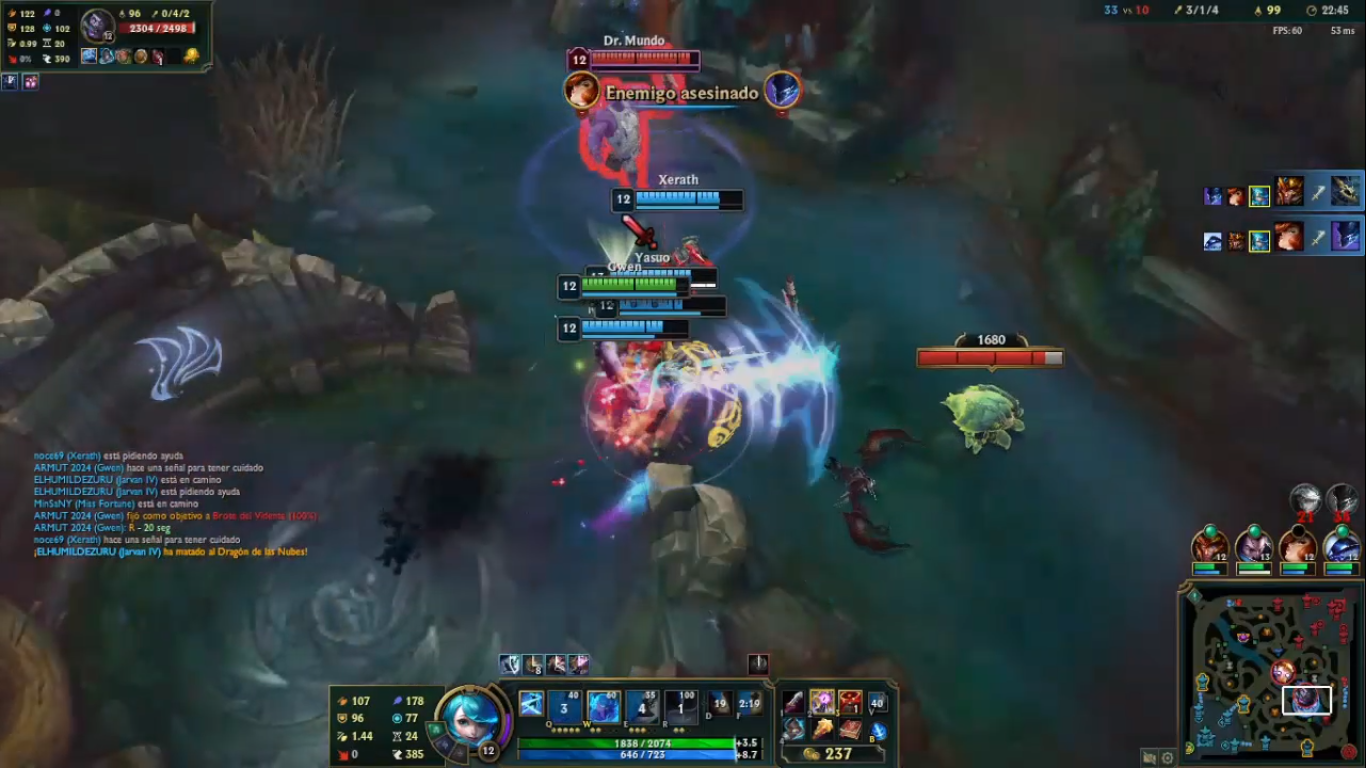 At first I tried it on Top and won several games, some I didn't play it very well and others I played well but I could have done it I think better.
And recently I played Gwen in the jungle, I know that it was possible to play Gwen jungle months ago in competitive Gwen jungle, in fact I think it was Jankos who played it in Europe, then it was not seen anymore and remained as a champion of the Toplane, but as I don't like Top I prefer to play it in Jungle.
Gwen has very good stuff, a dash on E, shield on W and the ultimate is 3 needles that she throws wherever you aim and she does more and more damage.
The problem I see in Gwen is that you can not always play in the jungle, because the most advisable is to play it with ghostly before flash, because Gwen needs to hit basic attacks to maximize its damage with its Q that with 4 charges the cut of the scissors can overcome a duel.
So according to what I have noticed in games is that Gwen will not always serve in the jungle because it requires the opposing team to play a lot of champions melee, as ranged characters can punish her a lot.
Gwen becomes immune with the W but if for example in the opposing team there is a Quinn in toplane, an Azir or Viktor in midlane and in botlane Senna with Jhin I think it would be a difficult game for Gwen, it also depends on what our team carries, but having a single CC that slows in the R I see that the early is not very good unless there are 4 pesonajes against Melee.
Still I find it one of the most fun right now in the jungle, I played against a Mordekaiser jungler who is very broken and I beat him which gave me a very good satisfaction.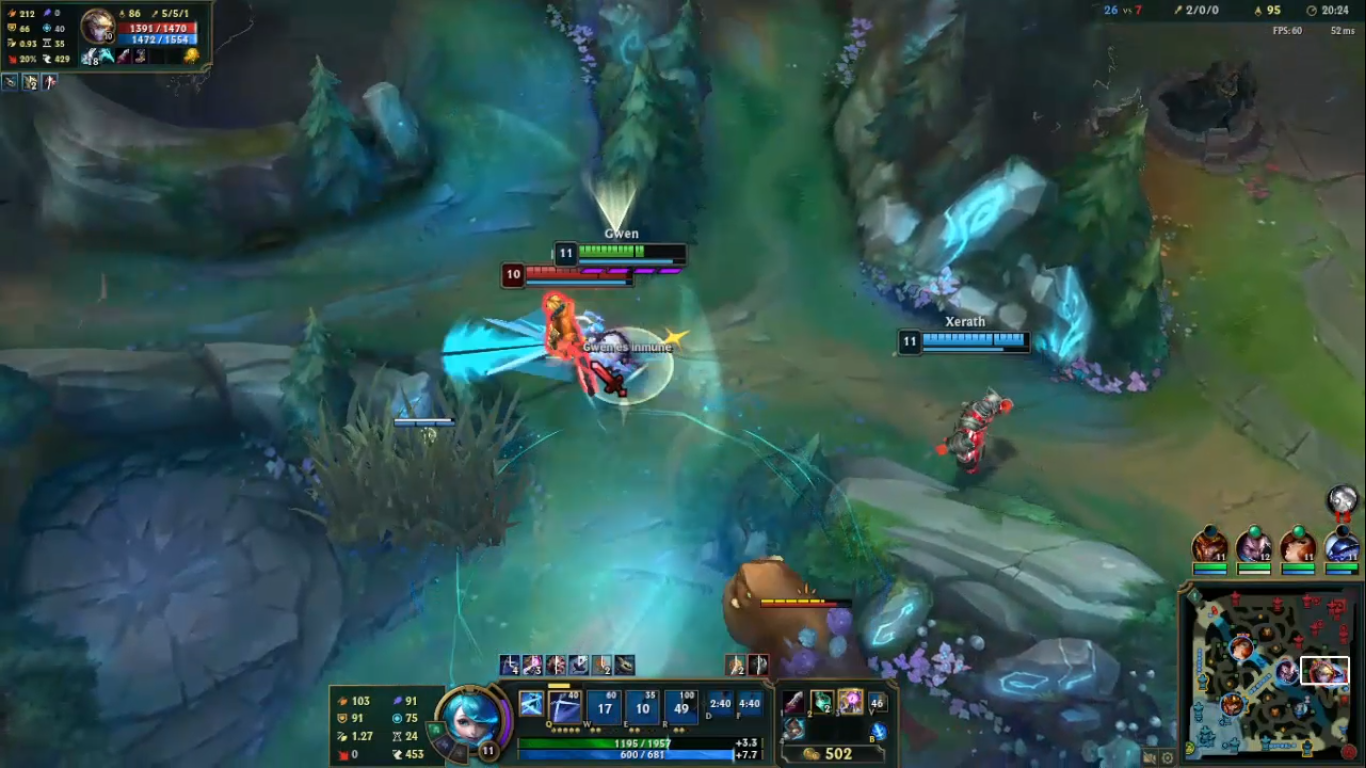 In this video I also show a little bit of some games I played with Irelia, very exciting where there was Quadrakill, in some I played top in others Mid, I was also playing Akali in Midlane because I want to learn these characters that are complicated to play but fun if you do things right.
With Akali it was nice to play because I played as I have learned from watching streamers playing Akali, I read the skills and executed as well as I could, luckily it went well.
And with Irelia is a character that I like a lot but is complex to understand, she has nice mechanics and some difficult to execute, I like her much more in Midlane but she is very punishable against ranged characters and you have to know how to play the MatchUp.
In this video with Irelia I had a pretty epic game because it was one of my first games with the character and in the end we managed to come back, we had in my team a Shaco and a Teemo, I played very bad early but at one point after two items I made a very good play that almost ended in Quadrakill but I think I contributed a small grain to the comeback.
Later I did make a Quadrakill in a game with Irelia Mid that ended very well. I usually played Irelia to practice and warm up my hands and then continue playing jungle...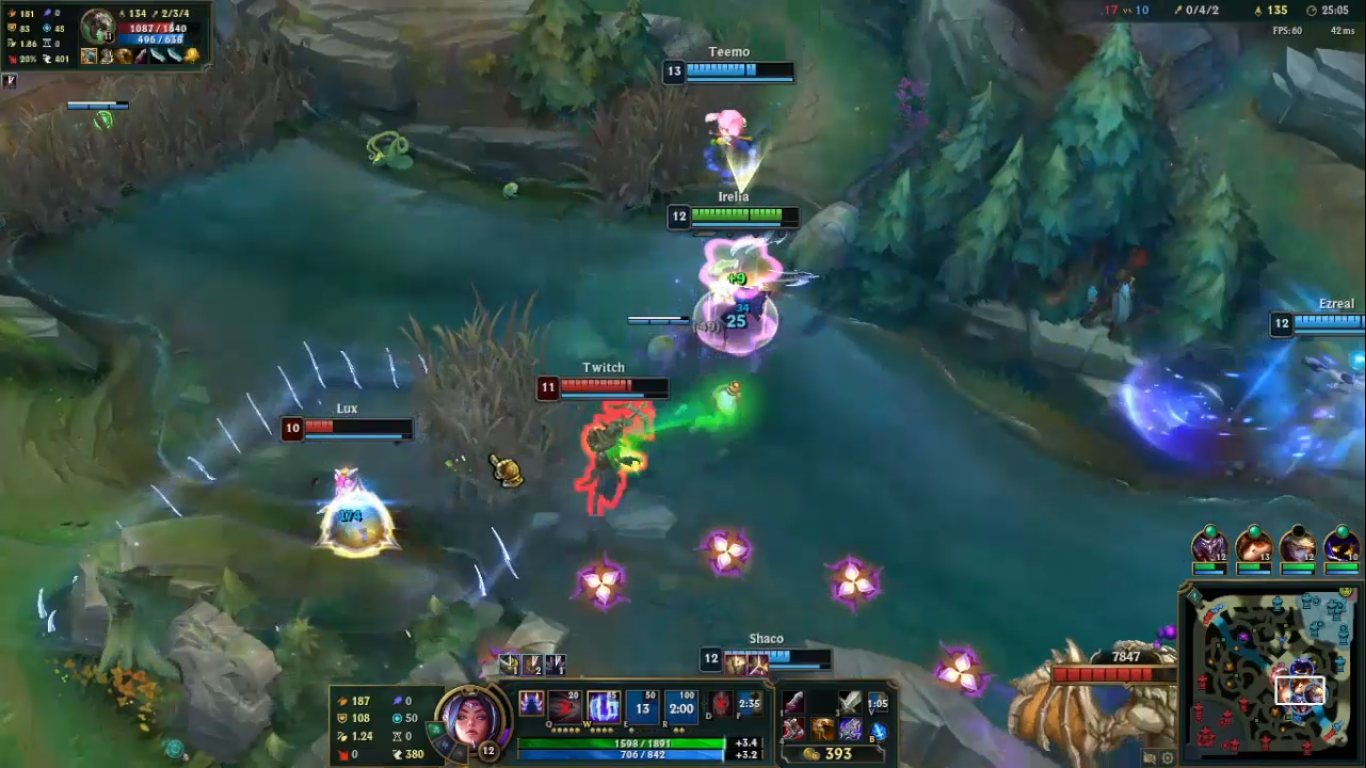 Finally a Vi that I also love how she is in the jungler but many games I am not very good at and I have to learn a lot more. I also add a game with Viego that was hard to play because it seemed that we were losing and then playing it well I could win in the end.
I still don't consider myself good with Gwen, Irelia and Akali, I'm excited to play them but I think I have to learn and master much more and obviously I would like to play many games because they seem to me the most fun characters. With Vi and Viego I'm still not as good as I would like in my opinion but sometimes when I play well I can manage to win.
I'm also considering learning a lot more about the ADC role, I've been watching a lot of videos and streams of Flakked (LEC 2022 European Champion with G2) and I'm interested because I think it's the role more complicated mechanically and I love some characters like Aphelios and Varus, but I've been testing with Sivir and Miss Fortune and I find the role quite fun.
Thanks for your attention. More and better soon!
Spanish
Saludos a todos gente, probablemente este sea de los mejores videos que he hecho para compartir por acá y eso que ni siquiera juego Ekko o Diana...
En esta ocasión traigo a Gwen, una champion que cuando la vi no me gustaba nada, pero una vez la jugué me pareció de lo mejor del juego. Su arma es una tijera y eso ya me parecía raro, pero cuando aciertas la Q con cuatro cargas es de las mejores sensaciones de diversión en el juego.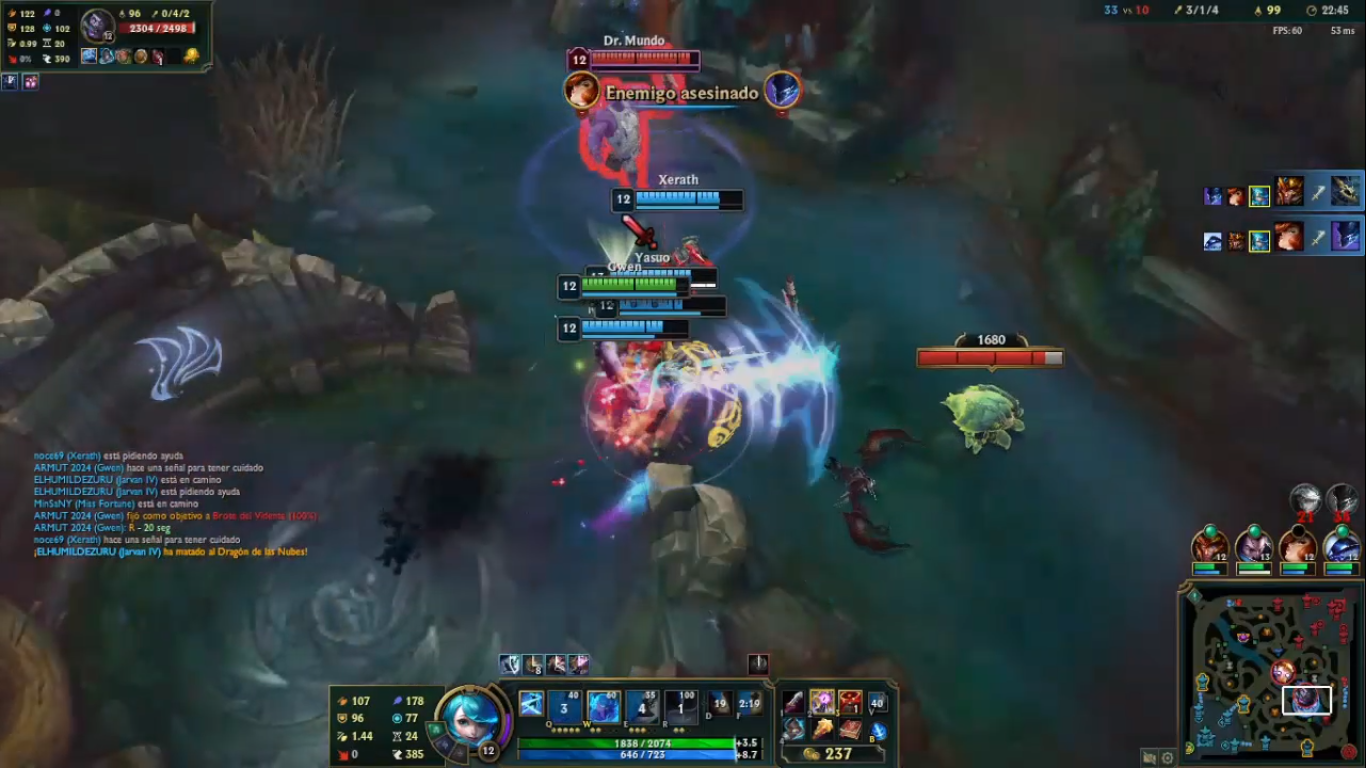 En principio la probé en Top y gané varias partidas, algunas no la jugué muy bien y otras jugué bien pero lo pude haber hecho yo creo que mejor.
Y hace poco jugué Gwen en la jungla, sé que se había podido jugar hace meses en competitivo Gwen jungla, de hecho creo que fue Jankos de los que la jugó en Europa, después no se vio más y se quedó como un champion de la Toplane, pero como no me gusta Top prefiero jugarla de Jungla.
Gwen tiene muy buenas cosas, un dash en la E, escudo en la W y la ultimate son 3 agujas que lanza a donde apuntes y cada vez hace mas daño.
El problema que veo en Gwen es que no siempre se puede jugar en la jungla, porque lo mas aconsejable es jugarla con fantasmal antes que flash, porque Gwen necesita pegar ataques básicos para maximizar su daño con su Q que con 4 cargas el corte de las tijeras puede remontar un duelo.
Entonces según lo que he notado en partidas es que Gwen no siempre va a servir en la jungla porque requiere que el equipo contrario juegue muchos champions melee, ya que los personajes de rango pueden castigarla mucho.
Gwen se hace inmune con la W pero si por ejemplo en el equipo contrario hay una Quinn en toplane, un Azir o Viktor en midlane y en botlane Senna con Jhin creo que sería una partida difícil para Gwen, también depende de qué lleva nuestro equipo, pero al tener un único CC que ralentiza en la R veo que el early no es muy bueno a menos que haya 4 pesonajes en contra a Melee.
Aún así me parece de lo mas divertido ahora mismo en la jungla, jugué contra un Mordekaiser jungler que está muy broken y le gané que me dio una muy buena satisfacción.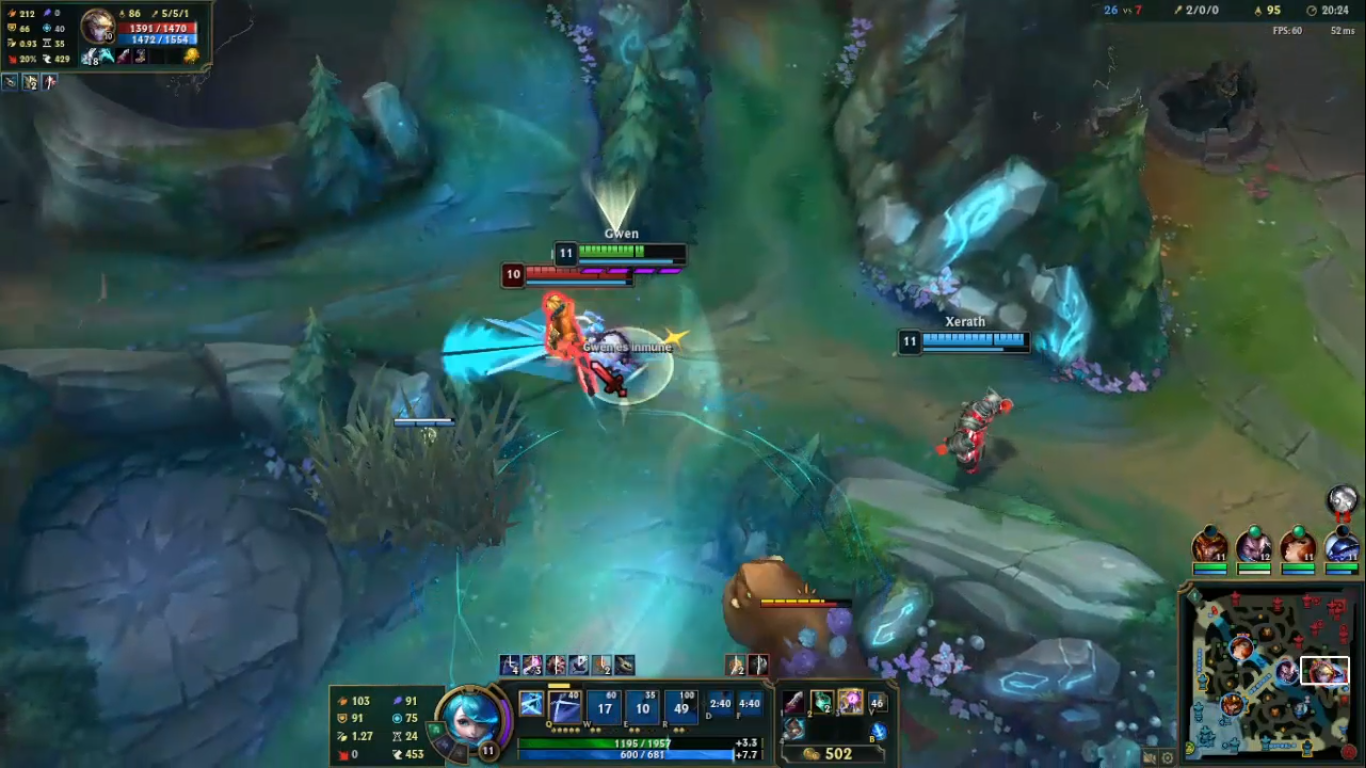 En este video también muestro un poco de algunas partidas que jugué con Irelia, muy emocionantes donde hubo Quadrakill, en algunas jugué top en otras de Mid, también estuve jugando Akali en Midlane porque quiero aprender estos personajes que son complicados de jugar pero divertidos si se hacen las cosas bien.
Con Akali fue bonito jugar porque jugué como he aprendido de ver streamers jugando Akali, leí las habilidades y ejecuté como bien pude, por suerte salió bien.
Y con Irelia es un personaje que me gusta mucho pero es complejo de entender, tiene mecánicas bonitas y algunas difíciles de ejecutar, me gusta mucho más en la Midlane pero es muy castigable contra personajes a rango y hay que saber como jugar el MatchUp.
En este video con Irelia tuve una partida bastante épica porque era de mis primeras partidas con el personaje y al final logramos remontar, teníamos en mi equipo un Shaco y un Teemo, yo jugué muy mal el early pero en un momento después de dos ítems hice una muy buena jugada que casi termina en Quadrakill pero creo que aporté un pequeño granito a la remontada.
Después si que hice una Quadrakill en una partida con Irelia Mid que si terminó muy bien. Usualmente jugaba Irelia para practicar y calentar las manos y luego seguir jugando jungla...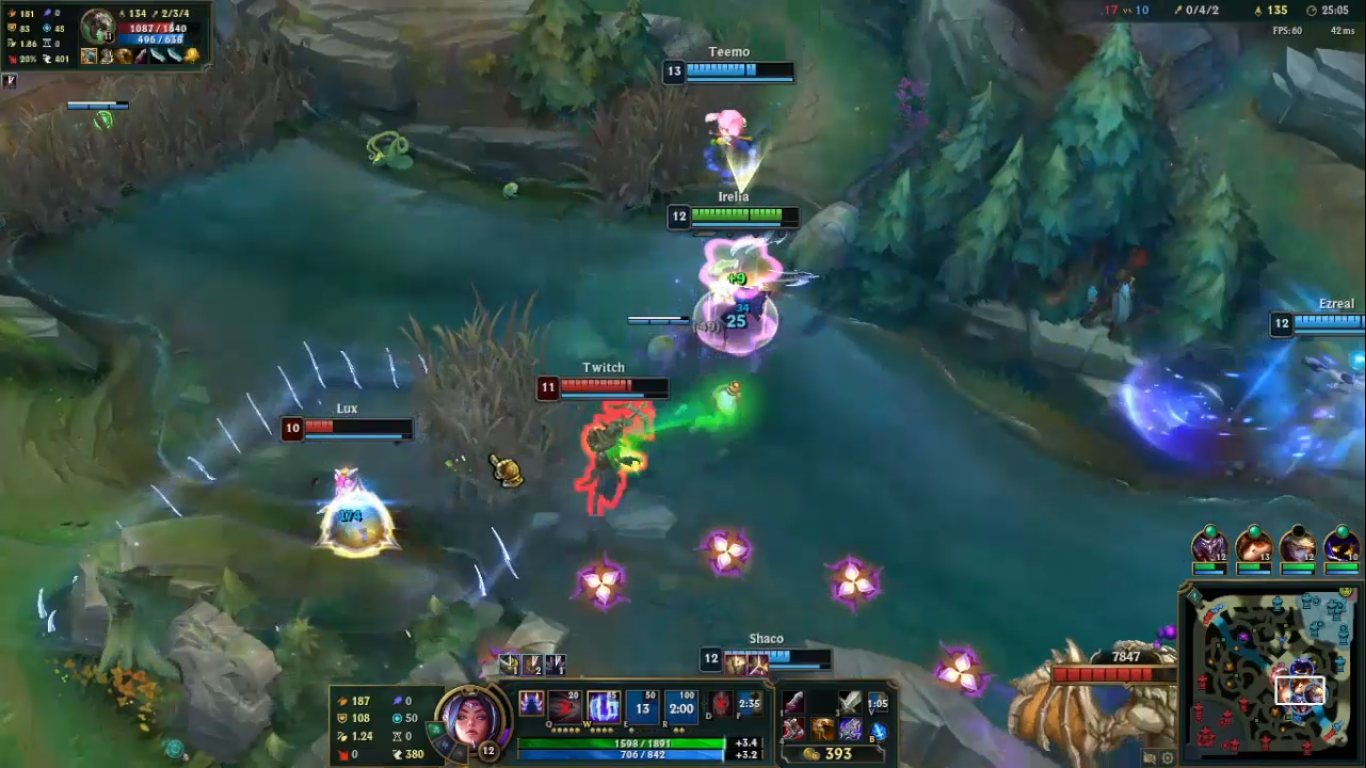 Por último una Vi que también me encanta como está en la jungla solo que muchas partidas no se me dan muy bien y tengo que aprender mucho más. También agrego alguna con Viego que fue dura de jugar porque parecía que perdíamos y luego jugándolo bien se puedo ganar al final.
Aún no me considero bueno con Gwen, Irelia y Akali, me emociona jugarlas pero creo que tengo que aprender y masterizar mucho más y obviamente me gustaría jugar muchas partidas porque me parecen de los personajes mas divertidos. Con Vi y Viego sigo siendo no muy bueno como quisiera en mi opinión pero a veces cuando juego bien puedo lograr ganar.
También estoy considerando aprender mucho más sobre el rol de ADC, he estado viendo muchos videos y streams de Flakked (Campeón europeo de LEC 2022 con G2) y me interesa porque creo que es el rol mas complicado mecánicamente y me encanta algunos personajes como Aphelios y Varus, pero he estado probando con Sivir y Miss Fortune y me parece bastante divertido el rol.
Gracias por su atención. Pronto más y mejor!