Once again, the best thing about the Hive blockchain, is the diversity of dapps we can find, and the games are undoubtedly my favorites. This week I have discovered a new (well, it has been on the scene for a while, but I hadn't paid attention to it) game, called
Rising Star
, a simple game where the best of all is that you can obtain economic gains in different ways.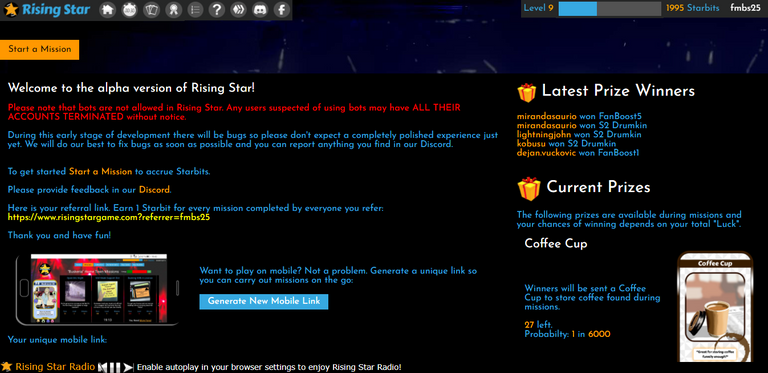 The truth is that I'm still trying to understand it, but while I'm playing it, on the main page we can see the latest prizes that have been awarded for mission accomplishment, as well as basic information and the referral link for your account. We also have a button that takes us directly to the missions of this game, which is basically the heart of the game,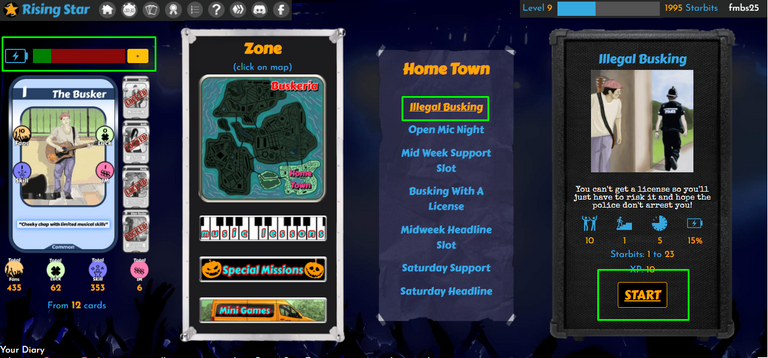 When we start it is advisable to do the mission of
Ilegal Busking
, because it is the one that consumes less energy and you can do it quickly to go up a level and above all to win STARBITS which is the token that we can generate in this game, and that later you can use to buy cards or redeem for Hives in the market of
Hive-Engine
.

As you can see with the fulfillment of the missions they are generating Starbits, but in addition to this, in the missions you can obtain slides of pizza or cups of coffee, which helps to that the energy regenerates and is possible the accomplishment of more missions, in addition, you can obtain cards and clovers of the luck, these last ones increase the luck of your singer, this way to be able to obtain better prices when finalizing the missions.

You can see in the upper left of the screen of this game that we have a panel where you will find the main modules of the game. Where apart from the missions we will find the module of the cards, where we can see the cards we have in our collection, as well as those that are available on the market and you can buy with STARBITS, SWAP.HIVE, SIM, BEER, and DEC, which is one of the best things that this game has because it does not limit the purchase and sale of the cards to a single token or currency. In this same module we can buy packs of cards, where you can get 3 cards, which can vary between, common, rare and legendary, being these last two the most valuable and obviously the most desired.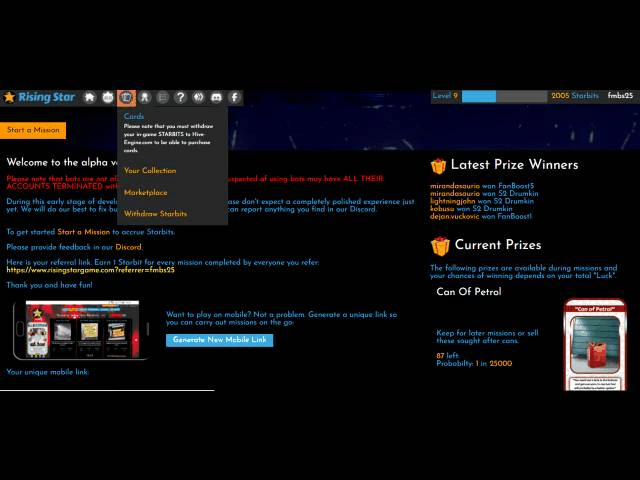 These cards can be sold or used in the game as missions are unlocked. The next module is the Achievement module, where you can monitor how many missions you've done throughout your stay in the game, and as you can see, as you go on missions you can opt for prizes, these for example to complete the mission number 100 have given me a pack of cards, and we'll see what they give me when I complete the 500 missions. At the top right of the screen, we can see the level that takes our account as well as the amount of STARBITS we have collected.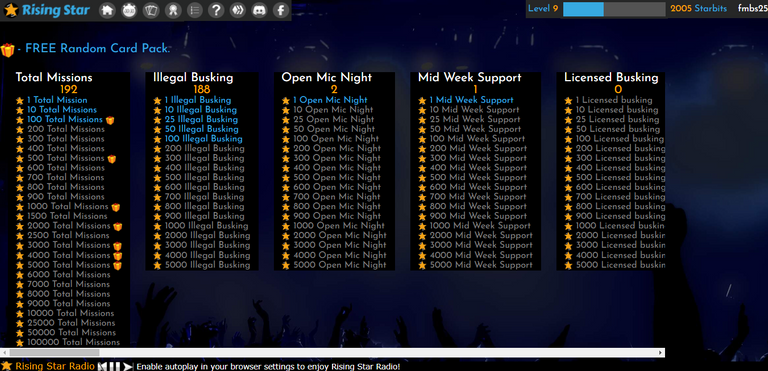 In conclusion, this game has really caught me, although it is simple and somewhat monotonous in principle, it keeps the player trapped and I know more than one who is hooked like me. Although their platform is a little slow, because, at the moment of buying cards, they take at least about 5 minutes in leaving reflected in your collection, this I imagine that it is due to the new thing of the game, as the updates go out it should go adapting more to the speed of the blockchain. in the same way, the market is a little slow, because it is a new game, and as they go arriving more players and the same ones unblock the missions of superior levels this market was activated much more. In general lines, it seems to be a game that promises and of which I do not believe that I can take off for a while. So, if you are not yet hooked on Rising Star, what are you waiting for to do it and start making music?

Images taken from the page of Rising Star , and gif made with the application GifShop.
Thank you for taking the time to read this publication, if you have any questions, criticisms or suggestions, I would appreciate it if you put them in the comment box, and remember, you too can make magic in the kitchen wherever you go!


[ES]

Nuevamente lo repito, lo mejor de la blockchain de Hive, es la diversidad de dapps que podemos encontrar, y los juegos son sin duda alguna mis favoritos. Esta semana he descubierto un nuevo (bueno ya tiene rato en la palestra, pero no le había prestado atención) juego, llamado
Rising Star
, un sencillo juego en donde lo mejor de todo es que puedes obtener ganancias económicas de diferentes maneras.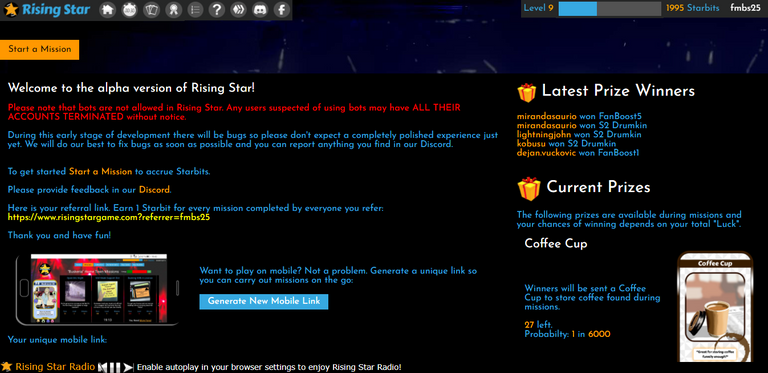 La verdad es que aún estoy tratando de entenderlo, pero mientras lo voy jugando, En la página principal podemos ver los últimos premios que han sido otorgado por realización de misiones, así como información básica y el link de referido de tu cuenta. De igual manera tenemos un botón que nos lleva directamente a las misiones de este juego, que básicamente es el corazón del mismo,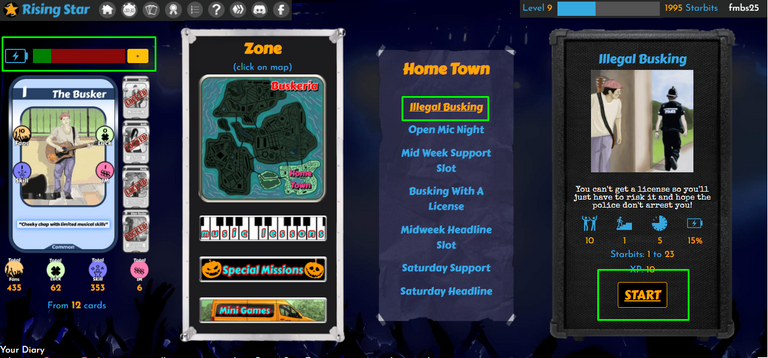 Cuando comenzamos lo recomendable es hacer la misión de
Ilegal Busking
, ya que es la que menos energía consume y que la puedes hacer de manera rápida para ir subiendo de nivel y sobre todo para ganar STARBITS que es el token que podemos generar en este juego, y que más adelante puedes utilizar para comprar cartas o canjear por Hives en el mercado de
Hive-Engine
.

Como pueden ver con el cumplimiento de las misiones van generando Starbits, pero además de esto, en las misiones puedes obtener slides de pizza o tazas de café, lo que ayuda a que la energía se regenere y sea posible la realización de más misiones, además puedes obtener cartas y tréboles de la suerte, estos últimos aumentan la suerte de tu cantante, para de esta manera poder obtener mejores premios al finalizar las misiones.

Pueden observar en la parte superior izquierda de la pantalla de este juego que tenemos un panel donde se encontraran con los principales módulos del mismo. Donde aparte de las misiones encontraremos el módulo de las cartas, en donde podemos ver las cartas que tenemos en nuestra colección, así como también las que están disponibles en el mercado y que puedes comprar con STARBITS, SWAP.HIVE, SIM, BEER y DEC, lo cual es una de las mejores cosas que tiene este juego, ya que no limita la compra y venta de las cartas a un solo token o moneda. En este mismo modulo podemos comprar paquetes de cartas, en donde puedes obtener 3 cartas, que pueden variar entre, comunes, raras y legendarias, siendo estas dos últimas las de mayor valor y evidentemente las más deseadas.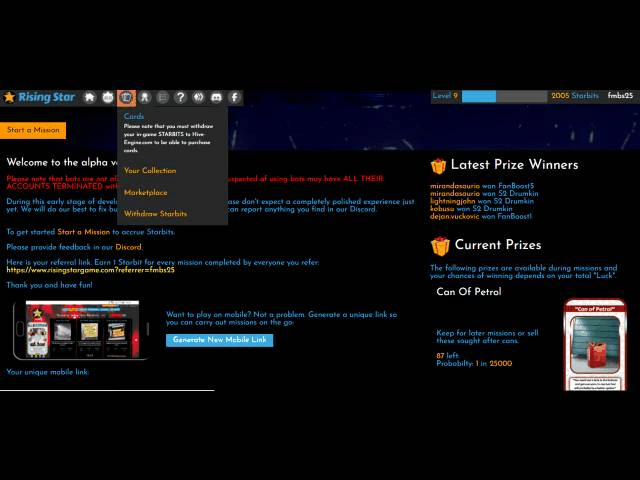 Estas cartas pueden ser vendidas o utilizadas en el juego a medida que se van desbloqueando misiones. El siguiente modulo es el de los Logros, en donde podrás ir monitoreando cuantas misiones has realizado a lo largo de tu estadía en el juego, y que como puedes ver, a medida que vas realizando misiones puedes optar por premios, estos por ejemplo al completar la misión numero 100 me han regalado un paquete de cartas, ya veremos que me dan cuando complete las 500 misiones. En la parte superior derecha de la pantalla podemos observar el nivel que lleva nuestra cuenta así como la cantidad de STARBITS que hemos recolectado.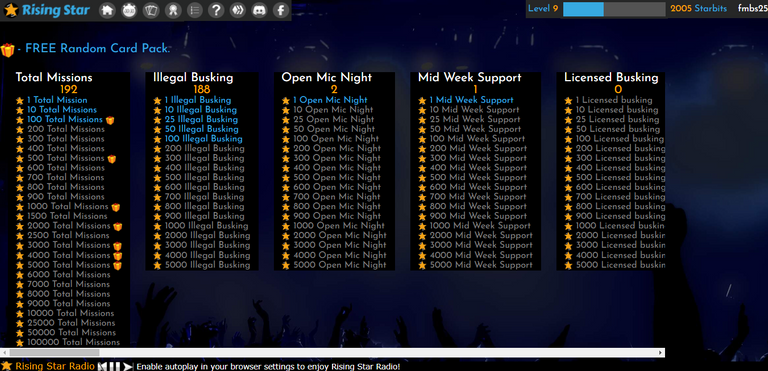 En Conclusión, este juego realmente me ha atrapado, aunque es sencillo y un tanto monótono en principio, mantiene atrapado al jugador y conozco a más de uno que esta enganchado al igual que yo. Aunque su plataforma es un poco lenta, pues al momento de comprar cartas, tardan al menos unos 5 minutos en salir reflejadas en tu colección, esto imagino que se debe a lo nuevo del juego, a medida que las actualizaciones vayan saliendo debería ir acoplándose más a la rapidez de la blockchain. de igual manera el mercado es un poco lento, pues es un juego nuevo, y a medida que vayan llegando más jugadores y los mismo desbloqueen las misiones de niveles superiores este mercado se activara mucho más. En líneas generales me parece un juego que promete y del que no creo que pueda despegarme por un rato. Así que, si aún no estas enganchado a
Rising Star
, ¿Que esperas para hacerlo y comenzar a hacer música?

Imágenes tomadas de la página de Rising Star , y gif realizado con la aplicacion GifShop.
Gracias por tomarse el tiempo de leer esta publicación, si tiene alguna pregunta, crítica o sugerencia, la agradecería que la pusiera en la caja de comentarios, y recuerda, ¡Tú también puedes hacer magia en la cocina ya dondequiera que vayas!



Created by @robinsonlgil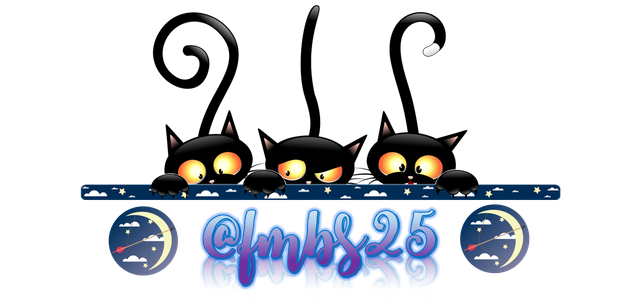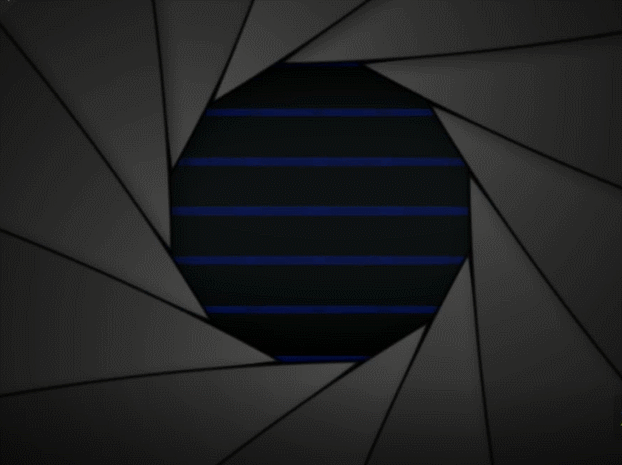 ---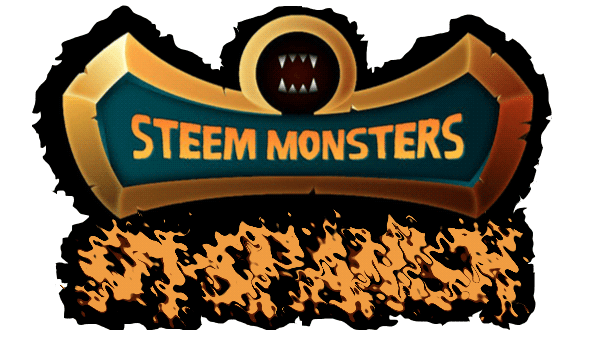 ---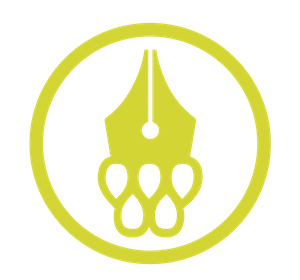 Come and support @Cervantes as Witness in https://peakd.com/me/witnesses
---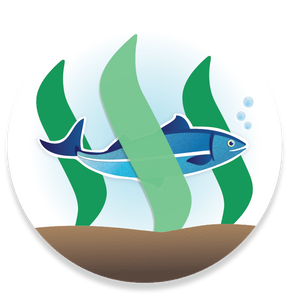 Come and supports @Aggroed as Witness in https://peakd.com/me/witnesses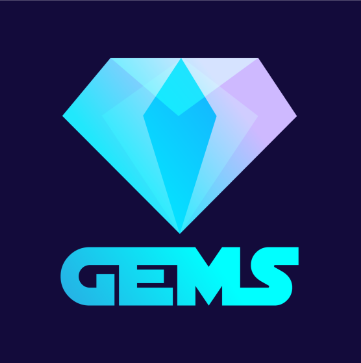 Join @gems-community's Discord

A proud member of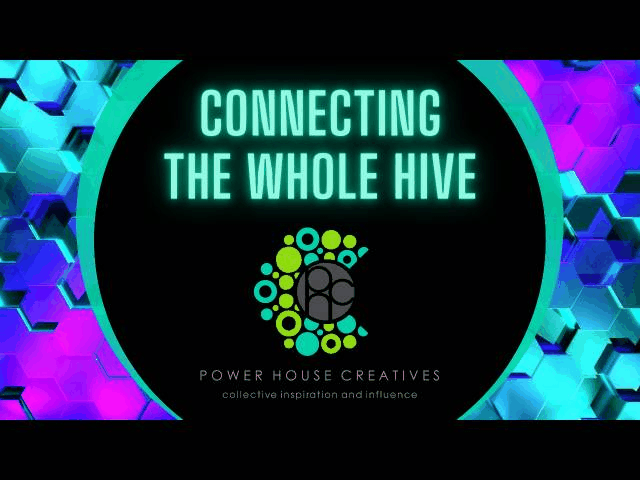 Created by @derangedvisions