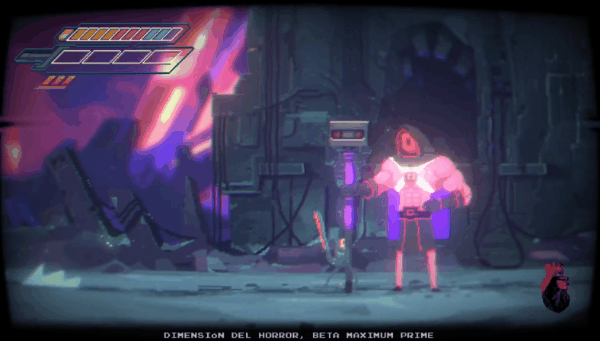 ---
Narita Boy is a game that has kept gamers in expectation for many years, this game was born from a Crwofunding campaign in 2017 and since then they have been making small advances on its development. This is an Indie game that has many nods to the culture of the 80s, funk music accompanied by powerful bits that immediately remind you of old school games, not to mention its artistic section which stands out at first glance. Narita Boy may seem like a set of many retro ideas in order to make us fall in love, but it is more than that, it is a game that has its own identity despite having taken the best of many genres we already know. This will be a journey full of nostalgia accompanied by good music.
---
Narita Boy es un juego que ha mantenido a los gamers en expectativa durante muchos años, este juego nace de una campaña Crwofunding en el año 2017 y desde entonces se han estado realizando pequeños avances sobre su desarrollo. Este es un juego Indie que posee muchos guiños a la cultura de los años 80, música funk acompañadas de bits poderosos que inmediatamente te recuerdan los juegos de la vieja escuela, sin mencionar su apartado artístico el cual resalta a primera vista. Narita Boy puede parecer un conjunto de muchas ideas retros con el fin de enamorarnos, pero es más que eso, es un juego que tiene su propia identidad a pesar de haber tomado lo mejor de muchos géneros que ya conocemos. Este será un viaje lleno de nostalgia acompañado de buena música.
---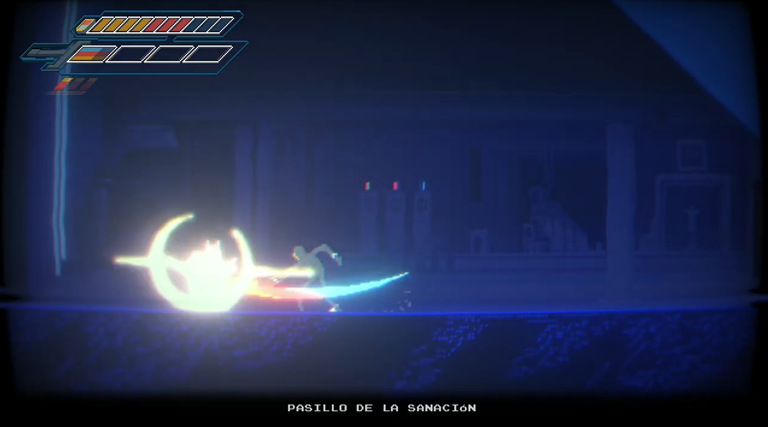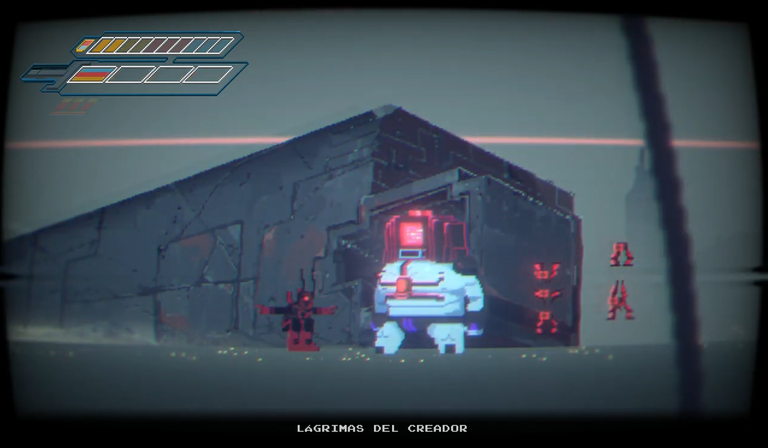 ---
---
STORY

Narita Boy is a game that pays homage and winks in a direct way without fear of being labeled as a copy, its argument is very similar to the Tron movie or Tron Legacy more recently. Our adventure begins in the 80's with a computer genius who has managed to make a console and program a video game that seems to be the innovation that everyone expects, but something happens unexpectedly; one of his characters appears on his screen stealing all his memories, he takes them to the digital world. Our main character is a young player who also by chance is absorbed by the video game turning him into Narita Boy, having the dangerous mission of rescuing all the memories that have been stolen from the creator of the game. Although the game has that retro look and its story has similar arguments to those of the mentioned movie, Narita Boy prints its own stamp to everything we live within the digital realm, all the elements have a reason to be and nothing is random, so it will be a delight to interact with the environment and with each element within the game. Its story does not seem so original, but there are other visual narrative elements that complement it in a masterful way.
---
Narita Boy es un juego que rinde homenajes y hace guiños de una forma directa sin temor a ser etiquetados como una copia, su argumento es muy parecido al de la Película Tron o Tron Legacy más recientemente. Nuestra aventura comienza en los años 80 con un genio informático que ha conseguido fabricar una consola y programar un videojuego que parece ser la innovación que todos esperan, pero algo ocurre de forma inesperada; uno de sus personajes aparece en su pantalla robándole todos sus recuerdos, se los lleva al mundo digital. Nuestro personaje principal es un joven jugador al cual también por casualidad es absorbido por el videojuego convirtiéndolo en Narita Boy, teniendo la peligrosa misión de rescatar todos los recuerdos que les han sido robados al creador del juego. Aunque el juego luce ese aspecto retro y en su historia tiene argumentos parecidos a los de la película mencionada Narita Boy imprime un sello propio a todo lo que vivimos dentro del reino digital, todos los elementos tienen una razón de ser y nada es al azar, Por lo cual será una delicia interactuar con el entorno y con cada elemento dentro del juego. Su historia no parece tan original, pero existen otros elementos narrativos visuales que la complementan de una forma magistral
---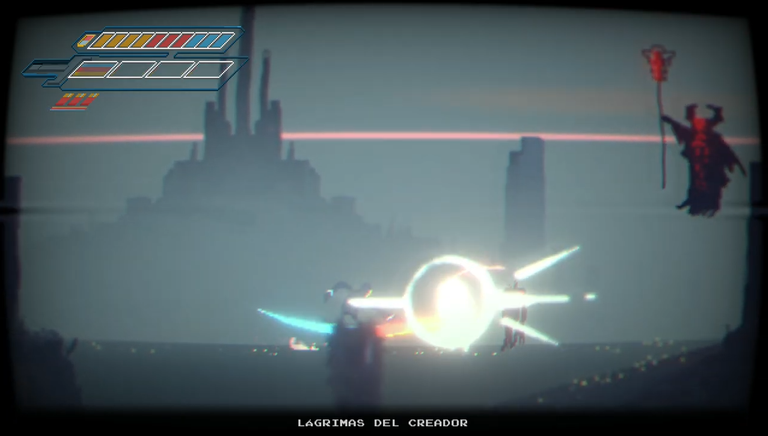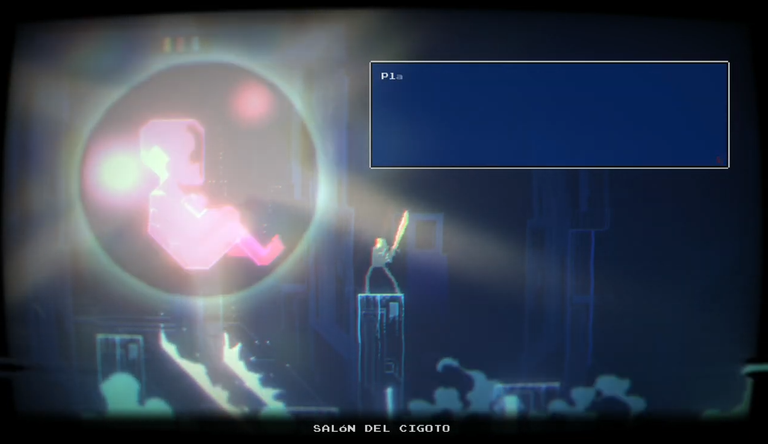 ---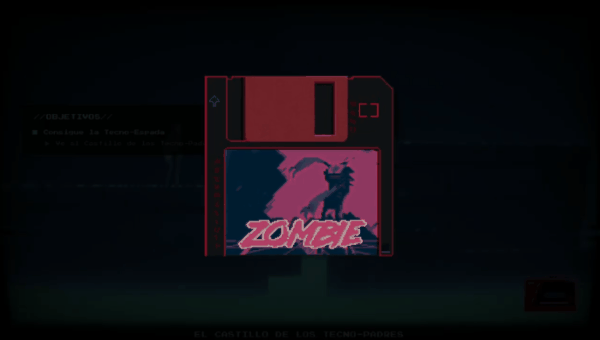 ---
Gameplay

Within the gameplay we find an action and platform game that makes use of side scrolling which does not seem to be innovative because many games have already squeezed this formula, however Narita Boy combines the genres with a progression system worthy of a JRPG, At the beginning we find a fairly minimalist battle system and as we progress through the game we must learn new moves and forms of attack, here the bosses are not always won with sword blows for 10 minutes, the strategy used is very important and learning the blows that our protagonist can wield is of vital importance. This makes each final boss different and therefore we end up dead, if we will end up dead until we learn the logic of the attack and the weak points of our opponent. It is necessary to be attentive to the different phases of the fights when to attack or when not to attack, the battles are not reduced to just pressing a button a thousand times and with that we will win. This game mechanic means that we must always be learning and be alert to the changes that are presented to us. This progression system is very attractive and is well polished so it is one of the protagonists.
---
Dentro de la jugabilidad nos encontramos con un juego de acción y plataformas que hace uso del scroll lateral lo cual no parece ser innovador porque ya muchos juegos han exprimido esta fórmula, sin embargo Narita Boy conjuga los géneros con un sistema de progresión digno de un JRPG, al inicio nos encontramos con un sistema de batalla bastante minimalista y a medida que vamos avanzando dentro del juego debemos aprender nuevos movimientos y formas de ataque, aquí los jefes no siempre se ganan a golpes de espada durante 10 minutos, la estrategia empleada es muy importante y aprender los golpes que puede esgrimir nuestro protagonista es de vital importancia. Esto hace que cada jefe final sea distinto y por ende terminemos muertos, si terminaremos muertos hasta que aprendamos la lógica del ataque y los puntos débiles de nuestro contrincante. Es necesario estar atento a las distintas fases de las peleas cuando atacar o cuando no hacerlo, las batallas no están reducidas a solo oprimir un botón mil veces y con eso ganaremos. Esta mecánica de juego hace que siempre debamos estar aprendiendo y estemos alerta a los cambios que se nos presentan. Este sistema de progresión es muy atractivo y está bien pulido así que es uno de los protagonistas.
---
---
---
Technical Section

Narita Boy is a game that presents an artistic section that has left me stunned, I can spend hours trying to dissect each of its elements, however, I will focus on its Pixel Art design which shows how well worked and the effort that has been made not only to highlight the color palette, but also the way the lights and shadows are combined to give it an aged appearance. It is also important to highlight how they play with the combination of colors to remind us of those neon ads of the 80s. Its environments are well detailed and there is no repetition of scenarios that can make the game boring. Despite being well elaborated scenarios, character designs, an element that plays against it is that there are objects that for a moment seem that we can interact with them and it is not so, or for a moment you think it can be a tab where you can stand and it is not so; so it lacked some work in that aspect. With respect to its soundtrack its main theme is a complete ode to the era and can pass for a Daft Punk album without any problem, it is dynamic and always present so there are no empty moments, its sound bits can remind you of the Arcade machines of yesteryear. Very complete the technical section
---
Narita Boy es un juego que presenta un apartado Artístico que me ha dejado anonadado, puedo pasar horas tratado de diseccionar cada uno de sus elementos, sin embargo, me enfocare en su diseño Pixel Art el cual se nota lo bien trabajado y el esfuerzo que se ha realizado no solo para resaltar la paleta de colores, sino también la forma como se conjugan las luces y sombras para darle un aspecto envejecido. También es importante resaltar como se juegan con la combinación de colores para recordarnos aquellos anuncios de neón de los años 80. Sus entornos están bien detallados y no existe la repetición de escenarios que pueda hacer el juego aburrido. A pesar de estar bien elaborado los escenarios, los diseños de personajes, un elemento que juega en su contra es que hay objetos que por un momento parecieran podemos interactuar con ellos y no es así, o por un momento piensas que puede ser una pestaña donde puedes pararte y tampoco es así; por lo cual faltó algo de trabajo en ese aspecto. Con respecto a su banda sonora su tema principal es una oda completa a la época y puede pasar por un álbum de Daft Punk sin ningún problema, es dinámica y siempre está presente por lo cual no existen momentos vacíos, sus bits sonoros pueden recordarte a las maquinas Arcade de antaño. Muy completo el apartado técnico
---
---
Highlights
1.Its pixel art style graphics do not go unnoticed, demonstrating that it is a game that brings its own personality.
2.The winks to movies and games from the 80s.
3.A fairly complete progression system and above all intelligent that allows you to get the most out of the fights.
Su apartado grafico al estilo pixel art no pasa desapercibido, demostrando que es un juego que aporta su propia personalidad
Los guiños a películas y juegos de los 80
Un sistema de progresión bastante completo y sobre todo inteligente que permite sacar el jugo a los combates.
---
The Worst
Some bugs in the movements and game controls, so it is possible that in moments of action become somewhat clumsy.
The game controls do not seem to be well defined, we must try for more than one occasion to move or do some kind of interaction.
Algunos fallos en los movimientos y en los controles de juego, por lo cual es posible que en momentos de accion se vuelvan algo torpes
Los controles de juego no parecen estar bien definidos, debemos intentar por mas de una ocasión el movernos o hacer algún tipo de interacción.
---
Conclusion
Narita Boy is a game that leaves us wanting to play more, despite having some points against it, there are more points in favor to recommend it. It is a game that uses nostalgia to its advantage, making the viewer get immersed in everything that is happening. It is a game that knows how to combine the story with the digital universe, managing to create something unique and different from what we have seen in recent years. Its mix of genres works, but not 100% and perhaps that is the turning point to say that I missed something that hooked me more but that does not detract from its merit. Some technical glitches such as its controls cause annoyance because you would expect a game so well worked in the artistic aspect not to present failures of this type. Narita Boy is a game that will please more than one, it will envelop you with its halo of nostalgia.
---
Narita Boy es un juego que nos deja con ganas de querer jugar más, a pesar de tener algunos puntos en contra son más los puntos a favor como para recomendarlo. Es un juego que usa la nostalgia a su favor logrando que el espectador se sumerja en todo lo que está ocurriendo. Es un juego que sabe conjugar la historia con el universo digital, logrando crear algo único y diferente a lo que hayamos visto en años cercanos. Su mezcla de géneros funciona, pero no al 100% y quizás allí es el punto de inflexión como para decir que falto algo que me enganchara más pero no por ello le resta mérito. Algunos fallos técnicos como sus controles causan molestia porque se esperaría que un juego tan bien trabajado en lo artístico no presente fallos de este tipo. Narita Boy un juego que gustara a más de uno, los envolverá con su halo de nostalgia.
---
The game is the intellectual property of its creator