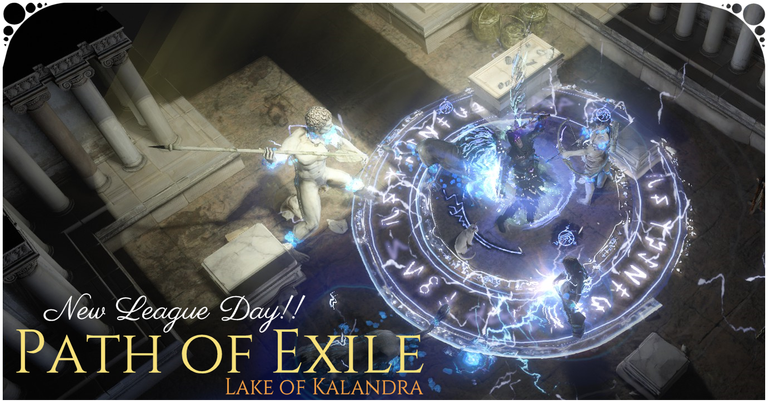 Thanks to a routine formed when I first started joining in with the old Path of Exile Hardcore Races on-chain, I have this bad habit on New League Day of waking up early, downloading the Path of Exile update and jumping into the game the moment the servers are live.
For the first time in ages, today I didn't!
Well, I still downloaded the patch first thing in the morning, but this time I sat down with my iced coffee and started investigating the Lightning Conduit and Overcharge gems since they still hadn't been added to Path of Building. I am NOT in a race; I can take my time.
Honestly, there wasn't that much information still, and I was disappointed that Path of Building hadn't added the new gems into its database yet when I read that they usually do a couple of hours before new patches go live. In the build that I've made, I've got Arc sitting there as a placeholder for Lightning Conduit and I haven't been able to really find out much about Overcharge. So the only way to really find out is to hop into the game.
At least, if Lightning Conduit isn't as amazing as I think it will be, my build is pretty solid for Arc. 🤷‍♀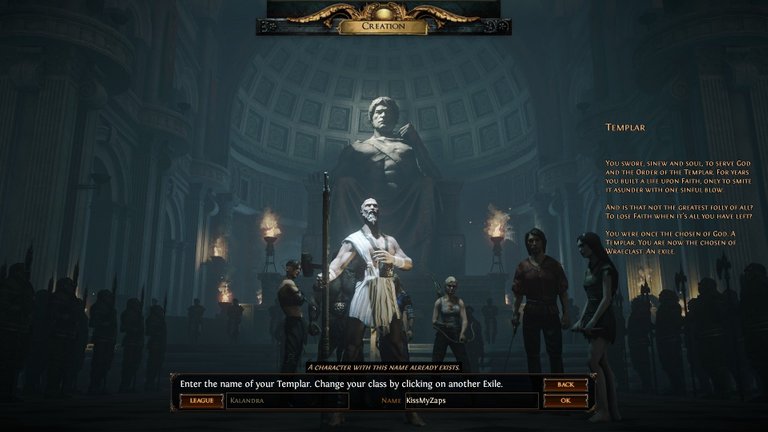 For the first time ever, I'm running a Templar instead of a Witch! 😱 I was pretty sure I was going to go Elementalist, and then I was thinking of going Ascendant, and then, last night as I was tweaking my build, I was like, NAH! LET'S GO INQUISITOR.
So, Templar it is. Here's hoping he wears my transmog nicely because I did kind of design that around my usual female character. 😂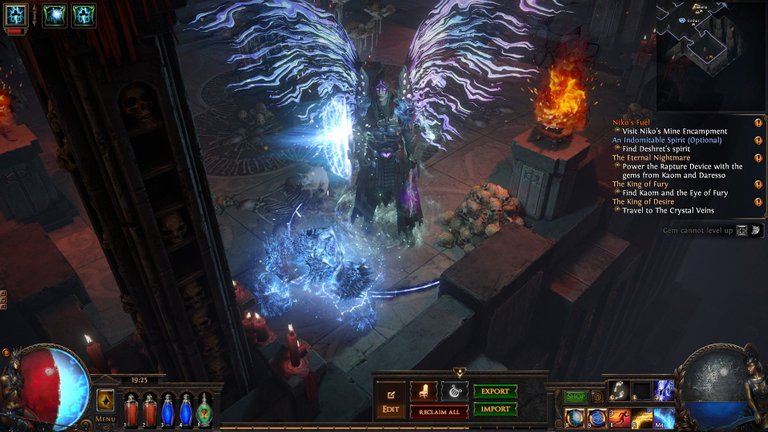 Oh, here he is, wearing the skins I bought. Doesn't look as good as the Witch but it'll do, Donkey. (He looks like a big, fat emo fairy.)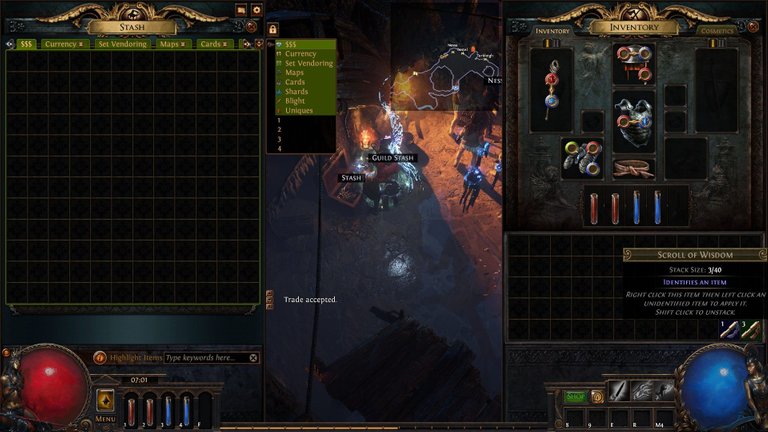 Something I learned recently also was that if you go into the Standard game and sort your inventory (after you suffer a brain aneurysm because you've played so many leagues and challenges and you have fifty thousand tabs in your stash) the way you sort your stash tabs moves forward to future leagues.
So before the league start, I sorted my affinities and tabs in Standard, and was overjoyed to find it all carried forward to the new league! I don't know how long this has been a thing for, but it's very welcome.
When I reached level 7, my partner got out of bed and turned on his computer and such, then says to me, "Pob's been updated." and I squealed with glee and alt-tabbed and then squealed with more glee when I replaced Arc with Lightning Conduit in my attempted build and received 600k more Full DPS.
So far so good! 😁 Now I just need to get it in-game and see what it's really like! Which won't be til level 28 or so, and it won't be very good until I get a reliable source of Shock anyway.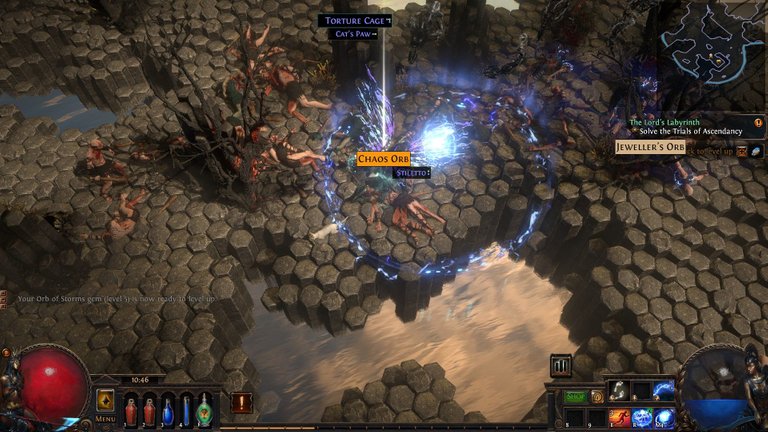 At level 20 I got my first Chaos Orb. Then I got another. Both in the same Lake of Kalandra mechanic. 😊 A good start to the League.
By level 35, I had seven Chaos Orbs. xD Pretty much entirely thanks to the Kalandra maps. I found one randomly out in the world.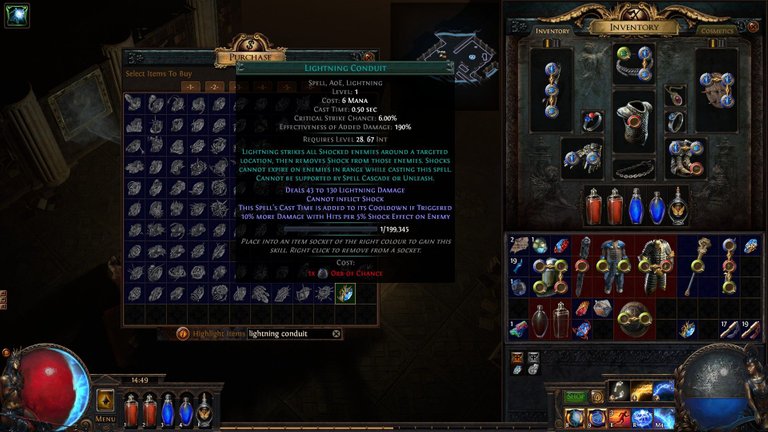 I got the new ability, Lightning Conduit, at level 28 and I've been trying to get used to it. It only damages enemies providing they're already debuffed with shock, so I've currently put shock chance on my Tempest Shield and Wave of Conviction and I have Shock Nova which is a guaranteed shock.
It's not ideal at the moment. I need to finish Act 4 to get Cast When Damage Taken, get Wave of Conviction going regularly, and then get my gems done up nicely so I never have to even inflict shock myself, it just happens automatically.
Then I can go around just zapping everything!
It'll be great.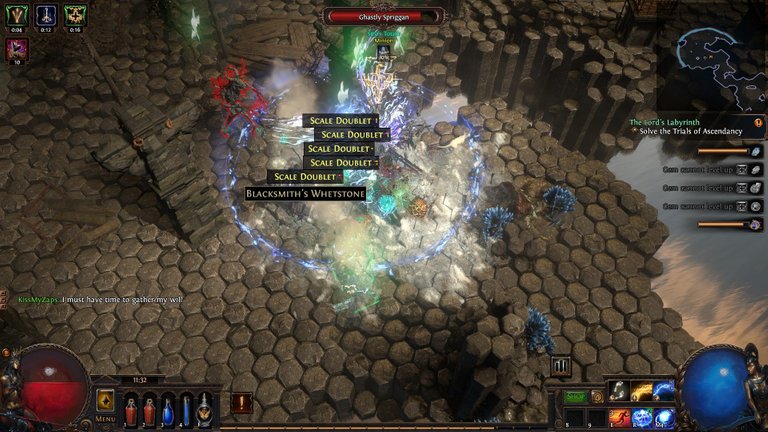 The new Lake of Kalandra (I have to stop myself from writing 'Caloundra' every damn time) mechanic seems pretty fun so far too. And good for XP. I've just finished Act 3 and I'm level 42, haha.
It's nothing special though, from what I can see so far. I did have one mirror event show up, but I don't think I really care about it that much. Oooh, lose 20 intelligence and get 20 life per kill, orrrrrr, gain 20 intelligence and get hit for 20 life per kill.
I'm not interested in shuffling through these positives and negatives that the special part of the mechanic is offering. I like doing up my mirror then diving in and killing a bunch of things for loot though. So there's that.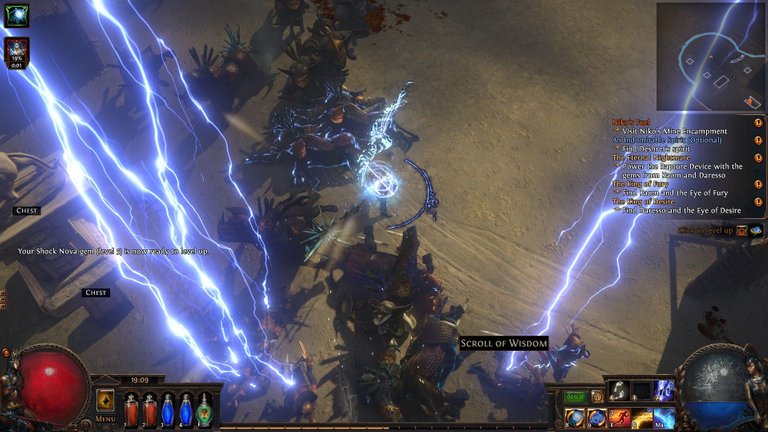 I'm halfway through Act 4 at the moment. 🙂 I'm not diving into this as quick and full-on as I normally would. I'm happy to just take my own pace for a change and enjoy the scenery. The next Destiny 2 season is out in a few days as well so I'll be dividing my time between these two games for the time being.
Doing it this way I won't get burnt out on either of them in a week like I normally would. XD
So far I'm pretty happy with my setup. Need to path towards more energy shield skills before continuing on towards more damage and things. Tomorrow I'm going to go do the first (maybe second) Labyrinth and get my first Inquisitor points and continue levelling. I should reach mapping mid-nextweek or so!
(When I ding'd 42, someone else was first to ding 93. I can never again call myself a no-lifer.)
Until next time!! 😊
---
All screenshots in this post are courtesy of me, @kaelci and are from the game:
Path of Exile.