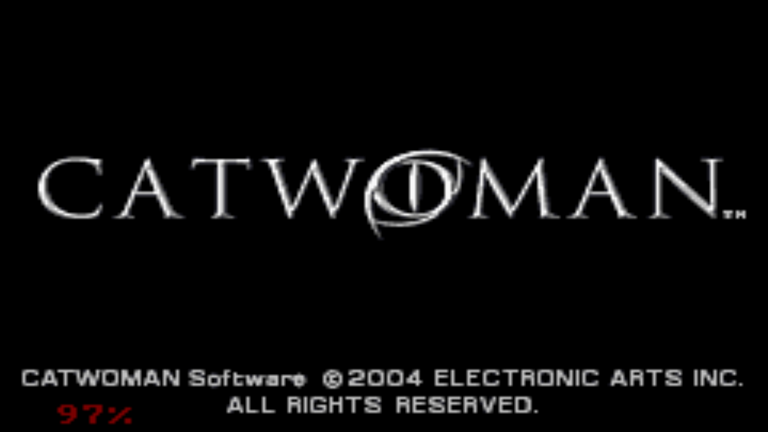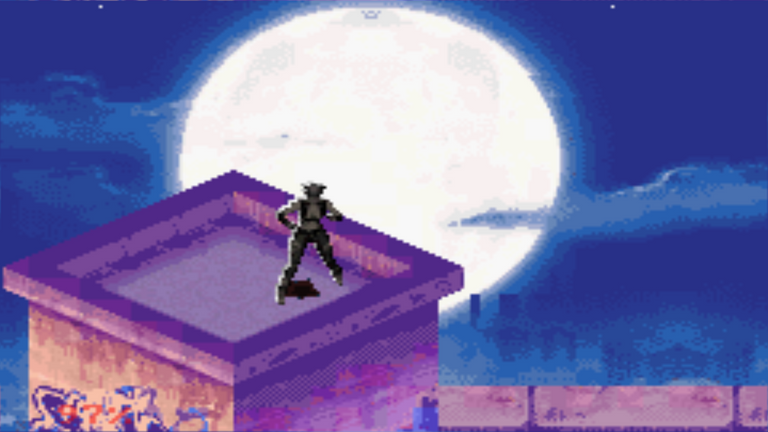 Superhero video games mostly focus on the main characters of the comic and their most popular enemies to create titles, although sometimes we can witness how some video games focus on some important characters but in the end could not be considered the main character of the story and this can be very interesting for fans of these characters as well as to learn more about the character if you are not a great reader of the Comic. Catwoman is a video game focused precisely on Catwoman one of the characters that appears in the stories of Batman, this title dates back almost 2 decades having been published in 2004 and was released for all the most popular consoles in the early 21st century as were the Xbox, Play Station 2 and GameBoy Advance, in this case I tried the GameBoy Advance version which despite being a portable console had very interesting features for the average games of the console.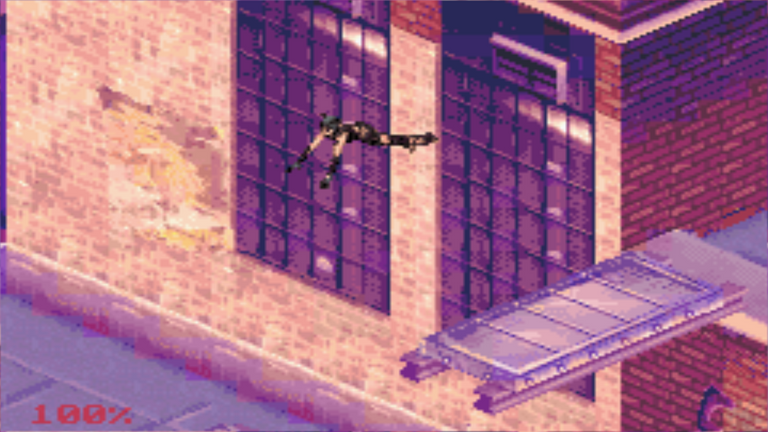 Catwoman is a platform title with some combat elements that, although they are not so frequent in the levels have some mechanics and animations quite interesting, the adventure will be in an isometric view in a world with designs similar to 3D and although it is always fun to see a GameBoy Advance title with these designs is also true that many times it can be somewhat uncomfortable the movement of the character in space when combining these style and when it comes to titles with elements of platforms can end up resulting in some wrong jumps and even deaths depending on the height or situation of the jump.
A very striking aspect is its graphic design and the colors used to highlight the scenarios where mostly intense and strong colors are used in purple or similar shades in the first levels and although it is an old title and a console with many limitations in the graphic aspect designs and details of the levels and characters are very well for that time. As usual in several titles of this style the way of telling the story or the scenes between levels are usually shown through drawings similar to Comic to complement the theme with its Comic origin.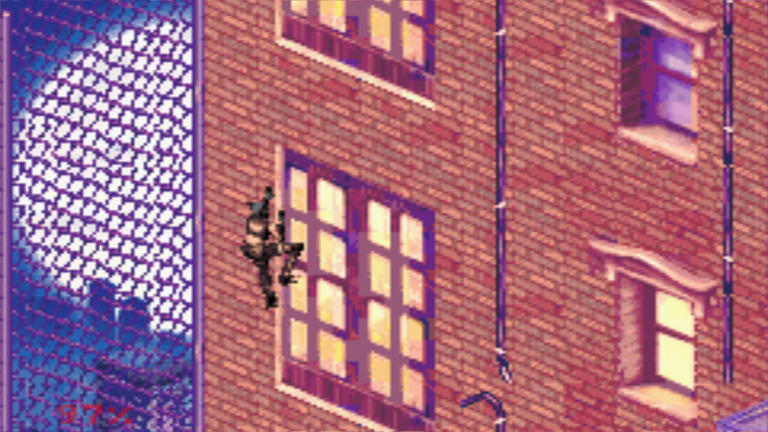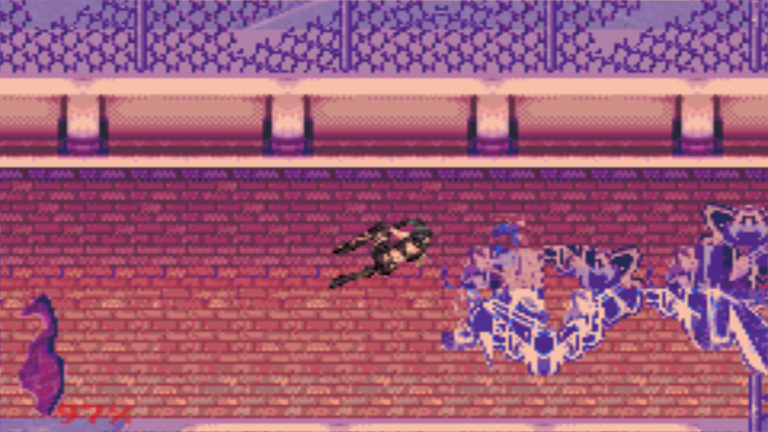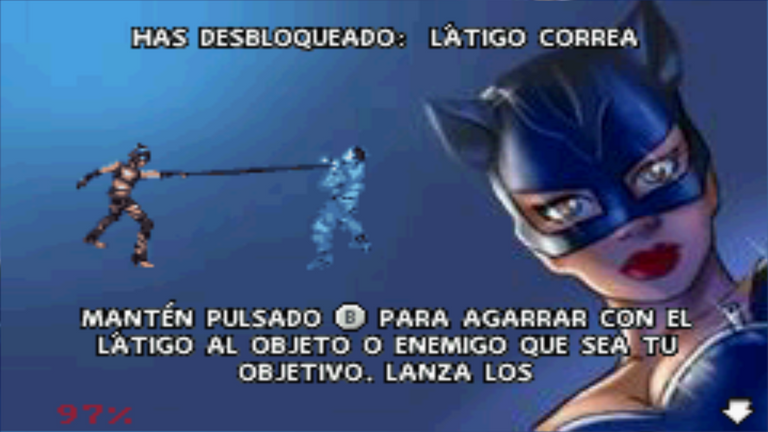 Being a Gameboy Advance title the list of controls is quite simple where the main thing will be a button to make jumps and another to comply where you automatically have two types of attack, one at a distance with the whip which will be done if we are far from an enemy and if we are a short distance from the enemies Catwoman proceeds to hit us with a series of kicks and pirouettes. Something that can be quite uncomfortable to get used to at the beginning is the distance of the jumps, the jumps are seen in a kind of slow motion and depending on how long you leave the jump button pressed you can get very far or make a shorter jump, at first you can miscalculate and end up passing the place where you should fall. In addition to having extremely long jumps we also have several mechanics to have more mobility when climbing buildings such as being able to climb like a cat a certain distance vertically and even stay a few moments on the wall without falling and if you press the jump button again will make a jump in the direction you want, this can be used to climb between two nearby walls jumping from one to another to reach climb the entire wall. There is also a mechanic that by using the right trigger if you run towards a fall or vacuum, but with a side wall you can run over the wall and then make another jump and manage to overcome a jump that normally you could not reach, there are several options to climb and overcome obstacles without many problems.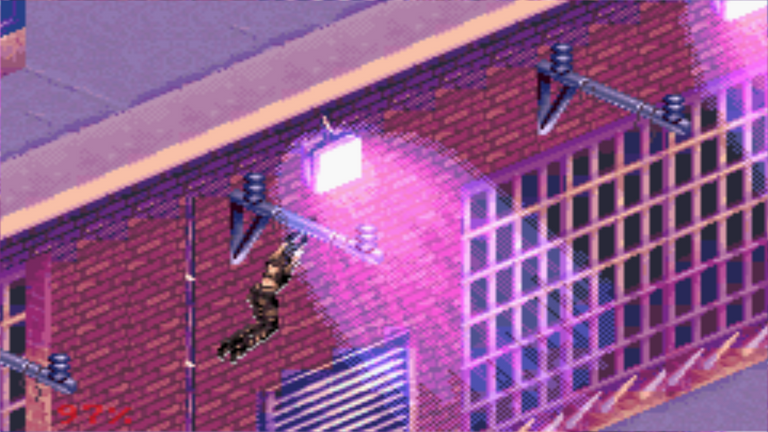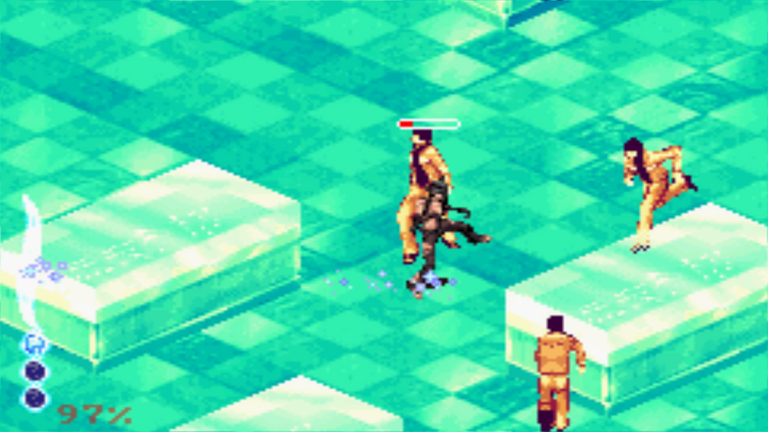 The combat is quite simple where there will not be many combos to perform and will mostly be pressing the attack button over and over again, but as we overcome levels we also unlock new skills such as catching and luring enemies with the whip, as well as many more, You can also use the whip to grab objects from the environment as pots or fire extinguishers to throw them against enemies and cause damage, although to do that you need to direct the objects with the arrows and due to the camera view many times you end up throwing the objects anywhere but where the enemies are. Something interesting is that Catwoman has a very curious vision ability where you can see clearly in the dark and sometimes this is used to fight against some enemies in the dark and they can not see us but to attack any and cause noise the others will know where we are and seek to attack us, night vision is shown with a fairly intense green filter of the entire scenario will be of that color but the enemies are marked with a different color to have no doubt where they are.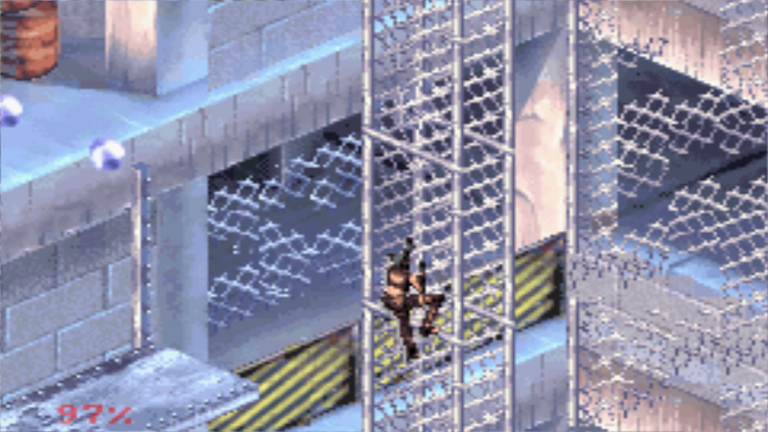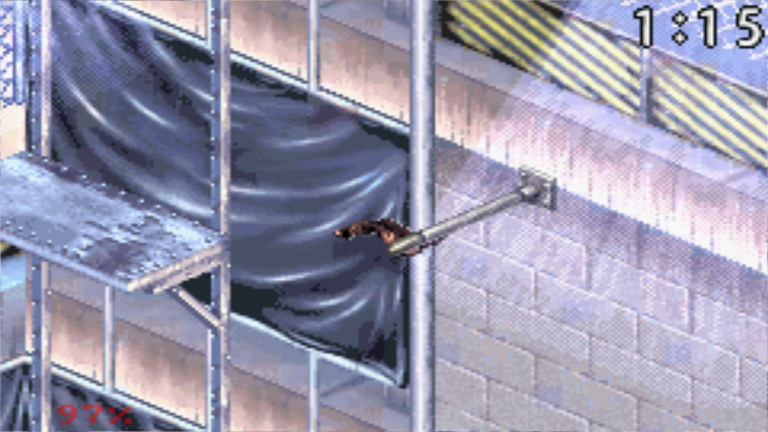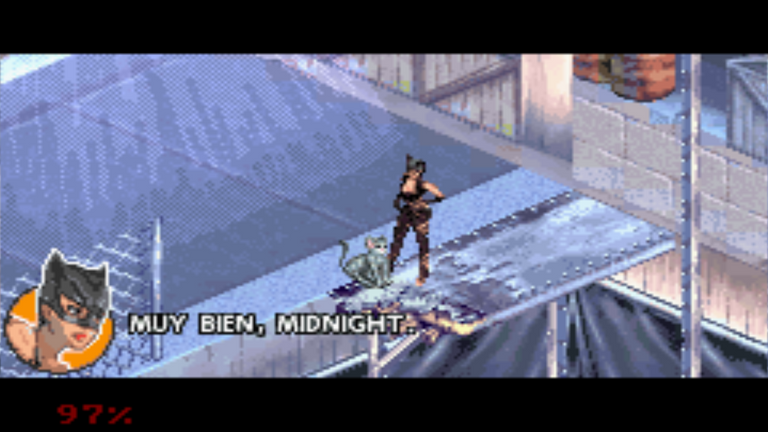 The combat is not the best aspect of this title, but it is not something annoying or with very uncomfortable mechanics to use, the main attraction are all the mechanics of jumps and platforms where there are even levels of climbing against the clock and having to swing on flagpoles to climb vertically or make much longer jumps using inertia. The fall damage has a rather strange operation where you do not receive damage until a certain maximum height which may make you think that there is no fall damage, but the truth is that if you get to fall from a certain height limit you die instantly instead of receiving damage and when you die you must restart from the last save point where there are usually a couple in each level because they are not very long or complicated levels. The way the story is told in comic book form is very fun and serves to know a little more about this character if you are not a fan of reading comic books.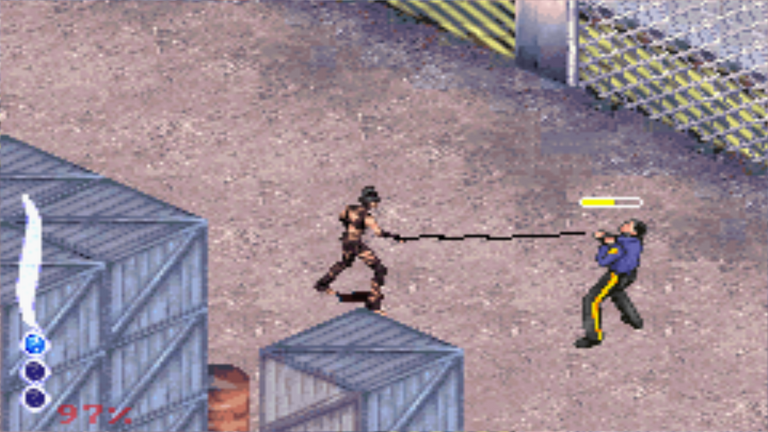 Source
Translated with www.DeepL.com/Translator (free version)
All Images Are Screenshots Of My Monitor
Separator Images:
Separator II Images:
---
---

---
---
Español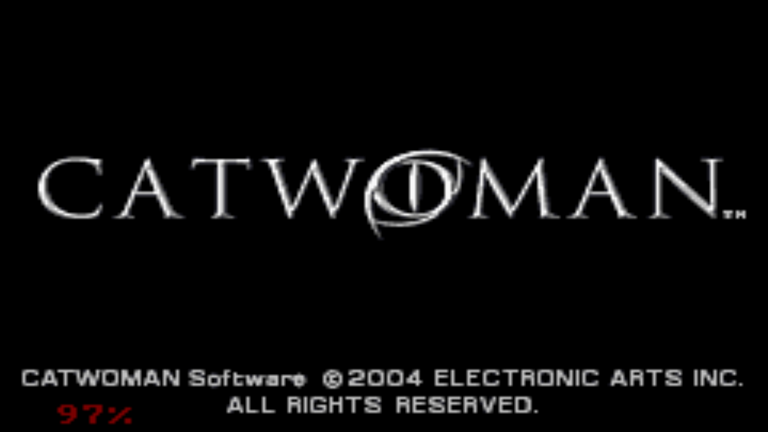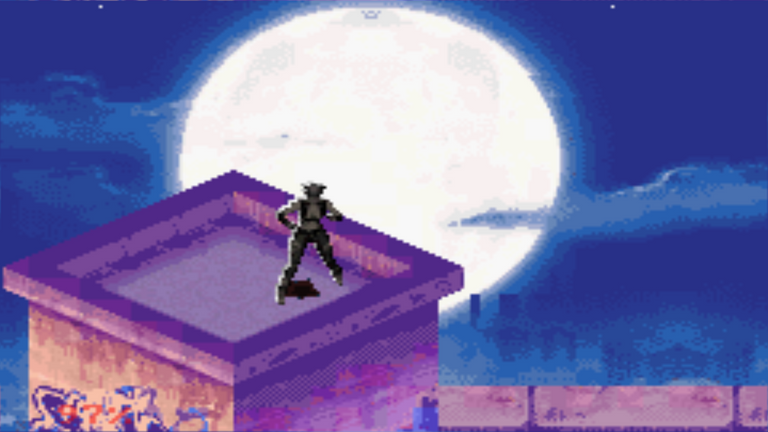 Los videojuegos sobre Superhéroes mayormente se centran en los personajes principales del comic y sus enemigos más populares para crear títulos, aunque algunas veces podemos presenciar cómo algunos videojuegos se enfocan en algunos personajes importantes pero que al final no se podrían considerar el principal de la historia y esto puede resultar muy interesante para los fanáticos de dichos personajes así como también poder servir para aprender más sobre el personaje si no eres un gran leyente de los Comic. Catwoman se trata de un videojuego enfocada precisamente en Catwoman una de los personajes que aparece en las historias de Batman, este título data de hace casi 2 décadas al haber sido publicado en el año 2004 y fue lanzado para todas las consolas más populares a principios del siglo 21 como lo eran la Xbox, Play Station 2 Y GameBoy Advance, en este caso probé la versión de GameBoy Advance la cual a pesar de ser una consola portátil tenia funciones muy interesantes para la media de juegos de dicha consola.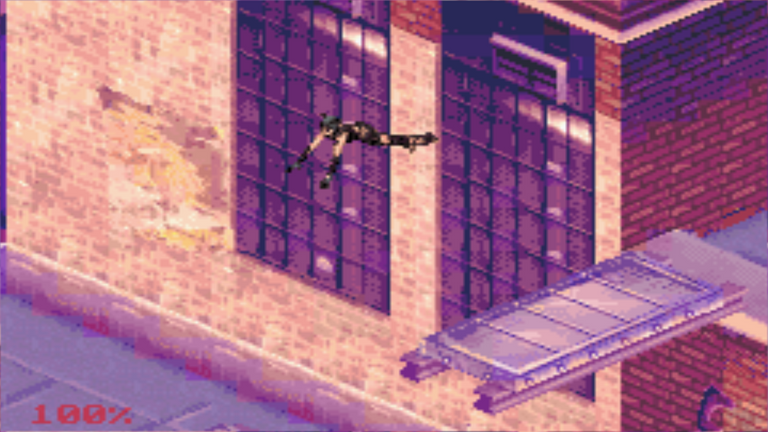 Catwoman se trata de un título de plataformas con algunos elementos de combate que, aunque no son tan frecuente en los niveles tienen algunas mecánicas y animaciones bastante interesantes, la aventura será en una vista isométrica en un mundo con diseños similares al 3D y aunque siempre en divertido ver un título de la GameBoy Advance con estos diseños también es cierto que muchas veces puede resultar algo incómodo el movimiento del personaje en el espacio al combinar estos estilo y cuando se trata de títulos con elementos de plataformas puede terminar resultar en algunos saltos erróneos y hasta muertes dependiendo de la altura o situacion del salto.
Un aspecto muy llamativo es su diseño gráfico y los colores utilizados para resaltar los escenarios en donde mayormente se utilizan colores intensos y fuertes en tonalidades moradas o similares en los primeros niveles y aunque se trata de un título antiguo y de una consola con bastantes limitaciones en el aspecto grafico los diseños y detalles de los niveles así como los personajes resultan muy bien para esa época. Como suele ser costumbre en varios títulos de este estilo la forma de contar la historia o las escenas entre niveles suelen ser mostradas mediante dibujos similares a Comic para complementar más la temática con su origen de Comic.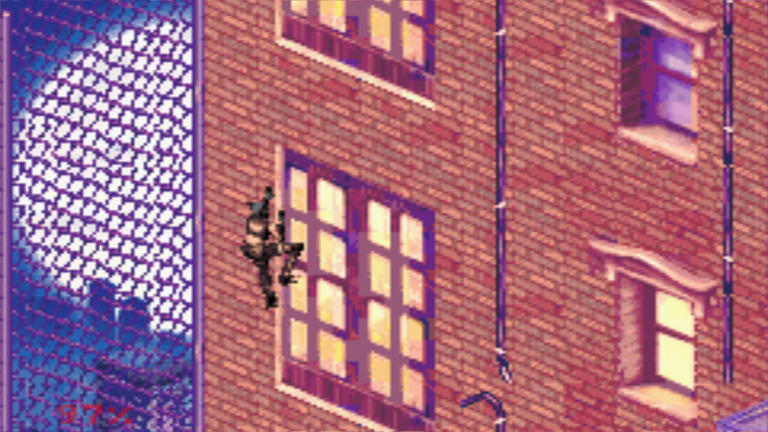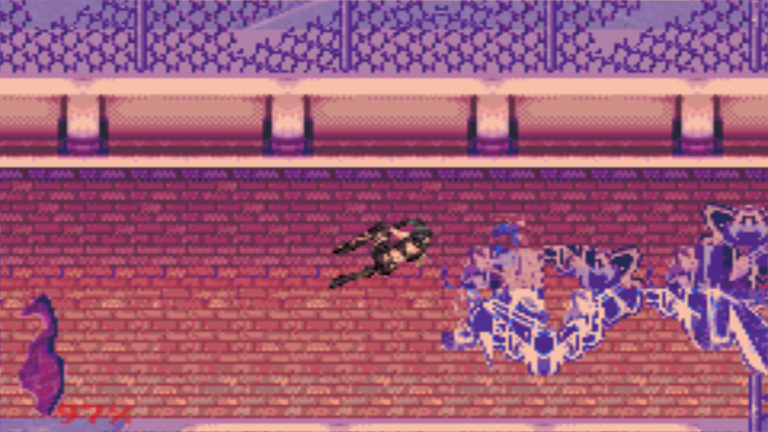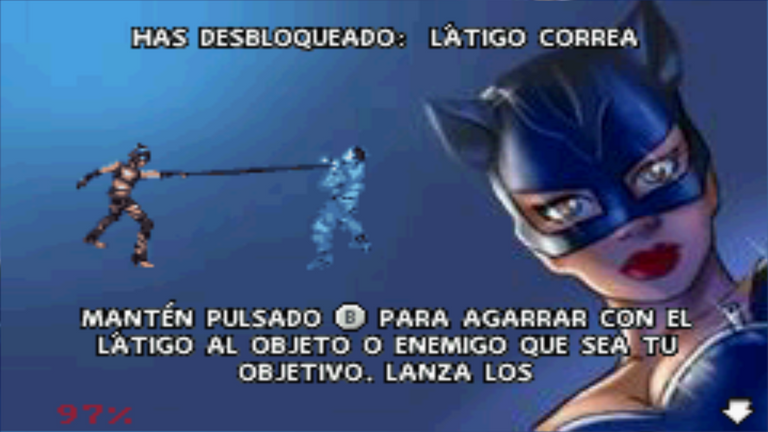 Al tratarse de un título de la Gameboy Advance la lista de controles es bastante sencilla en donde lo principal será un botón para realizar saltos y otro para acatar en donde de manera automática se tiene dos tipos de ataque, uno a distancia con el látigo el cual se hará si estamos lejos de algún enemigo y si estamos a una corta distancia de los enemigos Catwoman procede a golpearnos con una seria de patadas y piruetas. Algo que puede resultar bastante incómodo para acostumbrarse al comienzo es la distancia de los saltos, los saltos se ven en una especie de cámara lenta y dependiendo del tiempo que dejes presionado el botón del saltar podrás llegar muy lejos o hacer un salto más corto, al principio puedes calcular mal y terminar pasando de largo el lugar en donde debías caer. Además de contar con saltos extremadamente largos también contamos con varias mecánicas para tener más movilidad al momento de escalar edificios como lo es poder trepar al igual que un gato cierta distancia en vertical e incluso quedarse unos instantes en la pared de manera fija sin caerte y si vuelves a presionar el botón de salto hará un salto en la dirección que quieras, esto se puede utilizar para escalar entre dos paredes cercanas saltando de una a otra hasta alcanzar subir toda la pared. También se cuenta con una mecánica que mediante el gatillo derecho si corres hacia una caída o vacío, pero con pared lateral podrás correr sobre la pared para luego hacer otro salto y lograr superar algún salto que de manera normal no llegabas, son varias opciones para escalar y poder superar obstáculos sin muchos problemas.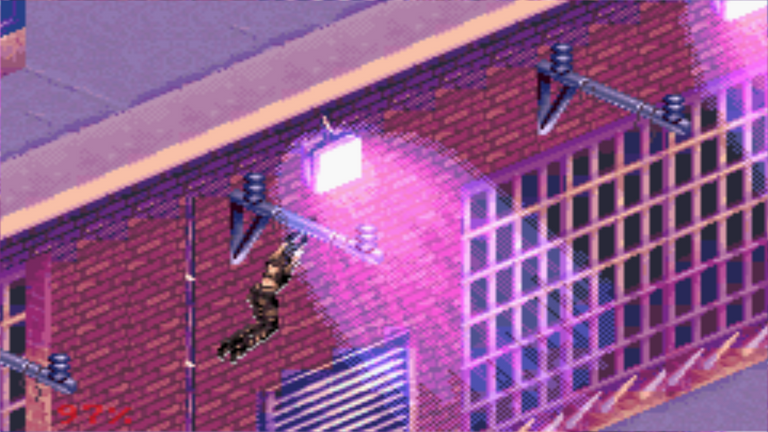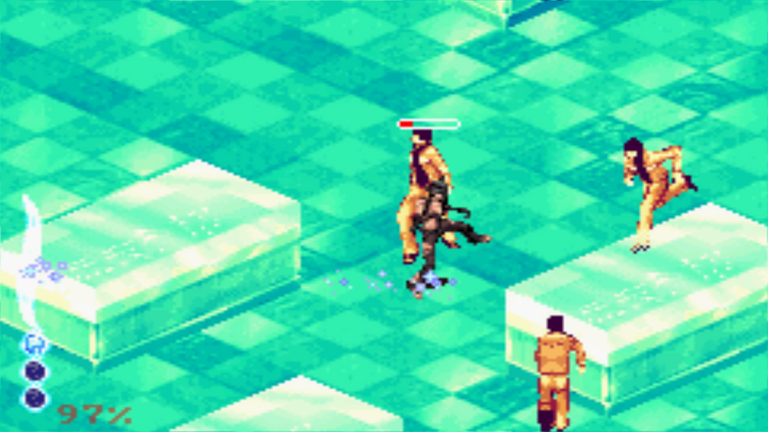 El combate es bastante sencillo en donde no existirán muchos combos para realizar y mayormente será presionar el botón de ataque una y otra vez, pero a medida que vamos superando niveles también vamos desbloqueando nuevas habilidades como puede ser atrapar y atraer a los enemigos mediante el látigo, así como muchas más, también se puede utilizar el látigo para agarrar objetos dl entorno como vasijas o extintores para lanzarlos contra los enemigos y causarles daño, aunque para realizar eso se necesita direccionar los objetos con las flechas y debido a la vista de la cámara muchas veces terminas arrojando los objetos para cualquier lugar menos hacia donde están los enemigos. Algo interesante es que Catwoman cuenta con una habilidad de visión muy curiosa en donde puede ver claramente en la oscuridad y en algunas ocasiones se utiliza esto para combatir contra algunos enemigos en medio de la oscuridad y ellos no podrán vernos pero al atacar alguno y provocar ruido los demás sabrán en donde estamos y buscaran atacarnos, la visión nocturna se muestra con un filtro verde bastante intenso de todo el escenario será de ese color pero a los enemigos se los señala con un color diferente para no tener dudas de donde están.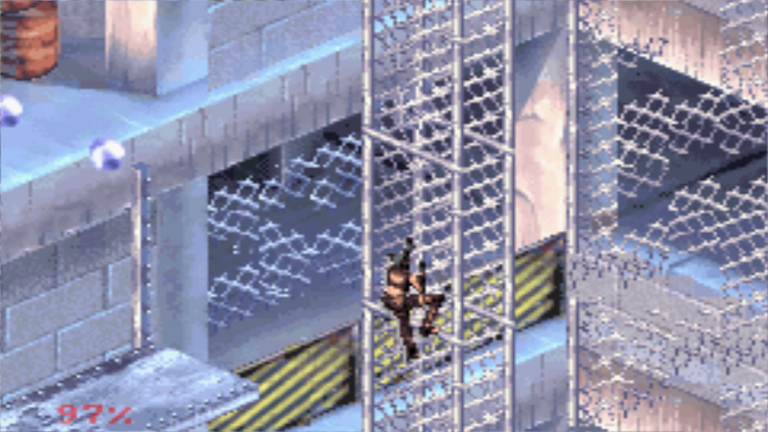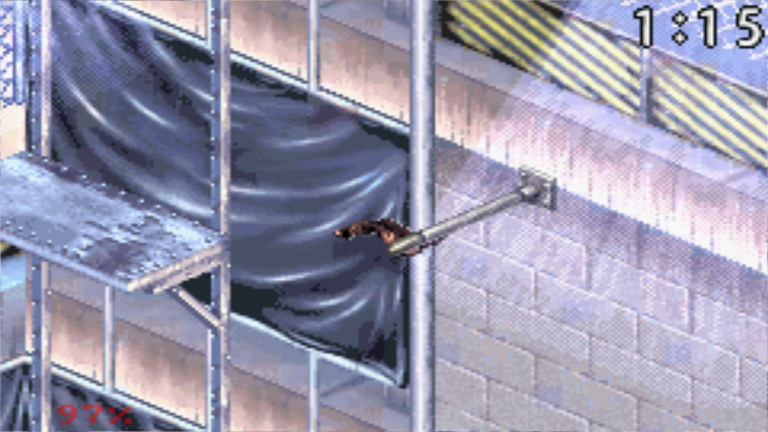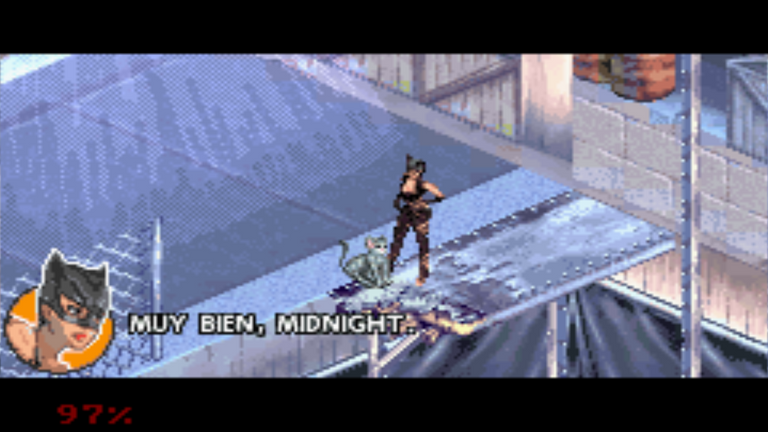 El combate no es el mejor aspecto de este título, pero tampoco resulta ser algo molesto o con mecánicas muy incomodas de usar, el principal atractivo son todas las mecánicas de saltos y plataformas en donde incluso hay niveles de escalar a contra reloj y tener que balancearse en astabanderas para poder escalar en vertical o hacer saltos muchos más largos utilizando la inercia. El daño por caída tiene un funcionamiento bastante extraño en donde no recibes daño hasta un cierto máximo de altura lo cual puede hacerte pensar que no existe el daño por caída, pero lo cierto es que si llegas a caer desde cierto límite de altura te mueres instantáneamente en lugar de recibir daño y cuando mueres debes volver a iniciar desde el último punto de guardado en donde por lo general hay un par en cada nivel debido a que tampoco son muy largos o complicados los niveles. La forma de contar la historia en comic es muy divertida y sirve para saber un poco más sobre este personaje si no eres fanático de leer los comic.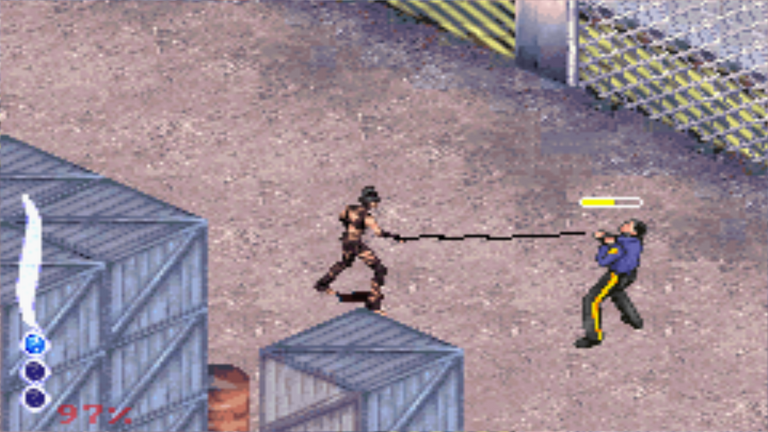 Source
All Images Are Screenshots Of My Monitor
---
Separator Images:
Separator II Images: