Que tal, amigos, espero que se encuentren excelente, hoy quiero compartirles un videojuego que me gusta bastante y si eres fan de los juegos de estrategia, te encantara.
How are you, folks, I hope you find it excellent, today I want to share with you a video game that I like a lot and if you're a fan of strategy games, you'll love it.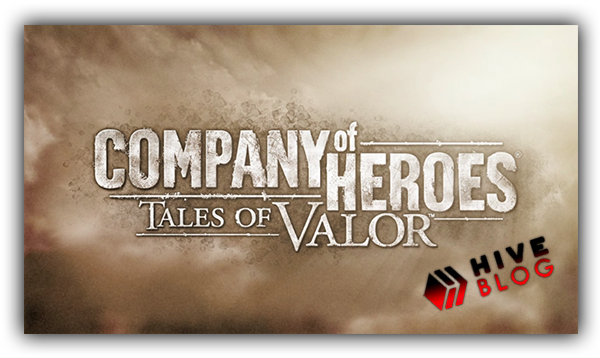 Company of Heroes Tales of Valor es un juego de estrategia desarrollado por la compañía Relic Entertainment y distribuido por THQ. }
Company of Heroes Tales of Valor is a strategy game developed by Relic Entertainment and distributed by THQ.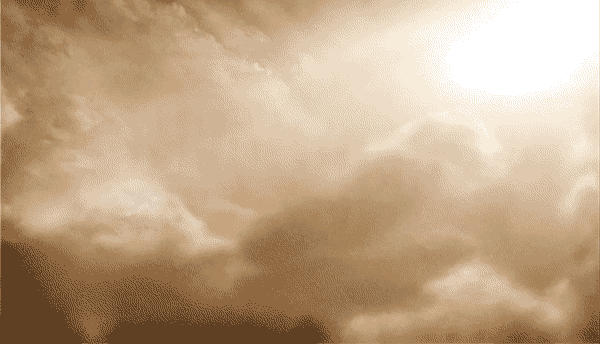 Ambientado en la segunda Guerra mundial y estoy seguro que al igual que yo, ya estas hasta las metras de los juegos de la segunda guerra, del día D y el asalto a Normandía, pero te aseguro que con CoH, no será lo mismo, sobre todo porque esta expansión contiene varias campañas nuevas en la cuales podemos jugar con nuevos equipos y banderas. A pesar de que ya no cuenta con la gestión de recursos y la construcción de centro operacionales, constamos de nuevos estilos de juego mucho más personales, nuevas habilidades para las unidades, nuevas ambientaciones, unidades de combate, blindados, etc...
Set in the Second World War and I'm sure that like me, you're already up to the metras of the games of the Second World War, D-Day and the assault on Normandy, but I assure you that with CoH, it will not be the same, especially because this expansion contains several new campaigns in which we can play with new equipment and flags. Although it no longer has the resource management and the construction of operational centers, we have new styles of game much more personal, new skills for the units, new environments, combat units, armored, etc..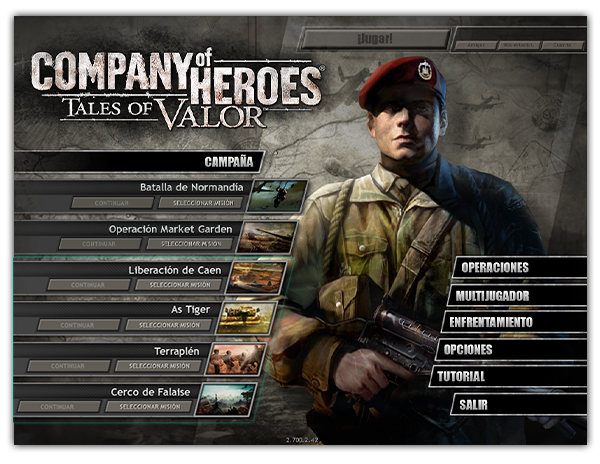 CoH Al igual que la mayoría de juegos de estrategia que se basa en la toma y conquista de territorio, estos se reflejan en el mapa táctico como puntos de objetivos vitales. Ya sea para completar misiones como para también asegurar flujo de recursos necesarios para desarrollo y mejoras de las tropas y unidades asegurando con ellos la victoria en la misión o en la partida.
CoH Like most strategy games that are based on taking and conquering territory, these are reflected on the tactical map as vital target points. Whether it is to complete missions or to ensure the flow of resources necessary for the development and improvement of troops and units to ensure victory in the mission or in the game.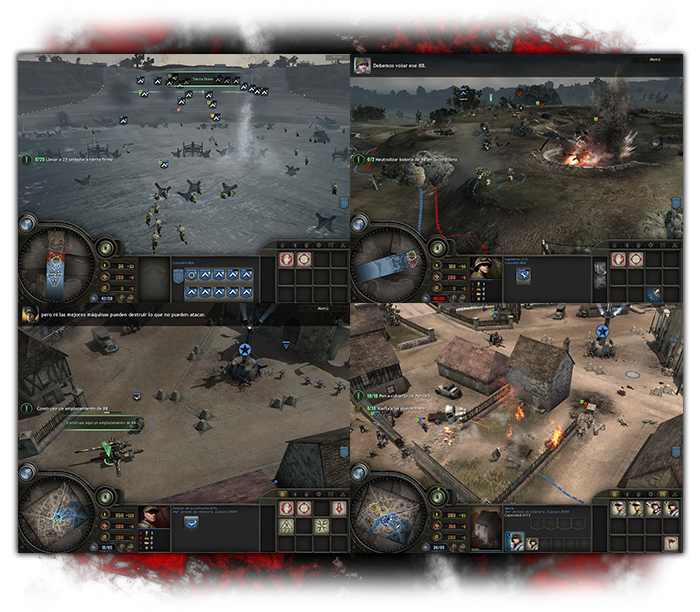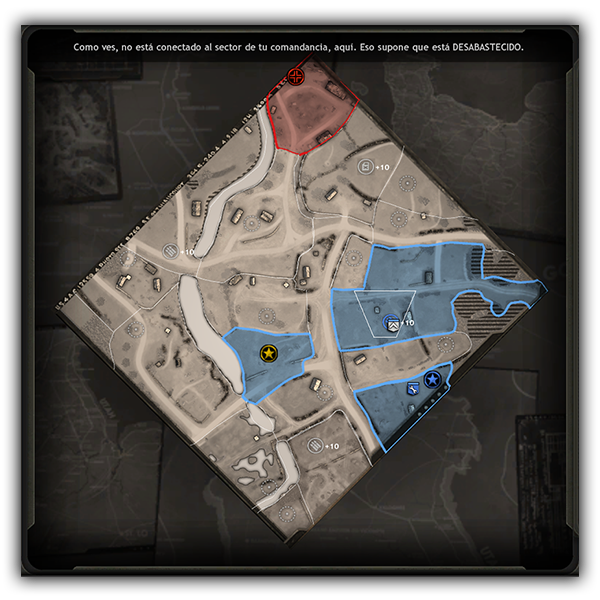 Si es primera vez que juegas, el juego te mostrara esta ventana.
If this is your first time playing, the game will show you this window.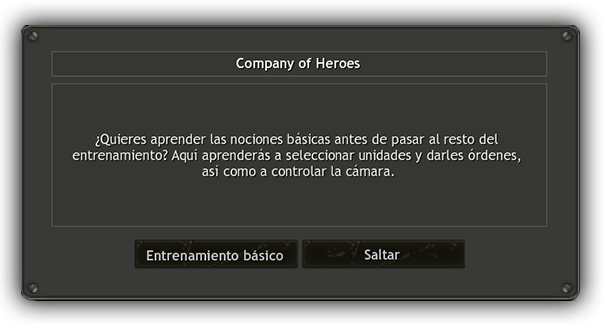 En este entrenamiento te explicaran absolutamente todo lo necesario, desde
el control de unidades, manejo de recursos, tácticas de combate, toma de territorios, etc...
In this training they will explain you absolutely everything you need, from
control of units, resource management, combat tactics, taking over territories, etc...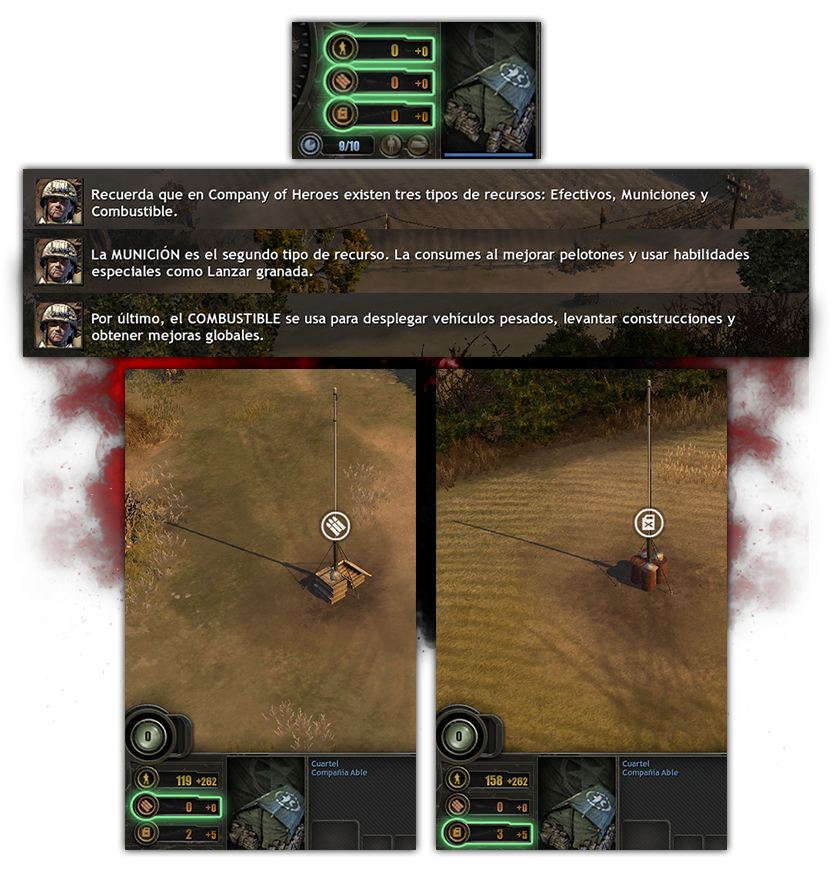 Asegurar y Capturar territorio.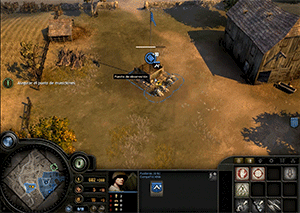 Securing and capturing territory.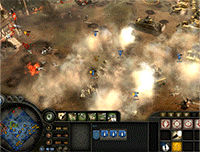 El juego tiene una gran variedad de tropas de asalto y mantenimiento, unidades anti tanque, unidades tácticas, blindados e incluso antiaéreos, unidades de larga distancia como artillería y baterías de cohetes. Todas ellas cuentan con mejoras de campo y veteranía que aumentan su desempeño en combate y durabilidad además también consta de mejoras tácticas de comandancia como, refuerzo de unidades, propaganda inspiradora y de terror, ataques tácticos, ataques aéreos, entre muchos más que te harán tener una experiencia de combate bastante amplia y buena.
The game has a wide variety of assault and maintenance troops, anti-tank units, tactical units, armored and even anti-aircraft units, long range units such as artillery and rocket batteries. All of them have field and veteran improvements that increase their combat performance and durability. It also has tactical command improvements such as, unit reinforcement, inspiring and terror propaganda, tactical attacks, air attacks, among many others that will make you have a quite wide and good combat experience.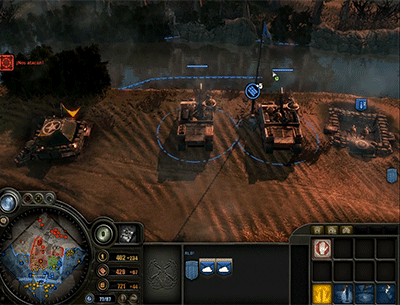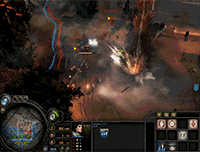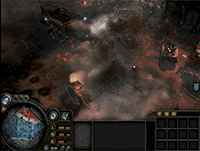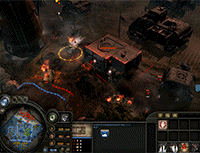 Bombardeo y Ataque aéreo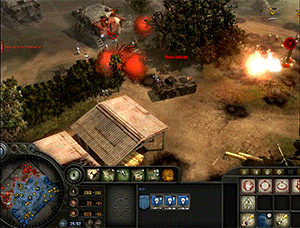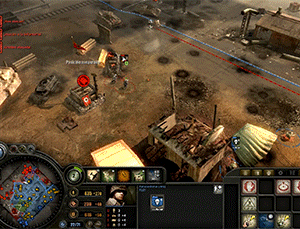 Bombing and Airstrike
Las mejoras de comandancia las obtenemos acumulando puntos de EXP. Estos se obtienen construyendo edificios, destruyendo unidades enemigas o capturando puntos estratégicos en el mapa. En partidas personalizadas o enfrentamientos nos darán a escoger una de 3 ramas principales que definirán nuestro rol en la partida, estos contienen habilidades únicas que podemos utilizar con recursos acumulados.
Command improvements are obtained by accumulating EXP points. These are obtained by constructing buildings, destroying enemy units or capturing strategic points on the map. In custom games or clashes we will be given to choose one of 3 main branches that will define our role in the game, these contain unique skills that we can use with accumulated resources.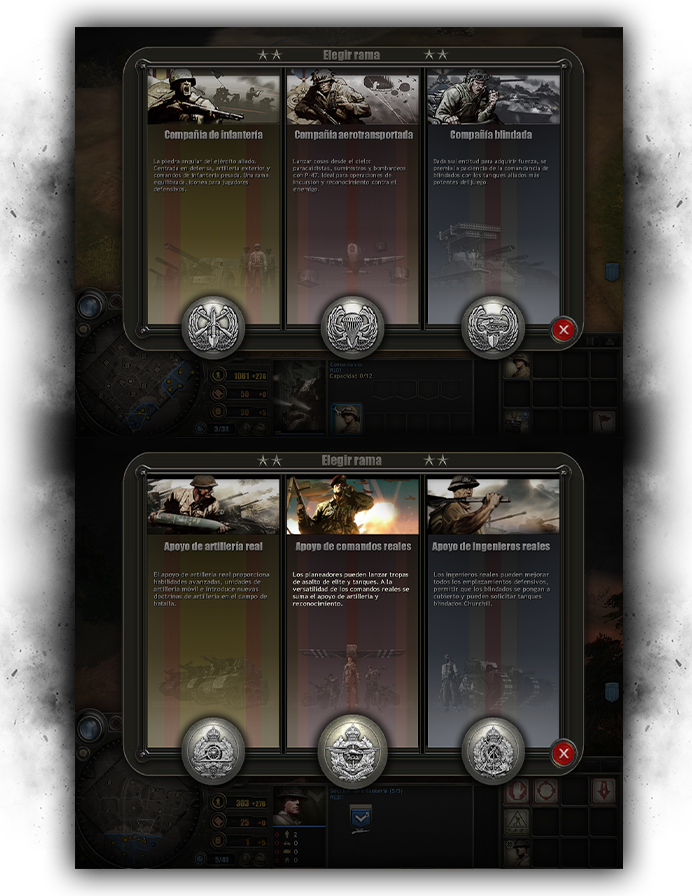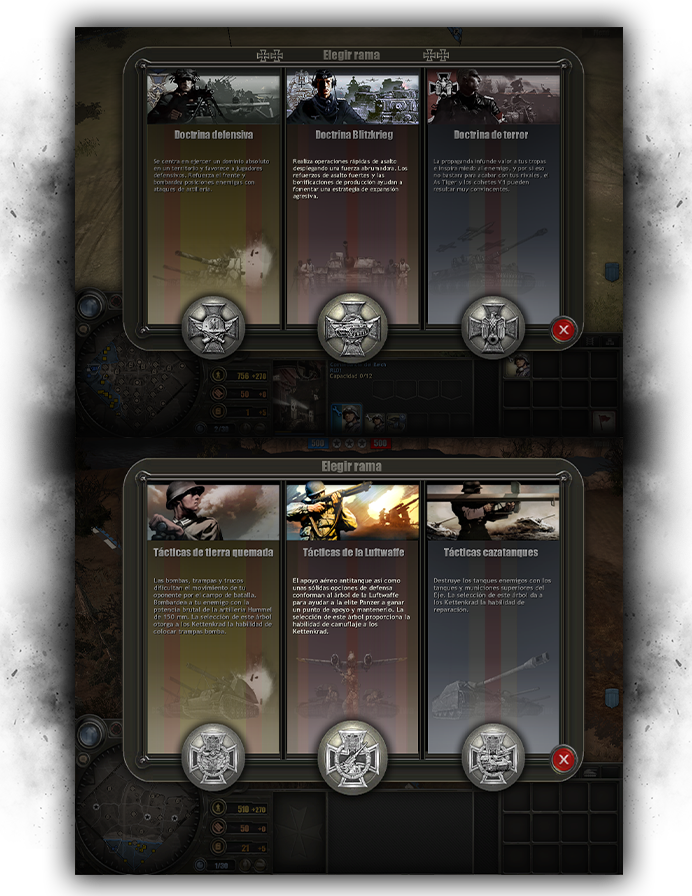 Las mejoras de comandancia varían en el modo de campaña.
Command improvements vary in campaign mode.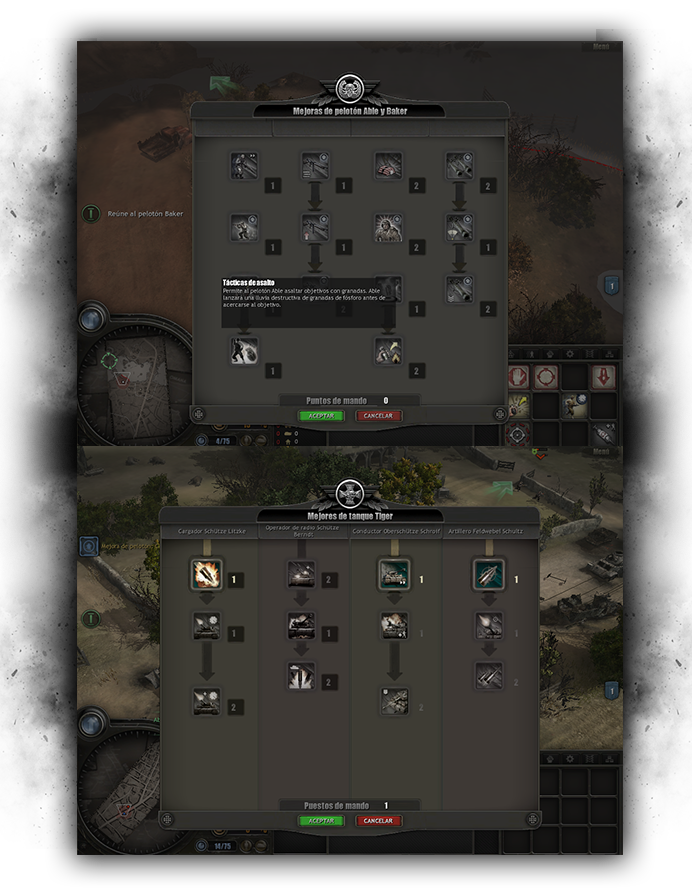 En la campaña tendremos misiones en las que únicamente hay que asediar al enemigo. Pero además habrán misiones que, por ejemplo, tengamos que proteger una zona clave que está en nuestro territorio de un ataque enemigo durante un periodo de tiempo determinado mientras llegan los refuerzos, otras que tengamos que limpiar un pueblo entero con un super tanque, otras en la que tengamos que despejar una vía para que un grupo de vehículos de transporte aliados pase por ella, u otras donde, al contrario, tengamos que asaltar unos convoys enemigos preparando trampas y creando una emboscada, entres muchas más.
In the campaign we will have missions in which we only have to besiege the enemy. But there will also be missions where, for example, we have to protect a key area that is in our territory from an enemy attack for a certain period of time while reinforcements arrive, others where we have to clear an entire village with a super tank, others where we have to clear a road for a group of allied transport vehicles to pass through, or others where, conversely, we have to assault enemy convoys by setting traps and creating an ambush, enter many more.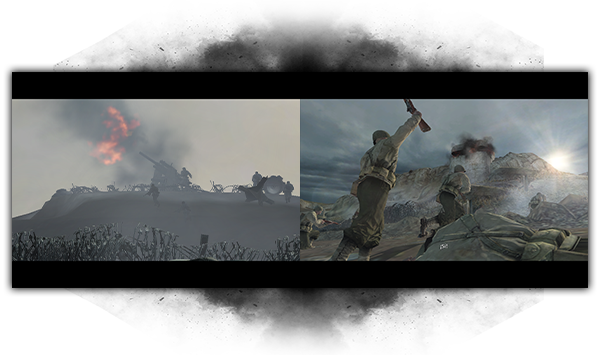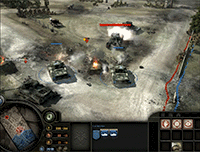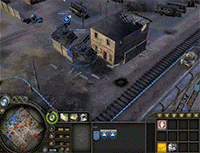 Un dato importante que les quiero compartir es que podremos resguardar a nuestras unidades en los distintos edificios que encontremos en el mapa, incluso podemos formar un centro de maniobras allí mismo, para poner entrenar nuevas unidades desde un lugar mucho más estratégico.
An important piece of information that I would like to share with you is that we will be able to shelter our units in the different buildings that we find on the map, we can even form a maneuvering center right there, to put new units in training from a much more strategic location.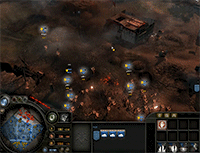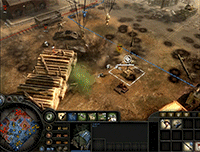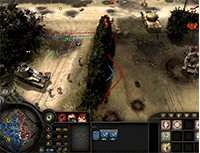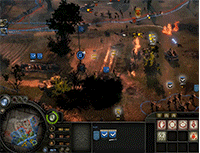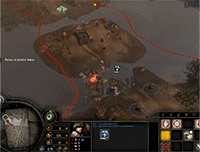 En cuanto al apartado visual, es juego con unos requisitos bastante altos, pero que vale la pena ya que pocos juegos devuelven de una forma tan buena los recursos que consume a su disposición. CoH es sublime, cuenta con un modelo y animaciones realmente excelentes, con una recreación muy buena de los lugares y hechos históricos que podemos apreciar con el potente zoom que dispone el juego. La recreación de partículas, ondas, explosiones, humo y demás efectos también suman un mayor nivel, pero lo que realmente impresiona es el sistema de físicas que nos permite vivir batallas de un nivel de realismo bastante impresionante.
As for the visual section, it is a game with quite high requirements, but it is worth it since few games return in such a good way the resources it consumes at its disposal. CoH is sublime, it has a really excellent model and animations, with a very good recreation of the places and historical facts that we can appreciate with the powerful zoom that the game has. The recreation of particles, waves, explosions, smoke and other effects also add a higher level, but what really impresses is the physics system that allows us to live battles of a fairly impressive level of realism.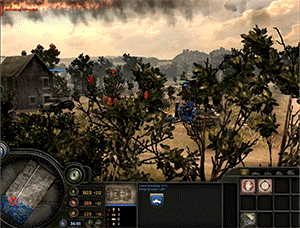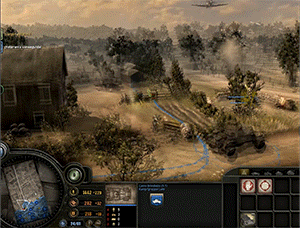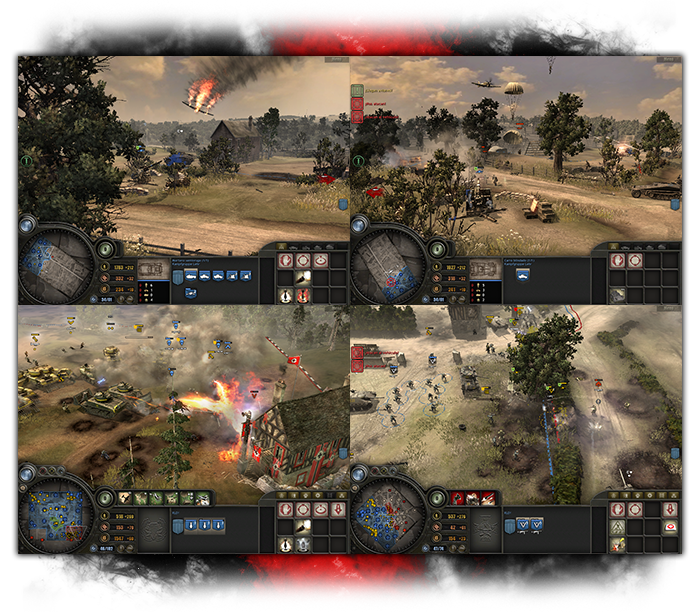 Todos y cada uno de los elementos del escenario o mapas son susceptibles a ser manipulados o directamente destruidos. Las unidades reaccionan de una forma terriblemente realista a los disparos y explosiones a su alrededor, pero eso va más allá, los muros, arboles, vehículos e incluso cualquier edificio podrá ser destruido tras una batalla. Es maravilloso contemplar el resultado de un combate en un mapa, los edificios en ruinas, el terreno lleno de escombros y cadáveres.
Any and all elements of the scenario or maps are susceptible to manipulation or direct destruction. The units react in a terribly realistic way to the shots and explosions around them, but that goes beyond that, the walls, trees, vehicles and even any building can be destroyed after a battle. It's wonderful to see the result of a battle on a map, the buildings in ruins, the terrain full of rubble and corpses.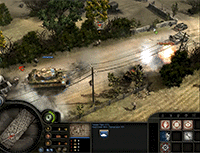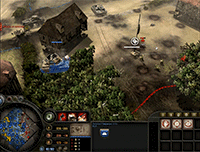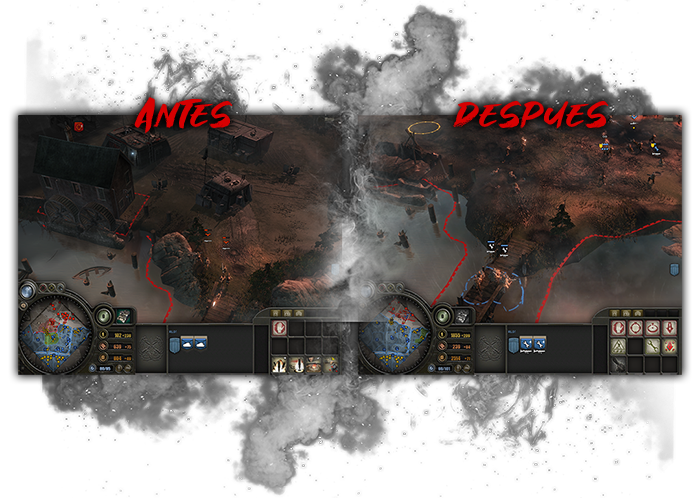 Respecto al apartado musical, puedo comentarles que contiene temas no muy presentes, pero de calidad igualmente. La recreación del campo de batalla nos llegara de la misma manera por los oídos que por la vista, tanto con los disparos, explosiones e impactos de un nivel brillante, combinado perfectamente con el acabado global del título.
With regard to the musical section, I can tell you that it contains themes that are not very present, but of quality all the same. The recreation of the battlefield will reach us as much by the ears as by the eyes, both with the shots, explosions and impacts of a brilliant level, combined perfectly with the overall finish of the title.
En conclusión amigos, es un juego que presenta una jugabilidad muy accesible y atrapante desde un primer momento, un nivel técnico de calidad asombrosa, tanto en el plano visual como en el sonoro, que se los recomiendo al 100%, si eres aficionado o tienes experiencia con los juegos de estrategia y aun no has probado esta joya, te lo sugiero o mejor dicho tienes que jugarlo porque te aseguro que te encantara, sin más que comentarles, hasta la próxima amigos!
In conclusion friends, it is a game that presents a very accessible and catching gameplay from the first moment, a technical level of amazing quality, both visually and sound, which I recommend 100%, if you are a fan or have experience with strategy games and have not yet tried this jewel, I suggest or rather you have to play it because I assure you that you will love it, without further ado, until the next friend!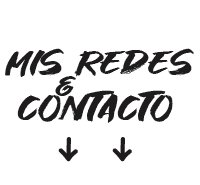 Follow me in my networks
Recursos utilizados/Resources used
Fuente - Source
Fuente - Source