Hey friends! This one's slightly NSFW - Kenshi is a pretty brutal game.
So do you like RPGs? Do you like sandbox RPGs? Do you like sheer and utter brutality without any handholding? Do you like excessive violence with no apologies? No quests or real plot points? Ever want to just beat up that shopkeeper, that kingdom's leader, or that rando nomad trying to peddle you all the goats?
Wait, what?
Well, give it some time, and Kenshi (available for PC on Steam) might just become your favorite game despite all of its oddities (and there are many). First, though, you have to decide who you're going to be.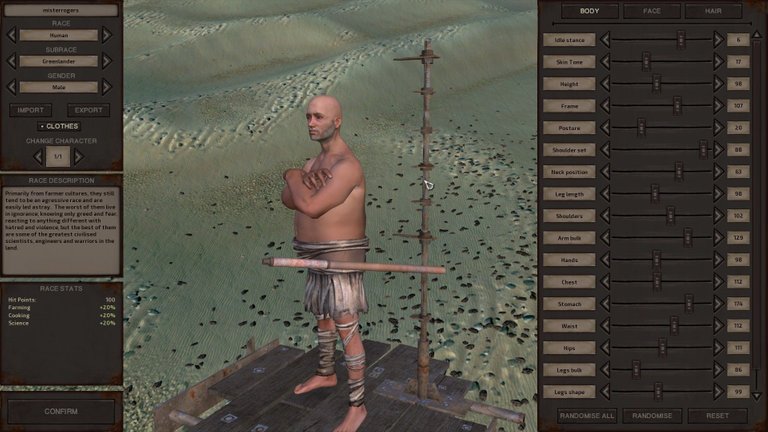 As it happens, misterrogers is approaching middle age, and is a bit fond of his sedentary lifestyle. He's not exactly built to be "the one," nor is he too enthusiastic at the prospect of being "the one," but he's got that "don't screw with me attitude," which you'll absolutely need to survive in the world of Kenshi.
Misterrogers wakes on his feet in the middle of some arid wasteland in one of the smallest, most run-down walled settlements known to humankind, somehow comfortable barely wearing any clothing.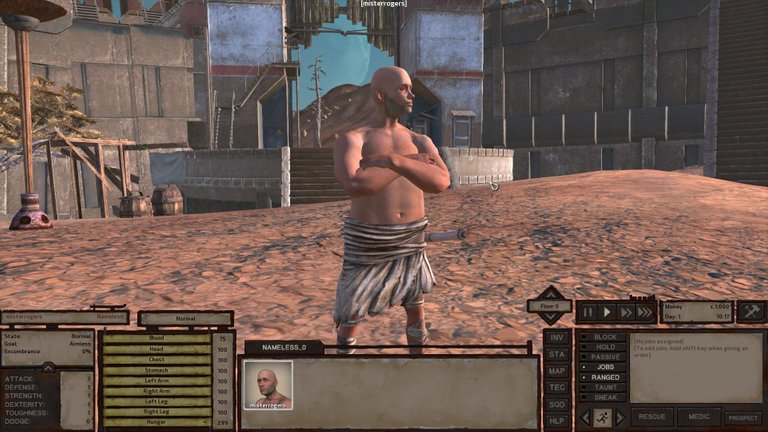 look at him, pompous ass
It also appears he has some stomach muscle definition which I will not argue with.
Kenshi is (rightly) criticized for its clunky UI. There is a lot to look at and take in here. Over on the left side are your character's essential stats. Mainly attack/defense and body part health.
One of the more innovative aspects of the game that I do appreciate is that each of a character's body parts has its own health and will affect the character's performance negatively as it takes damage. For example, if one of your legs takes too much damage, you won't be able to move past a slow limp; too much more damage, a crawl; catastrophic damage, and you'll lose that limb, forever!
Over to the right of the UI are your menu functions, some character behavior commands, game speed, building menu, character job hierarchy listings, and run/walk speeds. It's clunky, but you can get used to it.
It's possible you may have noticed, but like all RPGs, we have our hero starting at the bottom. All of those lovely stats on misterrogers are a solid 1. Compare them to Mr Bystander here, and...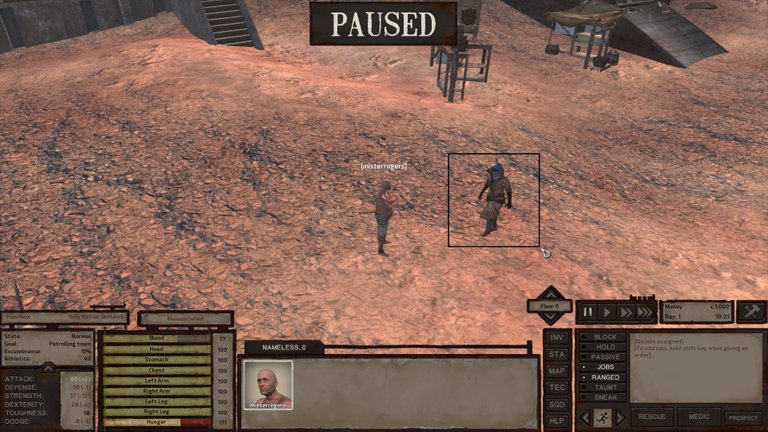 ...we kind of suck. Our money is at 1,000 "cats," which also isn't much, as illustrated by the first potential recruit I meet in the town, here: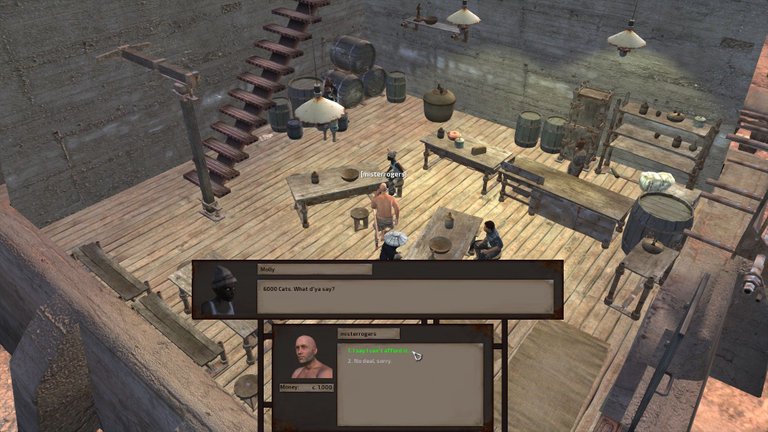 So! Let's go beat up some imps, slimes, or whatever the weakling monsters are and get some cash, right? Unfortunately, not. Everything, and I mean everything in the entire game, has higher stats than your character in the beginning. So what are your options? The game doesn't spend any time telling you. You are completely on your own to figure everything out. That, or shamefully hit up the internet for a beginner tutorial like a crappy gamer who shouldn't even ever be called a gamer. Which did I do? Ummm. Ummmmm Anyway, look at this
Kenshi is big. Really big.
We are here,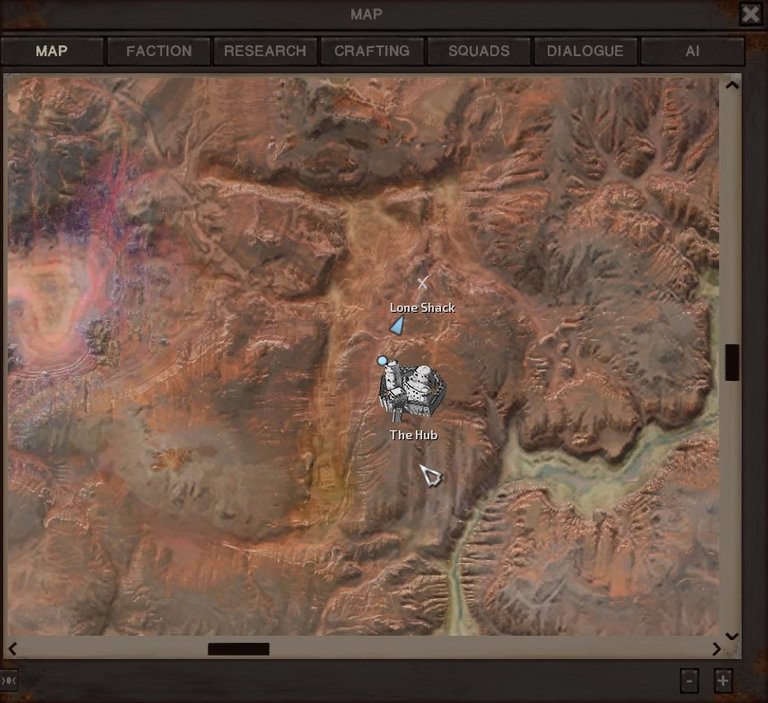 looking in the direction the arrow's pointing. (and oooh, that copper looks like it might be useful)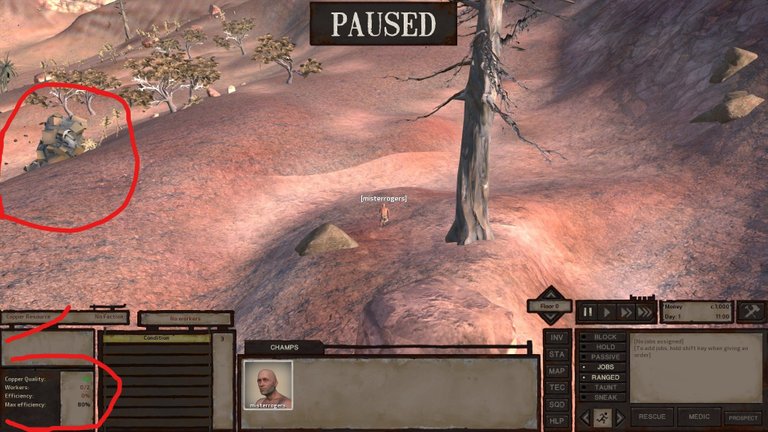 We're also here,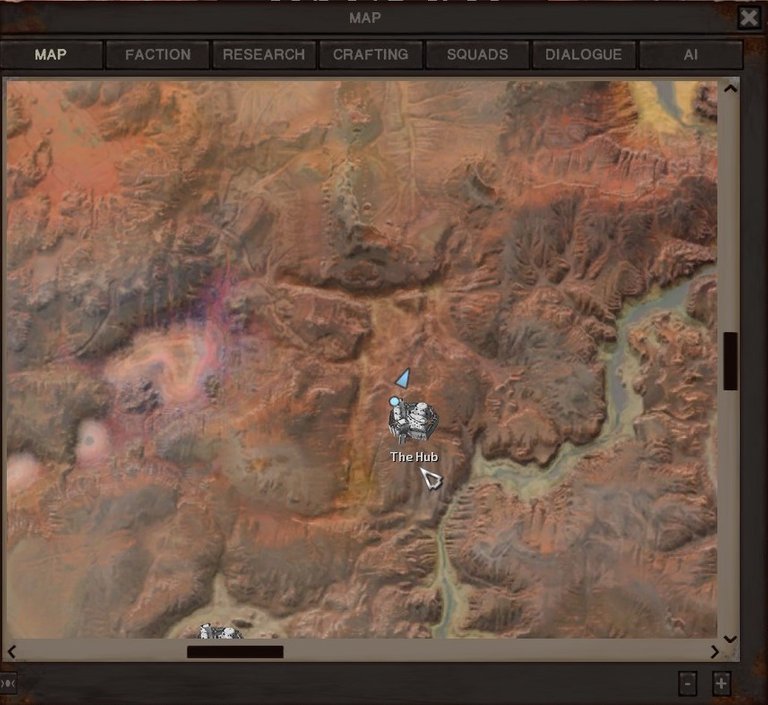 and here,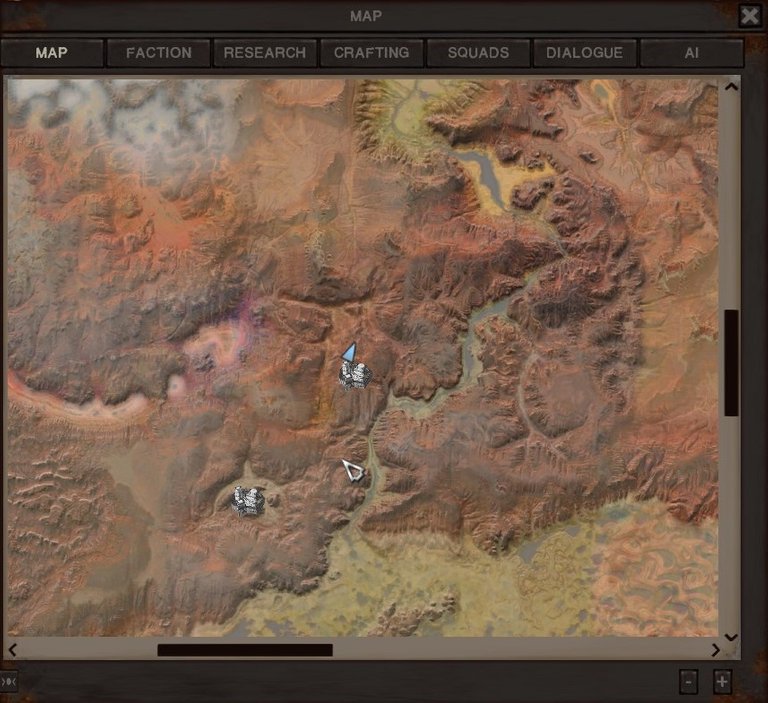 here,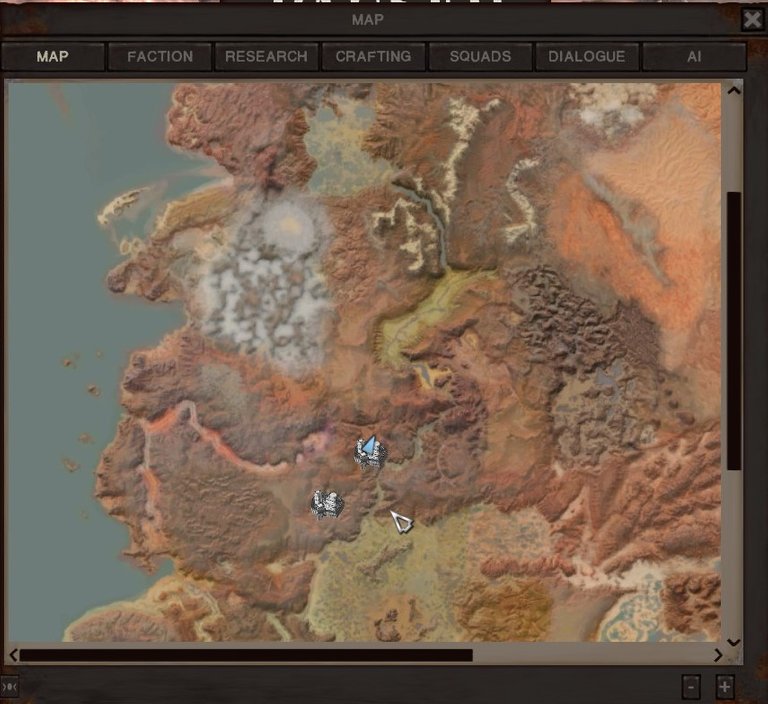 and finally, here.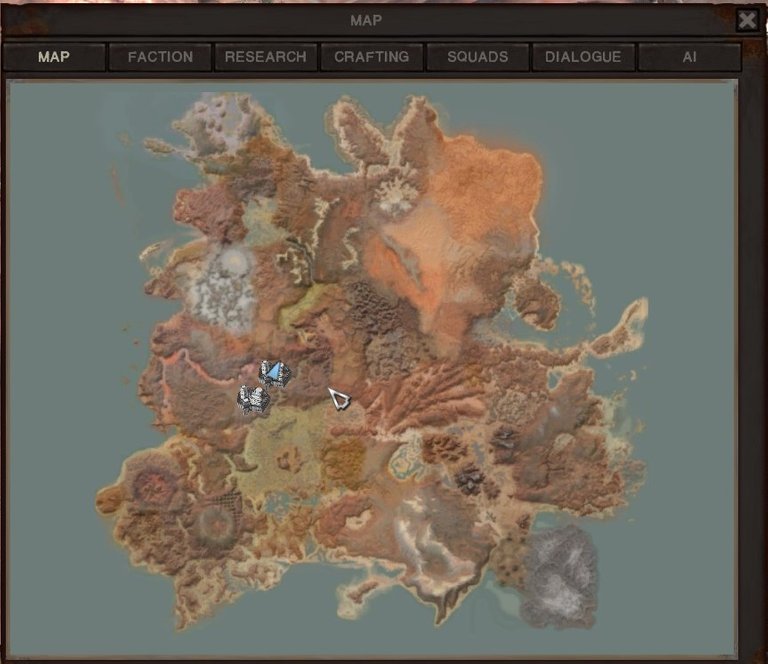 If you do pick up the game, watch yourself around the strange looking areas on the map.
So hey, let's check out that town to the south. If you choose the default beginning (there are multiple options) you begin with this location on your map.
As an aside on the way there, one thing I appreciate about Kenshi and its backstory is that it took over a decade to develop. For most of its infancy it was a one-man show and a labor of love. And you can kind of see that manifest in a lot of the game's aspects. It's super buggy in some places and you can tell its budget wasn't that of a AAA studio's. But you get this sense of caring and love from it that's rarely found in mainstream games. Innovation, too. And when you slow down, you can really take in the views.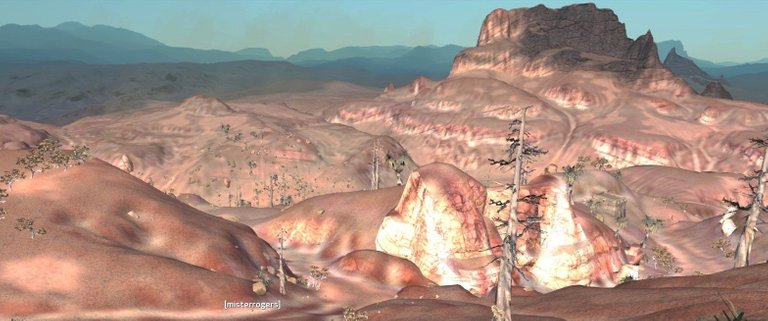 So as we we're getting closer to Squin, I happened to check the map and saw a camp.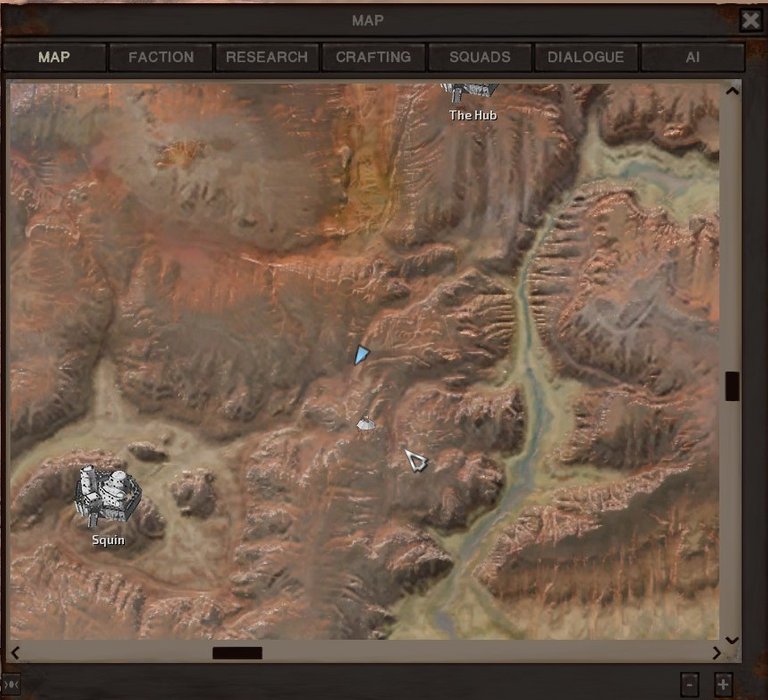 Being the curious fellow that I am, and wanting to give my readers and naturally curious gamers a decent experience on their first day in Kenshi, you know -- a "Kenshi experience" -- I thought, "hey, let's go see what's up with the campers."
I mean, what could go wron-

I really do appreciate my default stare here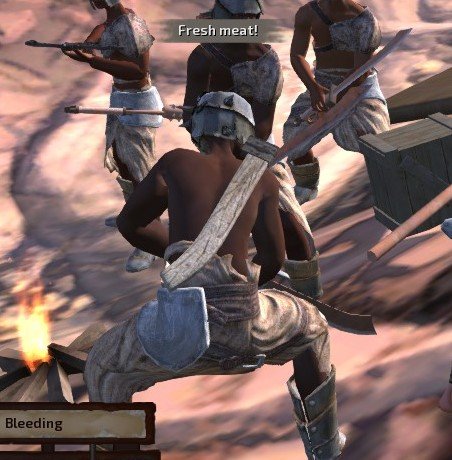 Yes, that is me the game is referring to, in both cases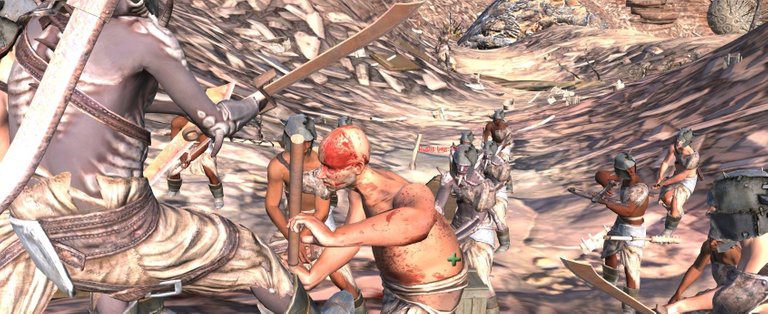 Here you can view me with a slightly cracked and bleeding face. And it looks like that dad bod is getting a little action, too. Personally, I think I'm holding my own quite well against a dozen+ Dust Bandits hell-bent on my destruction.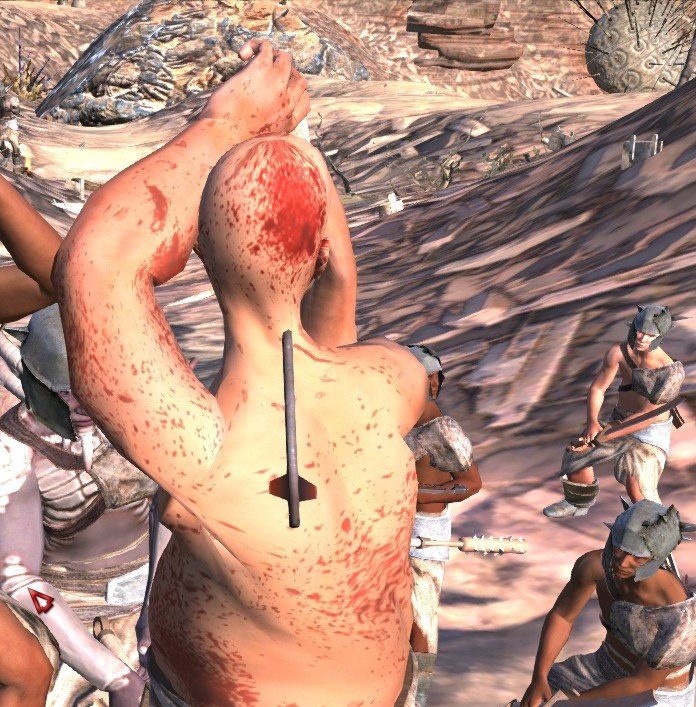 That is, in fact, a bolt puncturing the base of my skull.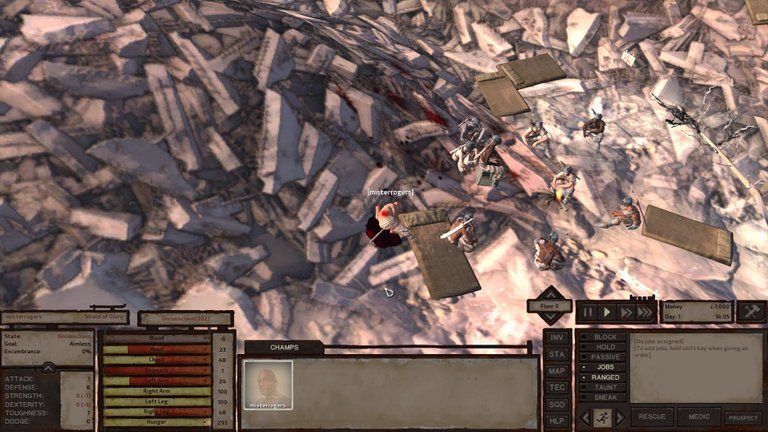 Somehow, I've luckily only fallen unconscious after all of the horrific violence, while the sadistic Dust Bandits return to chilling around the campfire. As you can see from both my stats bar and the spreading pool, I've lost a fair amount of blood. Somehow despite the bolt to the neck, my Stomach is in worse shape than anything else. If it can somehow stay at a high enough stat level until I regain consciousness, and I can somehow escape the Bandits and make it to a town in time...

Oh.

Ohhhh...
So that's one (not recommended, lol) way to play a day in the life of Kenshi. One of the very best things about this game is that you learn by doing. And I really mean it - if you're doing almost anything, you are improving your skill at it. The pace at which you learn it will slow considerably as you become increasingly proficient, but you won't stop learning until you become godlike at it. You can learn any of the following skills here: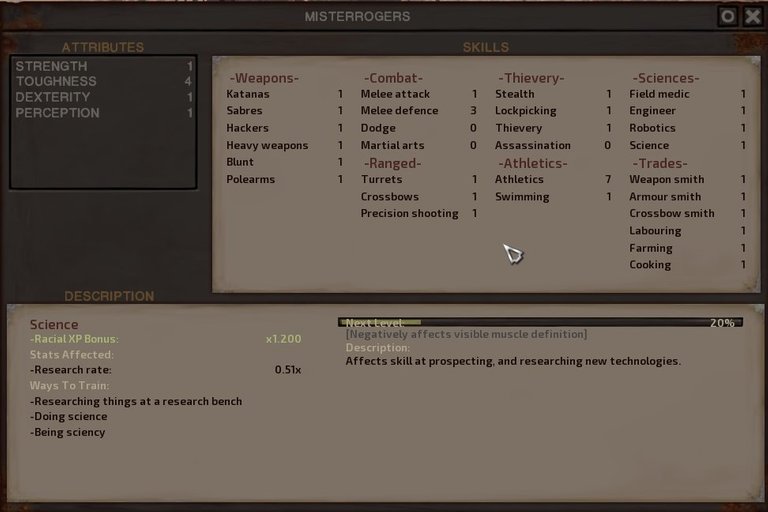 And the game gives you some "clues" here and there on improving them (and cheesing them). Sometimes in odd places, and most of the time you'll look back and think, "oh, I guess I really missed the boat on that one." Unless you're just smarter than I am, which is entirely possible.
I hope you enjoyed this review! I will say that people either love or hate this game. It's not for everyone. But those who love it, love it. I rank it up there with my all-time favorites. I'll be glad to post more adventures with my namesake if you'd like (because I'm a savescummer) - just let me know in the comments if you'd like to see them!