What's up hivers?
Today, I will talk about Grand Theft Auto V where I'll show the beginning part of this game and the first mission which is "Franklin & Lamar".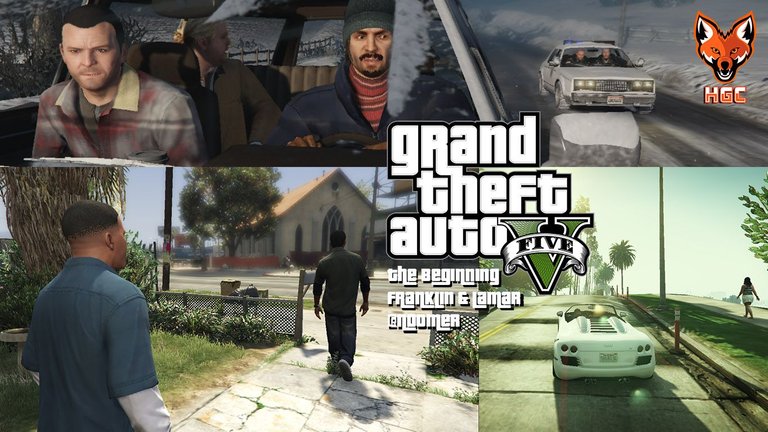 ABOUT THE GAME:
Grand Theft Auto V is a 2013 action-adventure game developed by Rockstar North and published by Rockstar Games. It is the seventh main entry in the Grand Theft Auto series, following 2008's Grand Theft Auto IV, and the fifteenth instalment overall.
I'm a big fan of GTA and my first GTA was GTA 3 which I used to play regularly although it didn't have the vast reality that we got from GTA Vice City. Not only me, I've seen kids and even elder peoples were crazed about GTA Vice City while it was available in our country and the good thing was that the Vice City didn't need a very high end system to run the game. Back at that time of playing Vice City, I even dreamed of this game while I was sleeping, yeah I was that crazy about this game.
Then suddenly I lost interest in this game and I started playing GTA San Andreas. I liked the new locations and new missions of San Andreas although I was not continuing the missions, I only played the game however I liked it. I fought, I shot, I killed, I ran, I used to swim and I liked the swimming part a lot cause it was a new addition to GTA as we couldn't swim in the previous versions like Vice City or GTA 3. I enjoyed using cheats in San Andreas and I passed a lot of times fighting police with unlimited health and a lot of weapons. I even sold cheats to other kids who didn't have access to internet at that time.
Sometimes I wonder why I haven't got the taste of this famous GTA V as it's a game of 2013 and then I remember that I didn't have a good system to run this game back at that time. So I kept telling myself, "Let them wait for me".
When I build up a good PC for me last year, I installed this game and I started playing this. To be honest, I didn't play it to finish up missions as I already started enjoying the free play. Besides, the high quality graphics and better open world of GTA V really amazed me and I fell for it. Whenever I got free times, I play it.
But now I convinced myself that I'll keep up with the missions of GTA V so here I'm showing my play of the first mission where we got a little info about Franklin & Lamar and I'm playing as Franklin right now.
I've streamed live in twitch and later I did export it in YouTube.
I'm going to share both links here so that you may watch my gameplay without any problem.
Twitch:

YouTube:

The game started from a bank robbery where there were four robbers (3 inside the bank and 1 with the car) and I got play as the robbers.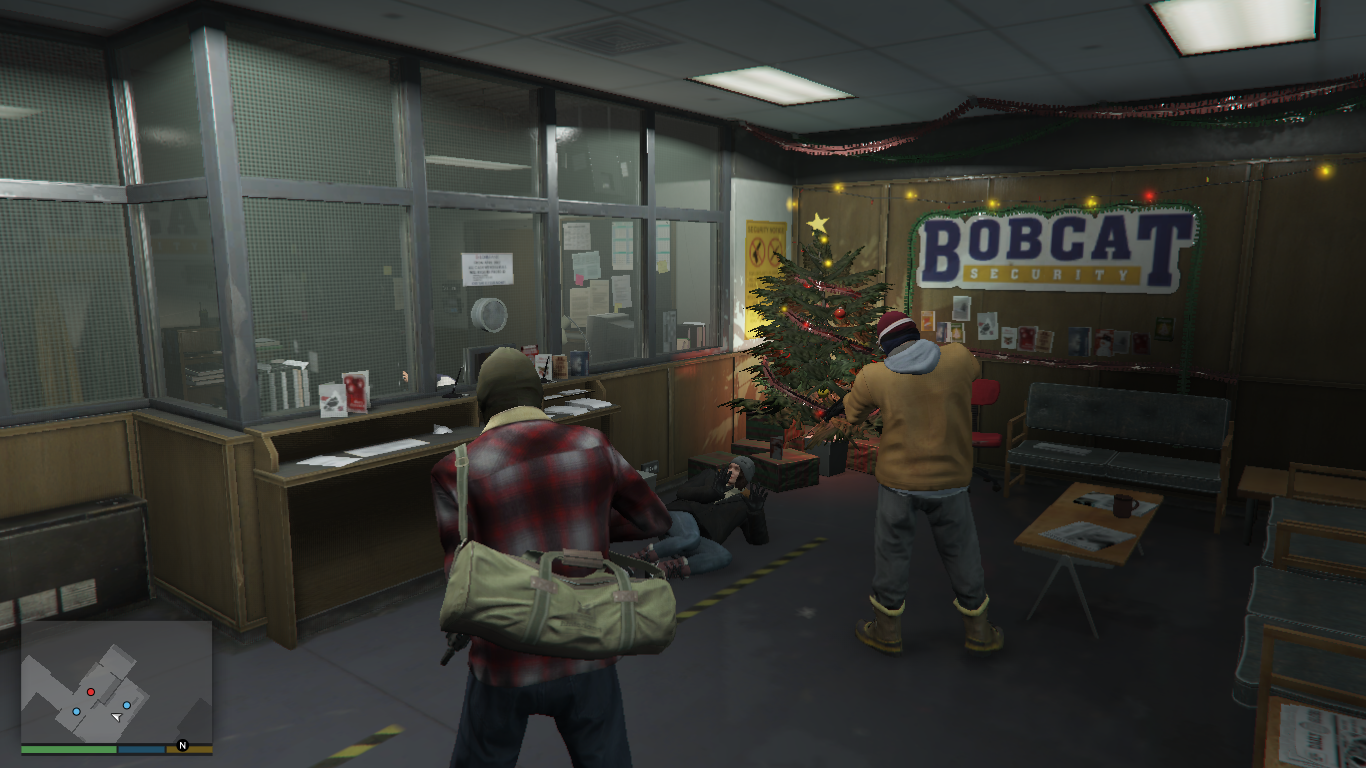 It's Bobcat Security and it was probably Christmas as there were lightings with a Christmas tree.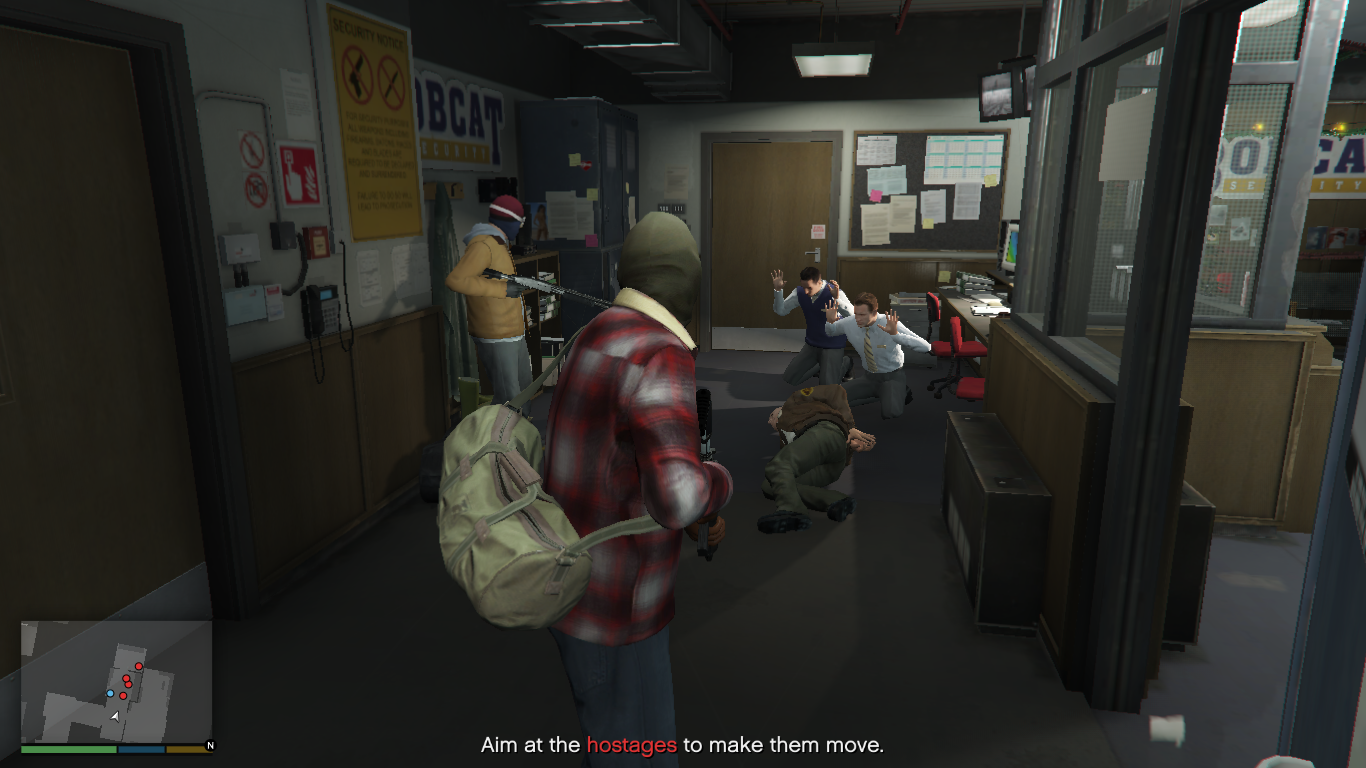 There were some hostages on the floor and I had the objective to make them move by aiming at them. So, I started aiming one by one and they stared moving into the other room one by one and I even fire some rounds to make them fast.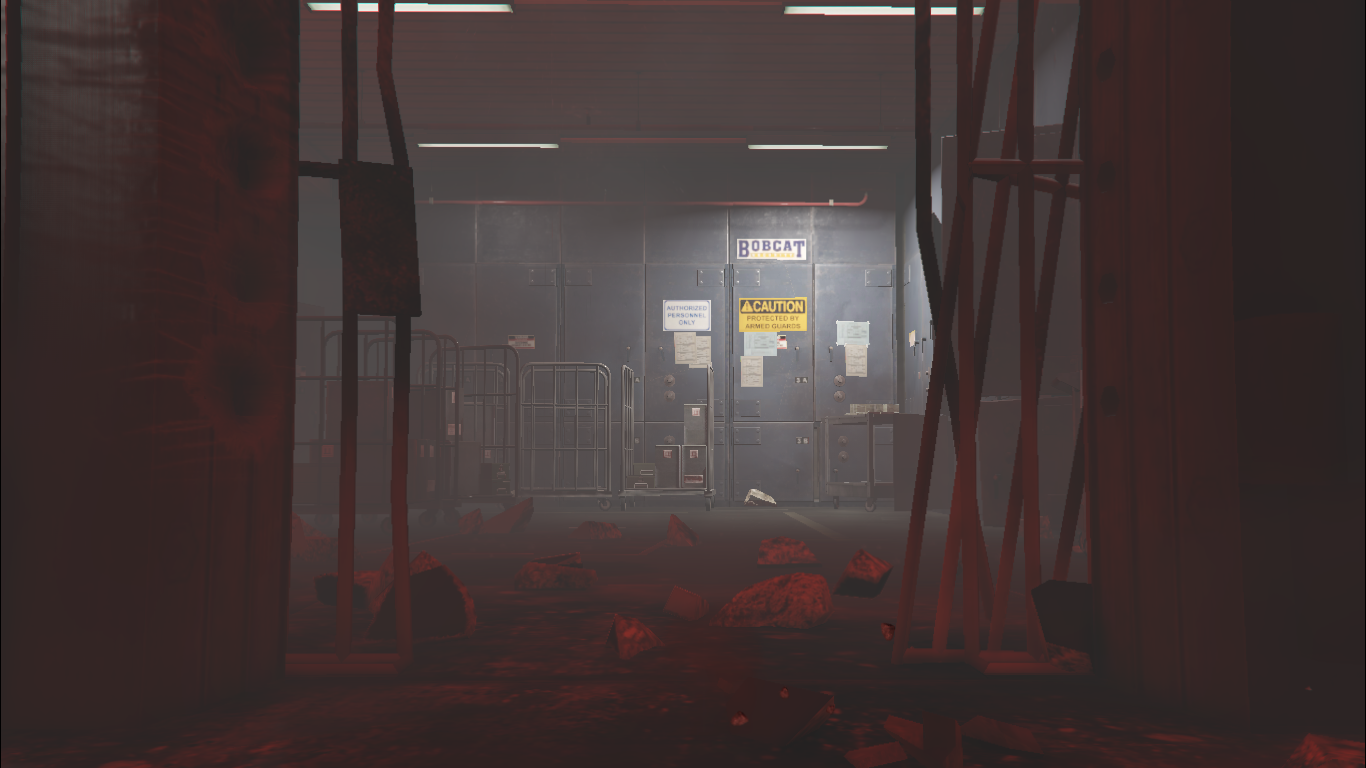 Then after I detonated the bomb through a phone, the door of the vault blasted open and we started moving towards the vault where there were a lot of money (I'm talking as if it's not normal for bank vaults to have money hehe).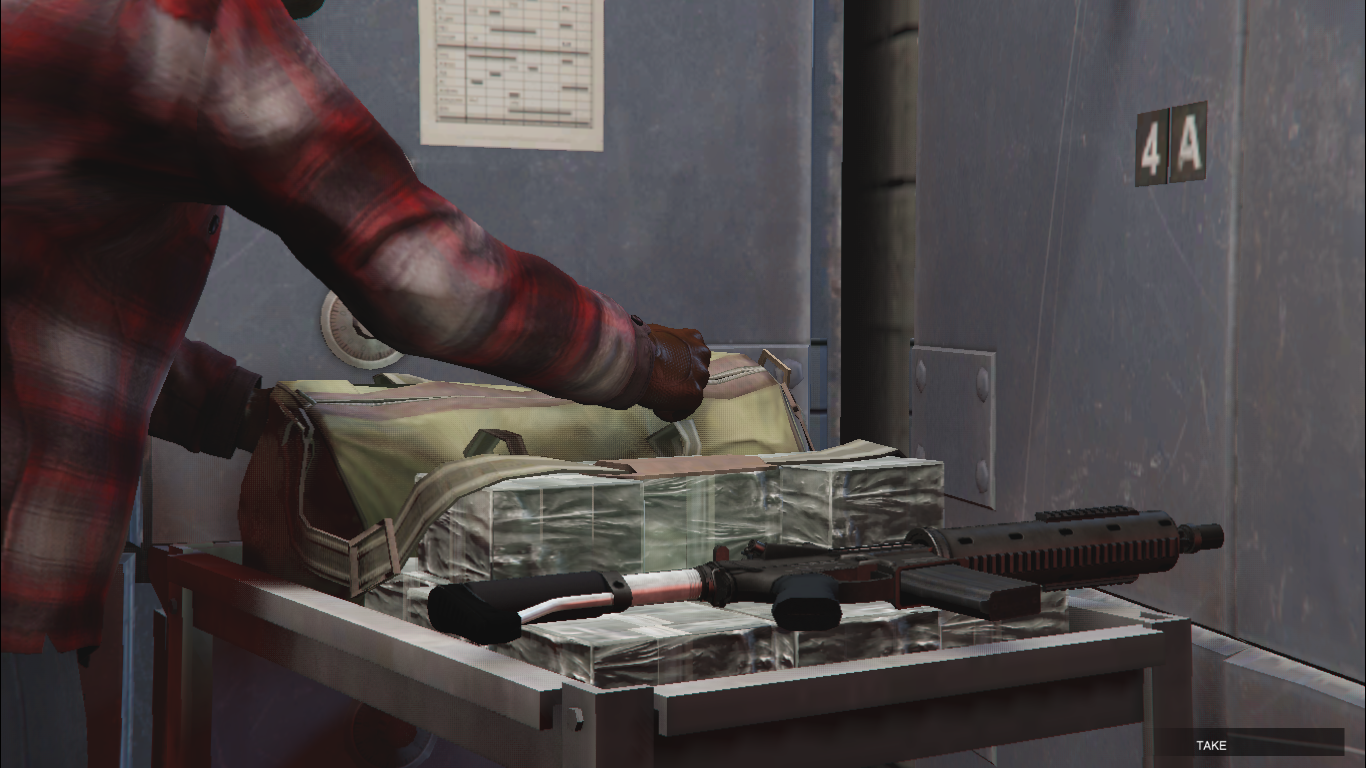 Then I moved to the vault and my character himself started packing the money and another man was also packing money.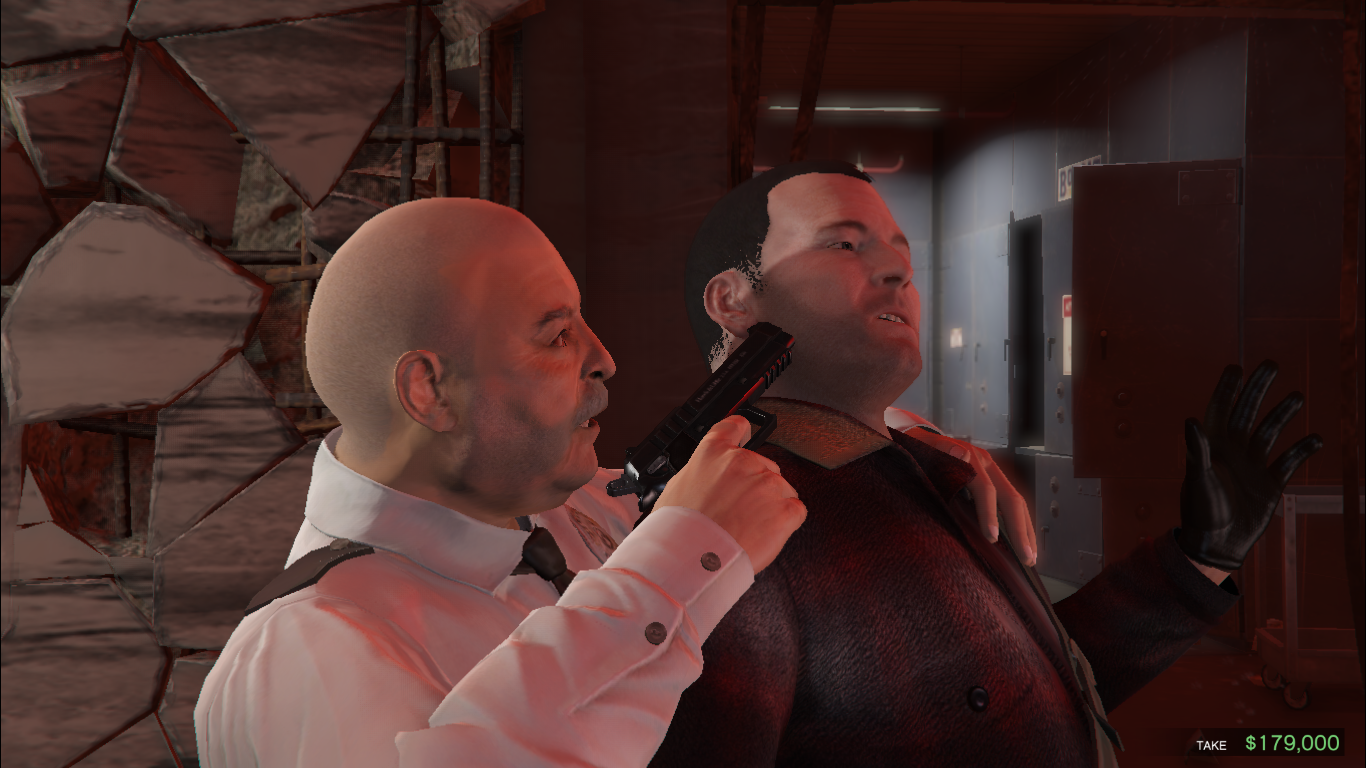 After getting enough money which was $179,000; they were about to left the vault but an old security guard got my character and pointed a gun on my character's head and the old man saw the face of my character as well.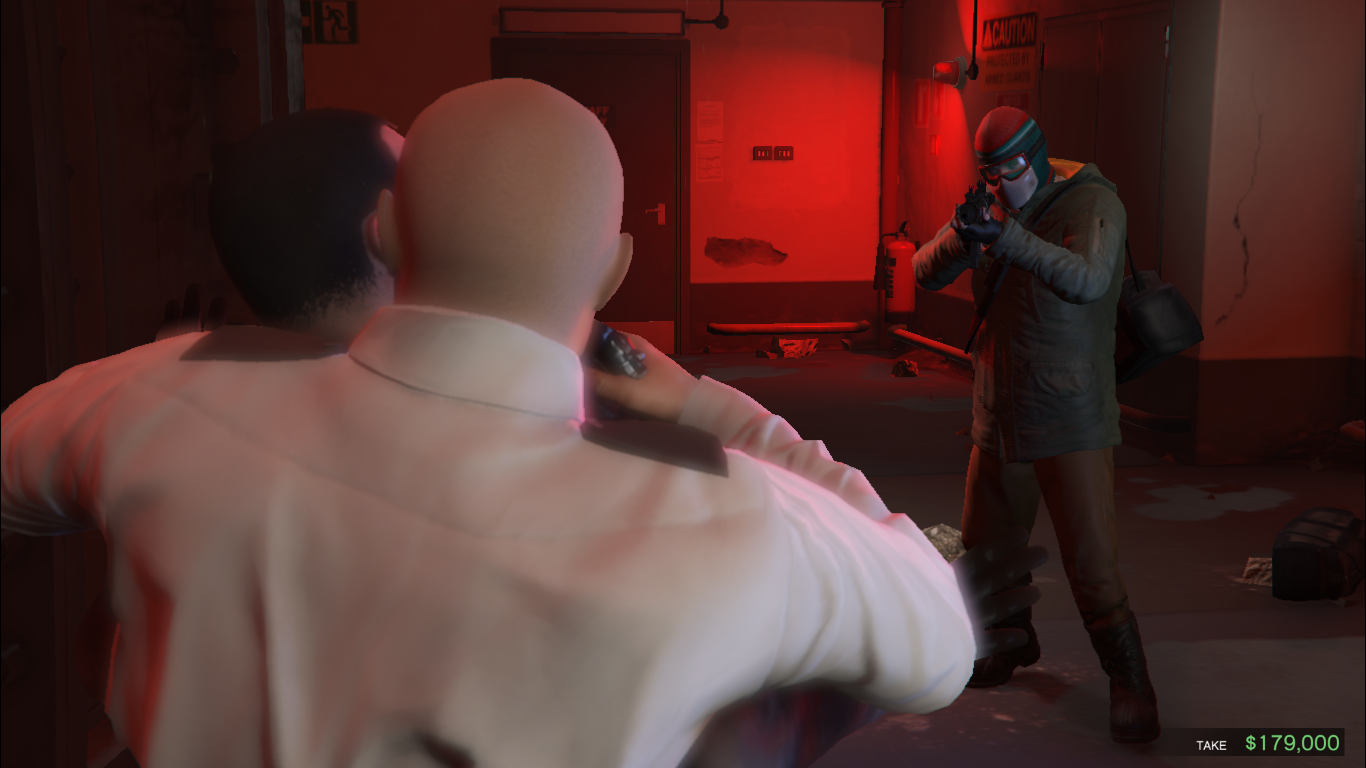 I had the option to switch between characters at that time, so I switched to the other man and I shot down the old man.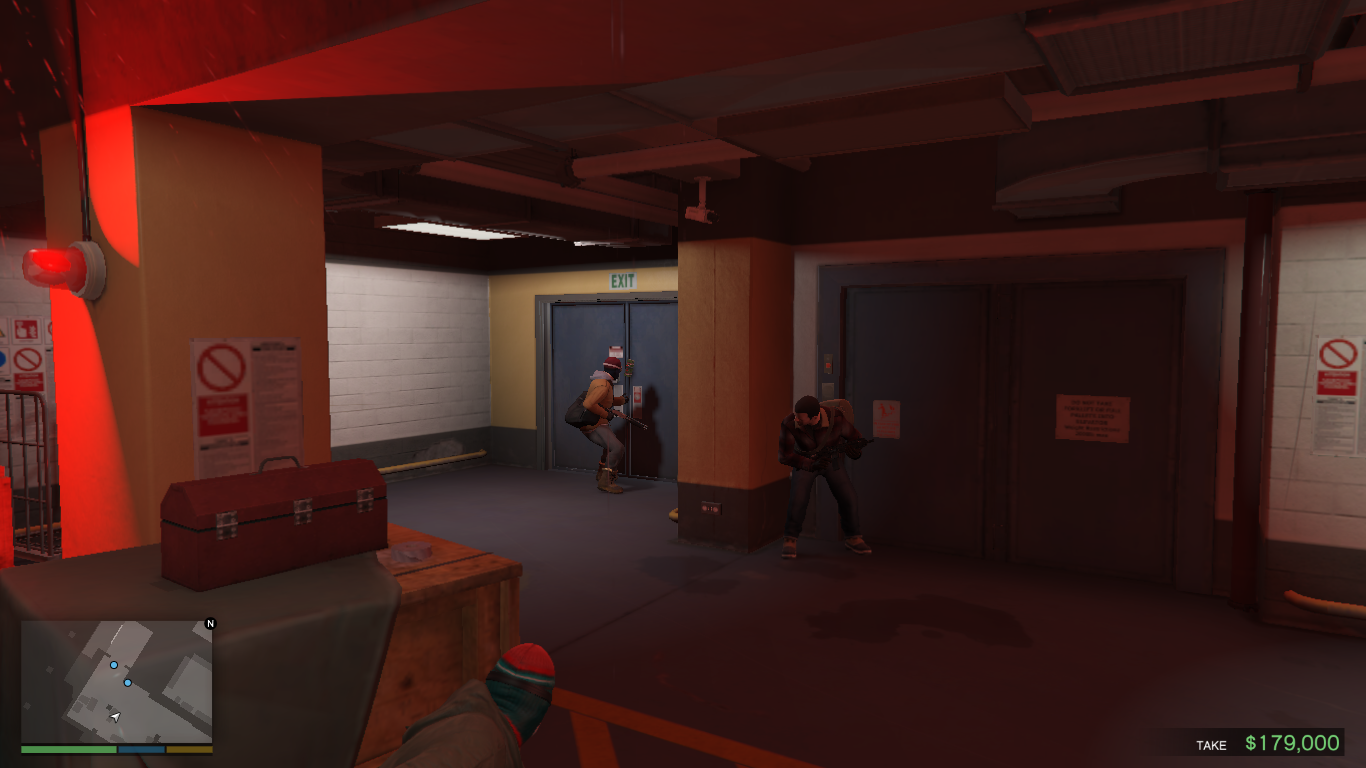 Then we ran forwards and we needed to take cover while a teammate of us was about to blow the exit door.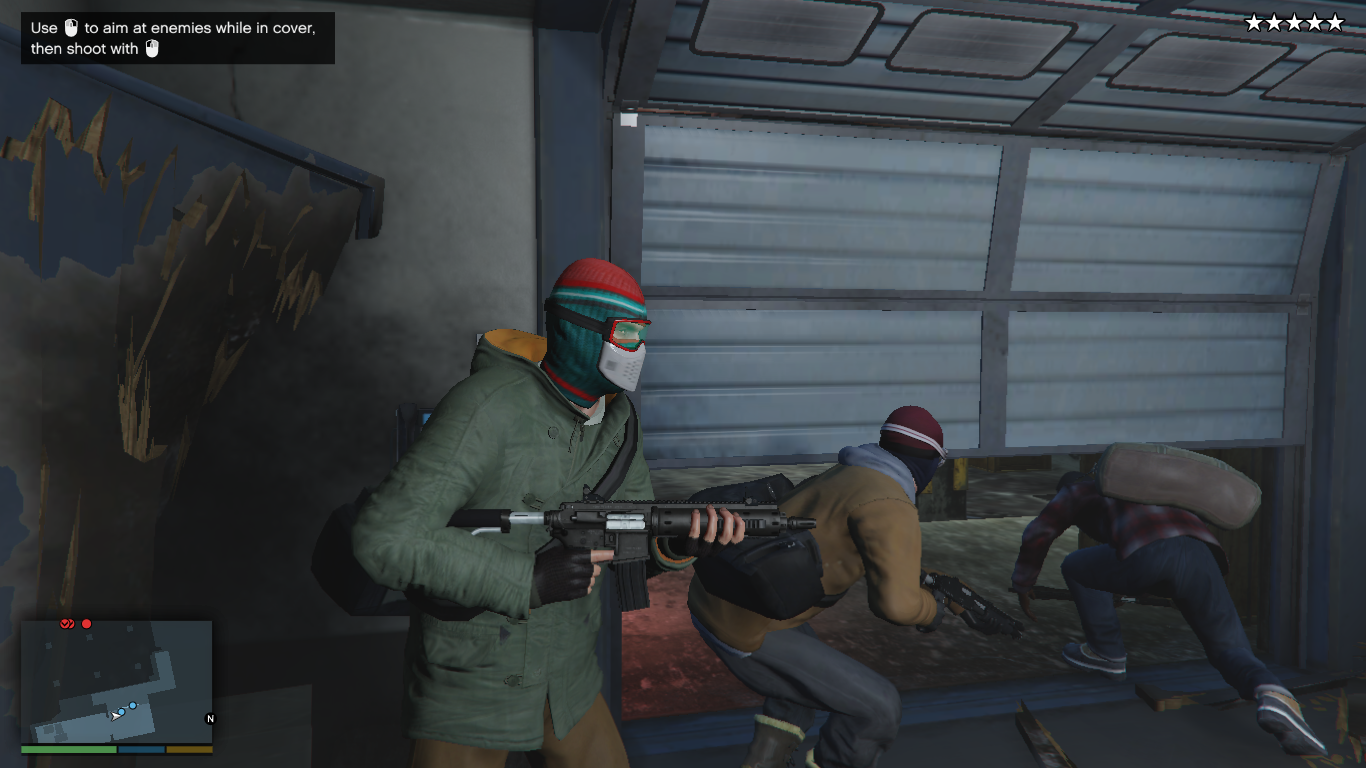 Then we got out of the bank and there were some police cars and some police started shooting us and we shot back from cover. Shooting the cops in GTA is love.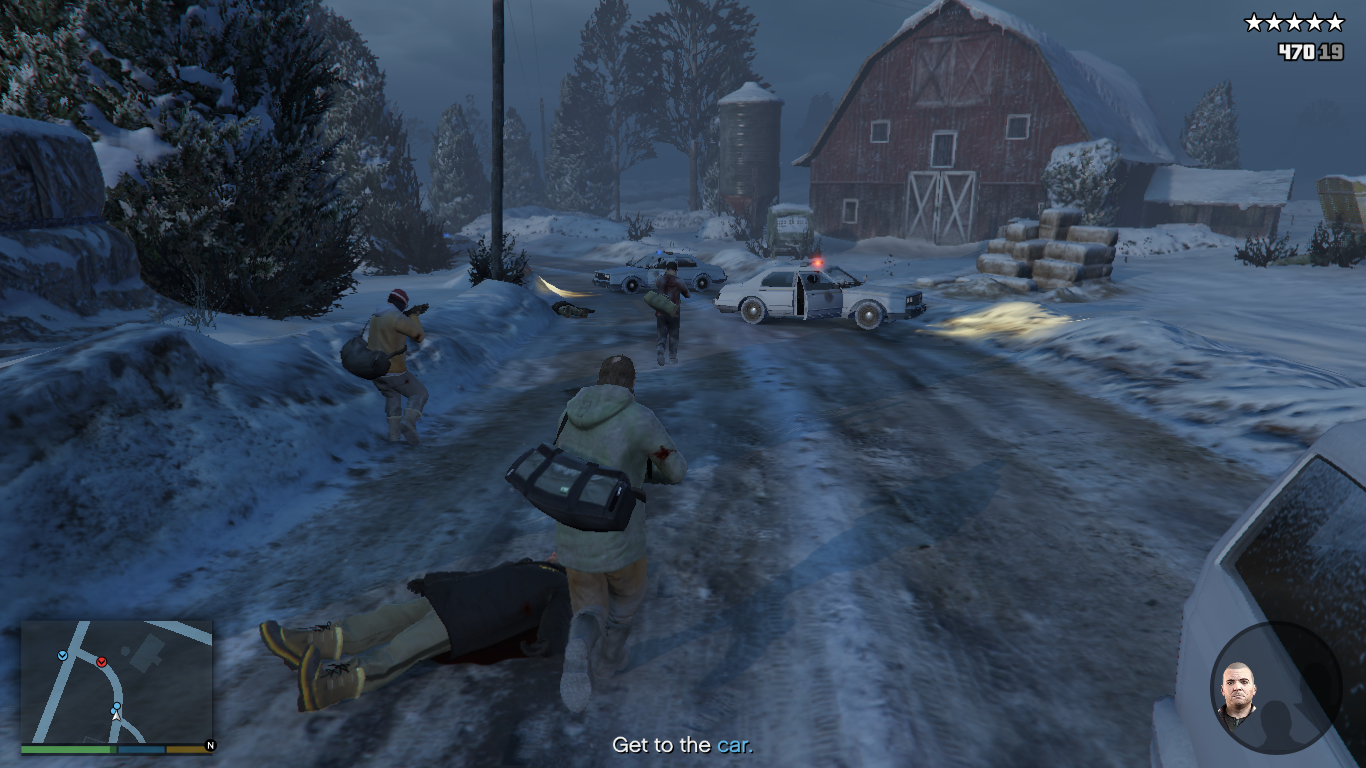 Then we started walk down the road to get to our car but there were polices on the way as well and we needed to kill them to clear our path.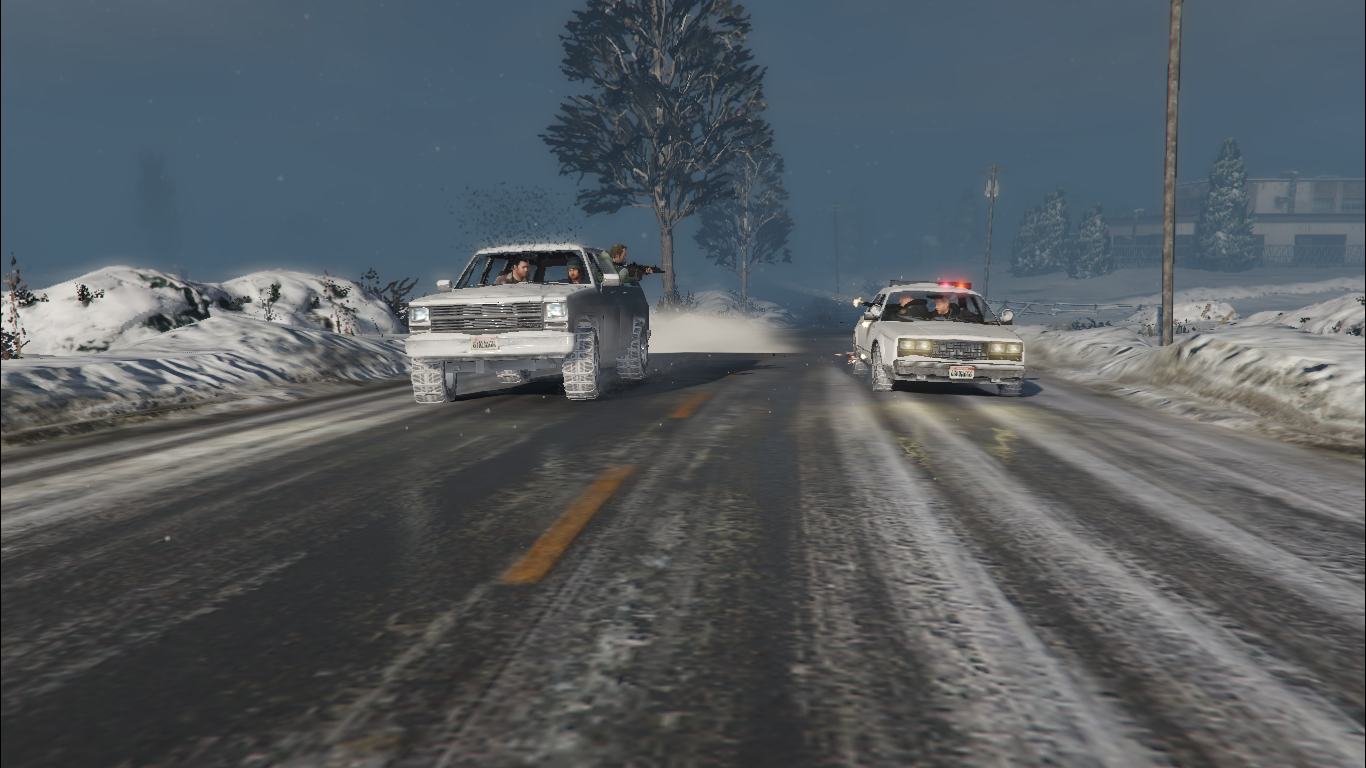 We hopped inside the car and the car driver started riding it while a police car kept chasing us. Suddenly our driver got shot so I had to take the wheel as Michael.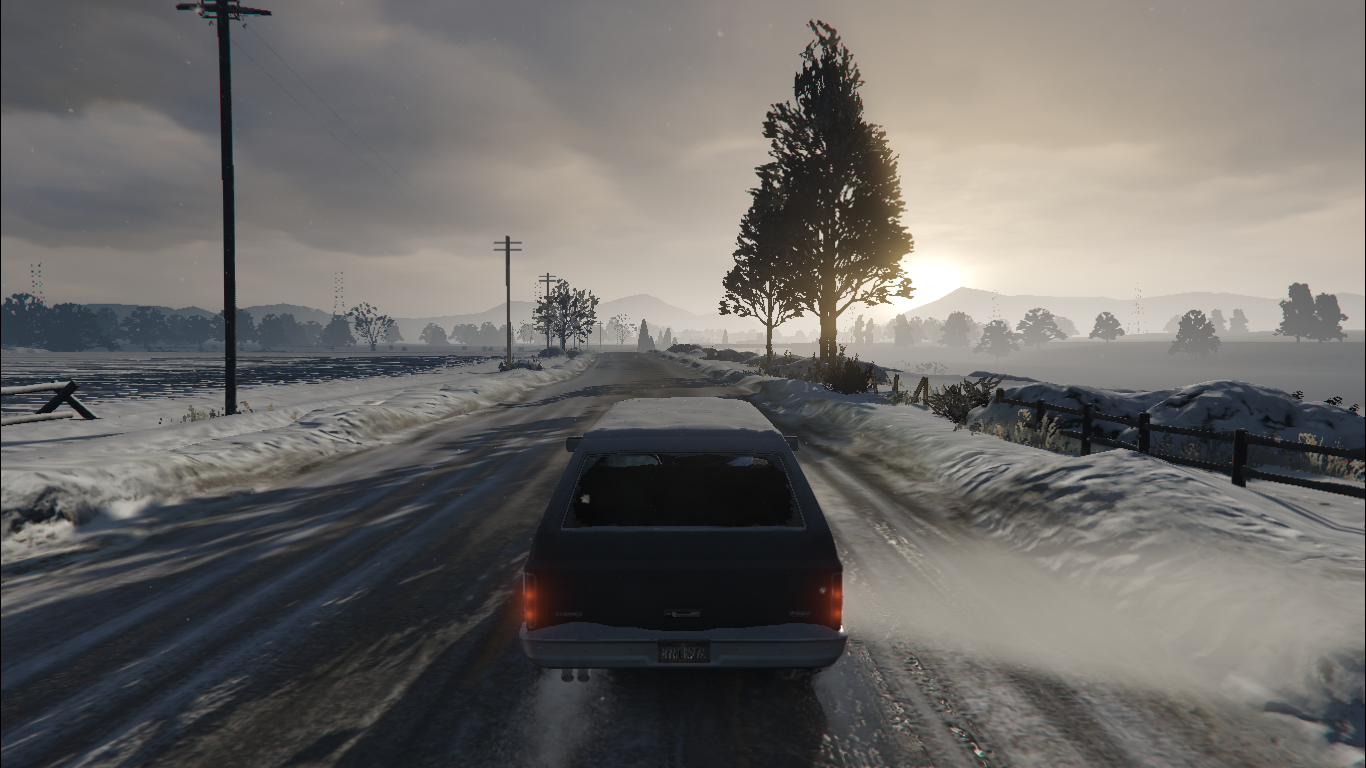 My destination was marked in the mini map and a teammate was asking me to get them to the chopper so I assumed we were going to fly a chopper to escape from the police.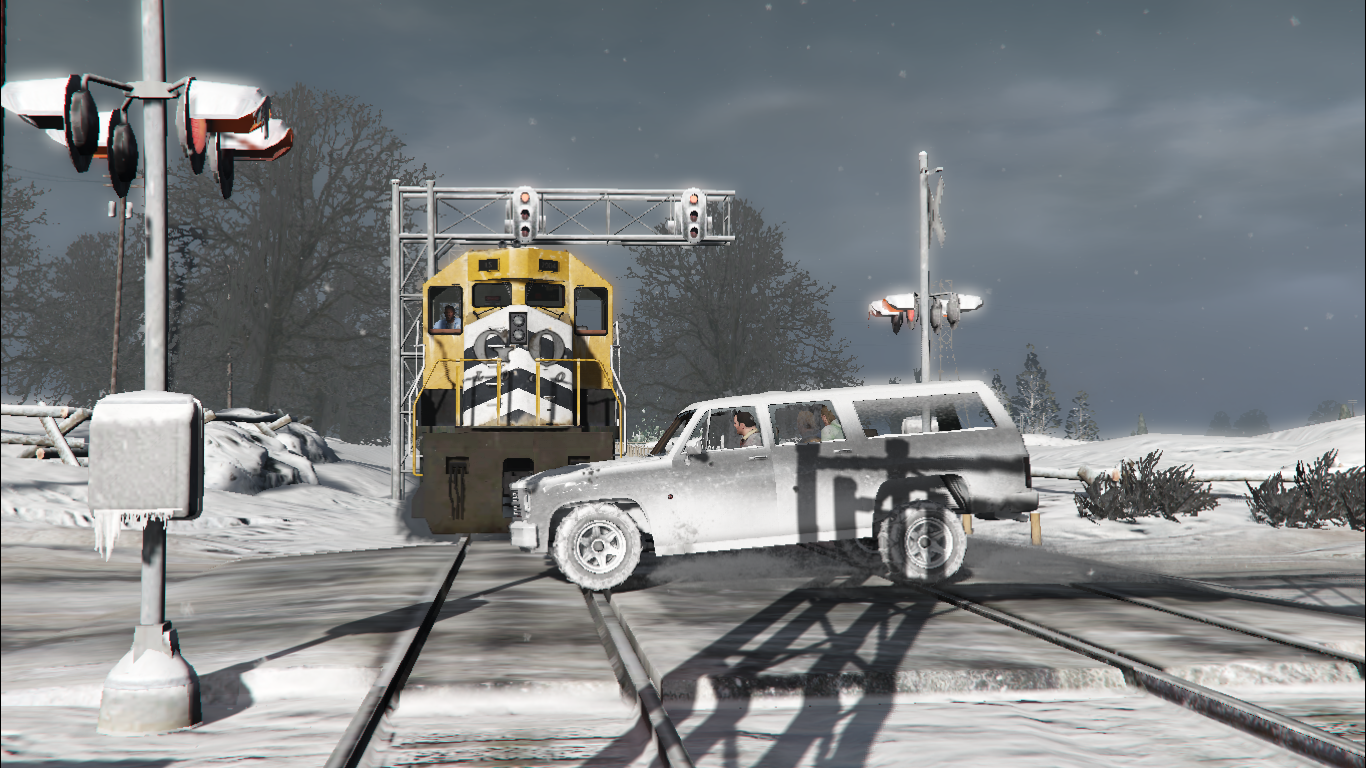 While I was driving carefully in the right destination, suddenly I lost control I mean it was the cinematic where our car got hit by a running train.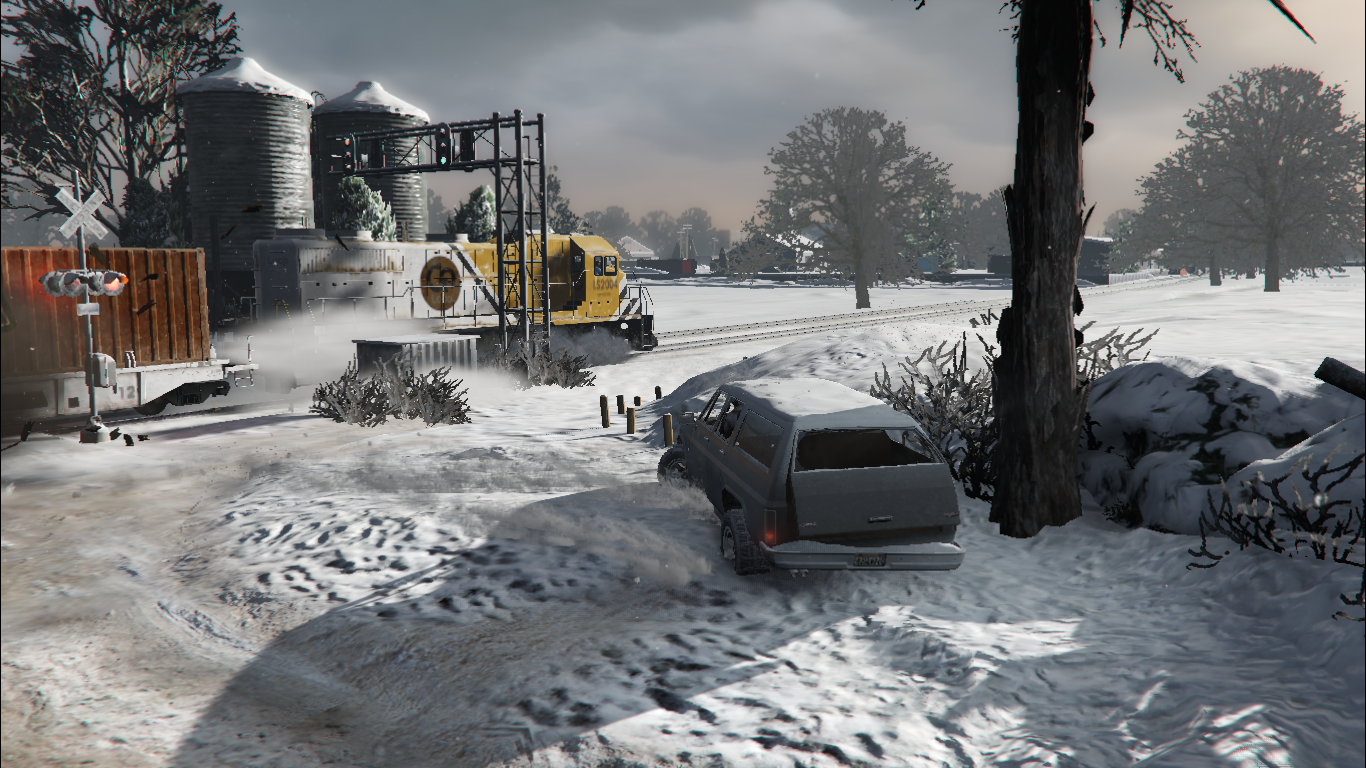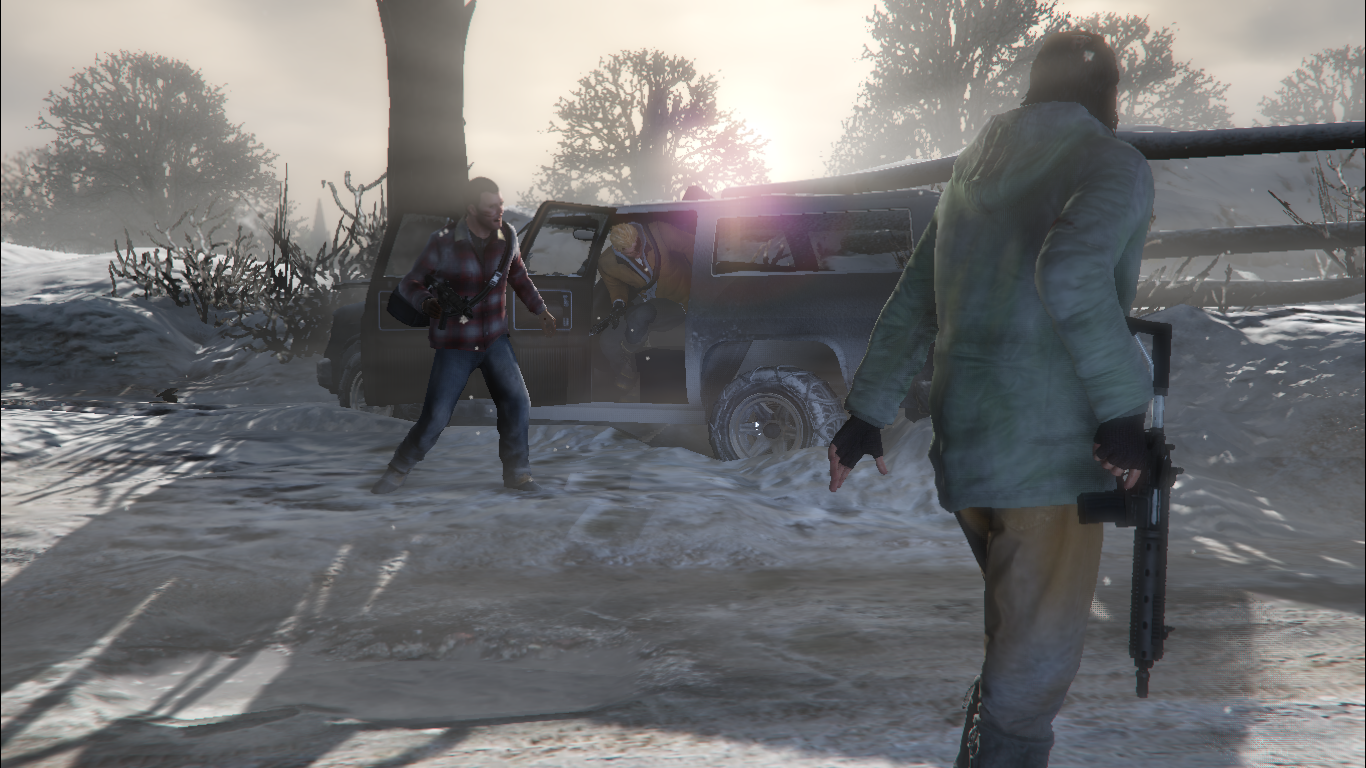 Then we needed to leave the car there.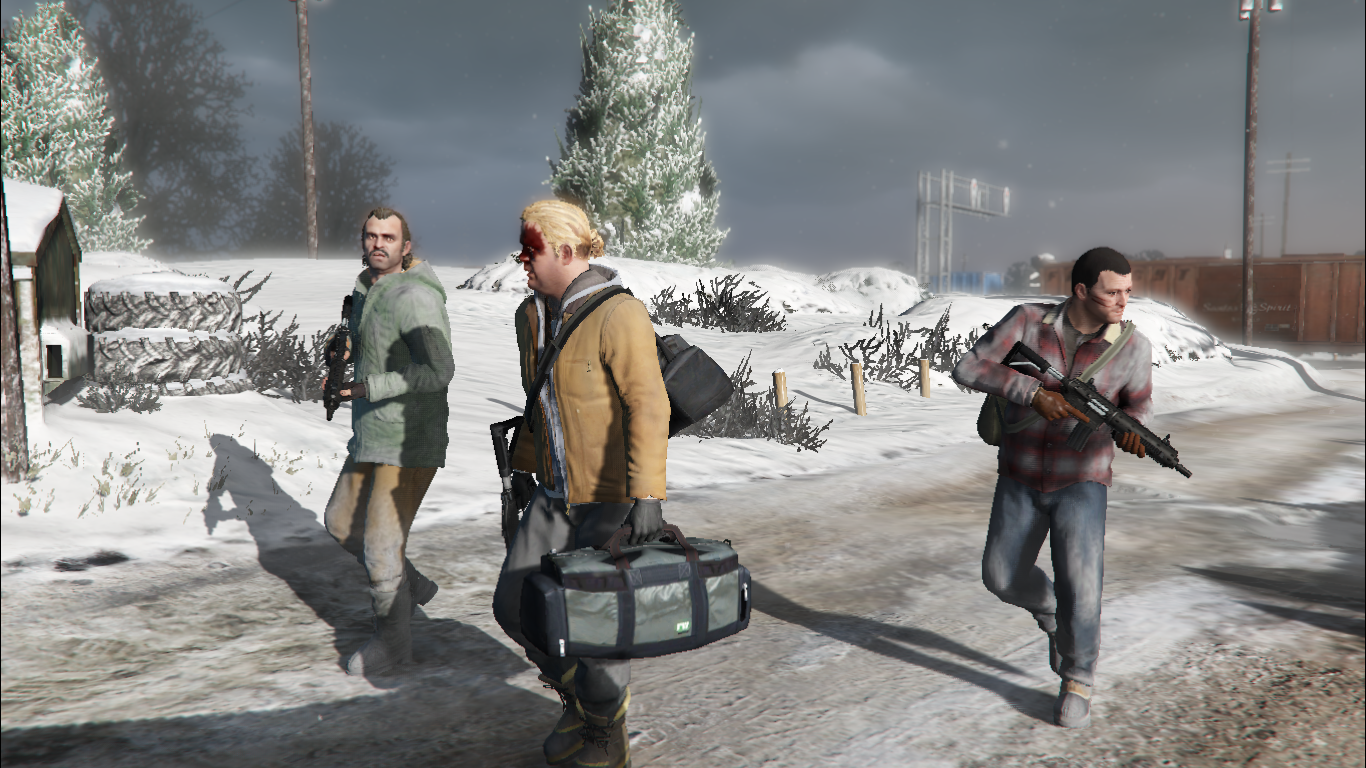 And we started walking while there were three of us.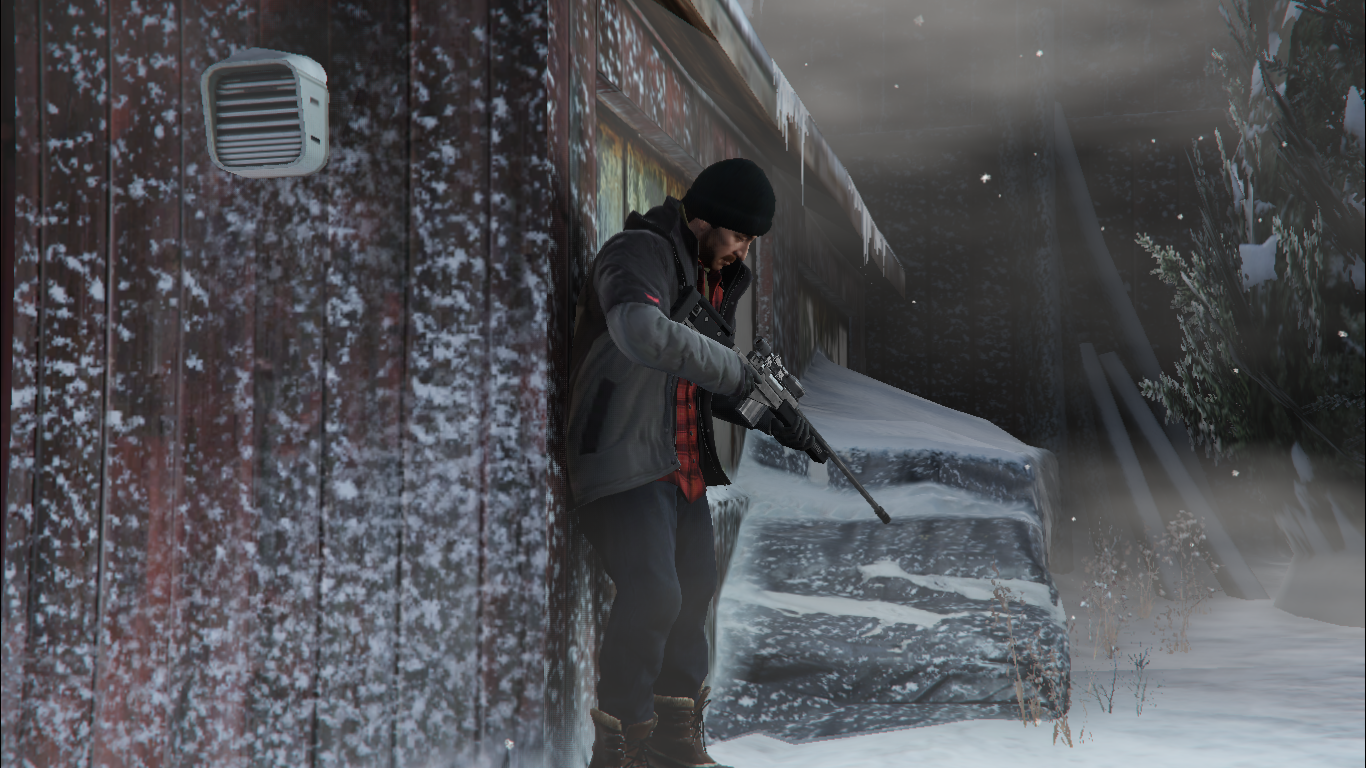 There was a sniper waiting for us who shot one of our teammates to death.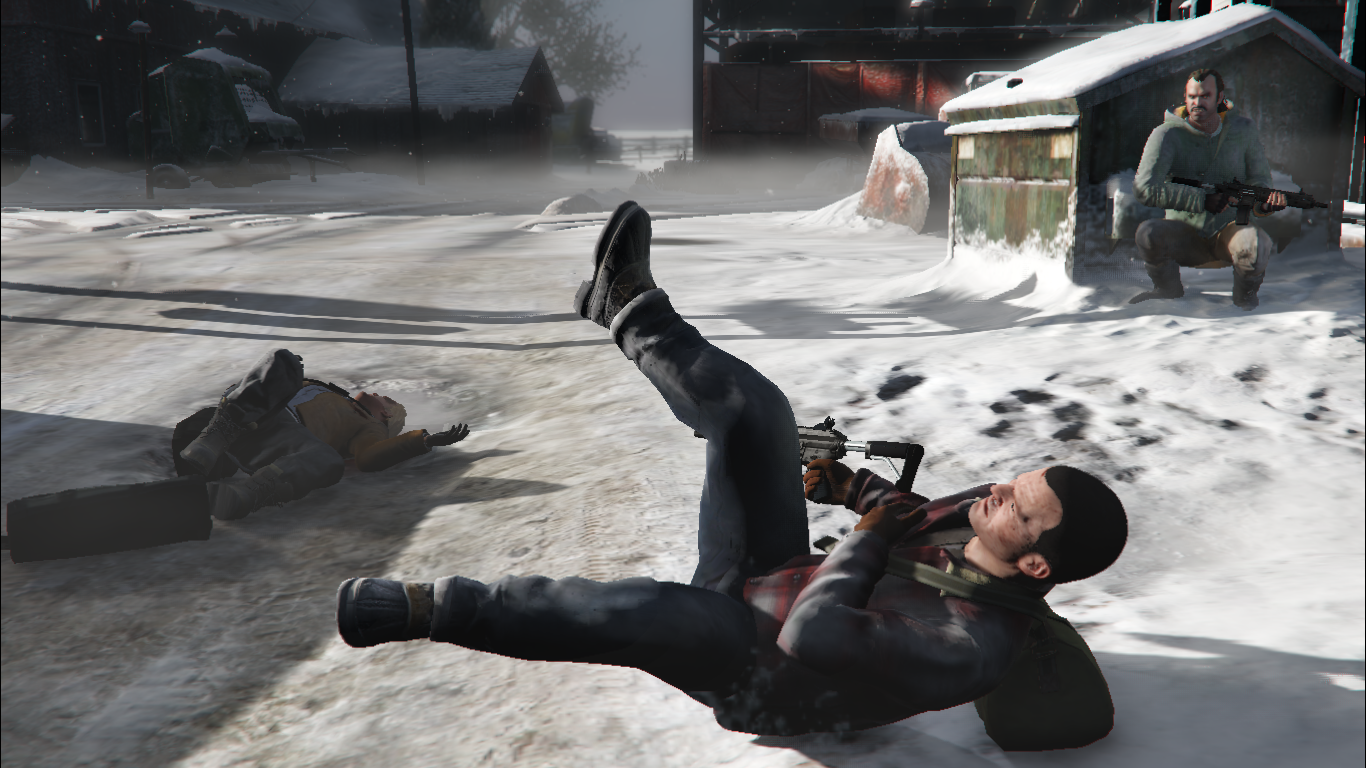 Then he shot my character Michael as well. Michael then asked the other team member to escape from there.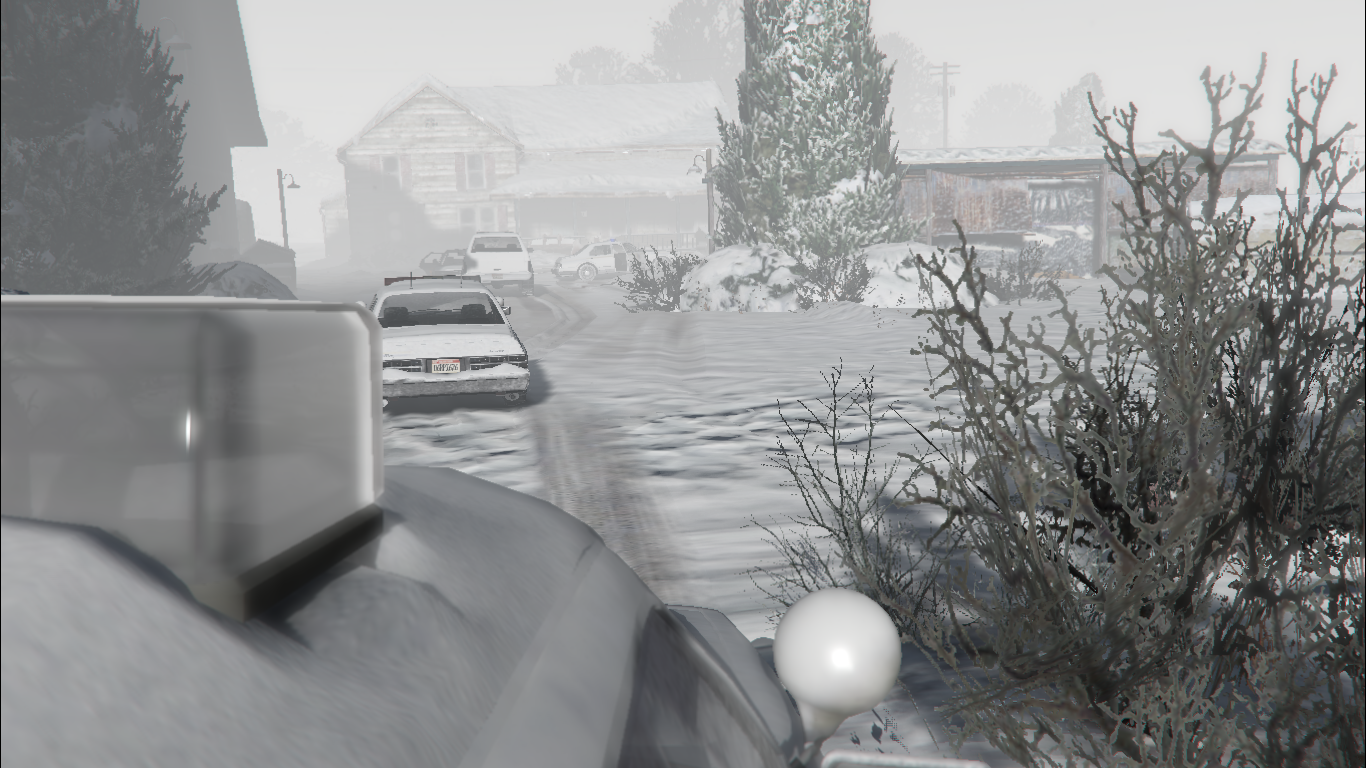 But a lot of police cars already came to the spot and started shooting the other character and I started playing with him now. After I killed some polices there, my current character started fleeing from this place.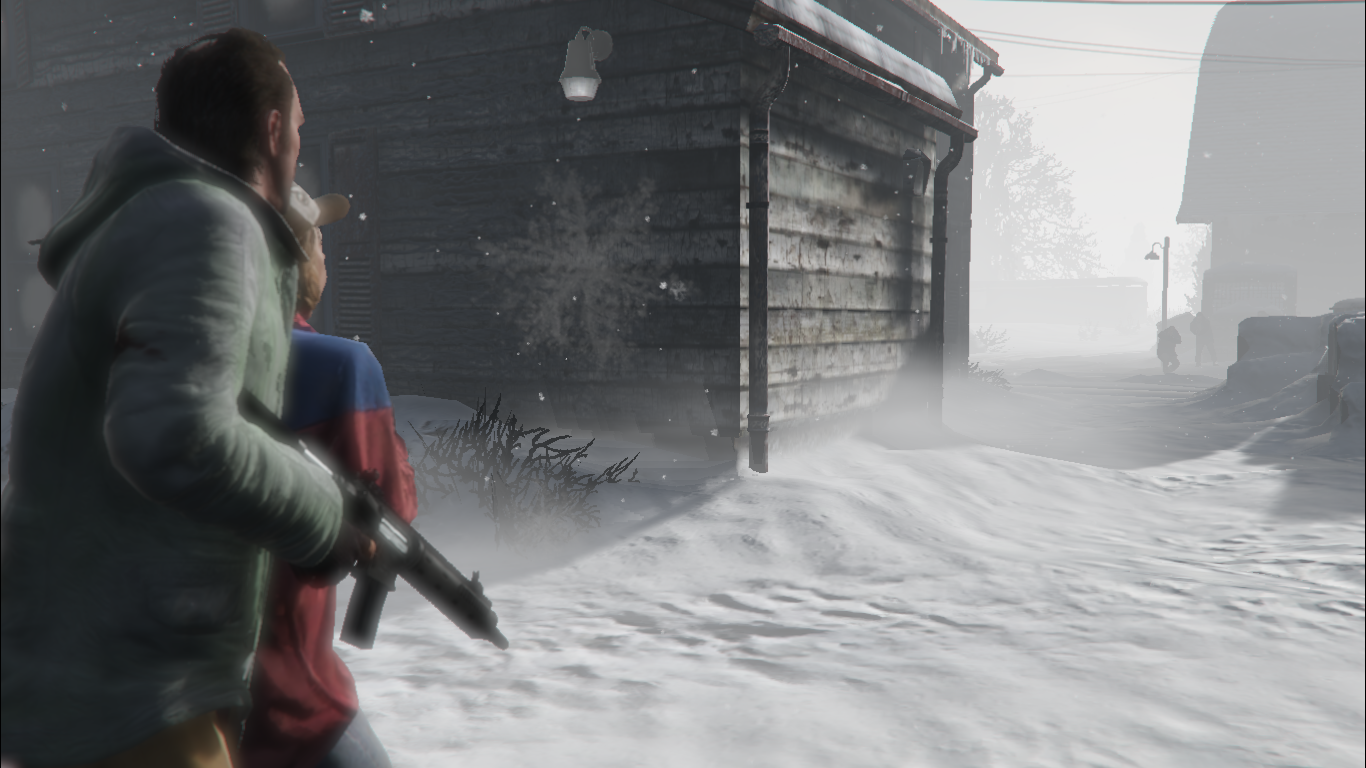 And he used a little boy on the way as a cover so that the police misses him.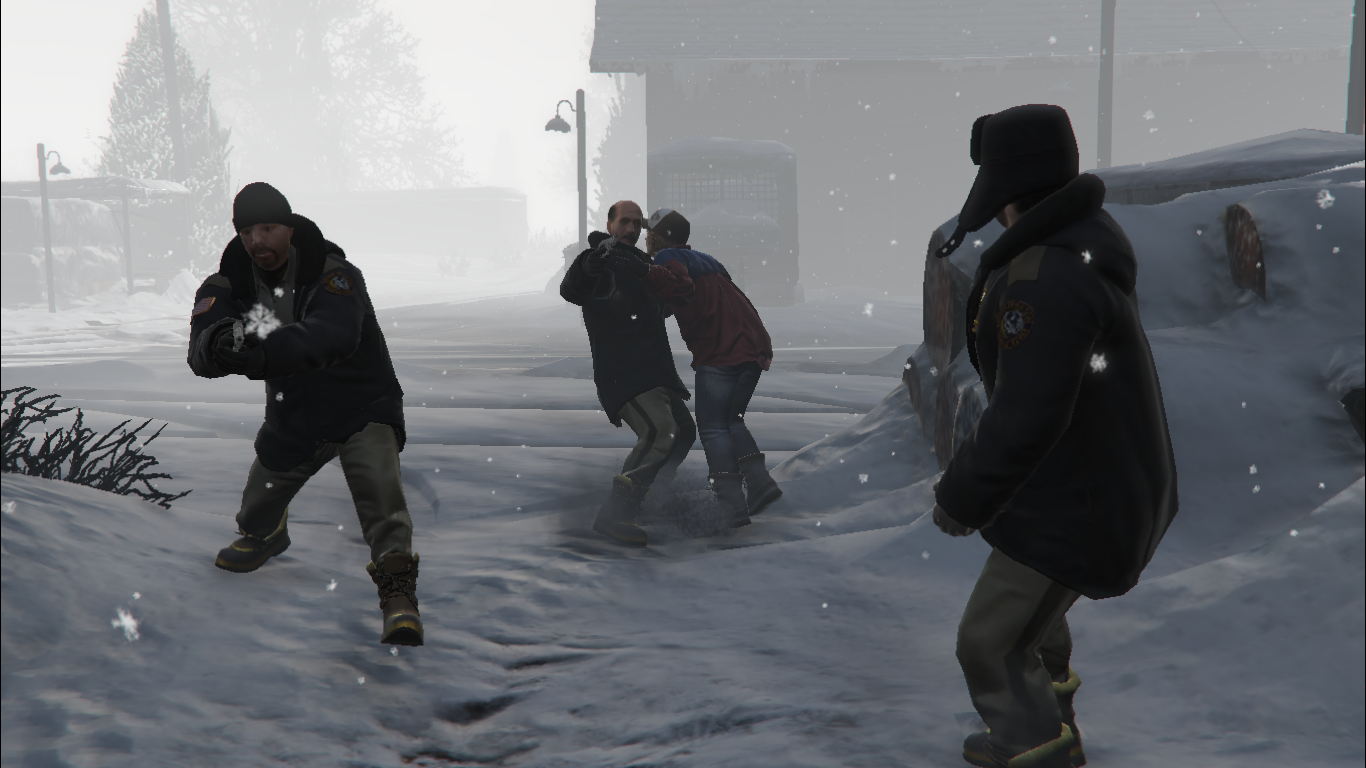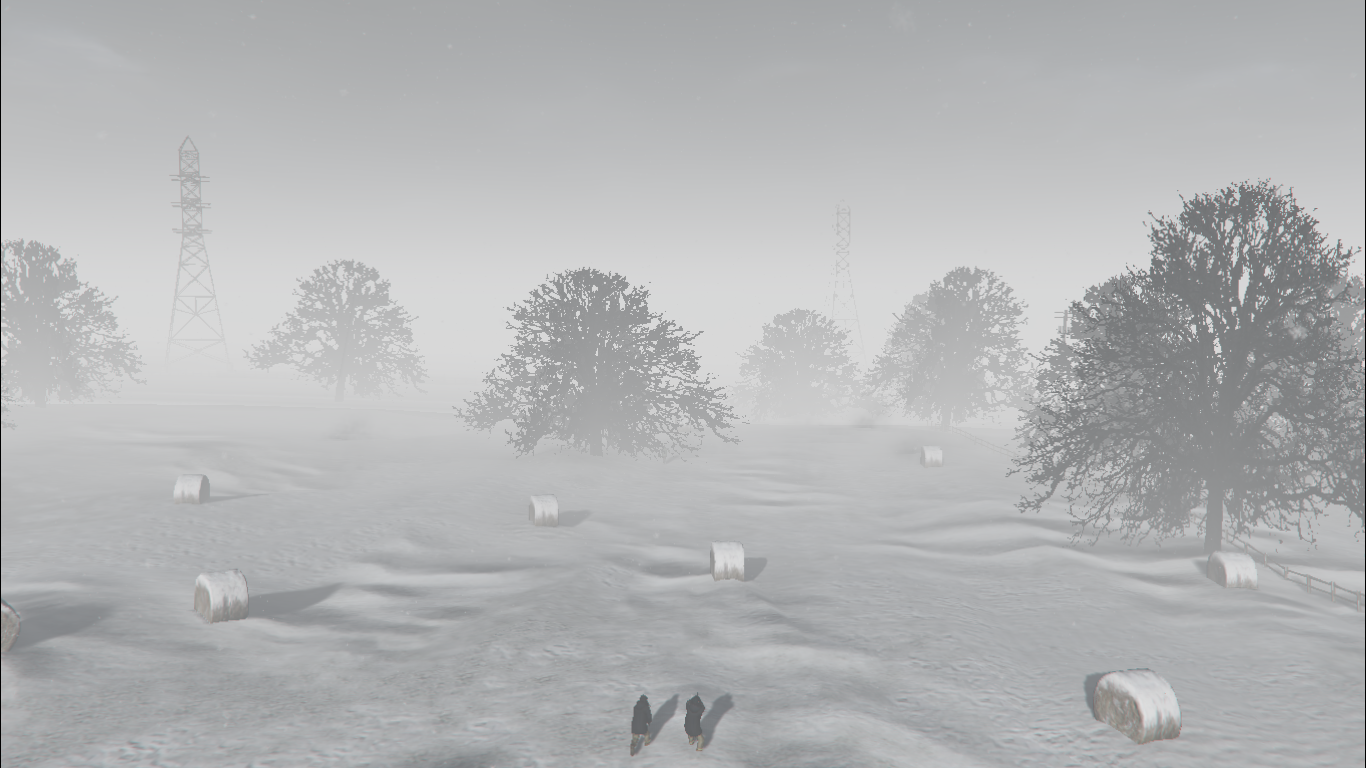 And yeah, the last character escaped the place successfully.
Blaaaaaaaaaack Screen.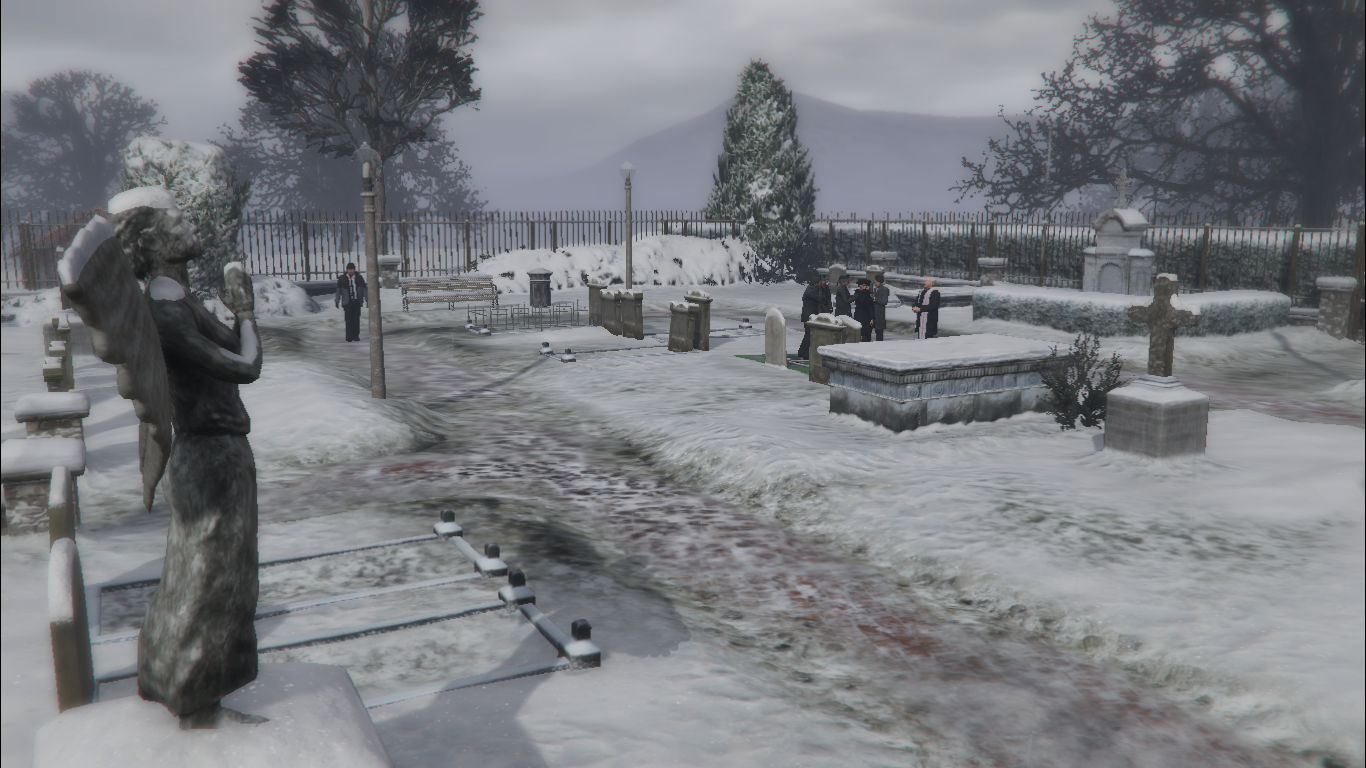 It was a graveyard where the teammate who just got shot was being buried with police securities.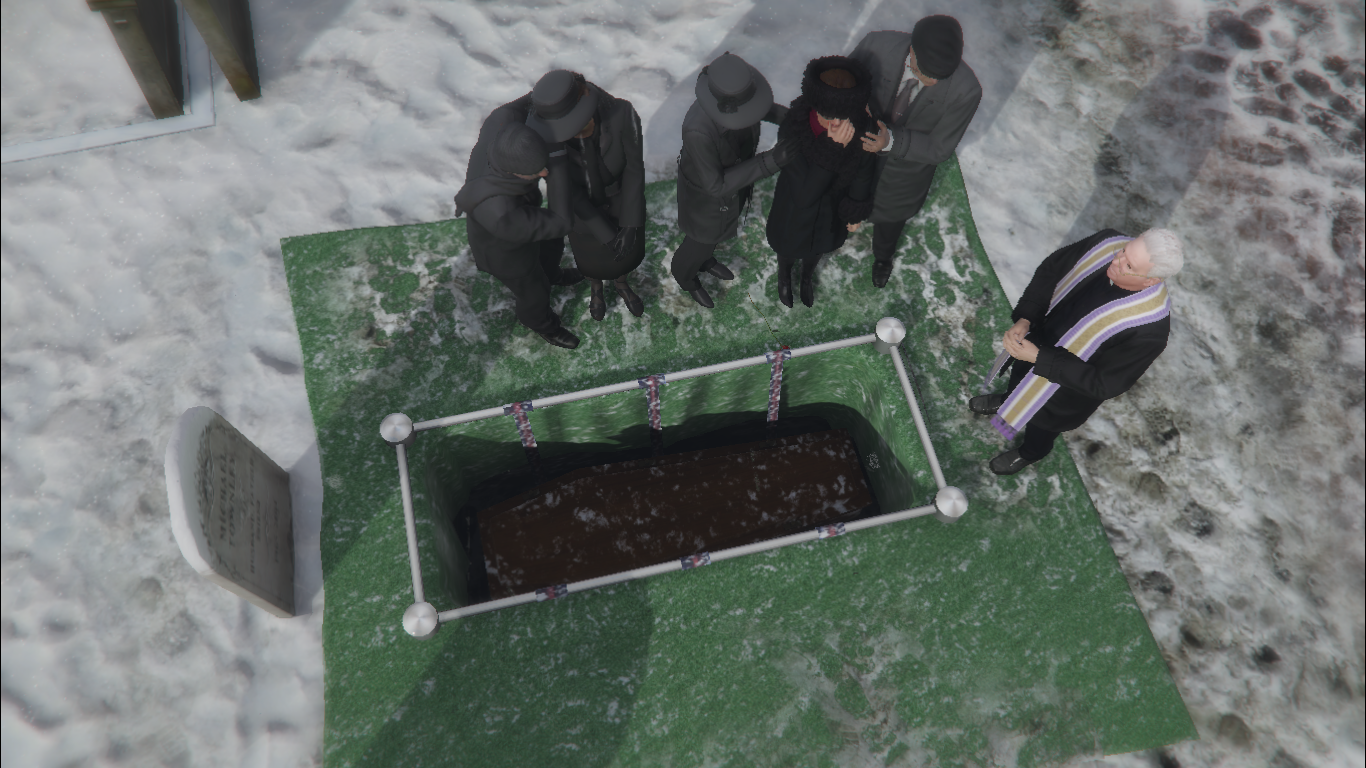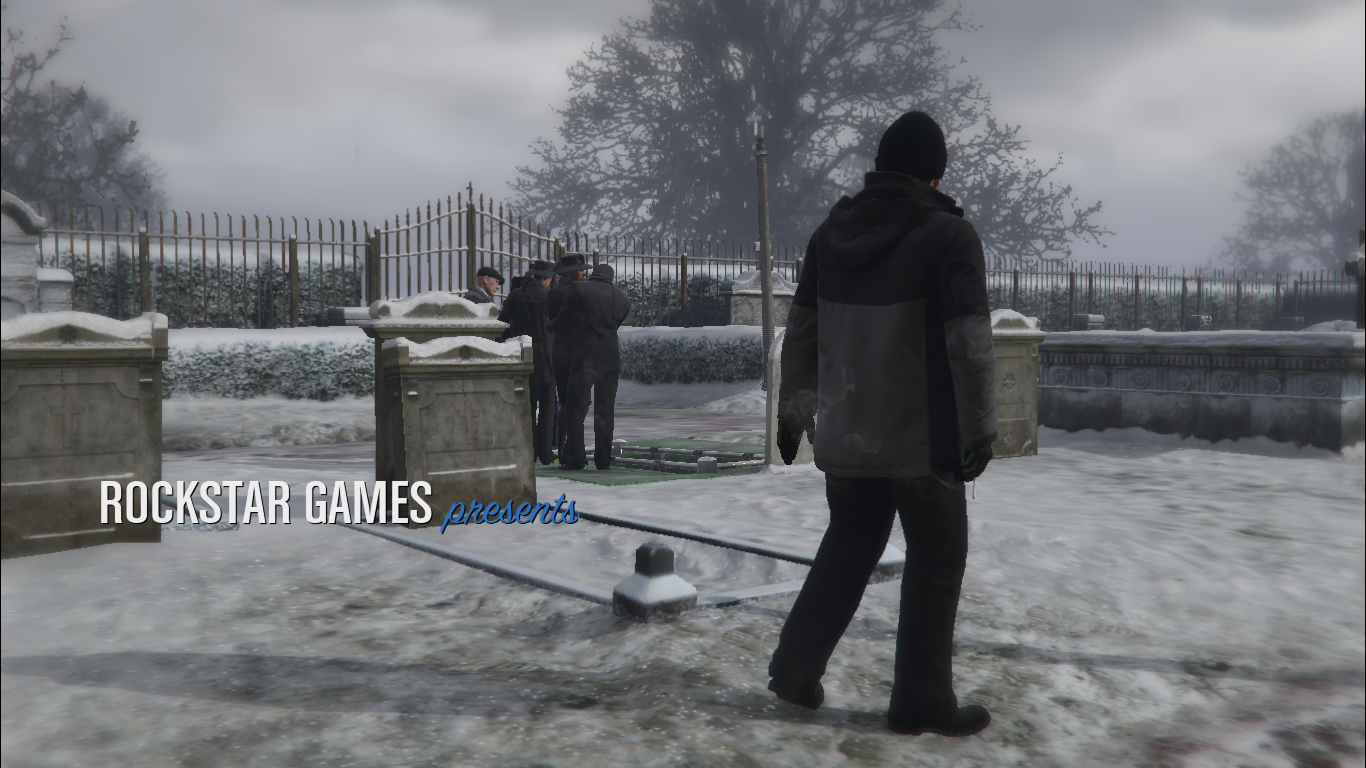 Here comes the title and developers names of the game.
ROCKSTAR GAMES Presents.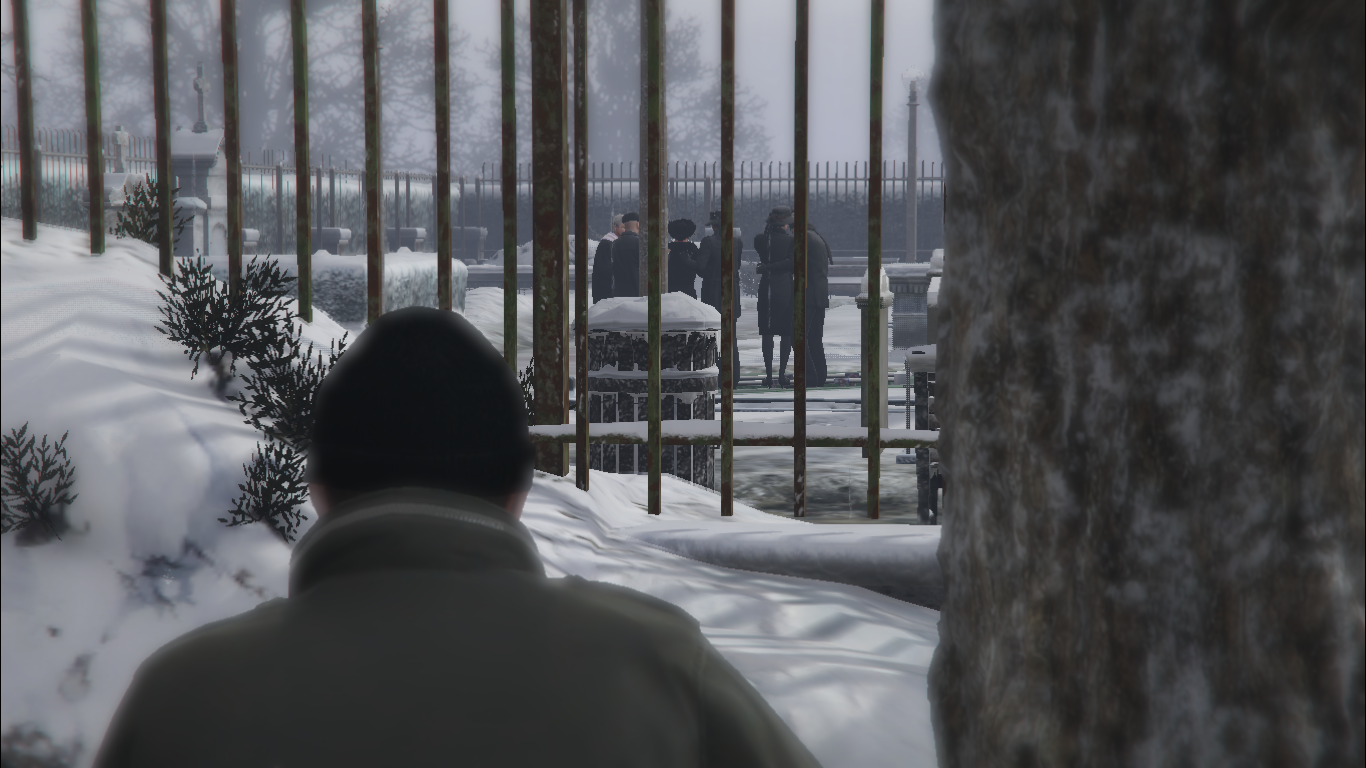 Michael was there watching the final goodbye of his teammate from a far place.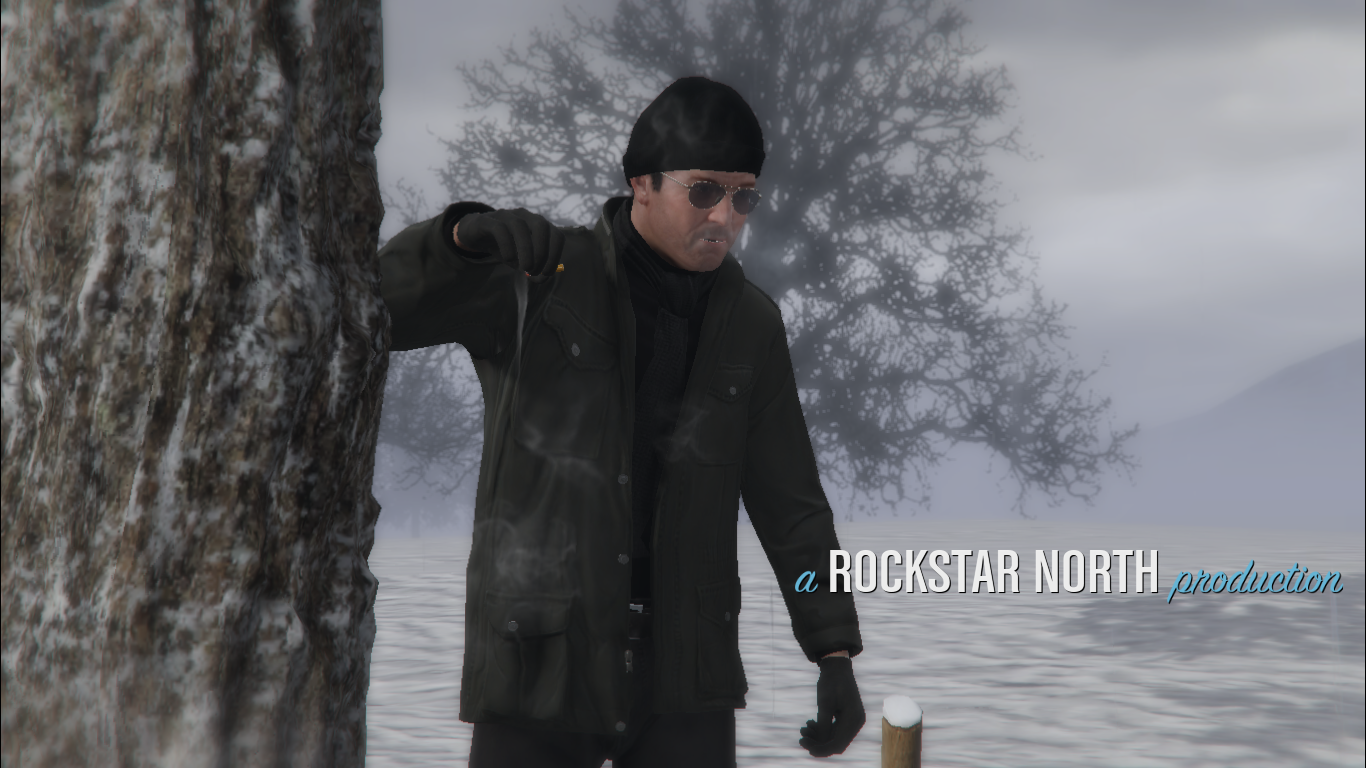 a ROCKSTAR NORTH production.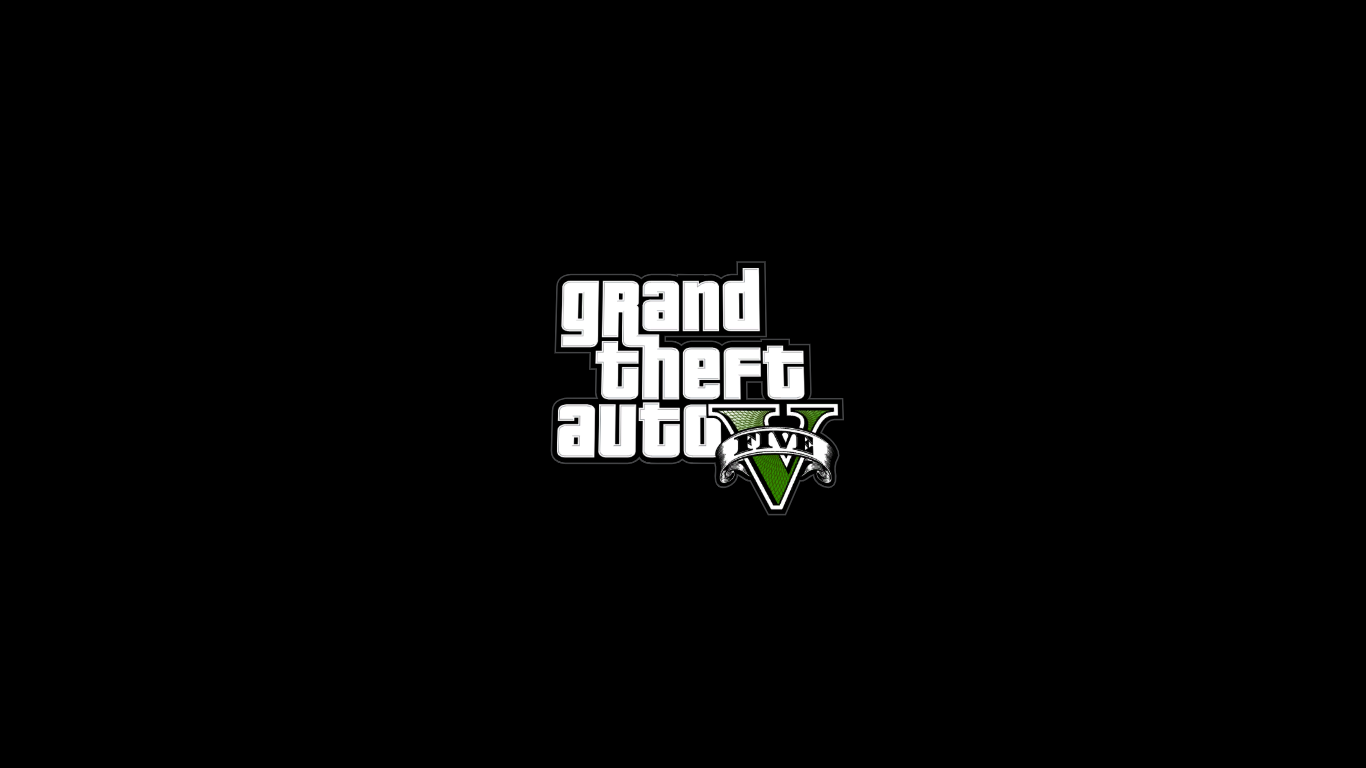 Grand Theft Auto V. Yeeeaaaaaaah.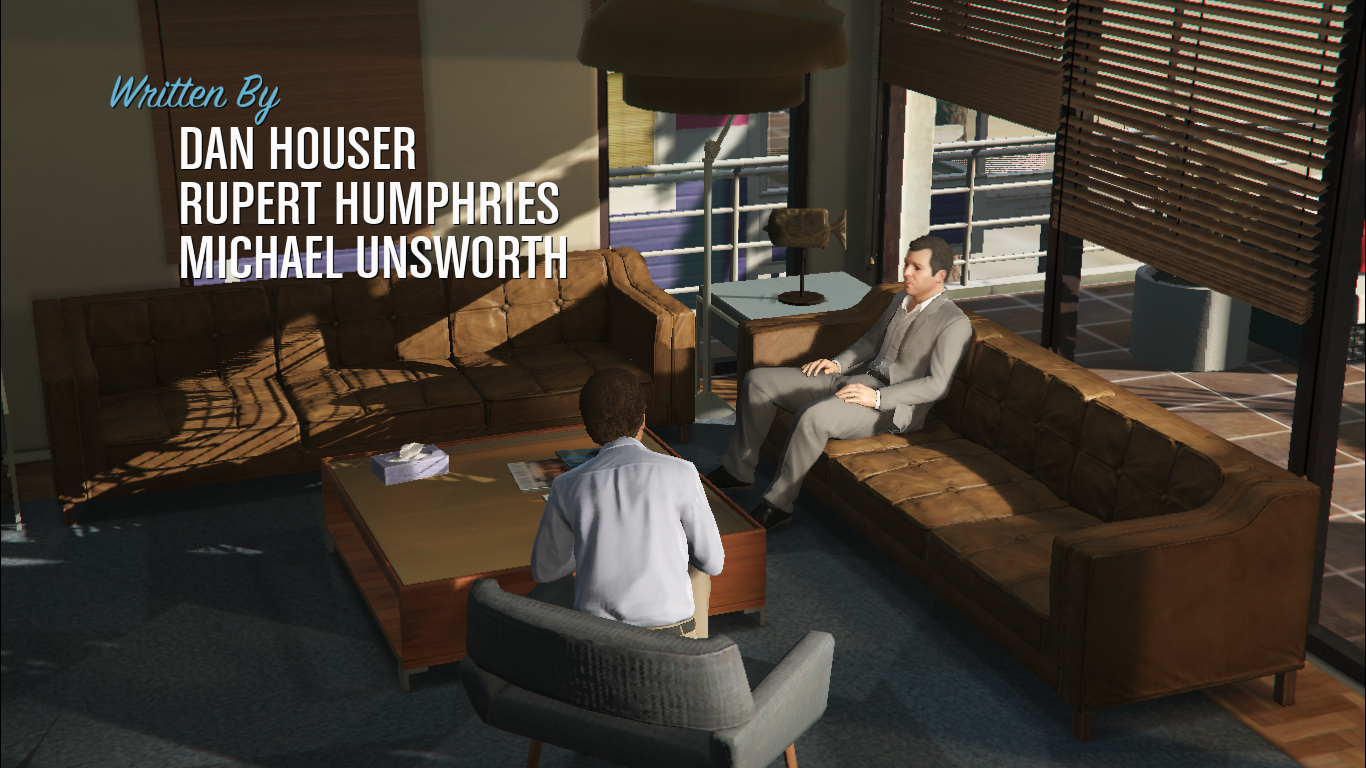 After showing the games title, there was a cinematic showing Michael getting treatment from a psychology and there were the credits on the screen with the cinematic.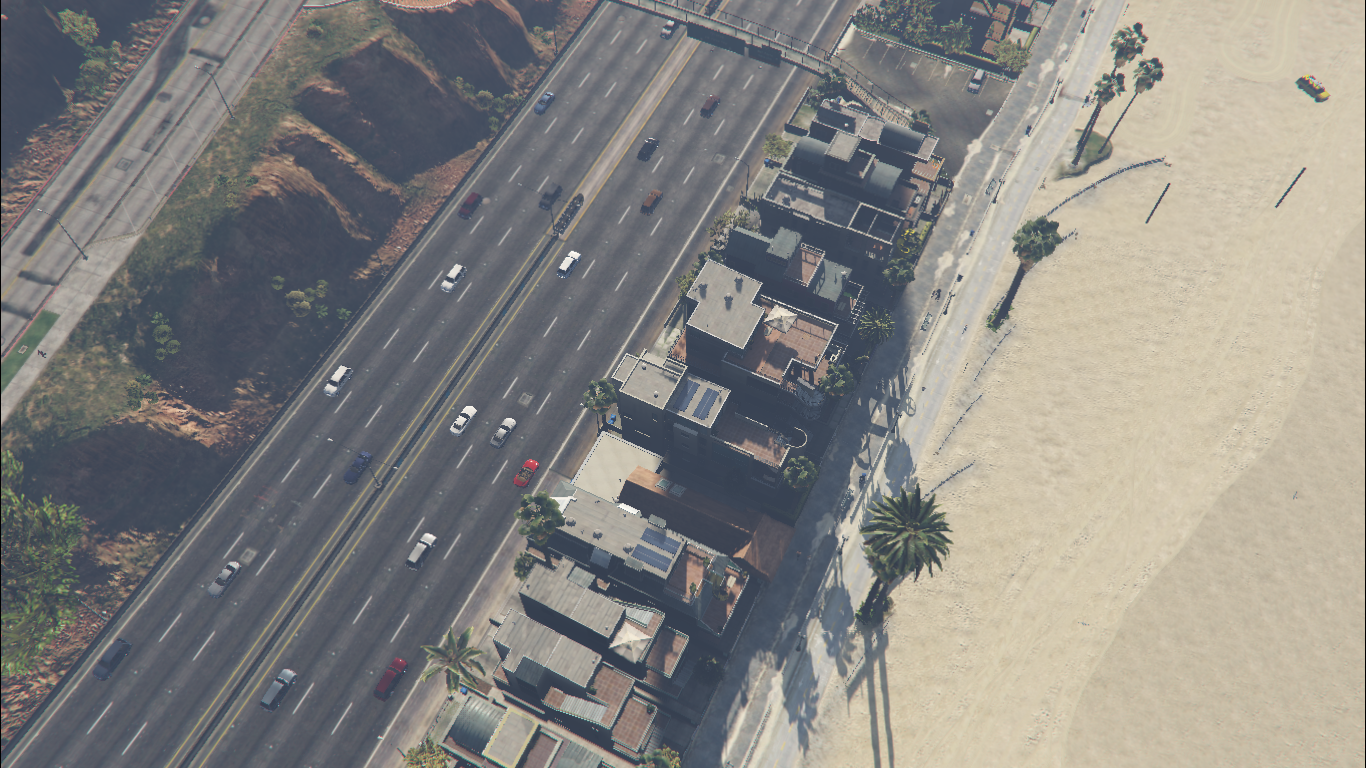 There were some fantastic views that I liked a lot.
Then Michael was enjoying the fresh air while two niggas were passing by and those niggas were Franklin and Lamar. Lamar asked Michael an address that they were looking for and Michael first said he doesn't know but right after that, Michael called Lamar and said, "It's that house right there, with the yellow stairs".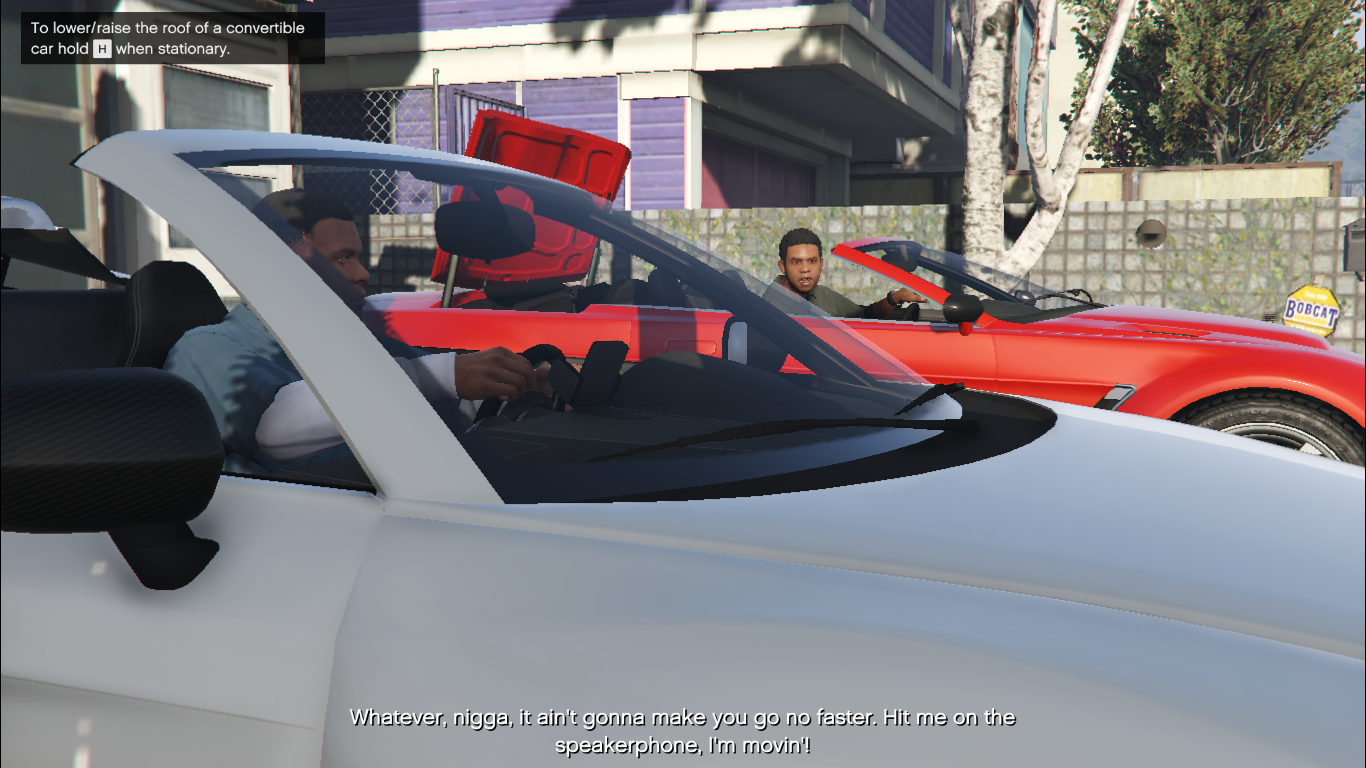 I started playing as Franklin now. Then I understood that they were about to steam two cars and I had the option to choose one car among the two and I chose the white one.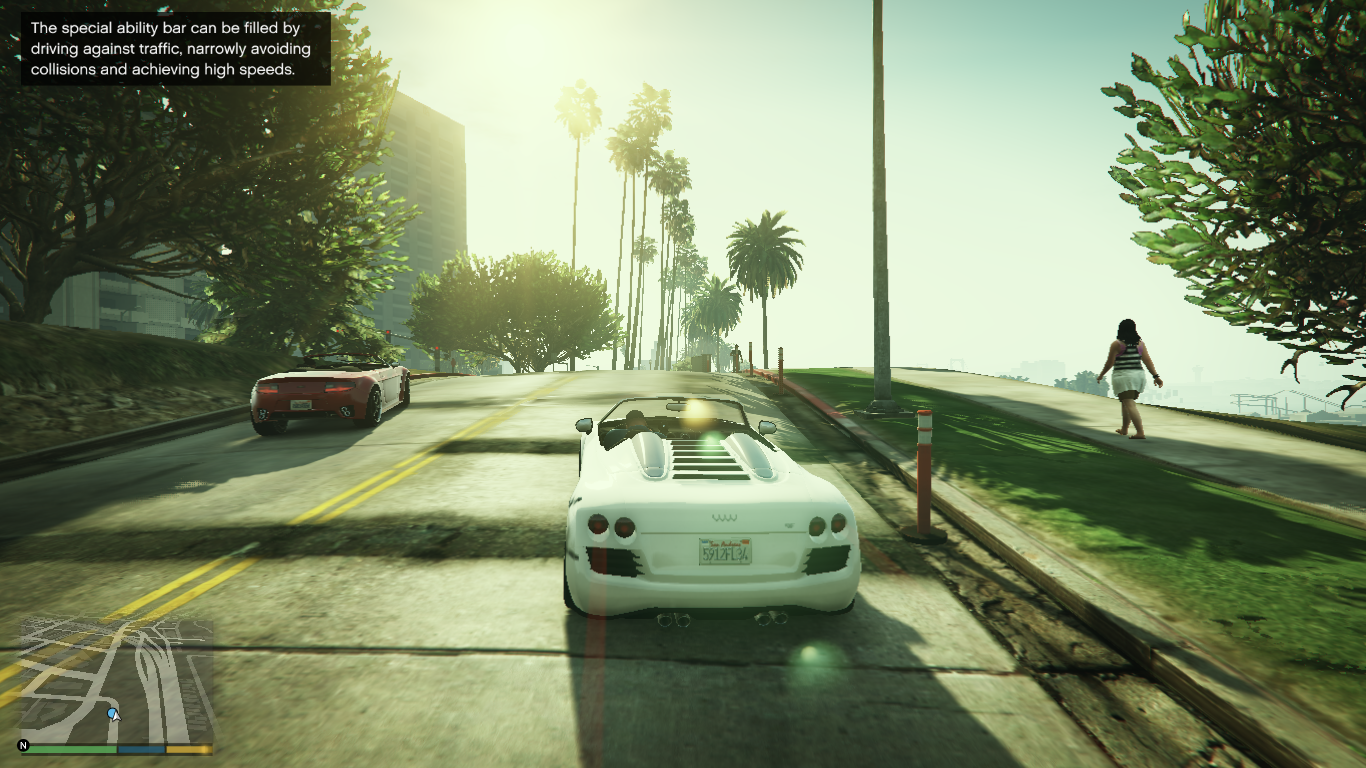 Riding this car was a fantasy but it was too fast that sometimes I lost control and I crush it and I had to keep up with Lamar so I needed to go fast and CRUSH.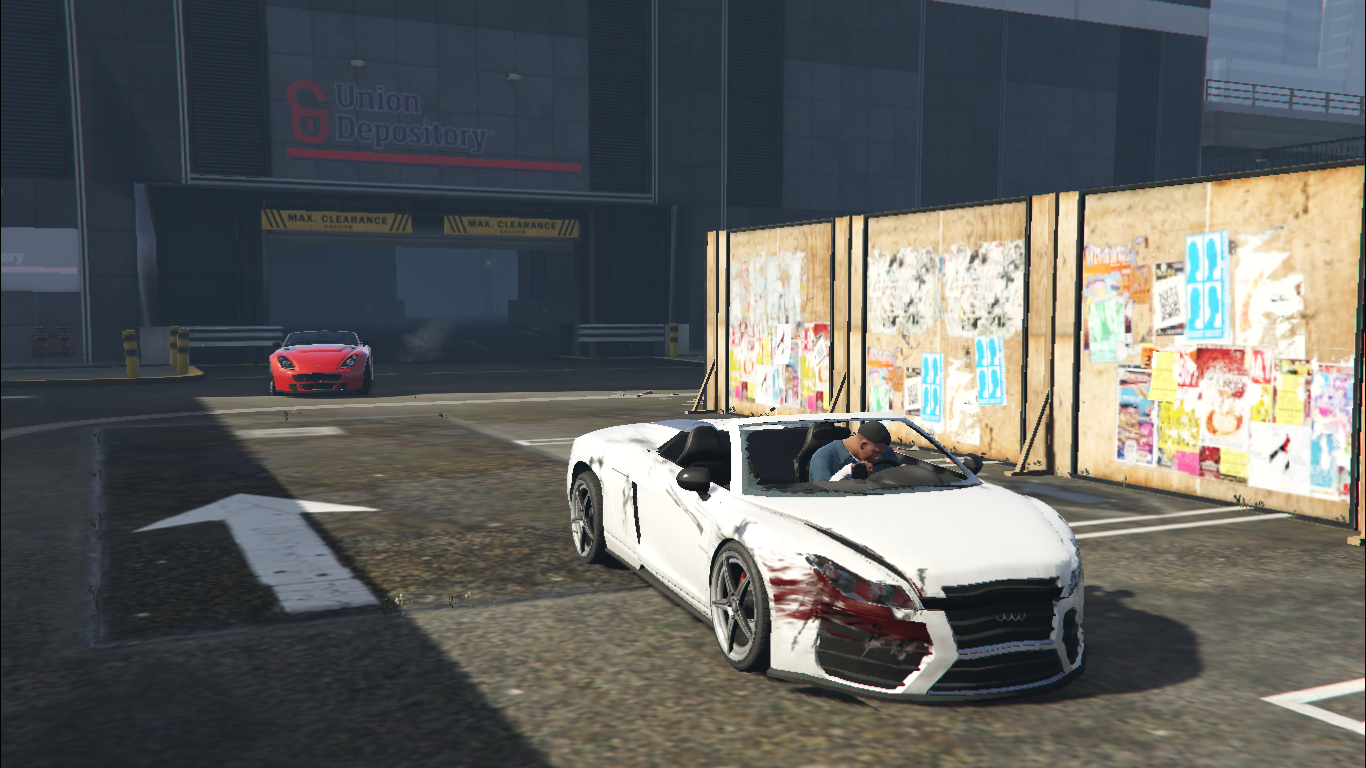 While we reached a checkpoint, my car was not the car that I chose a while before although Lamar's car was like in new condition.
From that place we had a police chase and Lamar escaped first. Then I also escaped from the chase.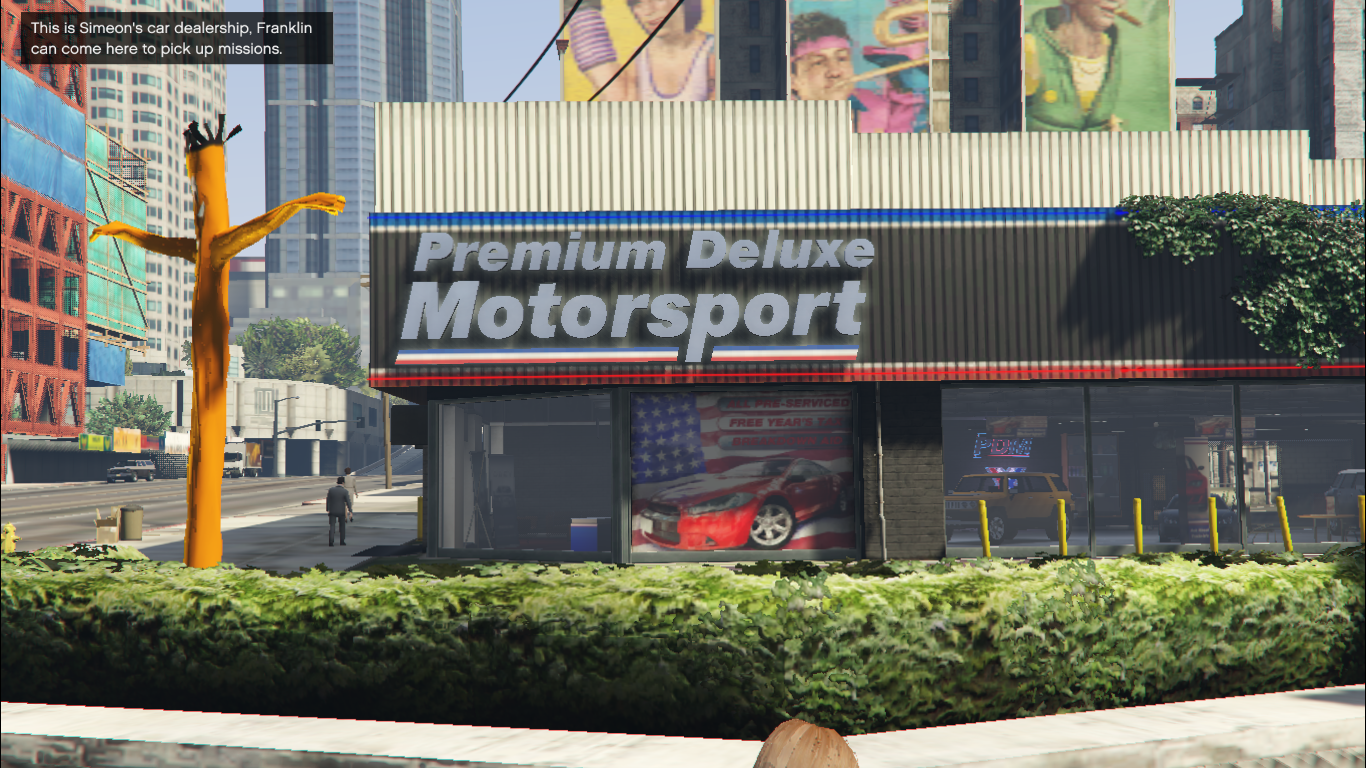 And then I had the objective to take the car to a Simeon's car dealership from where I can pick up missions later. I took the car to Simeon's car dealership when Simeon and Lamar was handling a customer. Then my character Franklin left the place.
I had my own unique vehicle there waiting for me and I really liked this car a lot. Then I took the car to the hone garage of Franklin and then my character had a little conversation with Lamar and then Lamar left the place saying I need a haircut.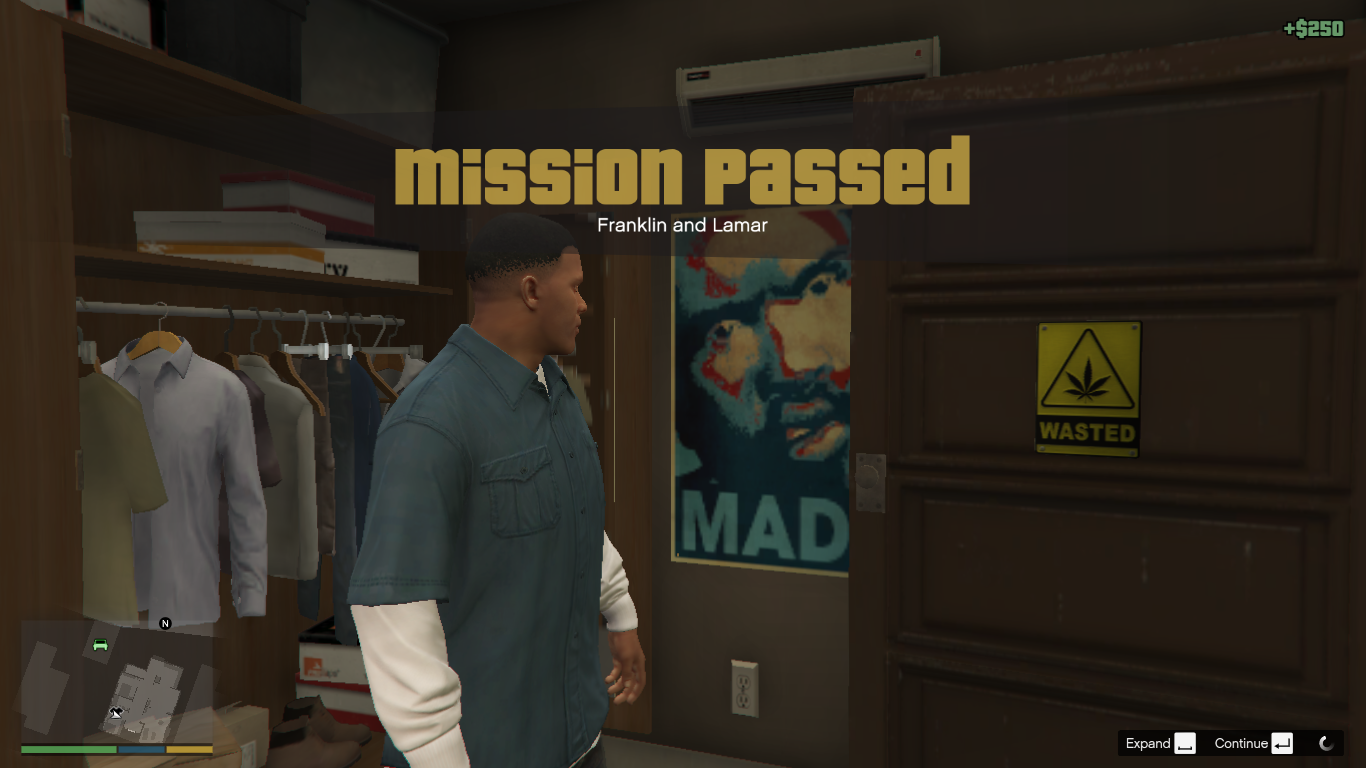 Then I went inside the home and there was a lady who was probably an aunt of Franklin watching cartoon. Then Franklin went to his room and showed me his bed where he can sleep to have a save game and wardrobe from where he can change his outfits.
And there I got to know that the current mission was passed.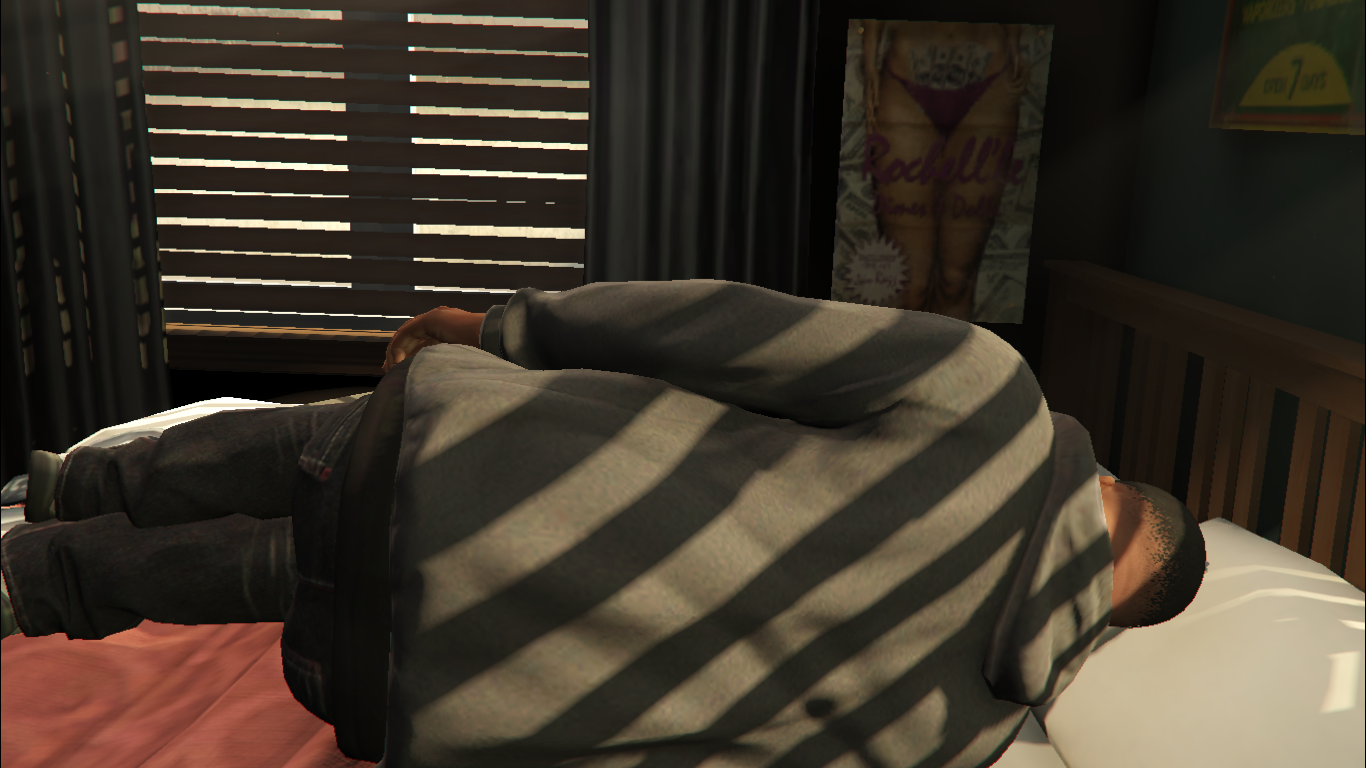 I wanted him to sleep for a moment to check how he does it.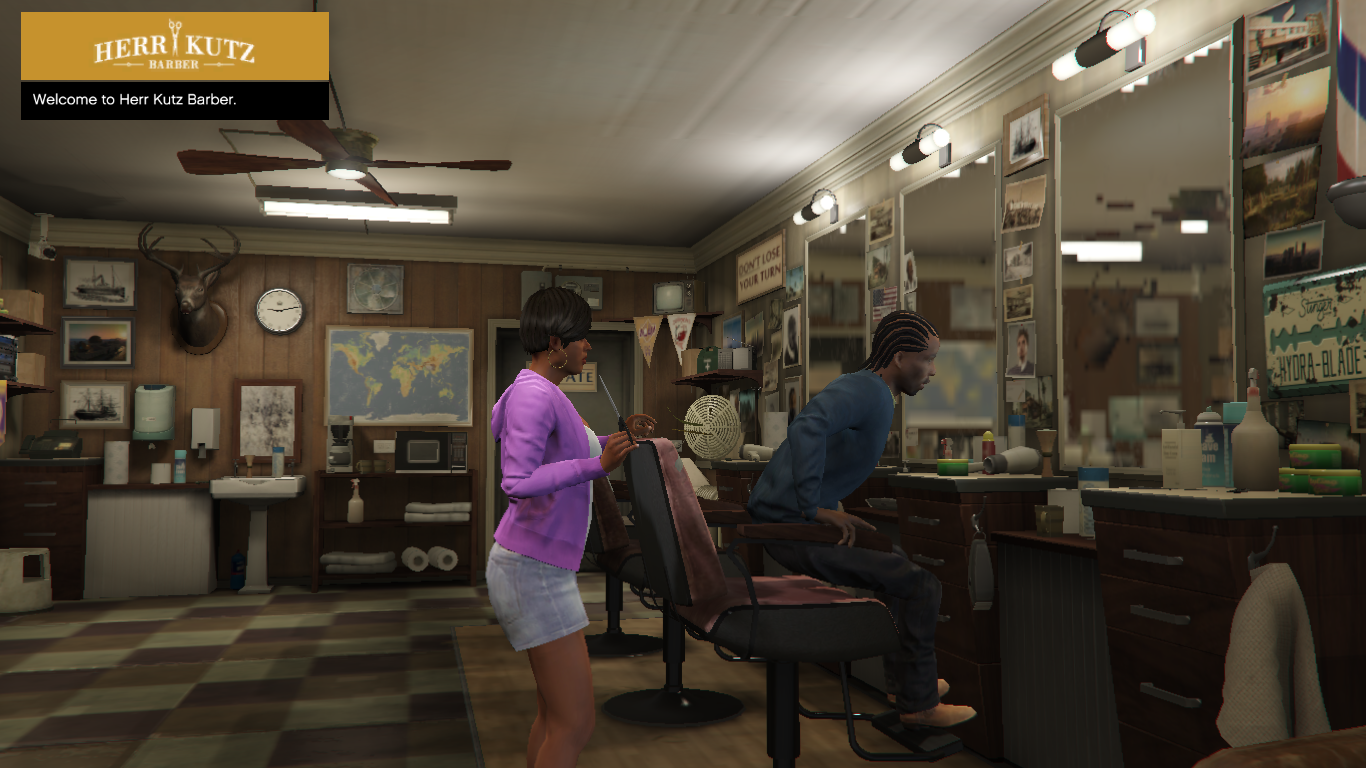 Then I looked on the mini map and went to a barber shop to get a haircut as Lamar was kidding with the current hairstyle. The haircut cost me $28.
| Before | After |
| --- | --- |
| | |
Then I left the barber shop.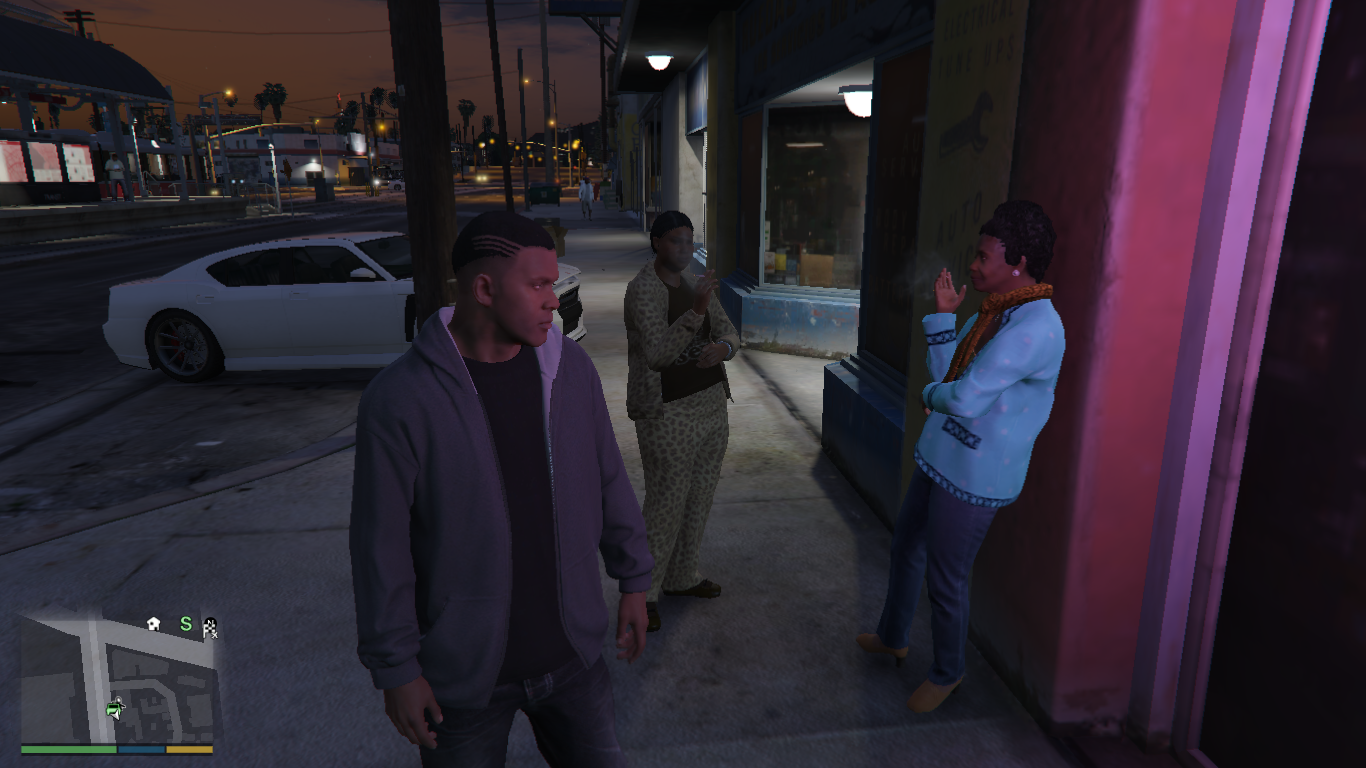 There were two women smoking outside and I thought I'd do some fun with them. I got close to them and they left the place. There was another woman using his cellphone in peace and I disturbed her as well and he left the place and I started following her.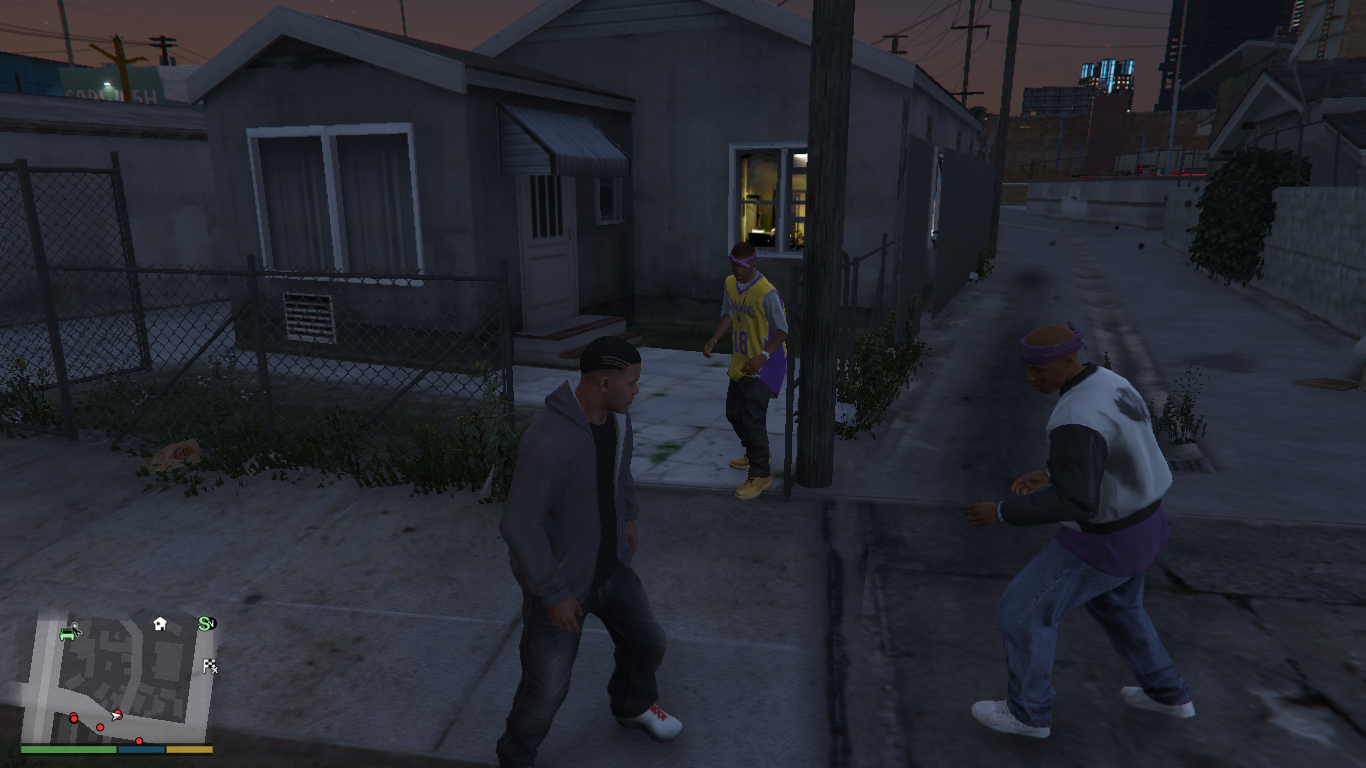 And suddenly I've found two men gossiping and maybe they belong to a gangster which I assumed seeing their behavior. They came towards me to have a fight and I gave them a good fight. More of their brothers kept joining the fight and I was not afraid of them but I was hearing police siren as I got a police case for fighting the local peoples. So I left the place and I played a little more and enjoyed myself.
I'll come with another gaming post soon. Stay safe till then and keep playing what you like.
You can find me on:
Youtube
Twitch: noomerhive
Twitter: noomerhive
Pictures: In-game screenshots+logo.