➤ The world of Dark Souls 3 is undoubtedly great, it gives me the same feeling as if I was playing Dark Souls 1 for the first time, except that I already have some skill and not everything is so difficult to die 100 times against normal enemies (or maybe it is). We can never let our guard down, we will never know when a dragon falls from the sky to throw fire in our face when we want to cross a door, this is Dark Souls.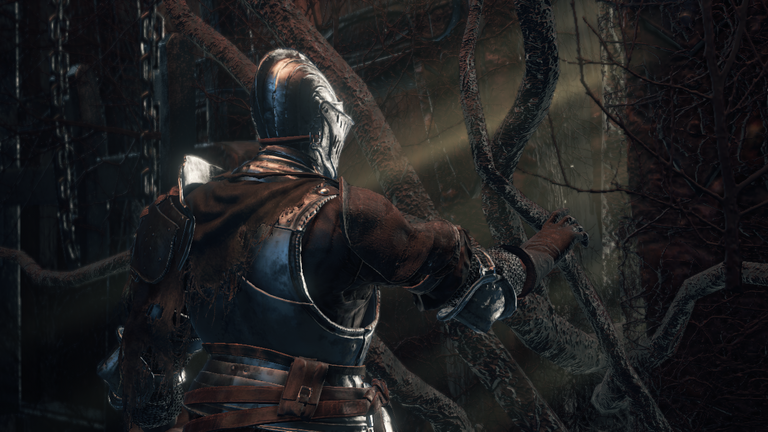 ---
➤ My adventure so far is being quite fun, getting lost many times in the maps, trying to find all the shortcuts and hidden things I can, which actually there are many. And I've also been helped by some tips from players telling me where there are hidden walls, it's quite curious. On the other hand there are some saying that there are hidden walls where there aren't, and there you see me rolling towards all the walls like stupid. My first boss battle came early on, when I had to face the giant ice dog. Exactly as you heard it, it's a giant dog with a mace and that throws ice. It's certainly a rather curious starting boss, although it's not that hard to kill, for a person not at all experienced in Dark Souls it sure is a good challenge. His attacks are quite predictable and slow so we will have plenty of time to attack or heal, even so we can not always trust. This boss is mandatory to access the next area after getting a banner.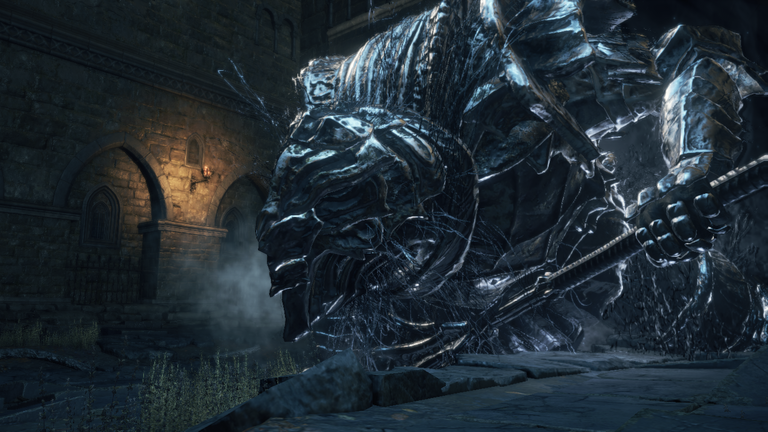 ---
➤ To reach the next area you have to raise a banner and some ugly monsters just like the ones that take us to Anor Londo in the first Dark Souls, will appear to take us flying. In the next area there are too many things at the same time, many things to explore, to get and quite funny and curious bosses. I do not want to tell you everything because this area certainly seemed immense and very fun. What I can tell you is my impression when I was walking quietly towards a tower and suddenly I heard "Hmmmm, hmmmmm", I instantly knew it was him. That it was my beloved Siegmeyer from Catarina, but no, it turns out it's another one named Siegward. They equally possess the same armor and the same way of speaking, so I prefer to believe it's the first onionhead.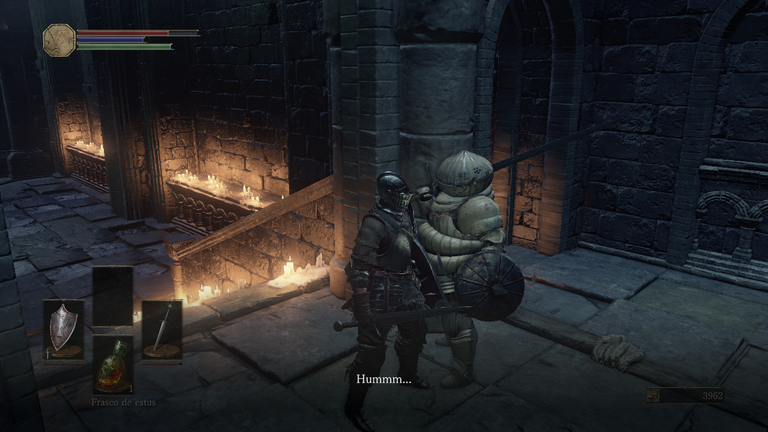 ---
➤ After getting all the dialogues with him I just started exploring a bit around the area and inadvertently fell somewhere else where I didn't want to because there was a giant fire beast that I'm sure would kill me, until out of nowhere when the beast was coming towards me I hear his screams and Siegward comes to epically help me. What a great moment, I loved this part. There I could see the mighty onion head facing that beast, I think if I left him alone he would kill it without my help, but I still didn't want him to suddenly die so I had to do something too. It was a good fight, and then we killed him, he sat down and I talked to him and he gave me alcohol to toast. The "alcohol" he gave me is an item to stop freezing, so an extra reward. Apart from that the monster gave me a fire gem, there are different types of gems that serve to imbue weapons and give them different stats, such as fire damage, magic damage, electric and many more.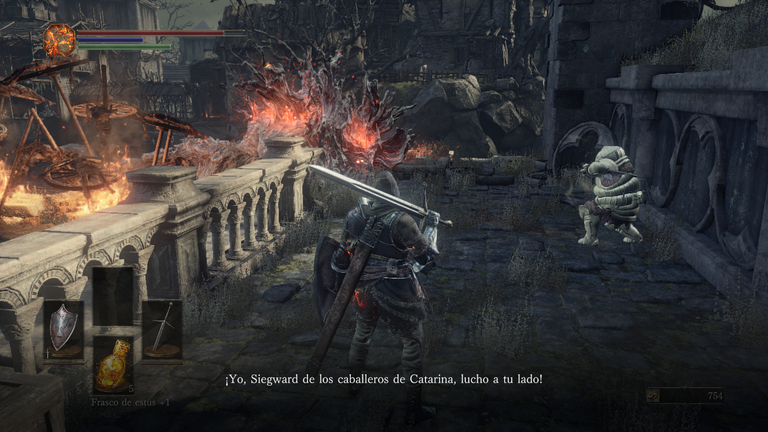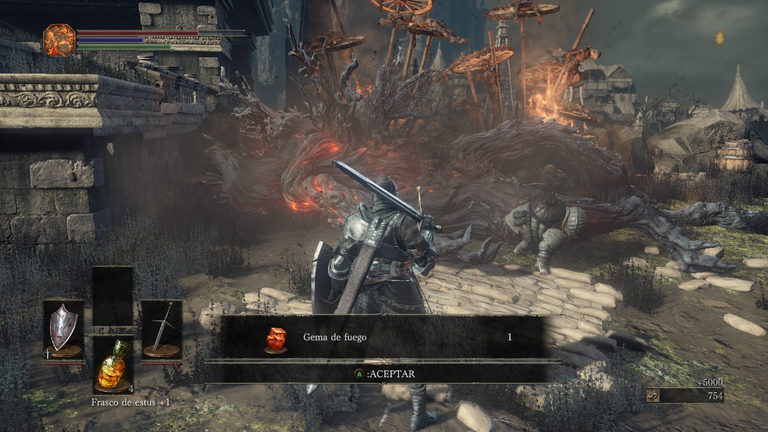 ---
➤ At the end of all this I encountered the giant tree, honestly I'm a fan of this type of bosses. In the style of giant beasts, dragons, I feel they are a way to make the game very epic because of the size of their bosses, although in reality what matters most is always their gameplay, but I really enjoy facing bosses like this. This one is literally a giant corrupted tree, which was a pain to kill. The boss has two phases, the first you fight him but he's accompanied by hundreds of annoying skeletons, though luckily he can kill it with his punches. And he will only have one weak point which is the only place where we can hurt him, trying to hit his arms or legs is useless. His attacks have quite a range and especially when he makes them in fall, we will have to be dodging like crazy, the good thing is that we will be immune for a while when we are in his weak part, because his attacks can not reach us until he moves again, but the problem is the other enemies screwing everything up. Omit that the picture was taken in motion while trying to escape.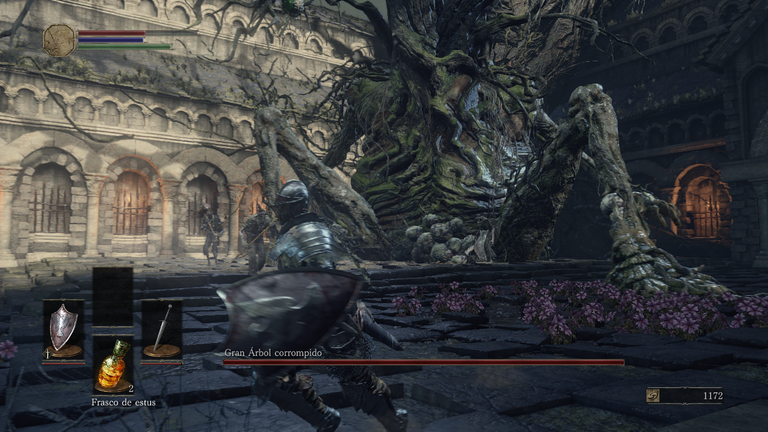 ---
➤ His second phase begins when we do enough damage to him until he gets up and breaks all the ground, and we fall to the subsoil. Here his new weak point will be a humanoid arm coming out of his chest, again this is the only place where we can hurt him. The worst thing is that the only way to access his arm is to wait for him to do an attack sequence where he rises completely and falls to the ground for several seconds, which is where we must take advantage of attacking continuously. Then he will start attacking us with his arms, his feet, and he will also make a special and quite lethal attack, which is where he will turn into Sonic to roll wrapped in a ball all over the place, although it is very easy to dodge because of the time it takes to make the attack. In this second phase he will be much faster and lethal attacking, in fact he killed me several times until I managed to get the hang of it and learn his attacks, I'm a pro. This boss is optional, but it gives us an item that can be necessary for other things.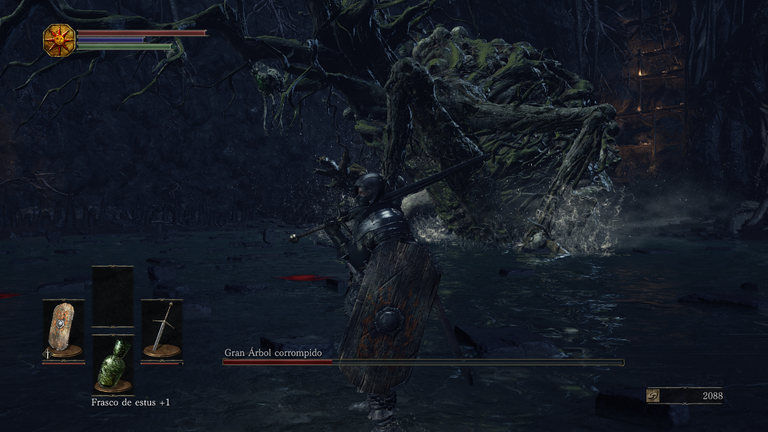 ---
➤ On the other hand I'll tell you how I was admiring the ground for how well it looked graphically, I just thought it was amazing how detailed it looks, the reflection of the bonfire next to it and the way it really looks like a real puddle, how each rock looked, each shadow, I just stood there for about 30 seconds looking at the ground. And in front of me were two npc's, and one called himself Anri of Astora, who could he be? I don't know, but she reminds me of Solaire by name. From what I was reading she may be very pivotal to the story for a secret ending, but I wasn't too interested in doing it.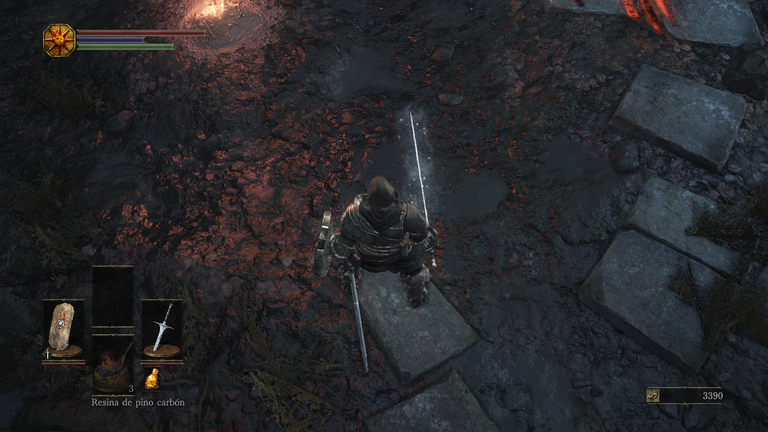 ---
➤ And here begins Risha adventures in Dark Souls, the improved suffering. How many deaths will be waiting for me this time? I prefer not to count them because I'm sure it would be humiliating, but what always matters is the feeling of victory. Thank you very much for reading, see you in the next post!
All the images are by me.

---
Versión en Español
---
➤ El mundo de Dark Souls 3 sin duda es genial, me da el mismo sentimiento como si estuviera jugando al Dark Souls 1 por primera vez, exceptuando que ya tengo algo de habilidad y no todo se me hace tan difícil como para morir 100 veces contra enemigos normales (o tal vez sí). Nunca podemos bajar la guardia, nunca sabremos cuando cae un dragón del cielo a echarnos fuego en la cara cuando queremos cruzar una puerta, esto es Dark Souls.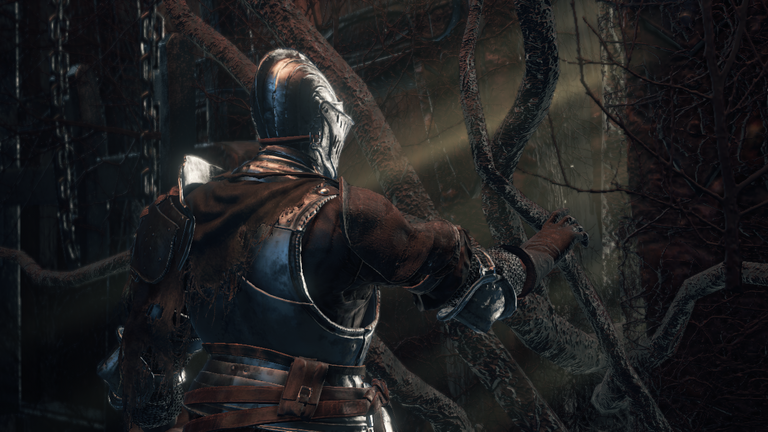 ---
➤ Mi aventura hasta ahora está siendo bastante divertida, perdiéndome muchas veces en los mapas, intentando encontrar todos los atajos y cosas ocultas que pueda, que en realidad hay muchos. Y también me han ayudado algunos consejos de jugadores indicándome donde hay muros ocultos, es bastante curioso. Por otra parte hay unos diciendo que hay muros ocultos donde no los hay, y ahí me ven rodando hacia todas las paredes como estúpido. Mi primera batalla contra un jefe vino pronto, cuando tuve que enfrentarme al perro gigante de hielo. Exactamente así como lo escucharon, es un perro gigante con una maza y que lanza hielo. Sin duda es un jefe inicial bastante curioso, aunque no es tan difícil de matar, para una persona nada experimentada en Dark Souls seguro que es un buen reto. Sus ataques son bastante predescibles y lentos así que tendremos mucho tiempo para atacar o curarnos, aún así no siempre podemos confiarnos. Este jefe es obligatorio para poder acceder a la siguiente zona luego de conseguir un estandarte.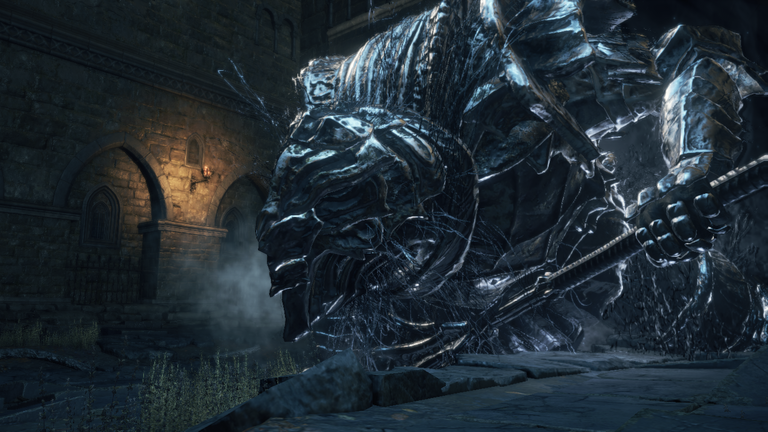 ---
➤ Para llegar a la siguiente zona hay que alzar un estandarte y unos monstruos feos tal cual como los que nos llevan a Anor Londo en el primer Dark Souls, aparecerán para llevarnos volando. En la siguiente zona hay demasiadas cosas al mismo tiempo, muchas cosas que explorar, que conseguir y jefes bastante divertidos y curiosos. No les quiero contar todo porque esta zona sin duda me pareció inmensa y muy divertida. Lo que sí les puedo decir es mi impresión al ir caminando tranquilamente hacia una torre y de repente escuchar "Hmmmm, hmmmmm", al instante supe que era él. Que era mi querido Siegmeyer de Catarina, pero no, resulta que es otro llamado Siegward. Igualmente poseen la misma armadura y la misma forma de hablar, así que prefiero creer que es el primer cabeza de cebolla.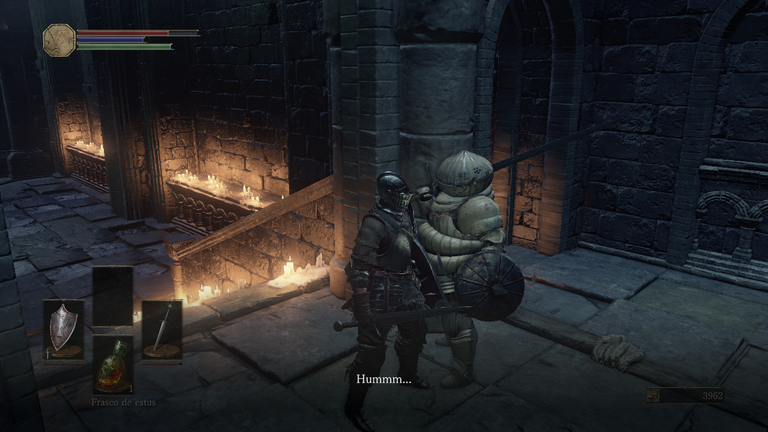 ---
➤ Luego de haber conseguido todos los diálogos con él simplemente me puse a explorar un poco por la zona y sin querer me caí en otro lado donde no quería porque había una bestia de fuego gigante que estoy seguro que me mataría, hasta que de la nada cuando la bestía venía hacia mí escucho sus gritos y Siegward viene a ayudarme épicamente. Qué momento tan bueno, me encantó esta parte. Ahí pude ver al poderoso cabeza de cebolla enfrentándose a esa bestia, creo que si lo dejaba solo la mataba él sin mi ayuda, pero igual no quería que de repente él se muriera así que yo también tenía que hacer algo. Fue una buena lucha, ya luego lo matamos, él se sentó y hablé con él y me dió alcohol para brindar. El "alcohol" que me dió es un objeto que sirve para detener el congelamiento, así que un recompensa extra. Aparte de eso el monstruo me dio una gema de fuego, hay distintos tipos de gemas que sirven para imbuir las armas y otorgarles distintas estadísticas, como daño de fuego, daño mágico, eléctrico y muchos más.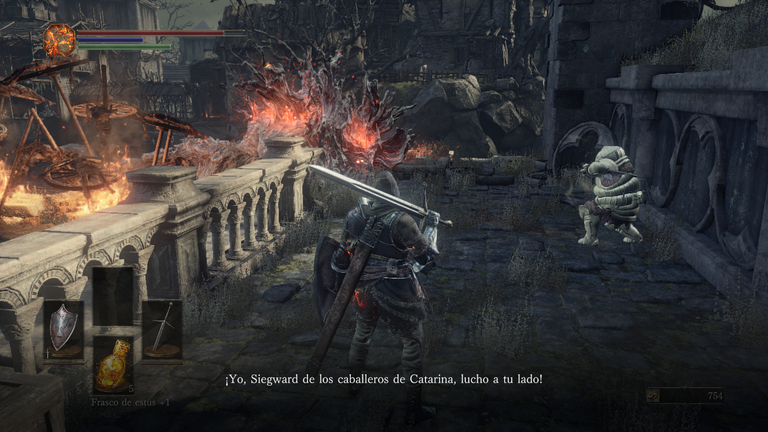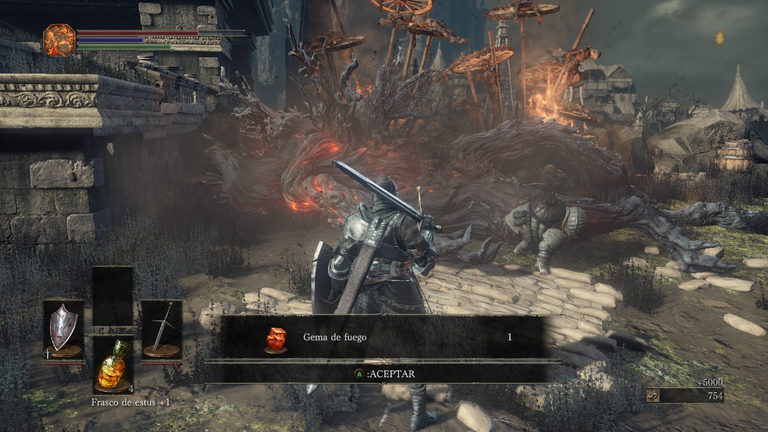 ---
➤ Al final de todo esto me encontré con el árbol gigante, sinceramente soy fanático de este tipo de jefes. Al estilo de bestias gigantes, dragones, siento que son una forma de hacer muy épico el juego por el tamaño de sus jefes, aunque en realidad lo que más importa es siempre su modalidad de juego, pero disfruto mucho enfrentarme a jefes así. Este es literalmente un árbol gigante corrompido, que fue un fastidio de matar. El jefe tiene dos fases, la primera luchas contra él pero es acompañado por cientos de esqueletos fastidiosos, aunque por suerte puede matarlo con sus golpes. Y solo tendrá un punto débil que es el único lugar donde podremos hacerle daño, intentar golpear sus brazos o sus piernas no sirve de nada. Sus ataques tienen bastante rango y sobre todo cuando los hace en caída, tendremos que estar esquivando como locos, lo bueno es que seremos inmunes un rato cuando estemos en su parte débil, porque no podrán llegarnos sus ataques hasta que se vuelva a mover, pero el problema son los otros enemigos jodiendo todo. Omitan que la foto se tomó en movimiento mientras trataba escapar.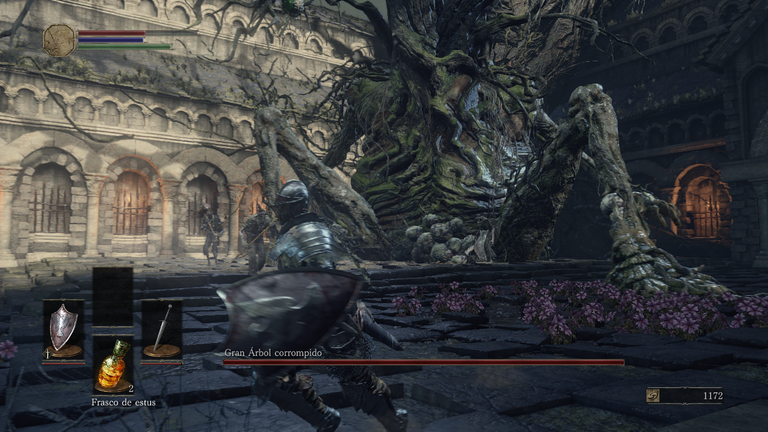 ---
➤ Su segunda fase comienza cuando le hacemos el daño suficiente hasta que se levante y se rompa todo el suelo, y caigamos al subsuelo. Aquí su nuevo punto débil será un brazo humanoide que saldrá de su pecho, de nuevo este es el único lugar donde podremos hacerle daño. Lo peor es que la única forma de acceder hasta su brazo es tener que esperar a que haga una secuencia de ataque donde se levanta por completo y cae al suelo por varios segundos, que es donde debemos aprovechar de atacar continuamente. Luego comenzará a atacarnos con sus brazos, sus pies, y también hará un ataque especial y bastante letal, que es donde se convertirá en Sonic para rodar envuelto en bola por todo el lugar, aunque es muy fácil de esquivar por el tiempo en que tarda en hacer el ataque. En esta segunda fase será mucho más rápido y letal atacando, de hecho me llegó a matar varias veces hasta que logré conseguirle el truco y aprenderme sus ataques, soy un pro. Este jefe es opcional, pero nos da un objeto que para otras cosas sí puede sernos necesario.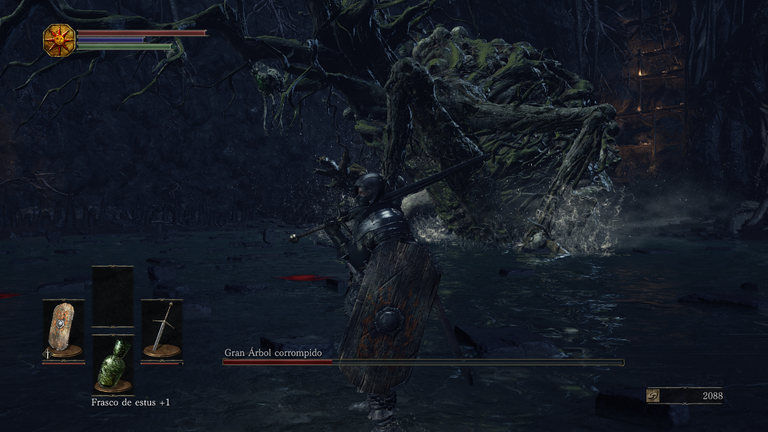 ---
➤ Por otro lado les contaré como me quedé admirando el suelo por lo bien que gráficamente se veía, simplemente me parecía increíble lo detallado que se ve, el reflejo de la hoguera a su lado y la forma en que realmente se ve como si fuera charco de verdad, como se veía cada roca, cada sombra, simplemente me quedé ahí como 30 segundos mirando hacia el suelo. Y al frente de mí estaban dos npc's, y uno se hacía llamar Anri de Astora, ¿quién será? No lo sé, pero me recuerda a Solaire por el nombre. Por lo que estuve leyendo puede ser muy fundamental para la historia para un final secreto, pero no me interesé mucho en hacerlo.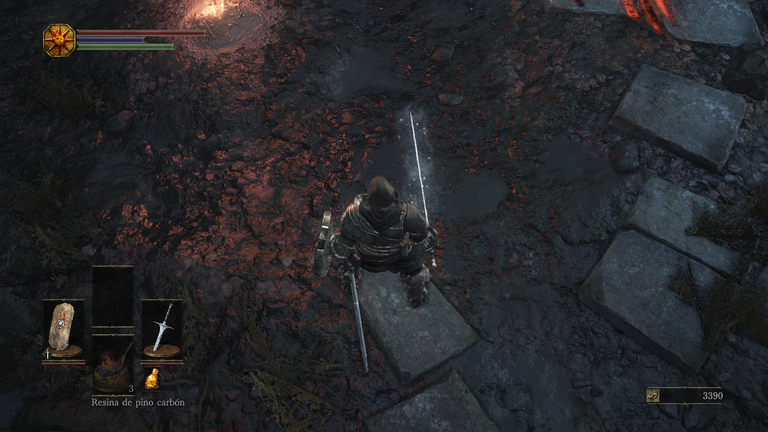 ---
➤ Y aquí se da inicio a las aventuras de Risha en Dark Souls, el sufrimiento mejorado. ¿Cuántas muertes me esperarán esta vez? Prefiero no contarlas porque estoy seguro que sería humillante, pero lo que siempre importa es el sentimiento de victoria. Muchas gracias por haber leído, ¡nos vemos en el próximo post!
All the images are by me.