➤ After a long time wanting to play it, it's finally time to talk about CSGO 2, I mean, I mean, Valorant or better known as League of Legends but with guns. The truth is that Valorant is a rather curious game that doesn't have too much to describe apart from the things that make it different from the rest of the tactical shooters, or in this case to its direct competition CSGO, since both have very similar game modes, not to say that they are the same type. But that doesn't take away from the fact that Valorant is an excellent game that shines on its own and has a lot of good things that have made me like it.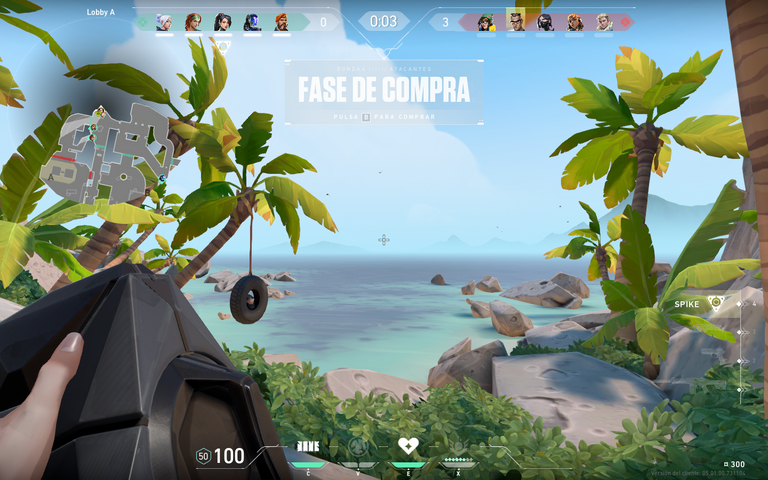 ---
➤ Valorant biggest focus is the competitive 5vs5 but even so the game has several game modes that are for simple entertainment, the main one being Deatmach or spike races which are basically 5vs5 but trimmed down. Any of these modes are pretty good and also help you a lot to improve and start in the game to adapt to the mechanics, which at least for me was not so difficult because I already had a lot of previous experience in Counter Strike. Although I think the only thing that is missing is a game mode where you can make use of the skills to practice them, since at least for me it was the biggest change and what I have been having the hardest time adapting to and what I will talk about later. I think one of the other noticeable changes was the fact of the weapons, that despite having a repertoire quite similar to Counter Strike, with two characteristic weapons that basically resemble the AK47 and the M4A1, but with the curious thing that both teams can buy them equally, is that most of the weapons have a secondary sight, which I generally almost never use because I'm not used to it and I don't find it so comfortable.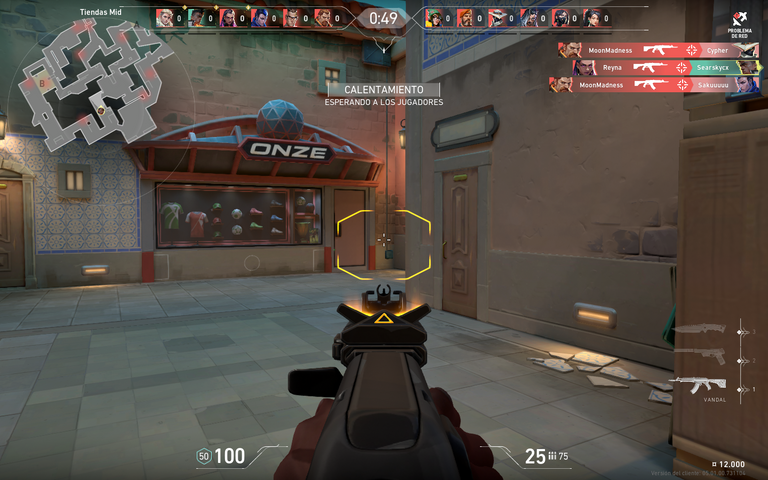 ---
➤ The first thing I noticed when playing is the big difference in the recoil of the weapons, that is, the way of shooting, because in a way it is quite strange to me because I do not know why I feel that the method of gameplay, shooting, is very cartonized, as well as the characters and the way they move around the map, you can shoot like crazy and many bullets won't make sense in their direction and when they do you end up killing an enemy with 2 shots by mere luck, and along with this I feel that at least in comparison to CSGO, Valorant doesn't feel as dynamic when it comes to shooting, moving around the map, the hitboxes of the characters and also the action, CSGO feels much faster in these aspects and this generates you a bit more adrenaline at the same time. But we're not here to compare the two games. Still, this all serves its purpose and for the method of gameplay that Valorant is, it's fine, it's just a matter of continuing to play and adapting, although I have to admit that it's satisfying when you hit a headshot in this game. For now my favorite weapon is the Phantom, which is basically an M4, I think it's a pretty comfortable weapon with a perfectly controllable recoil, but with the disadvantage of not being able to kill with a headshot.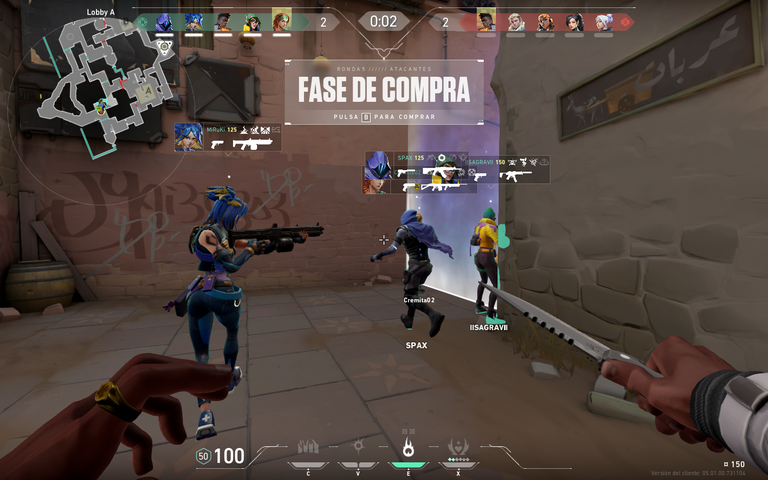 ---
➤ And now it's time to talk about what most marks this game, THE SKILLS. Each character has a total of 4 skills being 3 of them skills that are purchasable or are always active in the character, and the last one that would be the ulti that basically is charged by killing people and would be the most powerful skill or best use of our character, because this also depends on our roles, since each character has to fulfill a different role and this affects a lot when playing competitive and also as I understand, I have not yet become too familiar with this, but lately I am playing with a character called Reyna who is basically a duelist, which would be something like the tryhard of the game or the one who is in charge of doing more damage, kills and taking the places, so they usually have skills that are aggressive. But there are other roles such as the sentinels, who are in charge of the defense and taking the places, or the initiators who are something like a support as they serve to get information and know the place where our enemies are and so on, all this fulfills a very strategic role.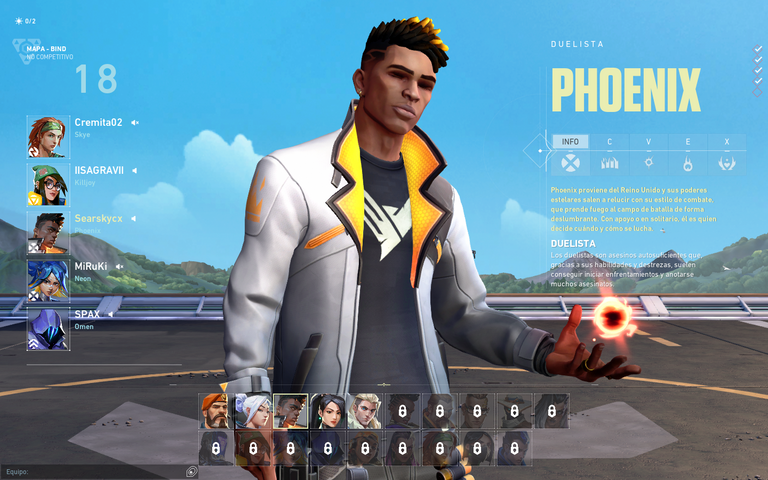 ---
➤ At the start of each game we can choose the characters and plan with our team which characters and roles would be used, but that's for professional people, I'm still starting. With respect to the skills there are many that are incredible, like teleporting all over the map, putting a wall of fire or ice, revive our teammates, create giant balls of fog where to hide, or even fill a whole site of poison or ice that slows down our enemies, there are a lot of characters and all of them with many skills that we will have to learn to know what they do, many times I have died because I do not know what a specific skill does when they use it against me. Another thing I almost forgot to mention is that the competitive 5vs5 is the norm, one team has to defend a site and the other team has a bomb that they will plant on that site.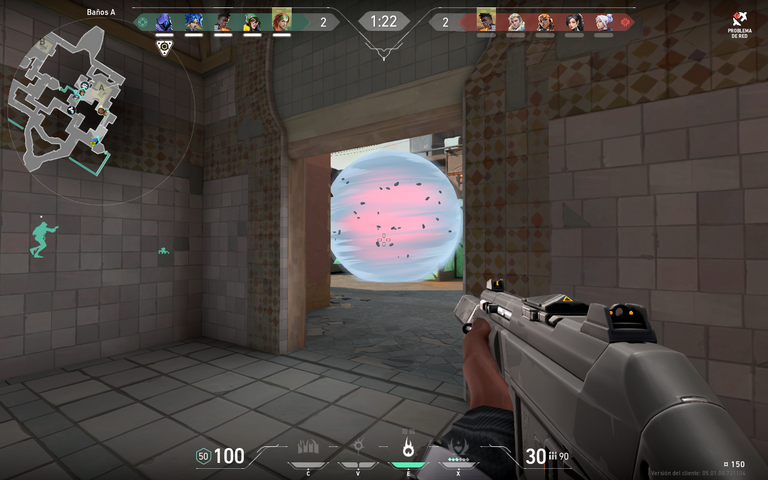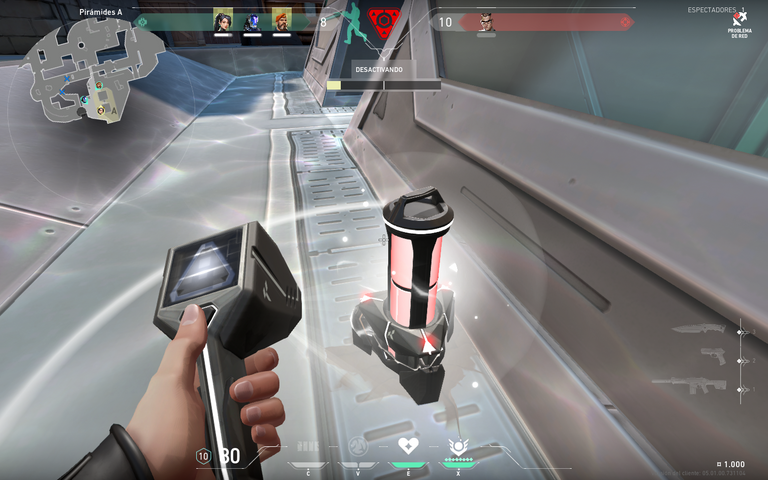 ---
➤ The reason I'm playing Valorant aside from it being a good game and that I love other similar games like CSGO, is that I would like to try to go a long way and maybe dedicate myself professionally, but I still have a long time to go before I get to define that. For now I only play for entertainment with @gabrielserra and @starmangk and so far we have made a pretty decent team, the truth is that I have a great time playing Valorant. Even though sometimes that bastard Starman is a troll and I'll give him a shot.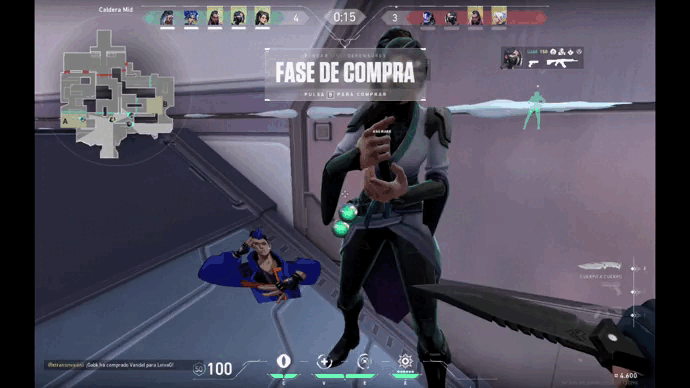 ---
➤ Another thing I really like about Valorant are the graphics and the artistic style, since it could be considered something animated and this gives it a different touch and at the same time a little fresh in terms of animations, especially because they are very good in the skills. Graphically it is quite enjoyable, it is not the fifth wonder of the world but to be a competitive game, it meets quite well between a good quality graphics, good gameplay and not absurdly cool graphics that only distract our eyes.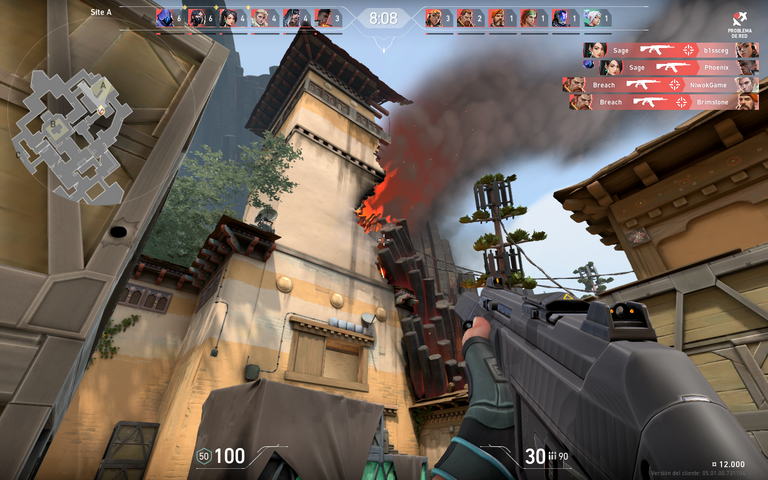 ---
➤ Give me 5 months and I'll be at Valorant Worlds, don't doubt Risha's skills, although lately I've been more focused on CSGO, that's really all for now, thank you very much for reading, see you in the next post!
All

 images 

are

 

by

 me.

---
Versión en Español
---
➤ Después de bastante tiempo queriendo jugarlo, finalmente es hora de hablar de CSGO 2, digo, digo, Valorant o mejor conocido como League of Legends pero con pistolas. La verdad es que Valorant es un juego bastante curioso y que tampoco tiene demasiado que describir aparte de las cosas que lo hacen diferente al resto de los tactical shooters, o en este caso a su competencia directa CSGO, ya que ambos cuentan con modos de juego bastante similar por no decir que son el mismo tipo. Pero eso no quita para nada que Valorant es un juego excelente que brilla por si solo y tiene muchísimas cosas buenas que ha hecho que me guste.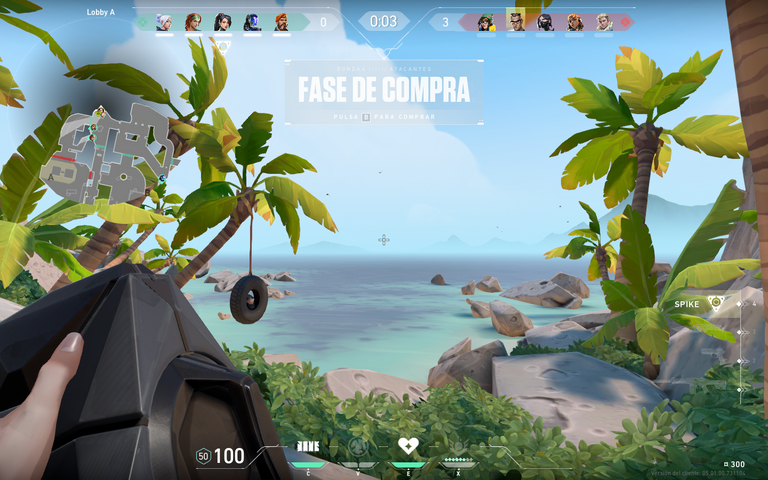 ---
➤ El mayor focus de Valorant es el competitivo 5vs5 pero aún así el juego cuenta con varios modos de juego que son para simple entretenimiento, siendo el principal de ellos el Deatmach o las carreras de spike que son básicamente el 5vs5 pero recortado. Cualquiera de estos modos son bastante buenos y también te ayudan muchísimo a mejorar y comenzar en el juego para adaptarte a las mecánicas, lo cual al menos a mí no me fue tan difícil porque ya tenía muchísima experiencia previa en Counter Strike. Aunque creo que lo único que hace falta es un modo de juego donde puedas hacer uso de las habilidades para practicarlas, ya que al menos para mí fue el cambio más grande y a lo que más difícil se me ha estado haciendo adaptarme y de lo que hablaré más adelante. Creo que uno de los otros cambios notorios fue el hecho de las armas, que a pesar de tener un repertorio bastante similar al de Counter Strike, con dos armas características que básicamente se parecen al AK47 y la M4A1, pero con lo curioso de que ambos equipos pueden comprarlas por igual, es que la mayoría de las armas tienen una mira secundaria, la cual generalmente casi nunca utilizo porque no estoy acostumbrado y no me parece tan cómoda.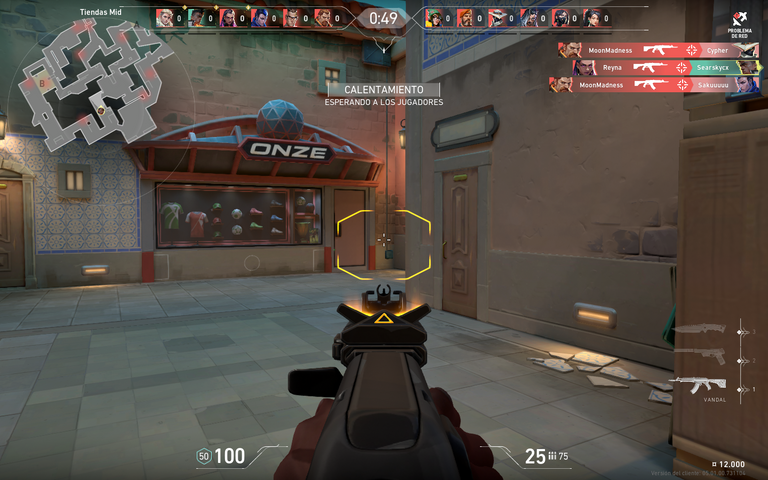 ---
➤ Lo primero que noté a la hora de jugar es la gran diferencia en el recoil de las armas, o sea, la forma de disparar, ya que de cierta forma es bastante extraña para mí porque no sé por qué siento que el método de juego, de disparo, es muy cartonizado, al igual que los personajes y la forma en que se mueven por el mapa, puedes disparar como loco y muchas balas no cobrarán sentido en su dirección y cuando lo hacen terminas matando a un enemigo de 2 tiros por mera suerte, y junto a esto siento que al menos en comparación a CSGO, Valorant no se siente tan dinámico a la hora de disparar, moverte por el mapa, las hitbox de los personajes y también la acción, CSGO se siente mucho más rápido en estos aspectos y esto le genera un poco más de adrenalina al mismo tiempo. Pero no estamos aquí para comparar ambos juegos. Aún así, todo esto cumple su objetivo y para el método de juego que es Valorant, está bien, solo es cuestión de seguir jugando y adaptarme, aunque he de admitir que es satisfactorio cuando das un headshot en este juego. Por ahora mi arma favorita está siendo la Phantom creo recordar que se llama, que es básicamente una M4, me parece un arma bastante cómoda y con un recoil perfectamente controlable, pero con la desventaja de no poder matar de un tiro en la cabeza.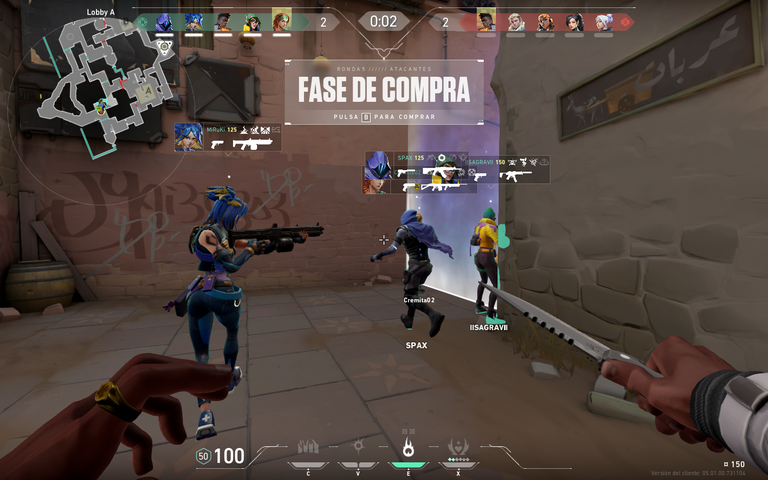 ---
➤ Y ahora es hora de hablar de lo que más marca este juego, LAS HABILIDADES. Cada personaje tiene un total de 4 habilidades siendo 3 de ellas habilidades que son comprables o siempre están activas en el personaje, y la última que sería la ulti que básicamente se carga matando gente y sería la habilidad más potente o de mejor uso de nuestro personaje, porque esto también depende de nuestros roles, ya que cada personaje tiene que cumplir un rol distinto y esto afecta muchísimo a la hora de jugar competitivo y también según tengo entendido, del mapa, aún no me he familiarizado demasiado con esto, pero últimamente estoy jugando con un personaje llamado Reyna que básicamente es un duelista, que sería algo así como el tryhard de la partida o el que se encarga de hacer más daño, kills y de tomar los lugares, por lo cual generalmente tienen habilidades que son agresivas. Pero hay otros roles como por ejemplo los centinelas, que son quienes se encargarían de la defensa y toma de los lugares, o los iniciadores que son algo así como un support ya que sirven para conseguir información y conocer el lugar donde están nuestros enemigos y así sucesivamente, todo esto cumple un rol bastante estrategico.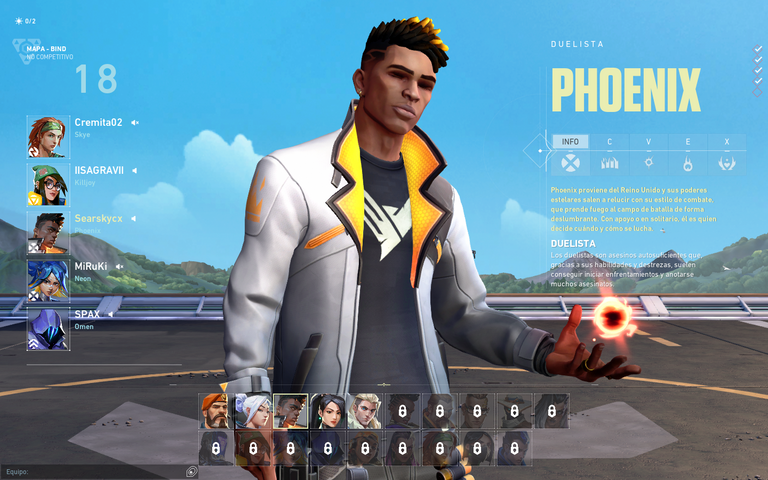 ---
➤ Al iniciar cada partida podemos elegir los personajes y planificar con nuestro equipo cuáles personajes y roles se usarían, pero eso es cosa de gente profesional, yo aún estoy empezando. Con respecto a las habilidades hay muchísimas que son increíbles, como teletransportarse por todo el mapa, poner un muro de fuego o de hielo, revivir a nuestros compañeros, crear bolas de niebla gigante donde escondernos, o incluso llenar todo un site de veneno o hielo que ralentice a nuestros enemigos, hay una buena cantidad de personajes y todos ellos con muchas habilidades que tendremos que aprendernos para saber que hacen, muchas veces he muerto porque no sé qué hace una habilidad en específico cuando la usan contra mí. Otra cosa que casi olvido mencionar es que el competitivo 5vs5 es lo normal, un equipo tiene que defender un site y el otro equipo tiene una bomba que plantará en ese site.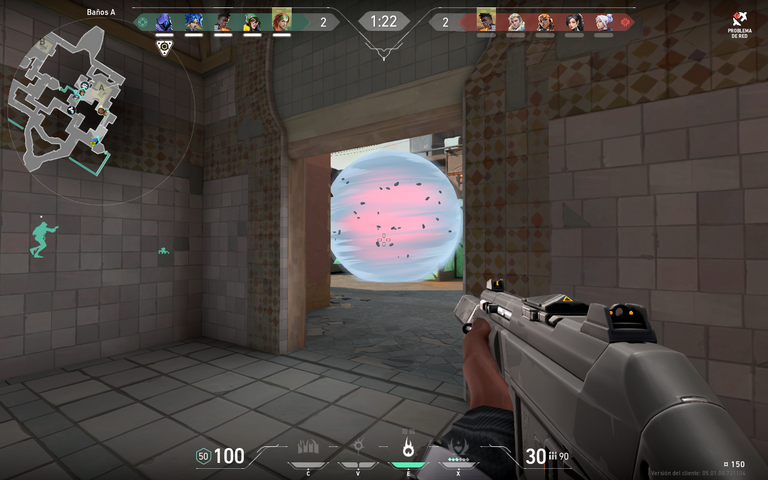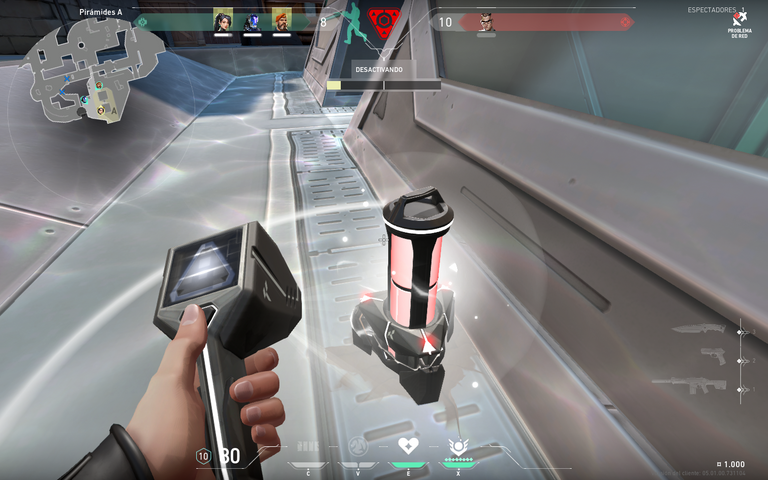 ---
➤ La razón por la que estoy jugando Valorant aparte de ser un buen juego y que amo otros similares como CSGO, es que me gustaría intentar llegar a algo lejos y tal vez dedicarme de forma profesional, pero aún me queda mucho tiempo para llegar a definir eso. Por ahora solo juego por entretenimiento junto a @gabrielserra y @starmangk y hasta ahora hemos hecho un equipo bastante decente, la verdad es que me la paso muy buen jugando Valorant. Aunque a veces el desgraciado de Starman sea un troll y provoque darle un tiro.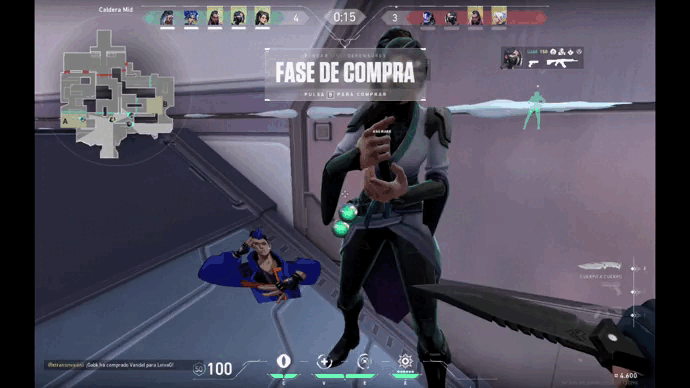 ---
➤ Otra cosa que me gusta bastante de valorant son los gráficos y el estílo artistico, ya que se podría considerar algo animado y esto le da un toque distinto y a la vez un poco fresco en cuanto a animaciones, sobre todo porque quedan muy bien en las habilidades. Gráficamente es bastante disfrutable, no es la quinta maravilla del mundo pero para ser un juego competitivo, cumple bastante bien entre una buena calidad gráfica, buena jugabilidad y no unos gráficos absurdamente geniales que solo nos distraigan la vista.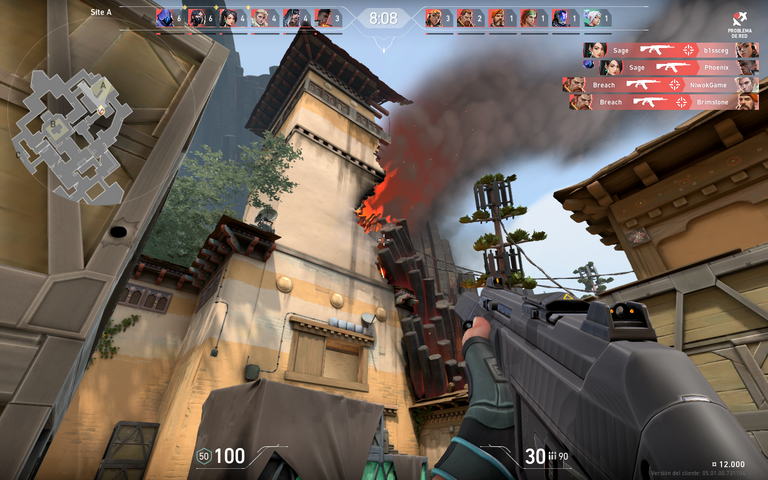 ---
➤ Denme 5 meses y ya estaré en las mundiales de Valorant, no duden en las habilidades de Risha, aunque últimamente he estado más concentrado en el CSGO, realmente esto es todo por ahora, muchas gracias por haber leído, ¡nos vemos en el próximo post!
All images are by me.