🔴English🔵🟡Español🟢
Hello Hivers❗🐝 welcome to a new post, in which we will remember another video game from our childhood and this time it is the turn of Star Wars Episode 1 Race, a star wars video game set in races where we will have various amounts of characters and vehicles to play, having said that, come with me, and let the post begin ❗🐻🚀🎮
❗Hola Hivers❗🐝 bienvenidos a un nuevo post, en el cual vamos a recordar otro videojuego de nuestra infancia y en esta ocasión es el turno de Star Wars Episode 1 Race, un videojuego de star wars ambientada en carreras en donde tendremos diversas cantidades de personajes y vehículos para jugar, dicho esto acompáñenme ❗y que comience el post ❗🐻🚀🎮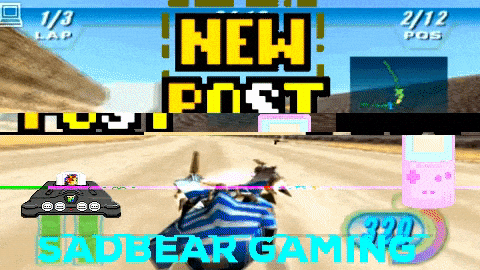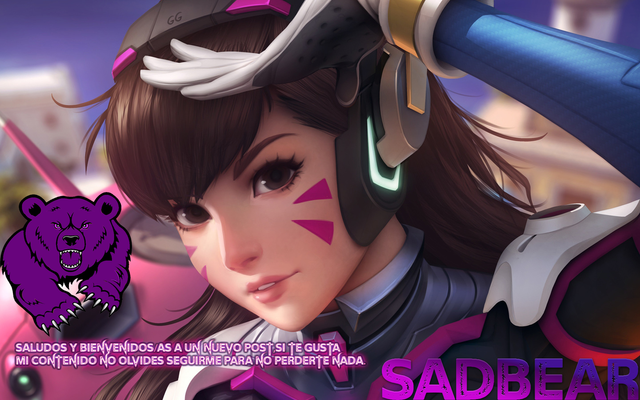 This video game was another of the jewels created by the LucasArts studio and was titled Star Wars Episode 1 Racer, this video game, unlike the others, is a video game created in a racing world and was released for the PC platforms, Nintendo 64, game boy color and even the dream cast, the vehicles we use in this video game are classic vehicles from the star wars saga, which are podracing, in which we can run around various maps within the video game, making it a video game that you could enjoy quite a bit.


Este videojuego fue otra de las joyas creadas por el estudio de LucasArts y fue titulado Star Wars Episodio 1 Racer, este videojuego a diferencia de los demás es un videojuego creado en un mundo de carreras y fue lanzado pata las plataformas de pc, Nintendo 64, game boy color e incluso el dream cast, los vehículos que utilizamos en este videojuego son vehículos clásicos de la saga star wars, los cuales son los podracing, en el que podemos correr alrededor de varios mapas dentro del videojuego, por lo que era un videojuego que se podía disfrutar bastante.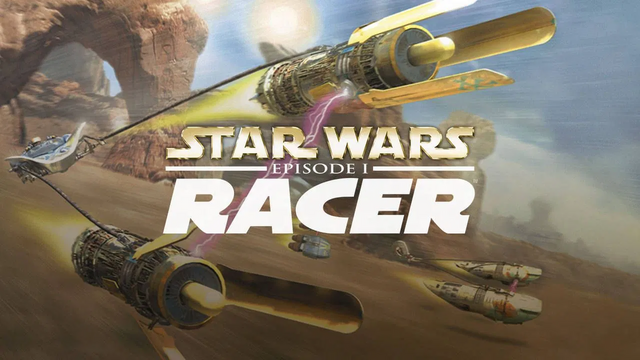 We had 8 unique worlds in total within the game, in addition to having several racers each with their respective Racing pod, among them the famous anakin skywalker, this video game I remember that had quite good animations, the mechanics of this game were somewhat primitive due to which is a fairly old and console video game of yesteryear, but that does not take away the fact that it is a great game, even in the field of gameplay we had a temperature gauge of the propellers of our Racing pod, which always alerted us to the high temperatures of the turbines of the Racing pod, since if they got too hot and we ignored the warning they could explode and cause us to start turning and flying and crashing, something that also added many points to the video game was that we could modify our Racing pods and improve their ability to have better performance when playing or trying certain modalities within the j In itself, like being able to see our Racing pod while they were in the workshop under maintenance, among other things.


Teníamos 8 mundos únicos en total dentro del juego, además de que teníamos varios corredores cada uno con su respectivo pod Racing, entre ellos el famoso anakin skywalker, este videojuego recuerdo que tenía animaciones bastante buenas, las mecánicas de este juego eran algo primitivas debido a que es un videojuego bastante viejo y de consolas de antaño, pero eso no quita el hecho de que sea un gran juego, incluso en el ámbito de jugabilidad teníamos un medidor de temperatura de los propulsores de nuestro pod Racing, el cual siempre nos alertaba de las temperaturas altas de las turbinas del pod Racing, ya que si estas se calentaban demasiado y hacíamos caso omiso a la advertencia estas podían explotar y hacer que comenzáramos a dar vuelta y por los aires y estrellarnos, algo que también le sumaba muchos puntos al videojuego era que podíamos modificar nuestros pod Racing y mejorar su capacidad para así tener mejor rendimiento a la hora de jugar o de probar ciertos modalidades dentro del juego en sí, como el poder ver nuestro pod Racing mientras se encontraban en el taller en mantenimiento entre otras cosas.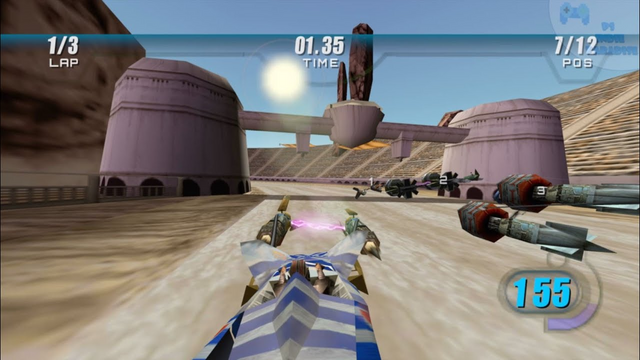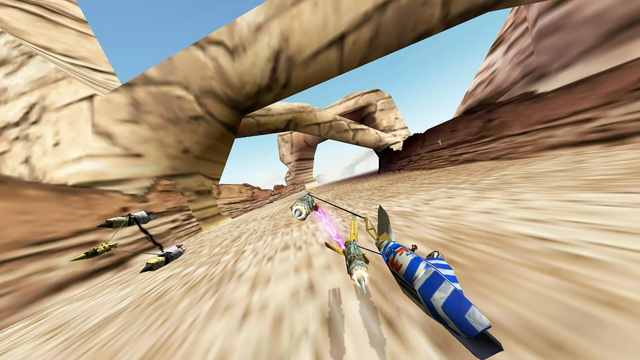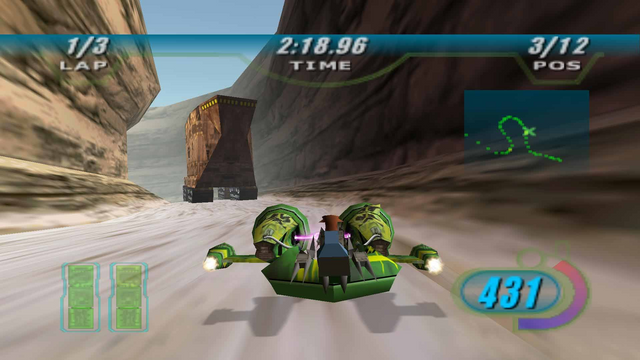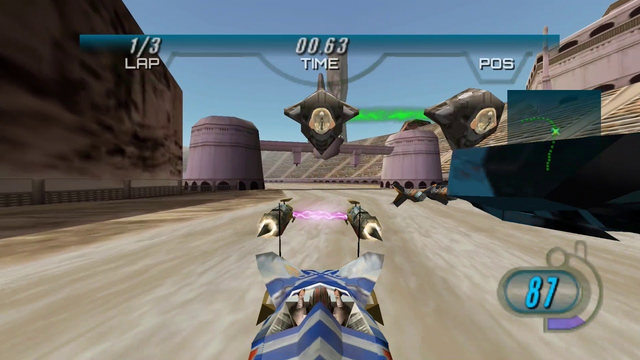 The game consisted of entering a pod Racing tournament in which we should always be at the forefront of the race and be in first place out of the 12 that had counted all the competitors in the game, or in any case in the second Or third place in the race, also the damage of contact or blows against the environment of the circuit map was not except to be relevant in the game, since if we hit or collided a lot with our Racing pod, the propellants of the pod would suffer damages and therefore we would be running the risk that our propellers would be severely damaged and therefore this would cause some to explode and leave us with permanent instability until we managed to finish the race, this damage could be seen reflected next to the hud, and these signals could turn various colors, between green for good condition, yellow for minor damage, and red for severe damage or an impending explosion, something that gave mechanics of difficulty to the game and also gave importance to strong shocks with our Racing pod.


El juego constaba de que ingresábamos en un torneo de pod Racing en el que debíamos siempre estar a la cabeza de la carrera y quedar en el primer puesto de los 12 que habían contando a todos los competidores del juego, o en dado caso en el segundo o tercer lugar en la carrera, también el daño de contacto o de golpes contra el entorno del mapa del circuito no estaba excepto de ser relevante dentro del juego, ya que si golpeábamos o chocábamos mucho nuestro pod Racing, los propulsores del pod sufrirían daños y por lo tanto estaríamos corriendo riesgo de que nuestros propulsores quedaran muy dañados y por lo tanto esto provocaría que algunos explotará y nos dejará con una inestabilidad permanente hasta que lográramos acabar la carrera, este daño podíamos verlo relfejado al lado del hud, y estas señales podían tornarse de varios colores, entre verde para en buen estado, amarillo para daños leves, y rojo para daños graves o explosión inminente, algo que le daba mecánicas de dificultad al juego y le daba relevancia también a los choques fuertes con nuestro pod Racing.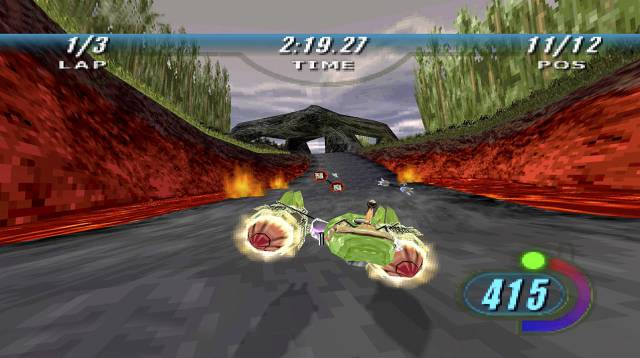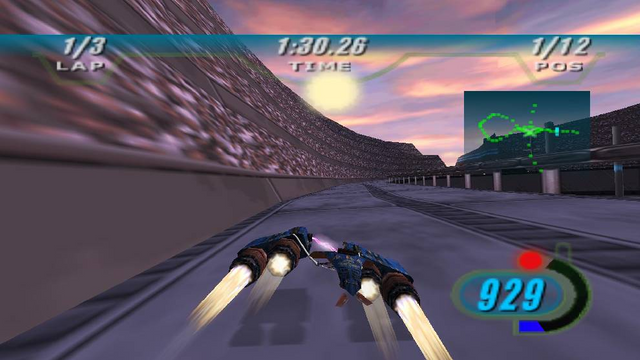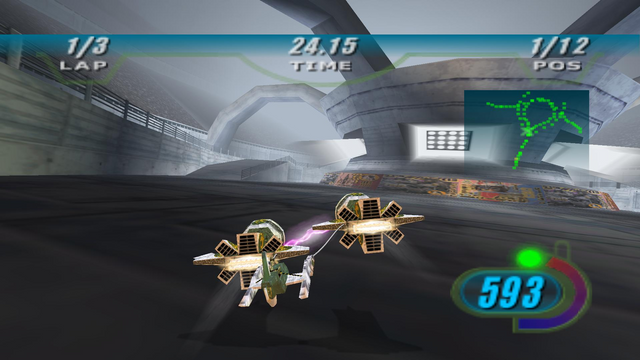 As we were winning in-game races, we had unlockable racers on some tracks as a reward, this did not happen in all the tournament maps, so it was always important to be able to complete the race in the first place, in order to always get the best rewards, in addition to being able to get money to improve our Racing pod in terms of parts or performance in the race, there were many Racing pod designs that drew quite a lot of attention, another aspect that I quite liked was the fact that we could place our Pod Racing sideways or vertically to be able to pass between very closed places between rock gorges, something that made epic some plays in very close races with other pilots, the difficulty of this game as usual was upward so it was very necessary to improve our Racing pod whenever possible, in several races we could also unlock new tracks to enjoy In the unique racing mode only instead of the classic tournament that the game had by default, I can personally say that I enjoy this video game on the Nintendo 64 console, although currently this video game can be played on platforms such as Nintendo swicht or ps4 for the Old school gamers, you can enjoy this nostalgic video game.
In addition I can say that I had the pleasure of enjoying all the runners that this video game brought with it and I also managed to complete it to the fullest and get all the rewards for the game, so if you still have not tried this video game today, you I highly recommend it, since perhaps it can be an old video game but it does not make it a bad video game since it was a great video game in its time, and just seeing the mechanics and graphics of that time will surely give you a great air of nostalgia in your mind and will make you remember how epic star wars video games were in the past, a jewel of a video game that surely more than one had the pleasure of trying.

A medida que fuéramos ganando carreras dentro del juego, teníamos en algunas pistas corredores desbloqueables como recompensa, esto no sucedía en todos los mapas del torneo, por lo que siempre era importante poder completar la carrera en el primer puesto, para poder obtener siempre las mejores recompensas, además de poder obtener dinero para poder mejorar nuestro pod Racing en cuanto a piezas o rendimiento en carrera, habían muchos diseños de pods Racing que llamaban bastante la atención, otro de los aspectos que me gustaban bastante era el hecho de qué podíamos colocar nuestro pod Racing de lado o en vertical para poder pasar entre lugares muy cerrados entre desfiladeros de rocas, algo que hacía épico algunas jugadas en carreras muy reñidas con otros pilotos, la dificultad de este juego como era costumbre era ascendente por lo que era muy necesario mejorar nuestro pod Racing siempre que fuera posible, en varias carreras también podíamos desbloquear pistas nuevas para poder disfrutar en la modalidad de carreras únicas solamente en vez del clásico torneo que el juego tenía por defecto, personalmente puedo decir que disfrute de este videojuego en la consola de Nintendo 64, aunque actualmente este videojuego puede jugarse en plataformas como Nintendo swicht o ps4 para que los gamers old school, puedan disfrutar de este videojuego tan nostálgico.
Además puedo decir que tuve el placer de poder disfrutar de todos los corredores que este videojuego traía consigo y también logré completarlo al máximo y obtener todas las recompensas para el juego, por lo que si aún a día de hoy no has probado este videojuego, te lo recomiendo bastante, ya que quizás puede ser un videojuego viejo pero no lo hace ser un videojuego malo ya que fue un gran videojuego en su época, y nada más el ver las mecánicas y gráficos de aquella época seguramente te darán una gran aire de nostalgia en la mente y te harán recordar lo épico que eran los videojuegos de star wars en antaño, una joya de videojuego que seguro más de alguno tuvo el placer de probar alguna vez.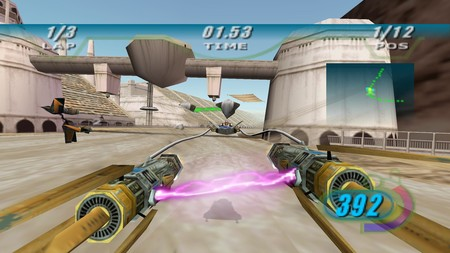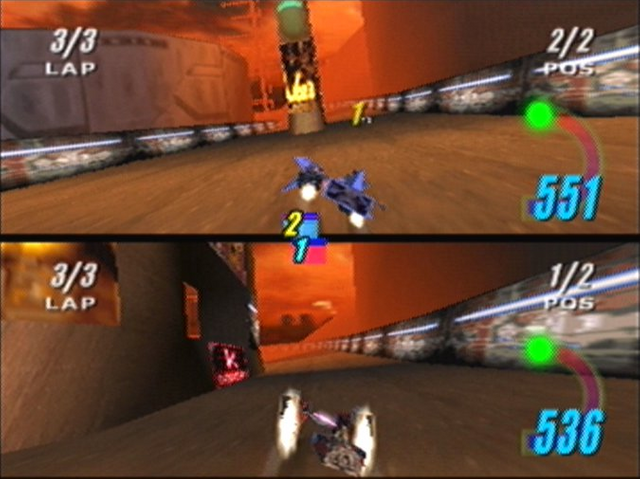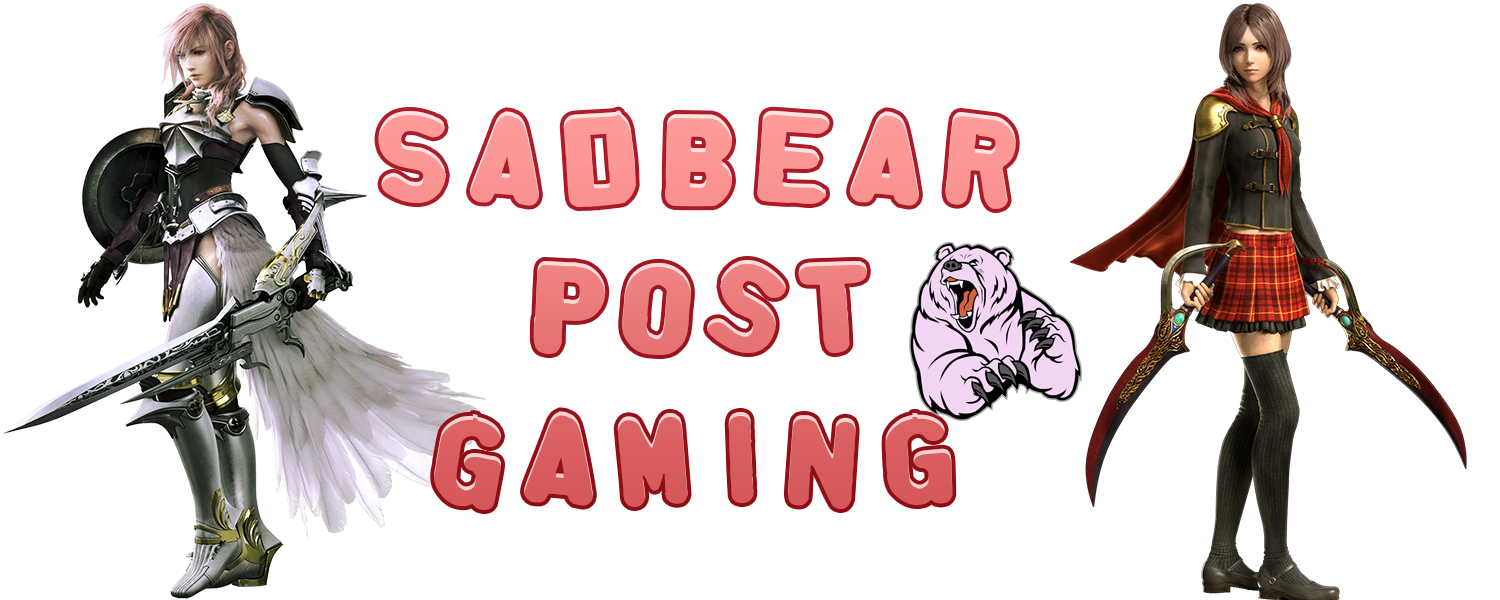 And so far, today's post Hivers, I hope you liked it, but above all you enjoyed it, what did you think of this video game? Did you have the opportunity to ever play it? Let me know in the comments, if you like my content do not forget to follow me so as not to miss anything in your Hive feed or on the contrary visit my website in wordpress, without more to say I wish you a good morning, afternoon or night, From the Cave Say Goodbye to SadBear, Until another occasion❗🐻🚀
The images you saw in this post have their respective sources in each of them.🦝

Add me on Discord if you would like to give me suggestions for post, or acquire some information #SadBear#6392👽
VISIT MY SITE ON WORDPRESS👻 SadBear Web

Y hasta aquí el post de hoy Hivers, espero que les haya gustado, pero sobretodo lo hayan disfrutado, ¿Qué te pareció este videojuego?, ¿tuviste oportunidad de poder jugarlo alguna vez?, házmelo saber en los comentarios, si te gusta mi contenido no olvides seguirme para no perderte de nada en tu feed de Hive o por el contrario visita mi página web en wordpress, sin más que decir te deseo unos buenos días, tardes o noches, Desde la Cueva se Despide SadBear ❗Hasta otra ocasión❗🐻🚀
Las imágenes que viste en este post tienen sus respectivas fuentes en cada una de ellas.🦝

Agregame en discord si quieres darme sugerencias para posts o saber alguna información #SadBear#6392👽
VISITA MI SITIO EN WORDPRESS👻 SadBear Web