SteamWorld Dig
Quick Fun Game
---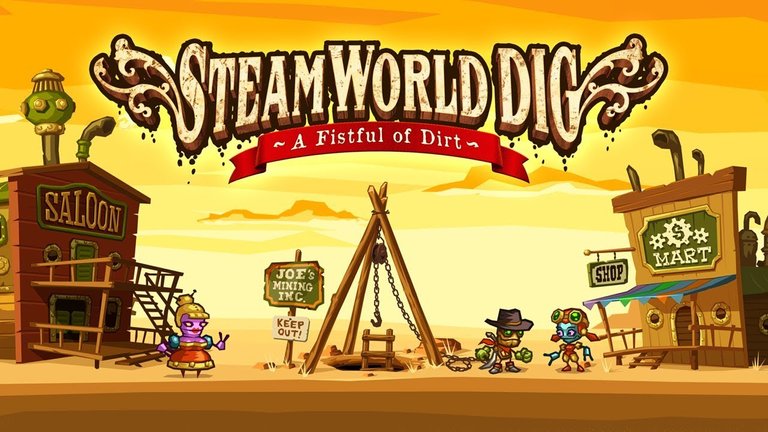 English
SteamWorld Dig it's a action, adventure, puzzle and platform game developed by Image & Form, it's a short fun game where you play as Rusty a robot in the Wild West, the objective of the game it's to excavate the Tumbleton Mine, and to clean all the caves and dig the ores.
---
Gameplay
This is a very easy-going game, has simple controls with the keyboard and very comfortable, at first glance you will try to use the controller but it's perfectly playable with the keyboard (i completed the game twice with keyboard), has a very simple way of playing and flowing, has simple puzzles and it's almost relaxing.
Rusty has 3 type of rechargeable bars, Health, Light and Water/Steam, this 3 type of powers can be charged with health, light and water orbs that drop killing monsters inside the cave and the steam can charged absorbing water deposits. The water it's used for the abilities and the light it's used for lighting the cave, the less light in the bar less you can see in the cave.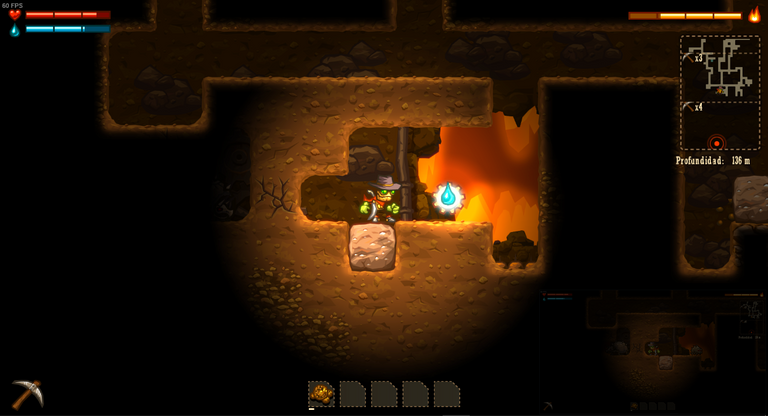 You can unlock upgrades by collecting ores, the more ores you collect you cand cash them up and buy the upgrades in the store, aswell as healing you and buying some usable items, the usable items it's something you maybe wont use at least in my case i didn't bought them, neither healing in the store, you will find enough resources in the cave to maybe keep playing just to return and cash out the ores you collected.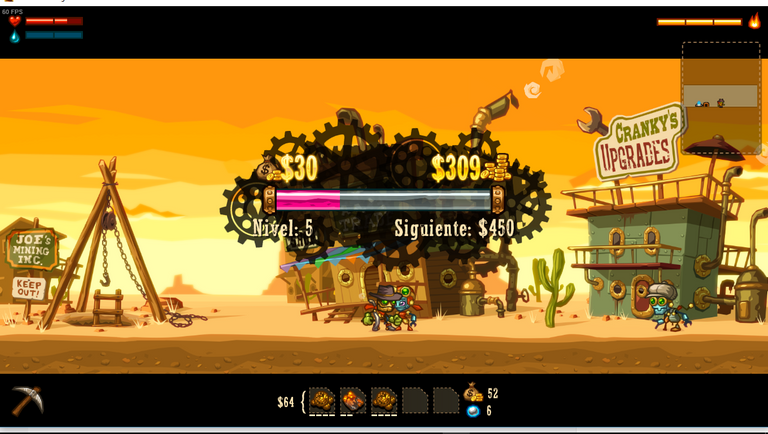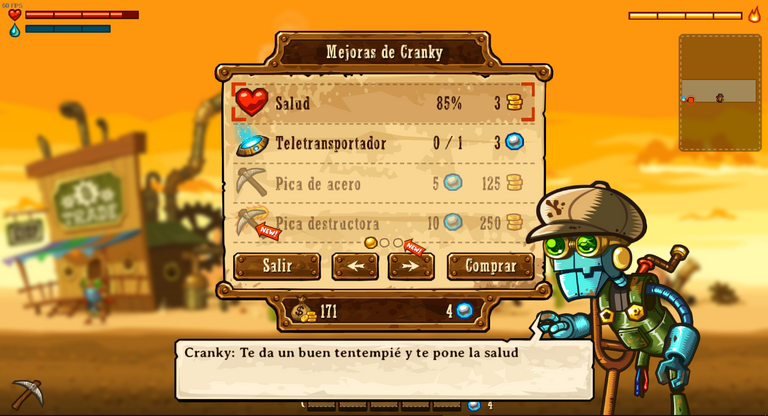 In terms of basic movement, you have the ability to run, jump verticaly, jump using the walls (as mario), and sliding in walls, you will have to slide often because of the fall damage so that's a thing to keep in mind while playing.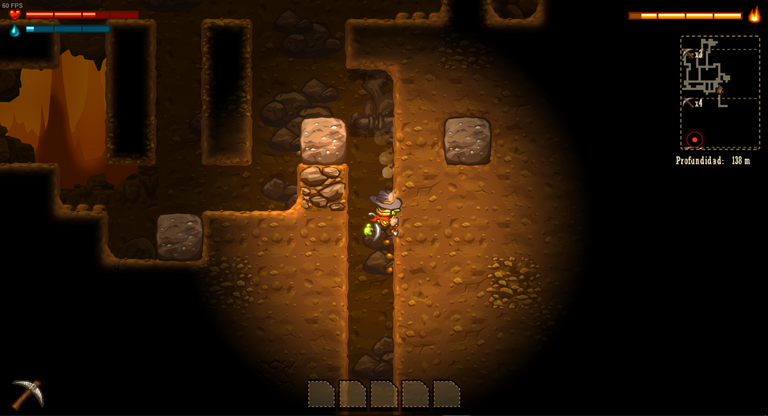 The enmies you encounter in the game are very predictible enemies, so you wont suffer too much, as i say it's a very forgivable and casual game, but maybe you cand die quite a few times just by not paying too much attention to them, but you can easily kill them by just confronting them just a couple of times.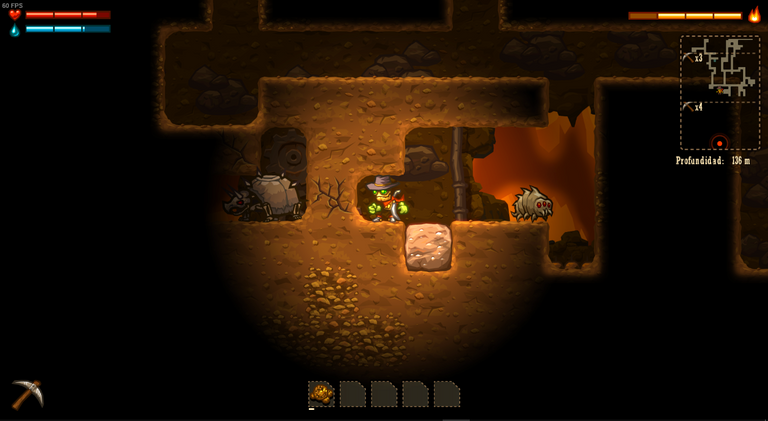 It's a progressive game, so the most you cave down the most difficult it gets, theres not much to lose because the game indicates you where you have to go and what you have to do in the "missions" of the game, there's no much story of any "quests" at all. And when we talk about puzzles they are not too complicated, maybe the ones that you do complete the game at 100% but even those are pretty simple to do.
It's a very short game you may complete it in one or 2 periods of playing, or maybe just one. We maybe talking about 4-8 hours of gameplay, and if you are one of the completationist type you may play more just for the steam achievements.
---
Visuals
It's 2D game with adequate animations, the style of art it's very adequate aswell, aesthetically pleasing and enjoyable to watch and play, it's nothing outstanding but it's very well rounded art that fits the wild west steampunk them of the game.
In the HUD or Interface of the game it's aswell very correct, there's not something out of place or where it shouldn't be.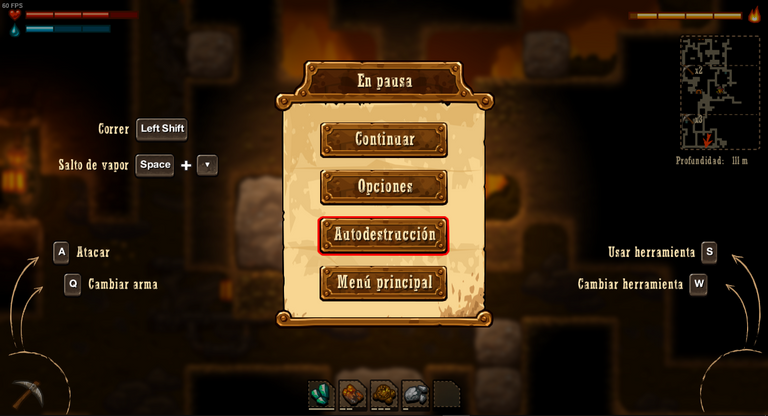 You have the bars in the top corners, as well as the map in the top right, the pickaxe or the weapon to use in the bottom left and the other tools as usable items in the bottom right.
The Menus does not offer too much options, you can offset the HUD from the outside to the center, and change it's size.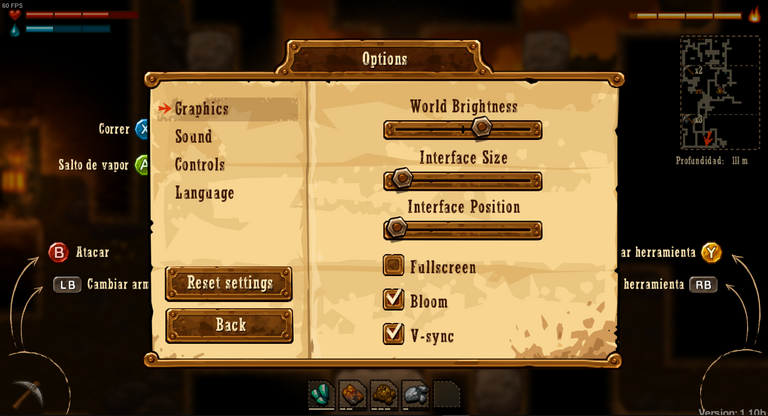 Does not have too many graphic options, but it's a 2D well balanced and optimized game for every machine out there i can assure that. You have the option to change leanguage whenever you want inside the game without having to restart or waiting too much actually it's kinda instant.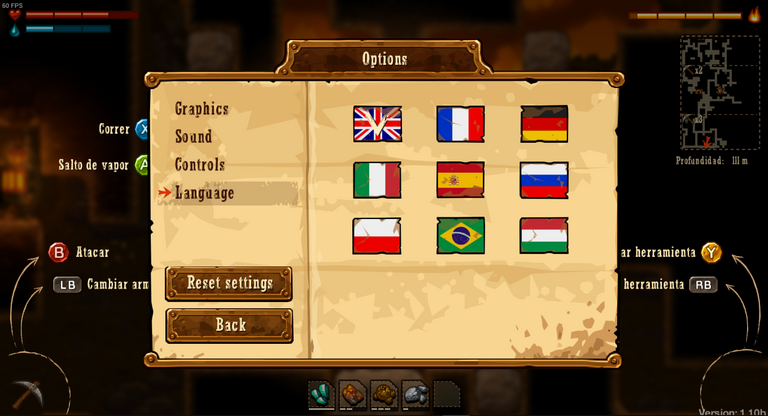 With that being said, in the visual department we have an adequate game with very well donde visuals but nothing outstanding.
---
Conclusion
SteamWorld Dig it's one of those very fun games to catch when it's on sale, with very good gameplay and very good visuals, it's enjoyable to play and you can have a fun and relaxing time caving in the mines of Tumbleton.
I hope u liked the Review, am happy to be back an see u soon.

SteamWorld Dig
Juego Rápido y Divertido.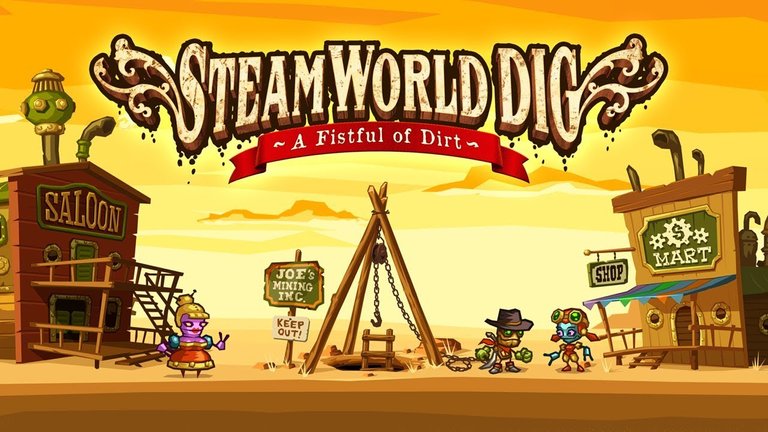 Español
SteamWorld Dig es un juego de acción, aventura, rompecabezas y plataforma, desarollado por Image & Form, es un juego corto y divertido donde juegas como Rusty, un robot en el medio del Viejo Oeste, el objetivo del juego es excavar la mina de Tumbleton y limparlas para obtener los minerales.
---
Jugabilidad
Es un juego bastante fácil de llevar, tiene controles simples con el teclado y es batsante cómodo, a primera vista puedes utilizar el control y es perfectamente jugable de las maneras (yo completé el juego 2 veces con el teclado), tiene una manera muy simple de jugar y fluye muy bien, tiene rompecabezas sencillos y es hasta relajante.
Rusty tiene 3 tipos de barras recargables, Vida, Luz y Agua/Vapor, éstos 3 tipos puedes ser recargados por orbes que representan cada tipo, éstos caen al matar enemigos dentro de la cueva y el vapor puede ser recargado absorbiendo los depósitos de agua que se encuentran en el mapa. El agua se utiliza para las habilidades y la luz es usada para tu visión en la cueva, mientras menos luz menos podrás ver a tu alrededor.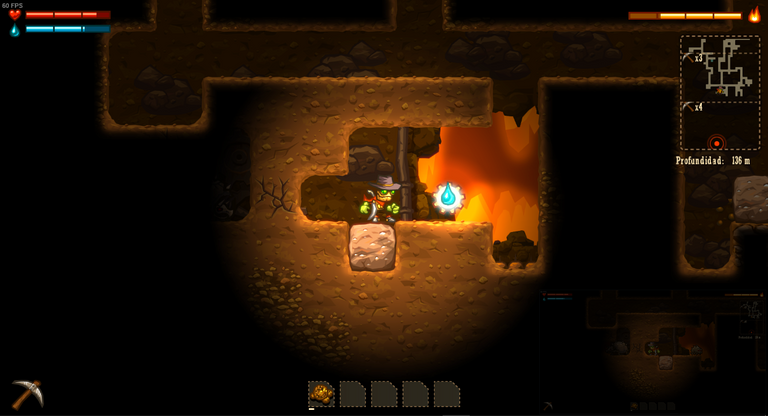 Puedes desbloquear mejores recolectando minerales, mientras más recolectes más puedes venderlos y así comprar las mejoras en la tienda, también puedes curarte y comprar objetos usables, aunque es algo que a lo mejor no compres o uses o por lo menos en mi caso fue así, tampoco usé la cura de la tienda, probablemente encuentres recursos suficientes en la cueva para mantenerte jugando hasta que tengas el inventario full y necesites regresaer para vender los minerales.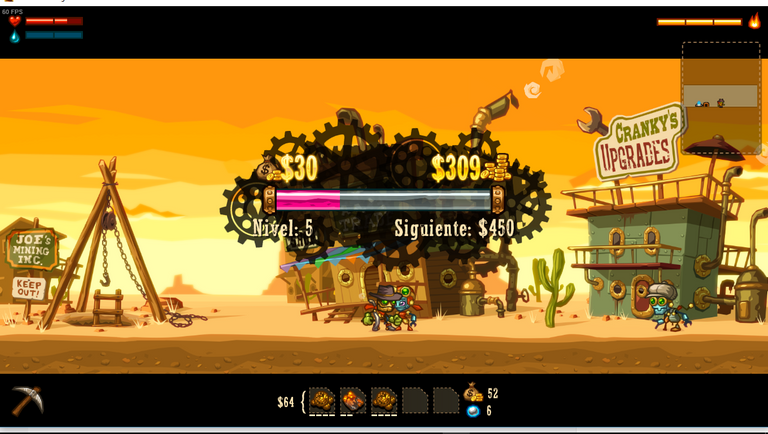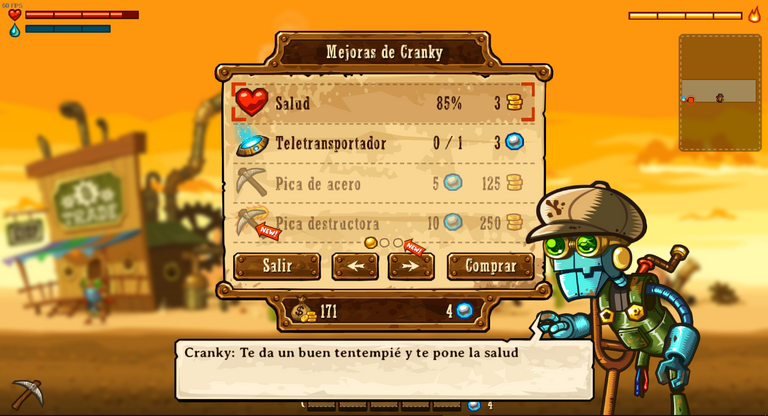 En términos de movimiento básico, tienes la habilida de correr, saltar verticalmente, saltar usando las paredes (como mario) y deslizar por las paredes, tendrás que deslizarte muy a menudo porque tienes daño por caída así que es algo a tener en mente.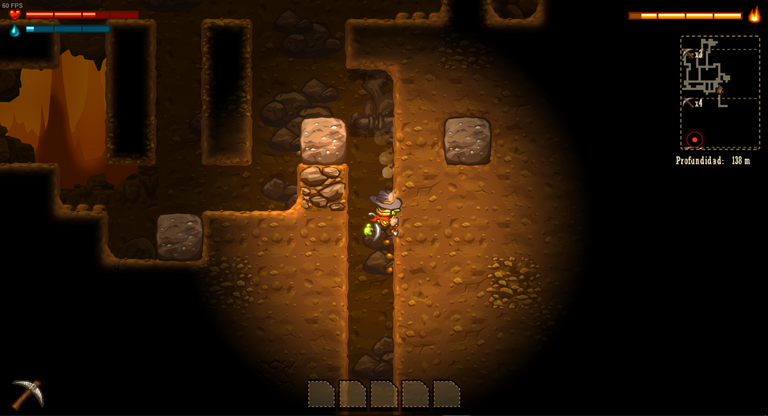 Los enemigos que te encuentras en el juego son muy predecibles, así que no sufrirás demasiado, como dije es un juego que perdona mucha en esa manera es bastante casual, pero a lo mejor podrás morir un par de veces por descuidarte de ellos o lo que haces, pero te acostumbrarás realmente fácil cuando ya te enfrentes a ellos.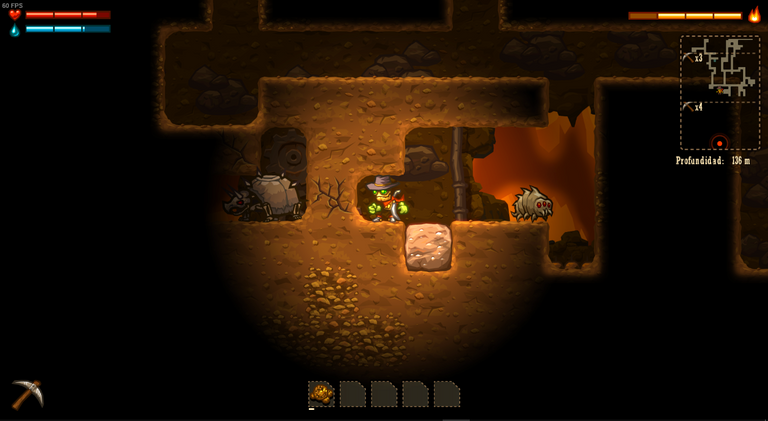 Es un juego progresivo, por lo tanto mientras más caves hacia abajo más difícil es, no te vas a perder mucho igualmente porque el juego te indica hacia donde tienes que ir y las "misiones" que tienes que hacer, no hay demasiada historia, de hecho no hay "quests" como tal. Y si hablamos de rompecabezas o acertijos no son nada complicados, a lo mejor los que tienes que hacer para completar el jugo al 100% pero inclusive no son muy difíciles.
Es un juego muy corto, que puedes completar en 1 o 2 sentadas, a lo mejor solo 1, estamos hablando de 4 a 8 horas de gameplay, si eres de los que lo completa al 100% a lo mejor juegues las 8 horas o más solo por los logros de steam.
---
Gráficos y Visual
Es un juego de 2D con animaciones adecuadas, el estilo de arte es también bastante adecuado y estéticamente bonito de ver y jugar, no hay nada demasiado extraordinario, pero está bien balanceado y bien diseñado en éste departamento, cumple con la temática de Viejo Oeste Steampunk que se quiere lograr.
En el Interfaz o HUD también es muy correcto y no hay nada donde no debería estar.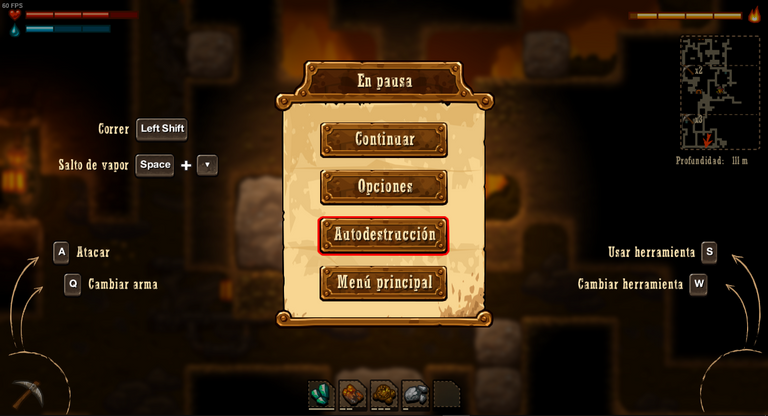 Tienes las barras en las esquinas superiores, así como el mapa en la parte de arriba derecha, el pico o las armas en la parte de abajo a la izquierda y las otras herramientas u objetos utilizables en la parte de abajo derecha.
Los menús no ofrecen muchísimas opciones, puedes desfazar el HUD más hacia el centro de la pantalla, y puedes cambiar el tamaño.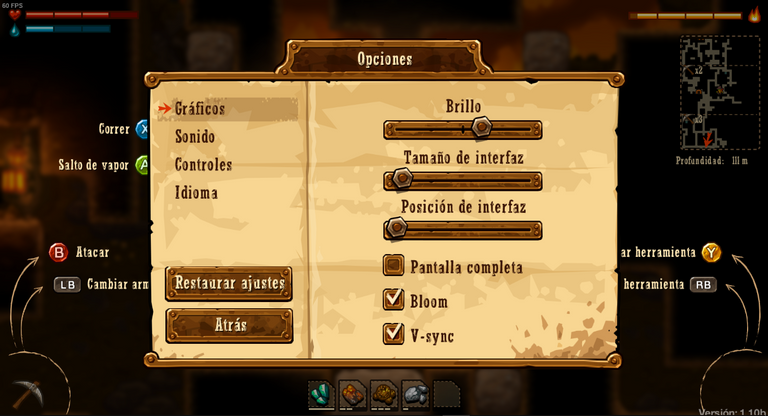 No tiene muchas opciones gráficas, pero es un juego 2D muy bien balanceado y optimizado para cualquier máquina ahí afuera, eso lo puedo asegurar. Tienes la opción de cambiar el lenguaje cuando quieras dentro del juego sin tener que reiniciar ni esperar, de hecho es bastante instantáneo.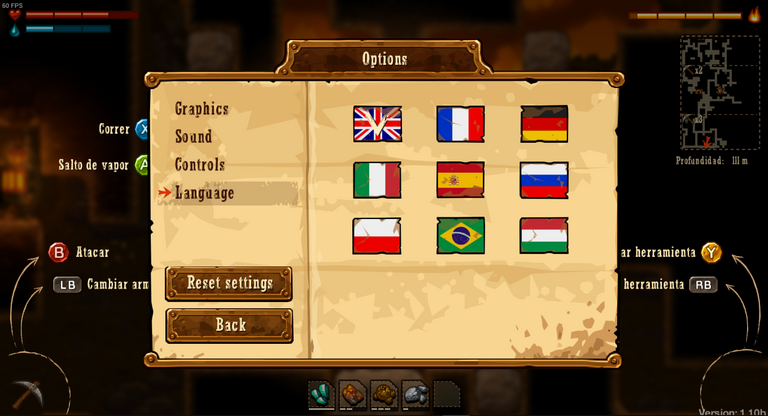 Dicho todo ésto, en el apartado visual tenemos un juego muy adecudo y muy bien hecho pero sin nada muy magnífico.
---
Conclusión
SteamWorld Dig es un juego muy divertido para comprarlo cuando está de oferta, con una muy buena jugabilidad, muy buenos visuales, es disfrutable de jugar y puedes tener un rato divertido y relajante excavando en las minas de Tumbleton.
Espero que les haya gustado y estoy feliz de haber vuelto, nos vemos pronto.
---
Social Networks / Redes Sociales:
---
All the photos are taken by me. / Todas las fotos son tomadas por mi.
Except: