Elden Ring - Boss Fight - Godskin Apostle at Altus Windmils (5th Attempt with Screenshots & Video)
Action Shot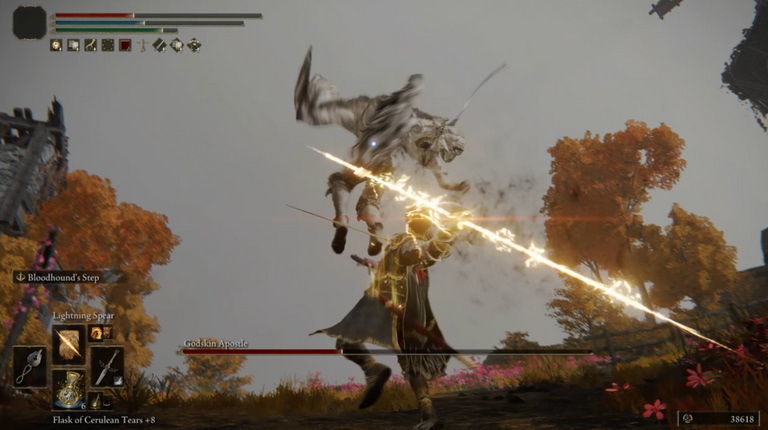 Lightning Striking the Godskin Apostle Mid-Air!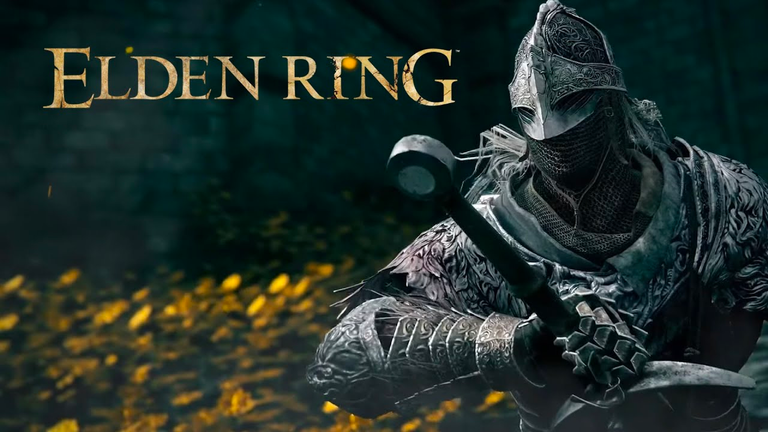 Here's some quick info on the game:
(Actual post is BELOW this intro info!)
[GAMEPLAY] In Elden Ring, players control a customizable player character on a journey to repair the Elden Ring and become the new Elden Lord. The game is presented through a third-person perspective, with players freely roaming its interactive open world. Gameplay elements include combat using several types of weapons and magic spells, horseback riding, and crafting.
[STORY] Elden Ring takes place in the Lands Between, a fictional landmass ruled over by several demigods. It was previously ruled over by the immortal Queen Marika, who acted as keeper of the Elden Ring, a powerful force that manifested as the physical concept of order. When Marika eventually shattered the Elden Ring and disappeared, her demigod children began warring over pieces of the Ring in an event called the Shattering. Each demigod possesses a shard of the Ring called a Great Rune, which corrupts them with power. In the game, the player character is a Tarnished, one of a group of exiles from the Lands Between who are summoned back after the Shattering. As one of the Tarnished, the player must traverse the realm to repair the Elden Ring and become the Elden Lord.
Boss Battle - Battle with the Godskin Apostle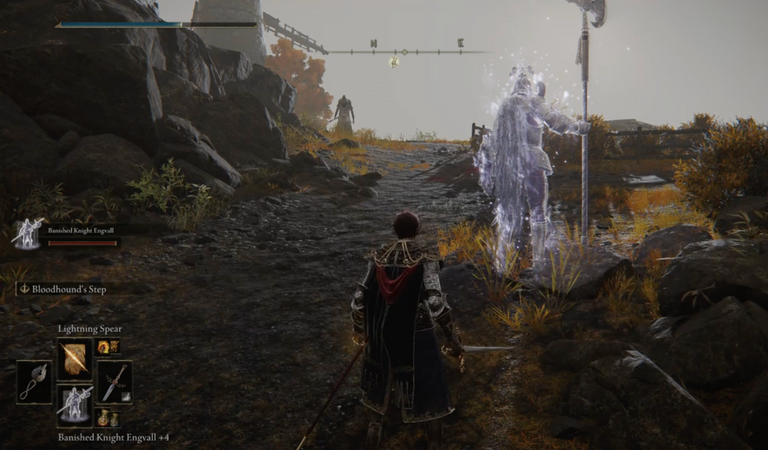 I summon the halberd-carrying Engvall because this Godskin Apostle's making quite the entrance here -- plus the music's wicked cool.
~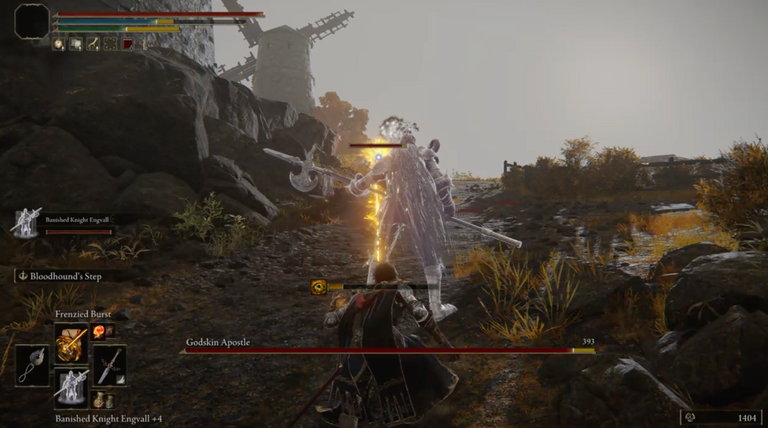 Not sure if my magic attack went through Engvall here but I found that pretty fantastic that I can use as a shield.
~

What a great summon -- taking the black-flames fireball to the face in order to protect me.
~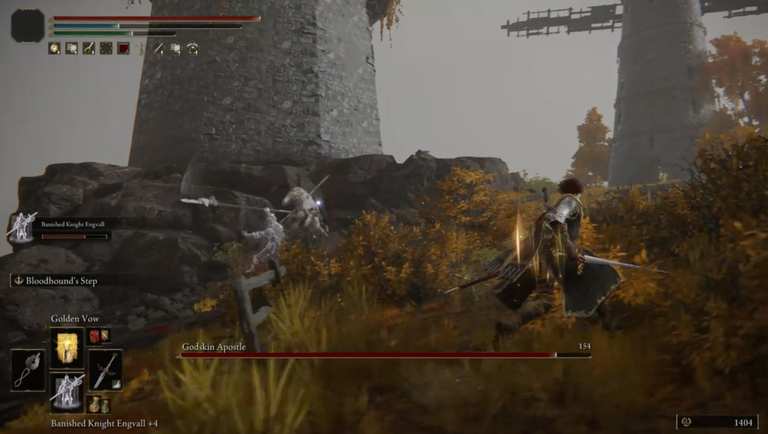 I run around to get a better angle on the Godskin Apostle and pick up my fallen runes so that I don't lose out on EXP.
~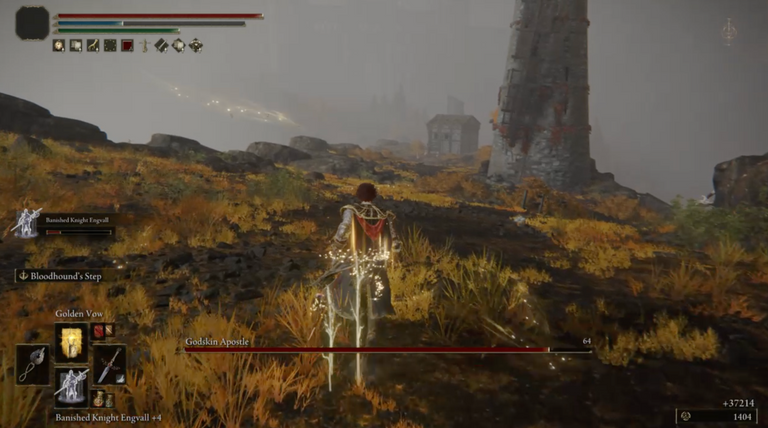 ALWAYS pick up your runes!
~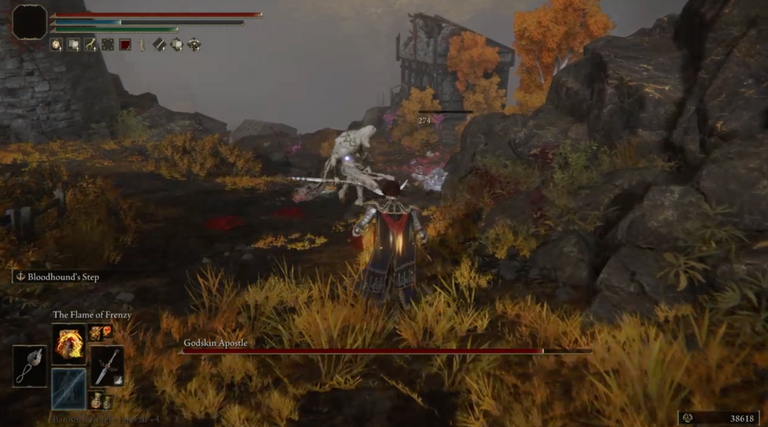 Heres Engvall just getting absolutely wrecked by the Godskin Apostle. Poor dude, thought he'd end up doing better than that.
~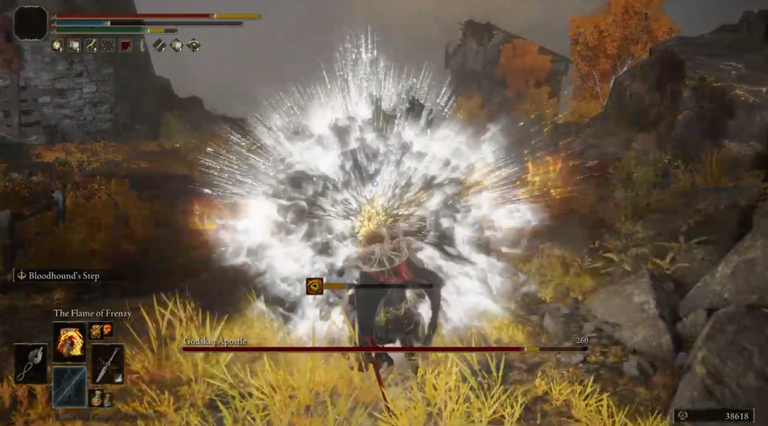 I cast a Frenzied Flames spell and get a black-flame fireball to the face!
~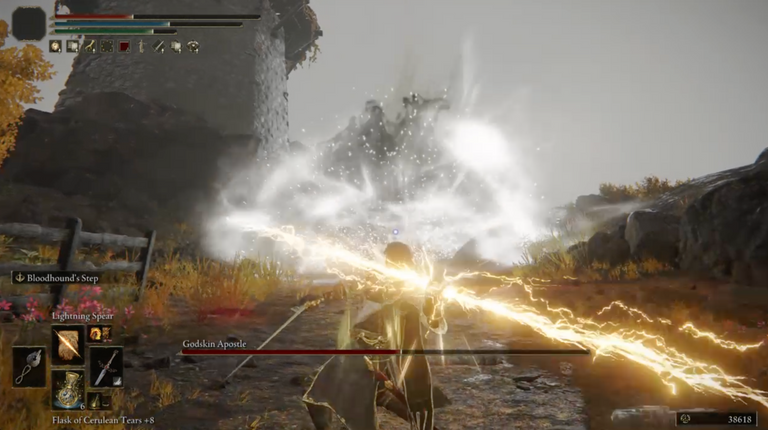 After he creates that large black-flame explosion, I charge up a Lightning Spear to full power and get ready to unleash it.
~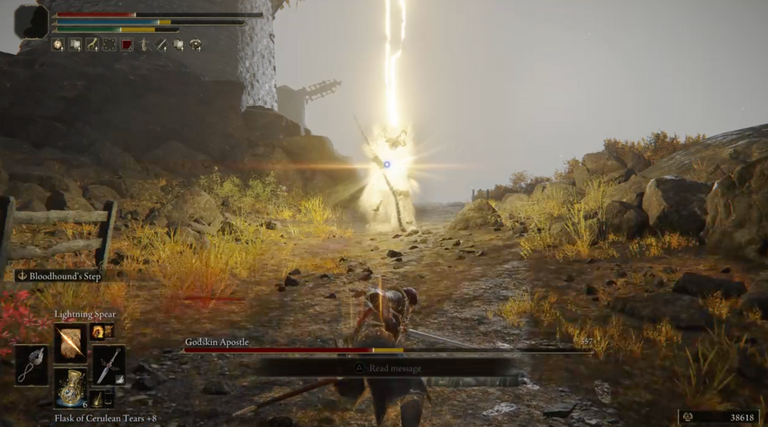 Target hit!
~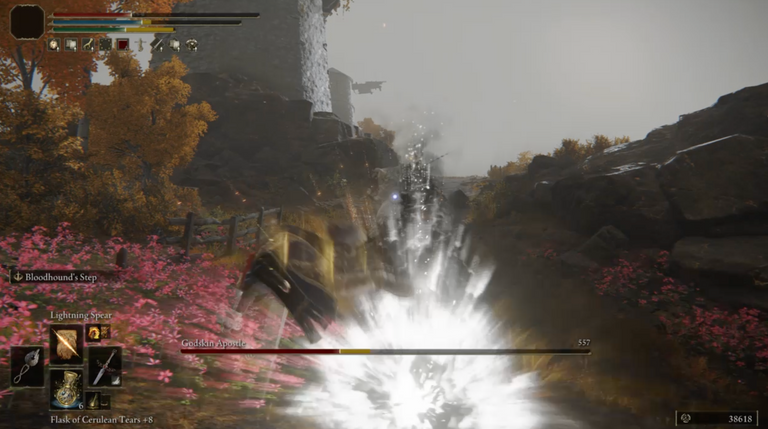 Dodging the Godskin Apostle's black-flames fireball.
~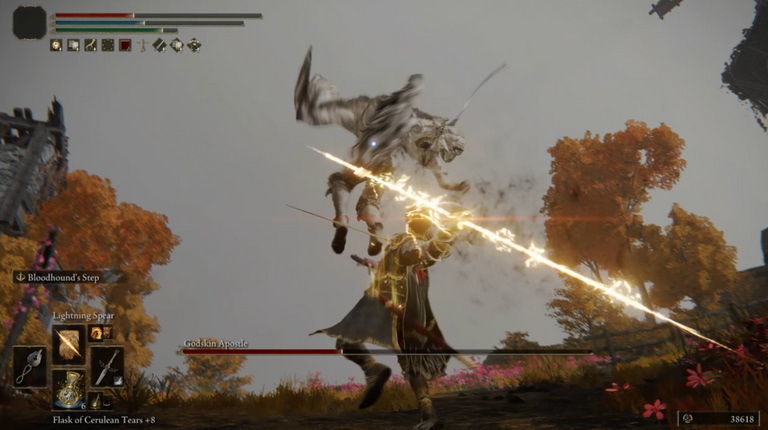 Thumbnail!
~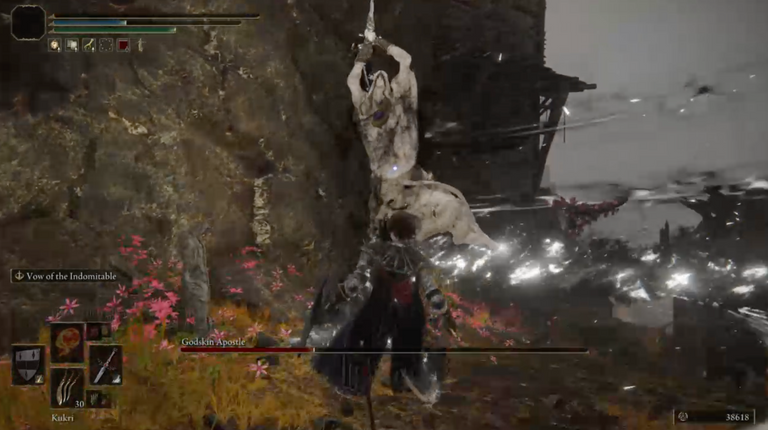 I get caught in a whirlwind of black flames and die here.
~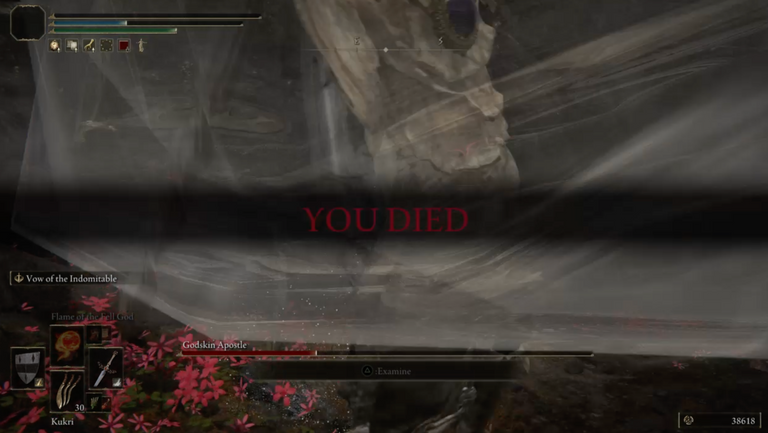 Bummer.
~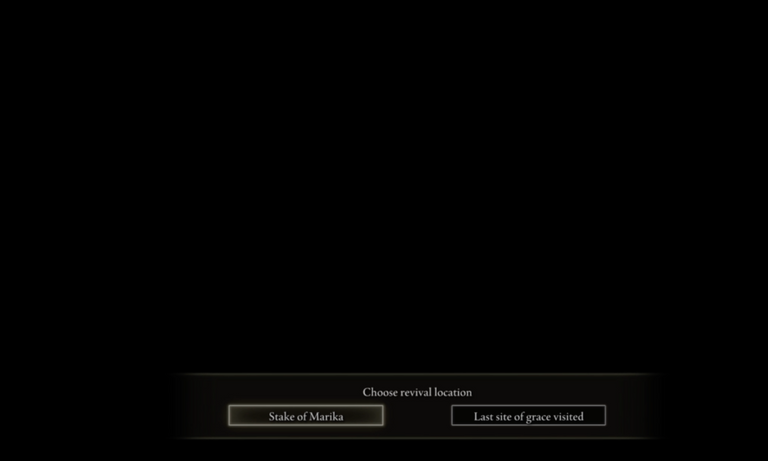 I choose the statue since it's closer.
~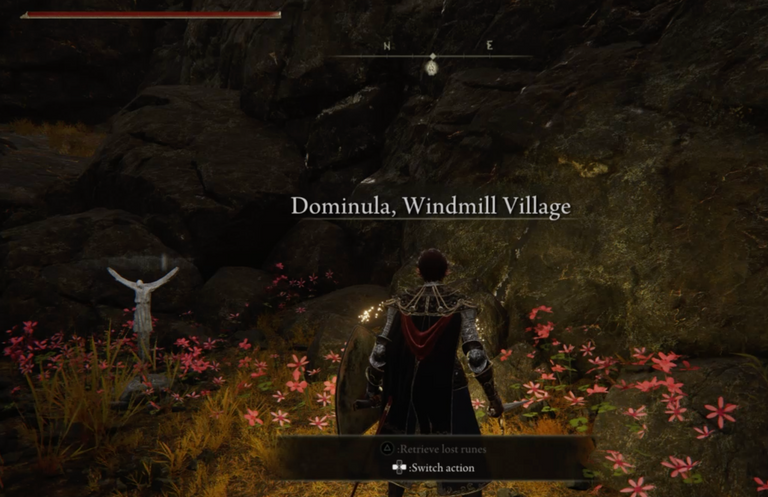 Here we go again.
~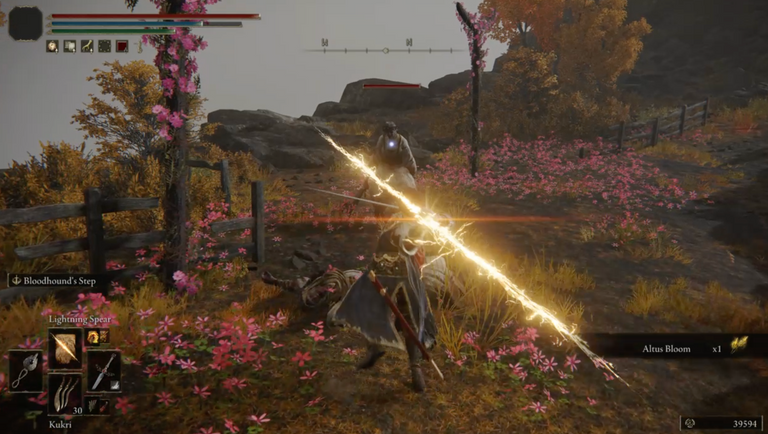 There's some cannibal ladies nearby so I zap them for extra experience points.
~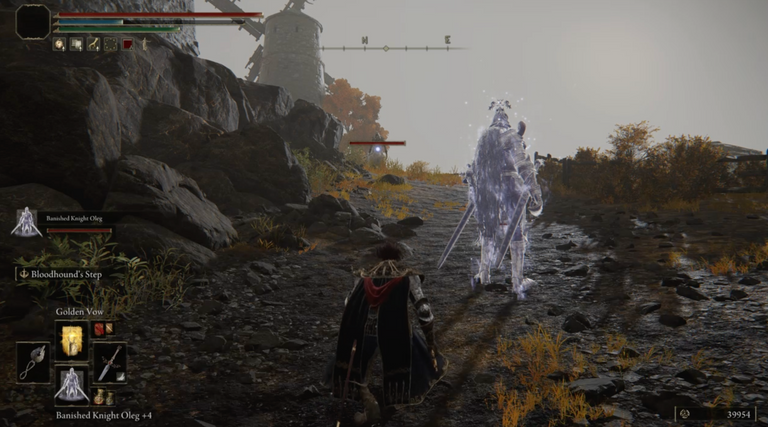 We switch it up this time -- we're going with Olge who's the double swords. Just feel like this guy attacks faster and will be able to do more damage.
~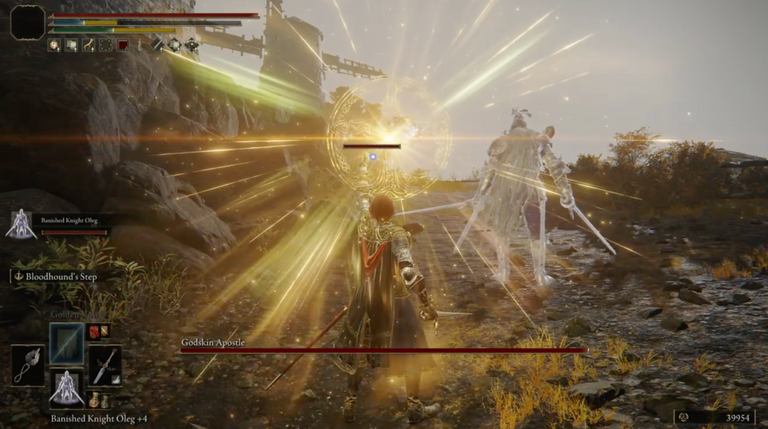 Not only am I changing up my summon, I'm buffing us up too with Golden Vow.
~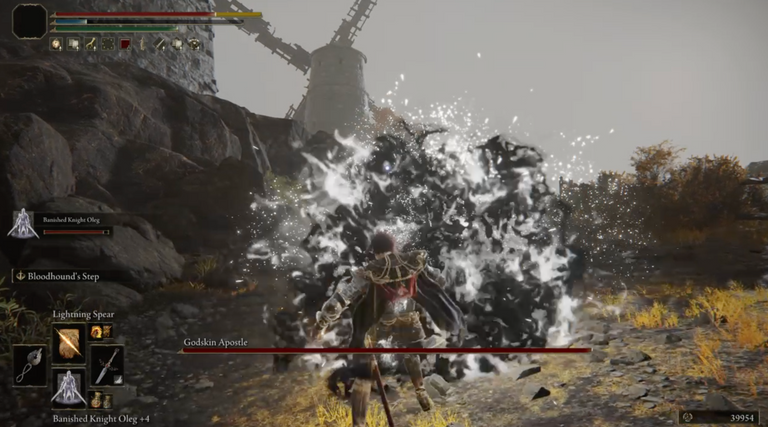 I stood around in the same spot too long and got blasted by a fireball from Godskin Apostle -- always be moving, always be picking up your runes.
~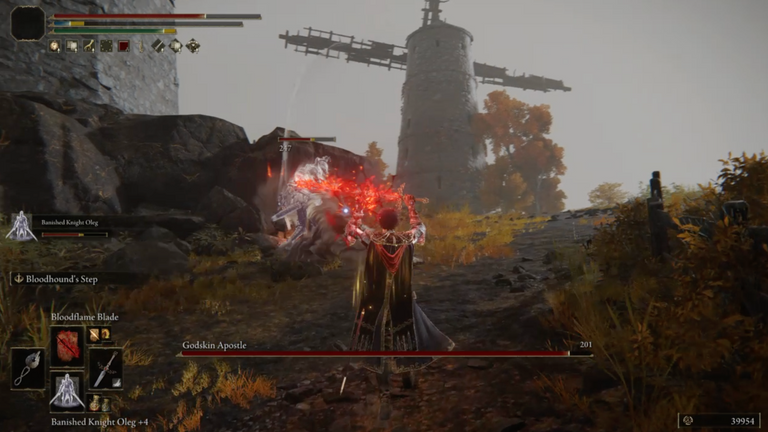 I love the animation of casting the Bloodflame Armament incantation -- but having it take up a spell slot means I can't use some other spell in its stead, so I'm going to have to start investing in Bloodflame grease instead.
~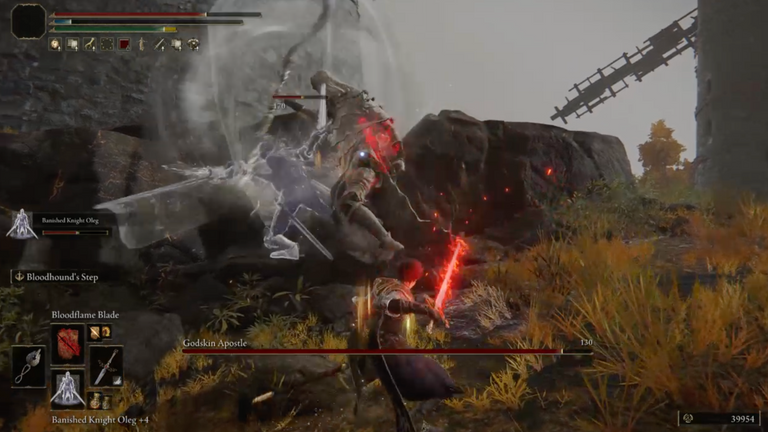 Time to bully this apostle in a storm of blades!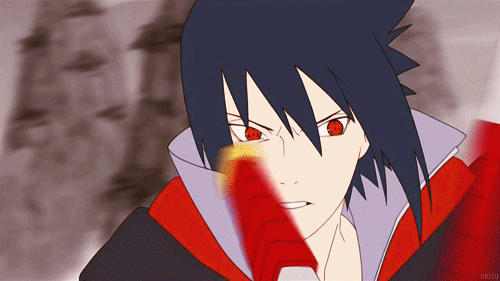 Godskin Apostle trying to keep track me and Olegg's swords!
~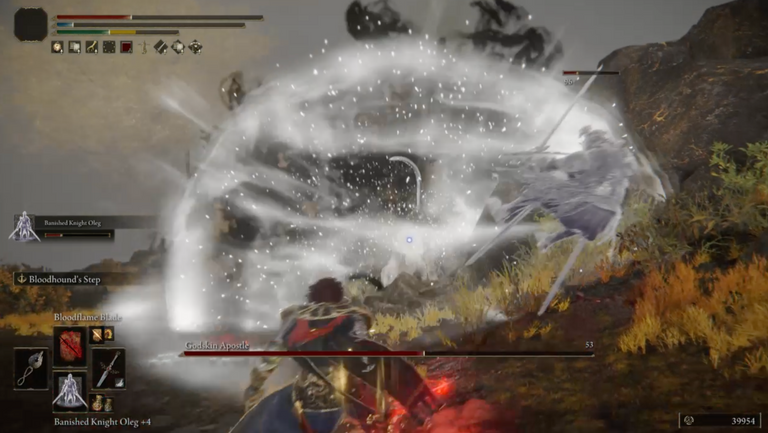 Poor Olegg, getting thrown back by the Apostle's blackflame blast. I told him to back up 🤷‍♂️
~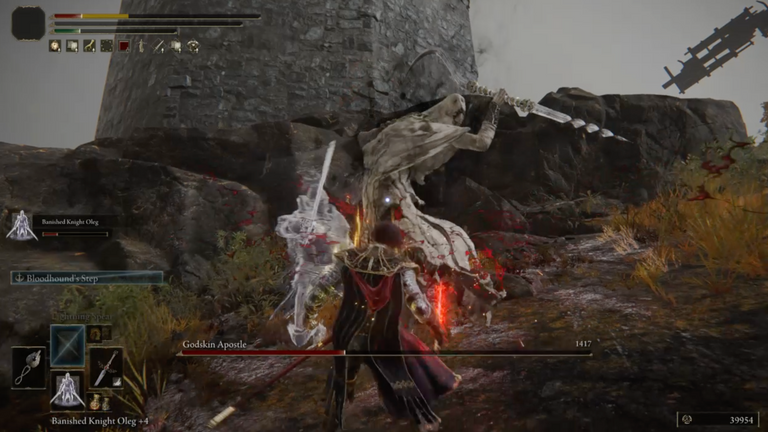 Things were going so well until he started swinging that spear a lot faster. I'm beginning to think the best weapons have the most repeated strikes, like twin-blade swords and spears or dual-wielding in general.
~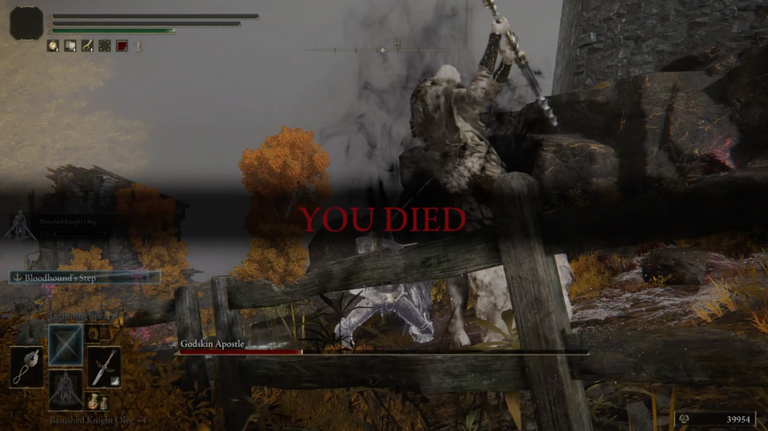 Sorry, Olegg! This time I was the weak link who fell first!
~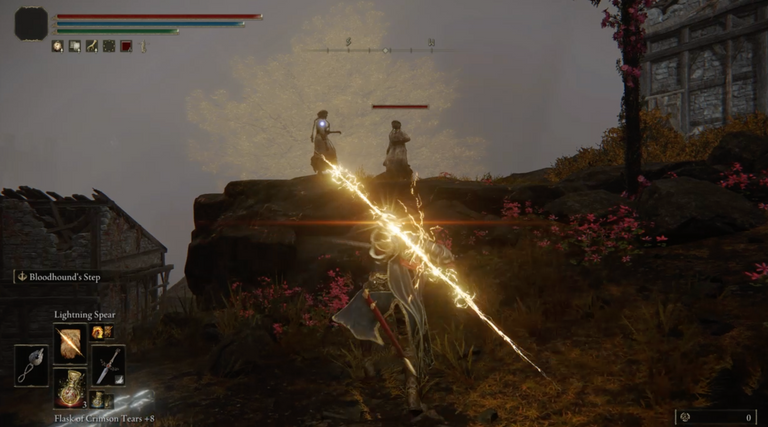 I take out the frustration from my previous defeat on the dancing cannibal grannies of the Windmill Village.
~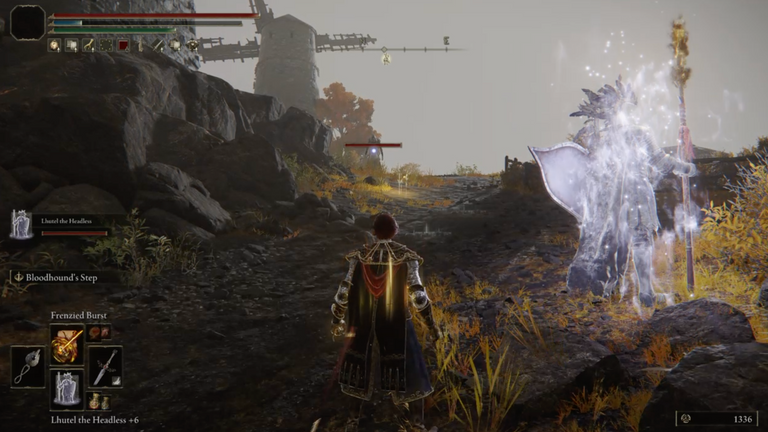 Olegg, I love you and your dual swords but my highest-level summon is Llutel the Headless -- plus he teleports and throws a magic spear that returns to his hands.
~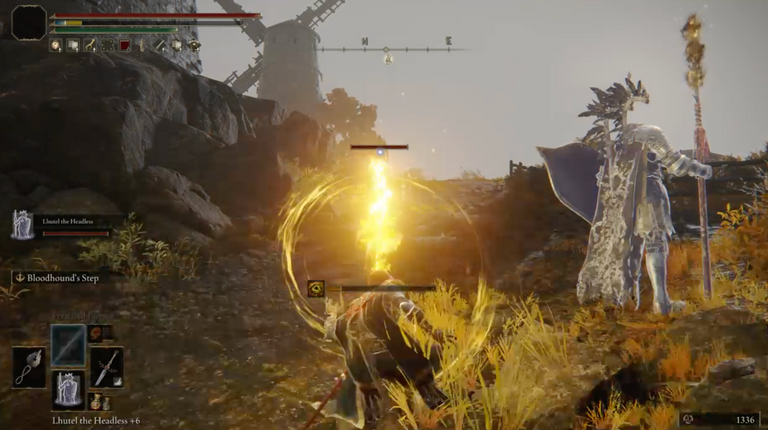 Always nice to start with Frenzied Burst incantation to test range.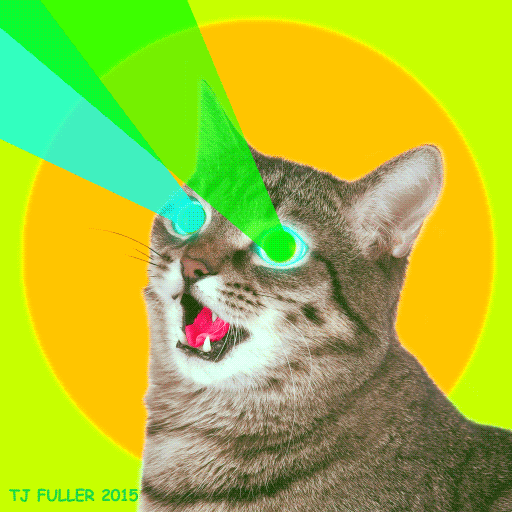 ~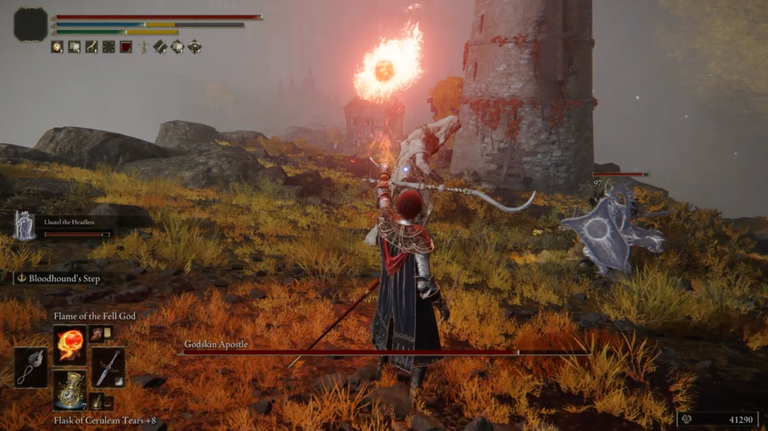 Time to see how some giant fire balls work on this Godskin Apostle.
~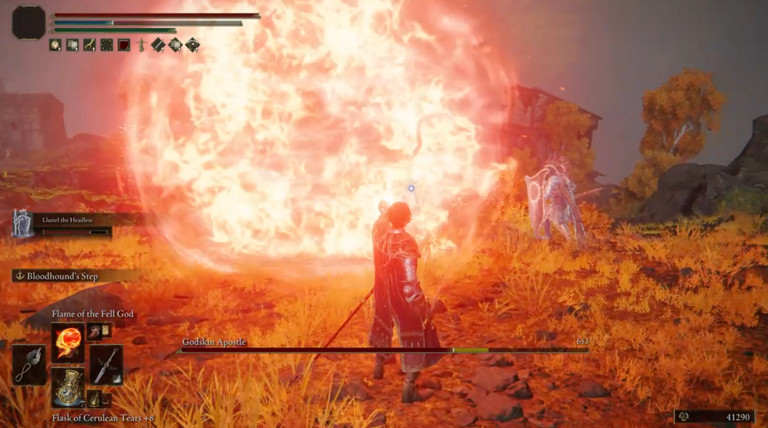 Not too bad, damage-wise. Was expecting more but I'm still seeing yellow on his health bar so it's doing some work.
~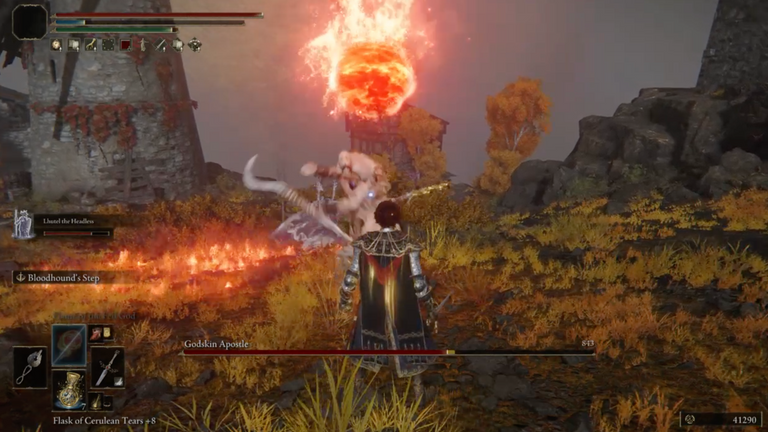 Have you ever heard the mantra of wise ancient sage DJ Khaled? His mantra was always ... AND ANOTHER ONE!
~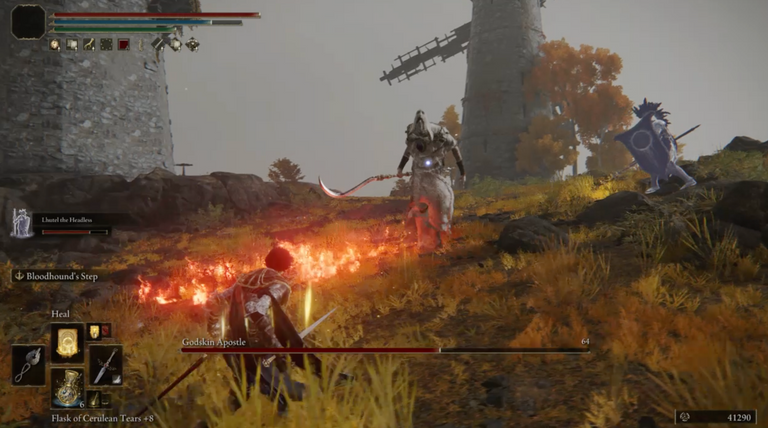 Llutel and I got the Godskin Apostle in a nice pincer formation here -- attacking him the front and behind.
~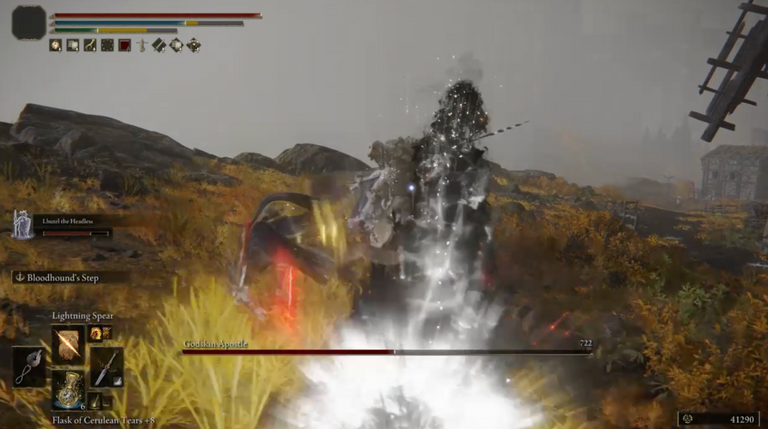 This is what we do in Elden Ring -- dodge all day, every day!
~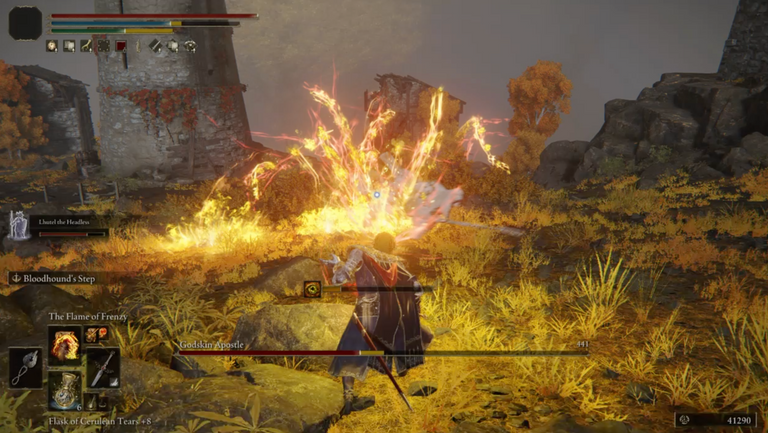 It's surprising how this attack is probably just as effective as my giant fireball spell which costs way more FP/magic.
~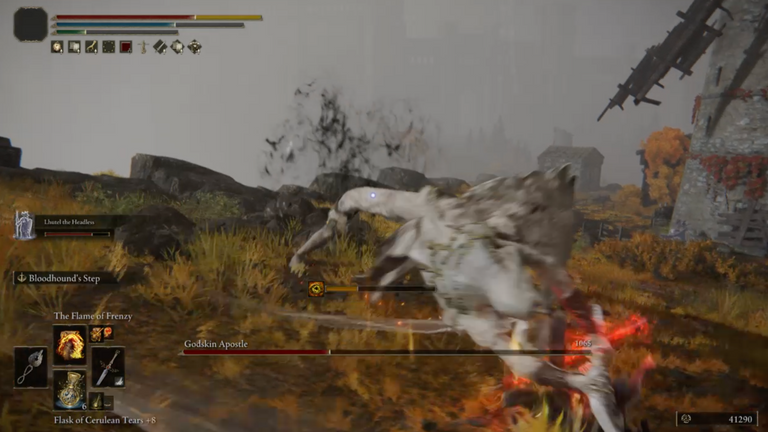 It's absolutely insane when this boss goes stretchy mode and starts swinging his torso all around the stage.
~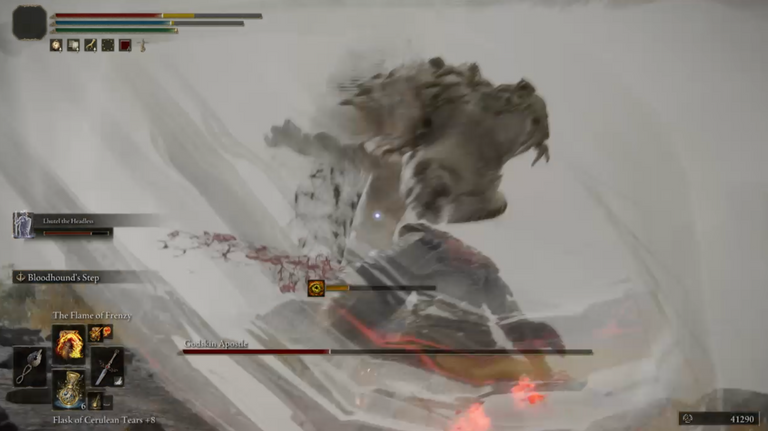 Stretchiness + Spear Tornado = Bad News
~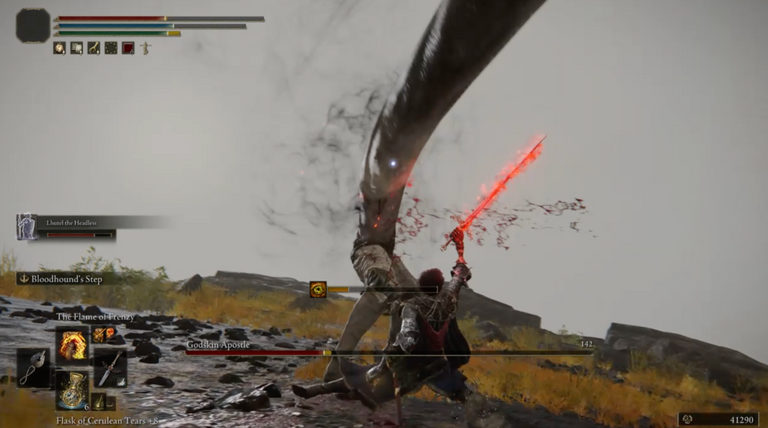 I'm able to relocate myself to his lower body and start hacking away at it while his upper body goes helicoptering all over the place at Llutel.
~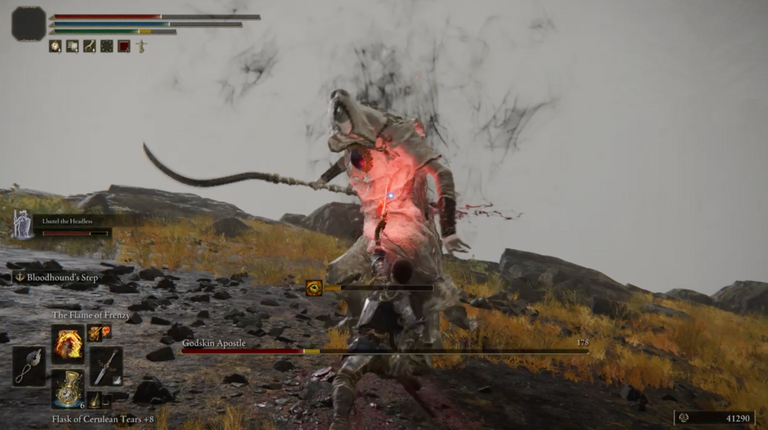 Here's a nice shot of me sticking the pointy end of my sword in the Godskin Apostle's heart.
~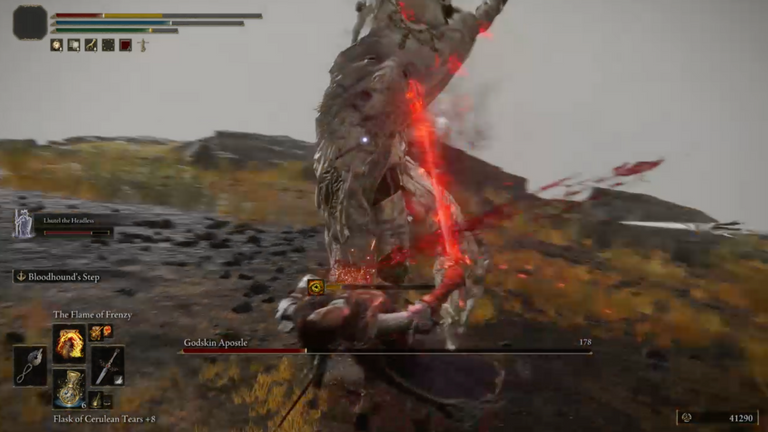 And here's him slapping me back for getting too close haha
~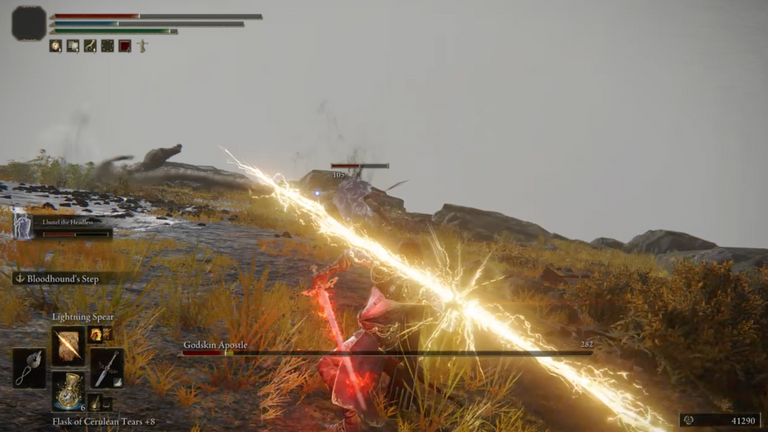 From a much safer distance, I charge up some Lightning Spear incantations.
~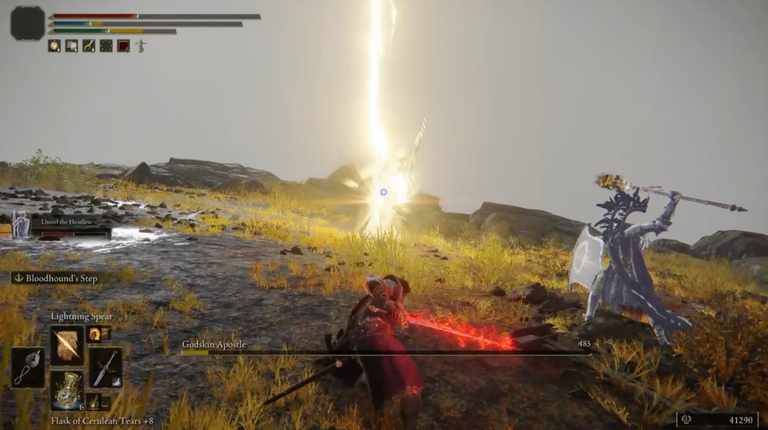 That's a serious lightning bolt. You can also see Llutel getting ready to steal all my spotlight and throw the final killing spear. That's another reason I don't use him as much -- he likes to steal my thunder!
~

And just like that, Llutel's magic spear ends the battle with a final blow.
~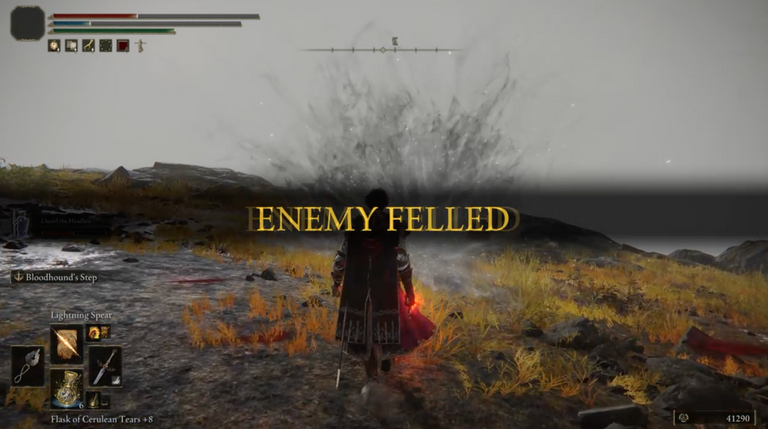 This banner message fills me with so much joy -- victory to me.
~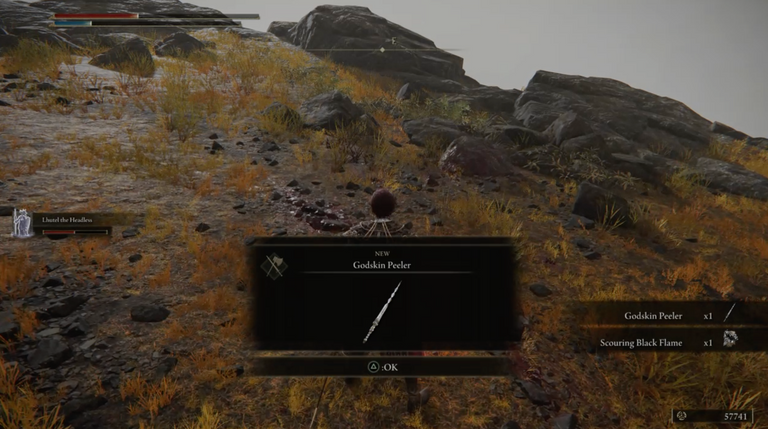 This battle not only awarded me over 10k runes but I got his spear weapon and a new black flames incantation which was really nice!
~
FULL VIDEO BELOW
Hope you all enjoyed this post and feel free to leave comments!
See you all on the next post of my Elden Ring adventure!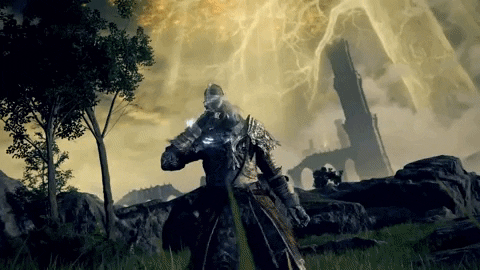 Image Sources