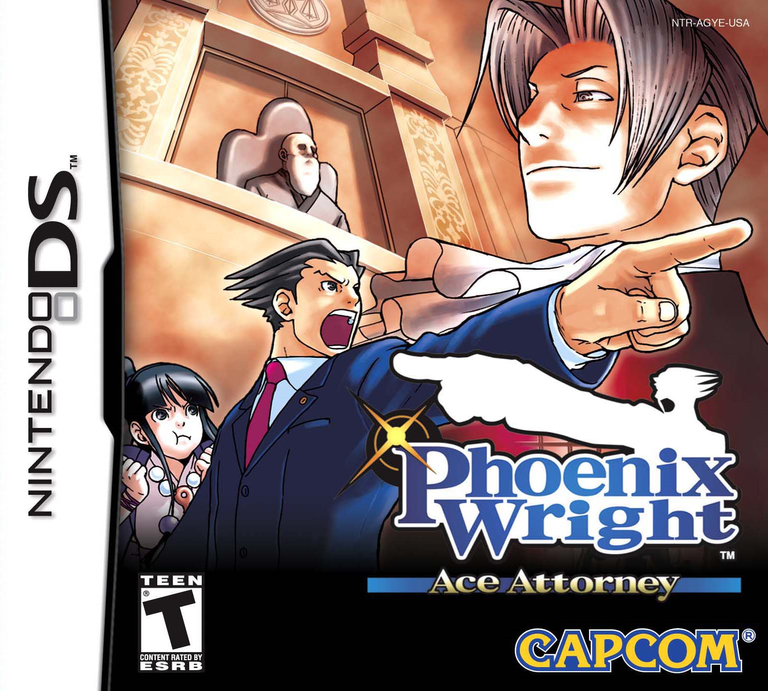 Many years ago, when I was a kid, I found one of the games that in my opinion I consider one of the best in history, in all aspects, a game that would later go on to become an archaic saga that is still in force today. I am talking about Ace Attorney. In this occasion we will talk about the first title, the one that gave origin to everything, what started this long journey. Before starting, first we have to take into account is that in his time was only available for Nintendo DS, then over the years was coming out both for mobile and PC, being developed by Capcom. So there are remastered versions if you want to play it today.
Hace muchos años cuando era chico, encontré uno de los juegos que en mi opinión considero de los mejores de la historia, en todos los aspectos, juego que luego iría a más convirtiéndose en una saga archiconocida que sigue vigente hoy en día. estoy hablando de Ace Attorney. En esta ocasión hablaremos del primer título, el que dió origen a todo, lo que comenzó esta larga travesía. Antes de comenzar, primero tenemos que tener en cuenta es que en su época solo se encontraba disponible para Nintendo DS, luego con el pasar de los años fue saliendo tanto para móviles y PC, siendo desarrollado por Capcom. Así que hay versiones remasterizadas por si quieres jugarlo hoy en día.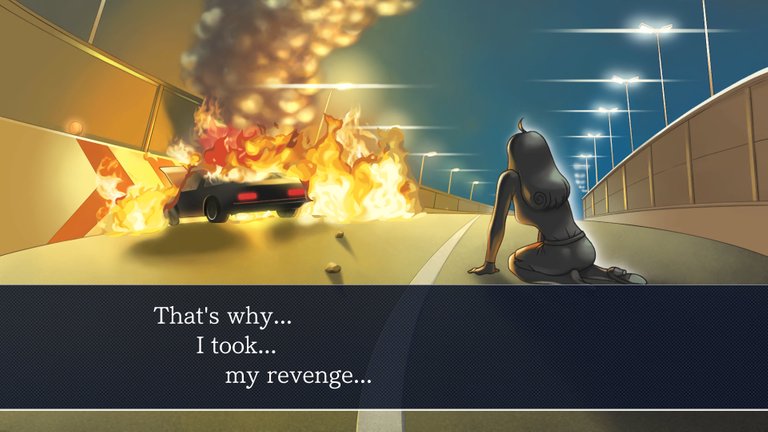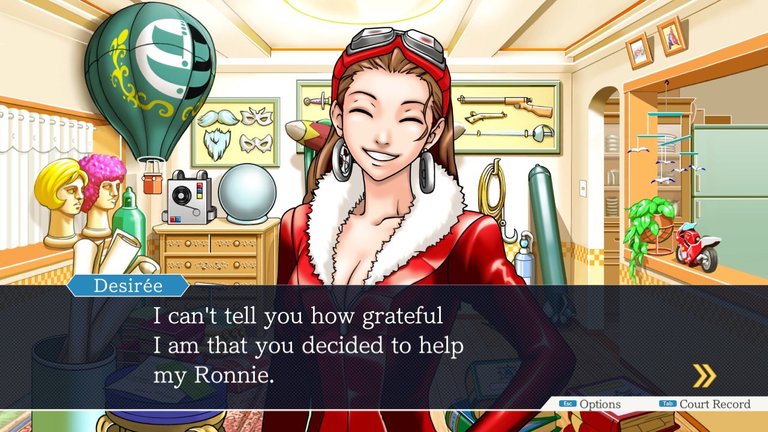 The first Ace Attorney, puts us in the shoes of the young and inexperienced novice attorney Phoenix Wright, where we will have to guide him through his first 5 cases, each one more complicated and convoluted than the last. The plot is one of the most important sections when we talk about a visual novel, a section that has to be good enough to keep us hooked and not lose interest, Ace Attorney meets all this with more than enough. The development of each case is something sublime, coming to have both emotional and exciting moments. The characters are very charismatic and memorable, so much so that you may never forget them.
El primer Ace Attorney, nos pone en la piel del joven e inexperto abogado novato Phoenix Wright, donde tendremos que guiarle en sus primeros 5 casos, cada uno más complicado y enrevesado que el anterior. La trama es uno de los apartados más importantes cuando hablamos de una novela visual, apartado que tiene que ser lo suficientemente bueno para mantenernos enganchados y no perder el interés, Ace Attorney cumple todo esto con creces. El desarrollo de cada caso es algo sublime, llegando a tener momentos tanto emotivos como emocionantes. Los personajes son muy carismáticos y memorables, tanto así que es muy posible que jamás llegues a olvidarlos.
The story not only shares the legal aspect but also mixes it with a mystical aspect, technically this is a plot that will deal mainly with lawyers and mediums, somehow it doesn't feel forced at all and everything is understood within the context in which it is found, being something that will generate an attraction to the fans of the paranormal or simply be something striking, that encourages you to keep playing.
La historia además de compartir el aspecto jurídico también lo mezcla con un aspecto místico, técnicamente esta es una trama que tratará principalmente de abogados y médiums, de alguna forma no se siente para nada forzado y se entiende todo dentro del contexto en que se encuentra, siendo algo que generará una atracción a los aficionados de lo paranormal o simplemente sea algo llamativo, que te incentiva a seguir jugando.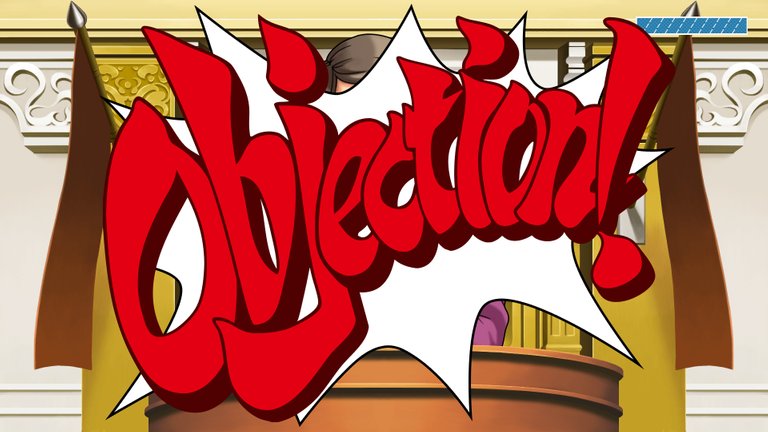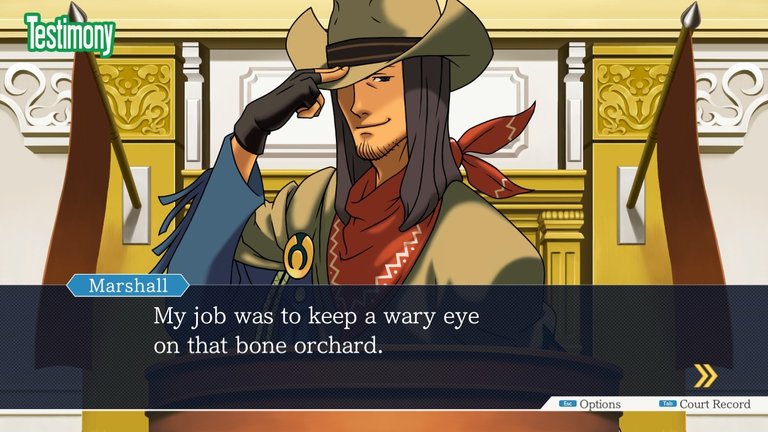 During our adventure there will be two mechanics, those of judgment and those of investigation. The first one that will be taught to us will be that of judgment, which consists of the following: Declaration and Interrogation. During the interrogation is that all the magic happens, here we will be able to exert pressure to get more information or we will be able to present evidence if we find any contradiction. In such case of presenting a bad evidence we will be penalized, arriving to have a limit of penalties, if we reach this limit we will automatically lose the trial and the accused will be declared guilty. If we present the evidence well, the trial will continue until we find the real culprit.
Durante nuestra aventura habrán dos mecánicas, las de juicio y las de investigación. La primera que se nos enseñará será la de juicio, que consiste en lo siguiente: Declaración e Interrogatorio. Durante el interrogatorio es que ocurre toda la magia, aquí podremos ejercer presión para sacar más información o podremos presentar pruebas si encontramos alguna contradicción. En tal caso de presentar una prueba mal se nos penalizará, llegando a tener un límite de penalizaciones, si alcanzamos dicho límite automáticamente perderemos el juicio y el acusado será declarado culpable. Al presentar bien las pruebas, el juicio seguirá su curso hasta que encontremos al verdadero culpable.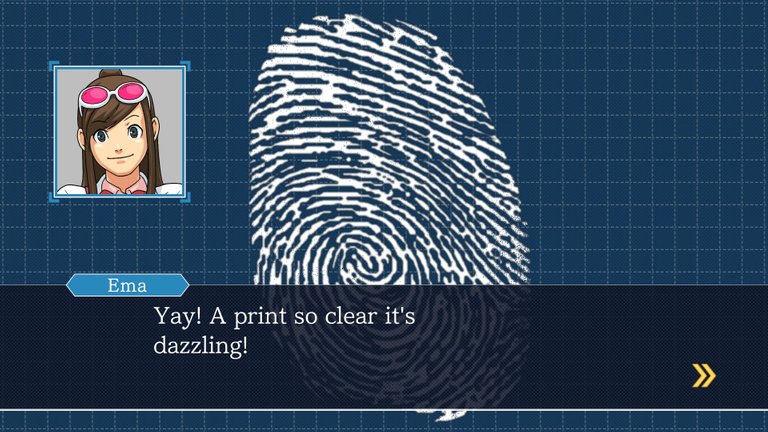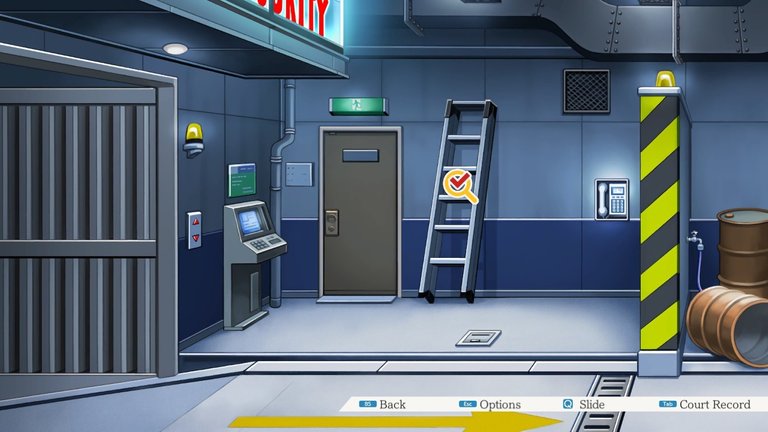 In the second case is when we are introduced to the mechanics of investigation, which will consist mainly of investigating the crime scene, talking to witnesses, collecting evidence and gathering as much information as possible for the upcoming trial. In order to collect evidence the game is transformed into something that we could consider as a 'point-and-click', a blue cross will be shown on the lower screen where we can see the scenario, its use is quite simple, you have to place it in the part you want to examine. If we are successful in our investigation, we will get some evidence or clue that will help us in the next trial.
En el segundo caso es cuando se nos presenta la mecánica de investigación, que consistirá principalmente en investigar la escena del crimen, hablar con testigos, recolectar pruebas y recolectar toda la información posible para el juicio venidero. Para poder recolectar pruebas el juego se transforma en algo que podríamos considerar como un 'point-and-click', una cruz azul se nos mostrará en la pantalla inferior donde podremos ver el escenario, su uso es bastante sencillo, hay que colocarla en la parte que se quiera para poder Examinar. Si tenemos éxito en nuestra investigación, obtendremos alguna prueba o pista que nos ayudará en el próximo juicio.
When we are playing and enjoying the adventure, we will realize a great thing. Something that will call our attention from the first moment and something that will cause us immediate enjoyment. We are talking about the soundtrack, being very varied and masterfully employed, besides, I could say, perfectly composed. There are songs for any kind of moment, highlighting first of all, those of the exciting moments that are shown to us at the top of the story, when we do something right or we are about to imprison the murderer. Here you can observe the severe masterpiece I am talking about:
Cuando vayamos jugando y disfrutando la aventura, nos daremos cuenta de una gran cosa. Algo que nos llamará la atención desde el primer momento y algo que nos causará un disfrute inmediato. Estamos hablando de la banda sonora, siendo muy variada y magistralmente empleada, además de, podría decir, perfectamente compuesta. Hay canciones para cualquier tipo de momento destacando primero que nada, las de los momentos emocionantes que se nos muestran en la cúspide de la historia, cuando hacemos algo bien o estamos a punto de encarcelar al asesino. Acá pueden observar la severa obra magistral de las que le hablo:
In short, Phoenix Wright: Ace Attorney is a pretty fun title with an excellent story and soundtrack, with a great community that looks forward to the launch of all the games. If you're looking for a plot that will catch you to the end and make you want to keep playing and playing, this is your game, maybe even make you want to be a lawyer, like I did, or maybe forge a feeling of justice within the deepest part of your being, like I did. Thanks to this game I could say that I am who I am today because of this title.
En síntesis, Phoenix Wright: Ace Attorney es un título bastante divertido con una excelente historia y banda sonora, con una gran comunidad que espera con ansías el lanzamiento de todos los juegos. Si buscas una trama que te atrape hasta al final y que te dé ganas de seguir jugando y jugando, este es tu juego, quizás hasta te den ganas de ser abogado, como me pasó a mí o quizás te forje un sentimiento de justicia dentro de lo mas profundo de tu ser, como también me pasó a mí. Gracias a este juego podría decir que soy quien soy actualmente debido a este título.