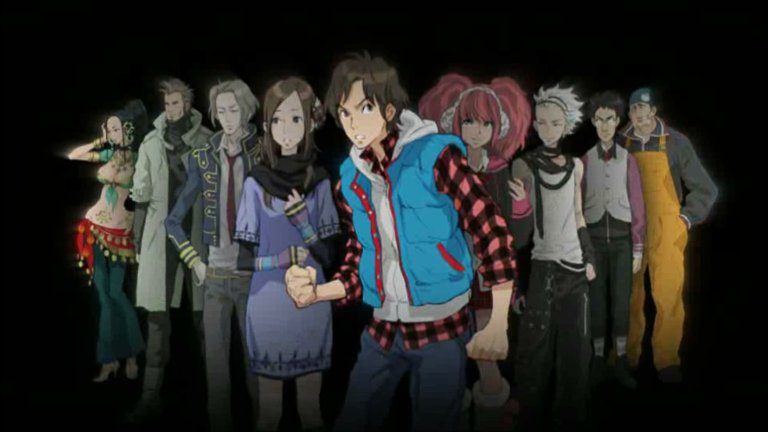 Good morning, afternoon or evening friends of Hive Gaming! Being on Christmas holidays makes you do nothing, just relax and enjoy, but we all know that this does not generate profits, so I have to make at least one last post this year, about a game that came out in the last days of the Nintendo DS, currently with a PC remake. I'm referring to a Graphic Adventure/Visual Novel, with excellent visual art, great story and best of all, with multiple endings depending on your choices. The title in question is called "999: Nine Hours, Nine Persons, Nine Doors", which saw the light on November 16, 2010.
¡Buenos días, tardes o noches amigos de Hive Gaming! Estar de fiestas navideñas hace que a uno no le dé por hacer nada, solo estar relajado disfrutando, pero todos sabemos que eso no genera ganancias, así que me veo en la obligación de por lo menos hacer un último post este año, acerca de un juego que salió en los últimos días de la Nintendo DS, contando actualmente con un remake para PC. Me estoy refiriendo a una Aventura Gráfica/Novela Visual, con excelente arte visual, excelente historia y lo mejor de todo, con múltiples finales dependiendo de tus elecciones. El título en cuestión se llama "999: Nine Hours, Nine Persons, Nine Doors", el cual vió la luz el 16 de Noviembre del 2010.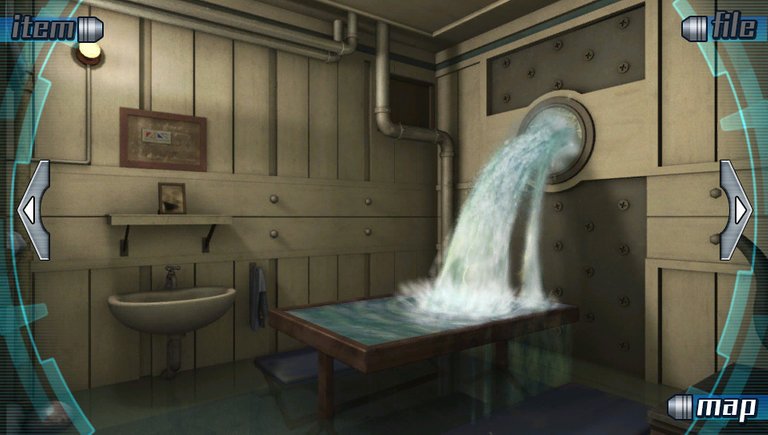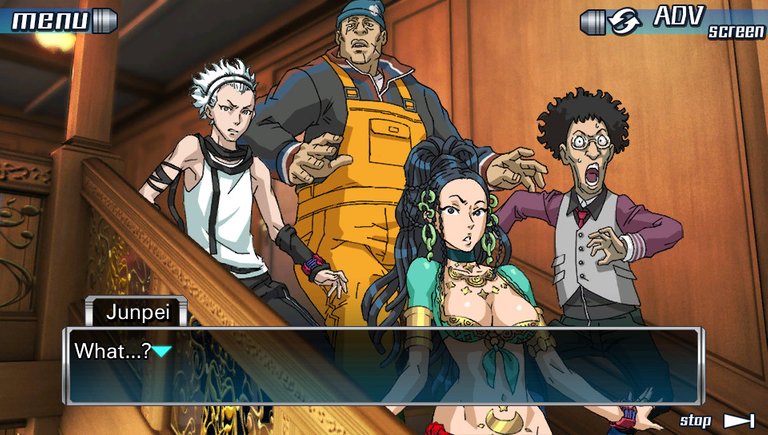 The game tells us the story of a boy named Junpei, who wakes up in a big ship similar to the Titanic. He doesn't know how he got there or why he's in that place, he just knows that he's locked in a room and that he has to find a way out of that place, realizing that for every minute he spends in that room he'll start getting more and more flooded, the only way out will be by solving a puzzle. When he manages to escape in the hall of the ship he will have the joy of finding himself with 9 other people, all of them have been locked up to participate in a macabre game called "Nonary Game". Each character/player will have a clock marking a number from 0 to 9 from which they will not be able to get rid of, since they have a bomb incorporated in their bodies. The final objective will be to cross the door that marks the number 9 before 9 hours have passed. During the adventure they will have to form groups to be able to cross the doors, they will only be able to cross of room if the digits of their wrists add up the amount mentioned in the door in question.
El juego nos narra la historia de un chico llamado Junpei, el cual se despierta en una gran embarcación similar al Titanic. No sabe cómo ha llegado allí ni por qué se encuentra en ese lugar, solo sabe que se encuentra encerrado en una habitación y que tiene que buscar una forma para salir de ese lugar, dándose cuenta que por cada minuto que pasa en dicha habitación comenzará a inundarse más y más, la única forma de salir será resolviendo un puzzle. Al lograr escapar en el vestíbulo del barco tendrá la dicha de hallarse con otras 9 personas, todos han sido encerrados para participar en un juego macabro denominado "Juego Nonario". Cada personaje/jugador poseerá un reloj marcando un número del 0 al 9 del cual no se podrán desprender, ya que tienen una bomba incorporada en sus cuerpos. El objetivo final será cruzar la puerta que marca el número 9 antes de que transcurran 9 horas. Durante la aventura tendrán que formar grupos para poder cruzar las puertas, solo podrán cruzar de habitación si los dígitos de sus muñecas suman la cantidad mencionada en la puerta en cuestión.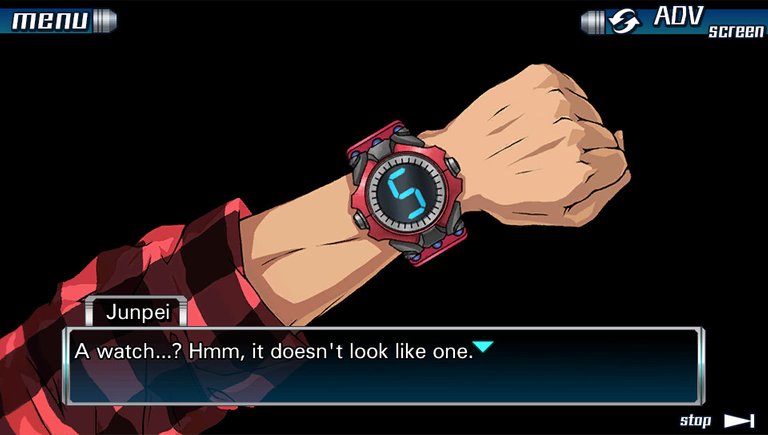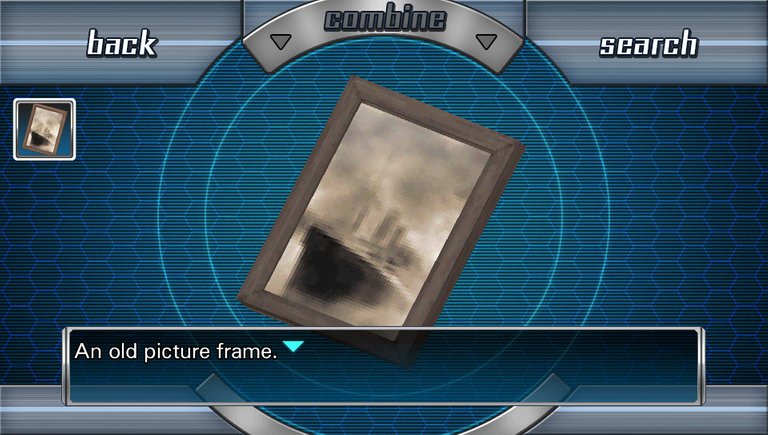 The gameplay is mostly focused on entering rooms and solving the puzzles that get in our way, thus having an exploration phase where we will take objects that can be useful for solving problems, such as classic graphic adventures. Although most of the development of the game is 90% text, 5% puzzles and what remains in the exploration phase, we could consider it more an interactive novel. We must also take into account that this title has the quality that you can make choices that will affect the course of the plot, counting with 6 endings. In order to avoid that the player can cheat by saving the game to avoid a negative or unexpected result, the results of our choices will not be shown until far in advance, they are not of immediate effect. Once we have obtained an ending, the game will give us an option to improve the gameplay, we will be able to skip the dialogues already read and we will be marked with the choices that we have already selected later.
La jugabilidad se centra más que nada en ir entrando en habitaciones e ir resolviendo los puzzles que se interpongan en nuestro camino, habiendo así, una fase de exploración donde cogeremos objetos que nos puedan servir de utilidad para la resolución de los problemas, como las aventuras gráficas clásicas. Aunque más que nada, la mayoría del desarrollo del juego es 90% texto, 5% puzzles y lo que queda en la fase de exploración, podríamos llegar a considerar que es más una novela interactiva. Hay que tener en cuenta también que este título cuenta con la cualidad de que puedes hacer elecciones que afectarán el rumbo de la trama, contando con 6 finales. Para evitar que el jugador pueda hacer trampas guardando la partida para evitar un resultado negativo o inesperado, los resultados de nuestras elecciones no se mostrarán hasta muy adelante, no son de efecto inmediato. Logrando haber sacado un final, el juego nos dará una opción para mejorar la rejugabilidad, podremos saltar los diálogos ya leídos y se nos marcarán las elecciones que ya hayamos seleccionado con posterioridad.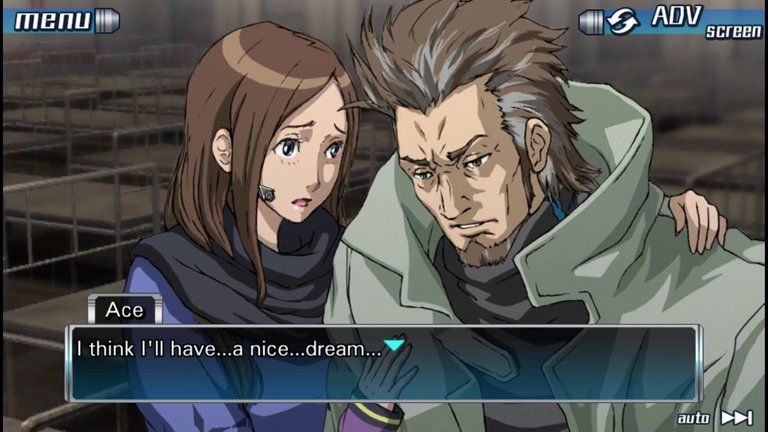 When we are playing we will feel really immersed, you will really feel the tension between all the characters in the ship, you can feel the distrust between them, the situations that occur will really have us very involved in the environment, due to the excellent script that is handled, what all the characters come to feel we will also feel. The dialogues are really well written, the participants speak with a jargon according to their age, being that the young characters speak with bad words or that the older ones speak in a more respectful or slowed down way; the descriptions of what happens are also very well defined, leaving everything very clear and understandable to the player. Although in certain parts incoherent situations occur as characters talking about love and youth while they are in a room full of guts.
Cuando estemos jugando nos sentiremos realmente inmersos, se sentirá realmente la tensión entre todos los personajes en la nave, se siente la desconfianza entre ellos, las situaciones que transcurren de verdad nos tendrán muy metidos en el entorno, debido al excelente guión que se maneja, lo que todos los personajes llegasen a sentir nosotros también lo sentiremos. Los diálogos están realmente muy bien escritos, los participantes hablan con una jerga acorde a su edad, siendo que los personajes jóvenes hablen con palabras malsonantes o que los más viejos hablen de una forma más respetuosa o pausada; las descripciones de lo ocurre también están muy bien definidas, dejándole todo muy claro y entendible al jugador. Aunque en cierta partes ocurren situaciones incoherentes como personajes hablando sobre el amor y la juventud mientras se encuentran en una habitación llena de vísceras.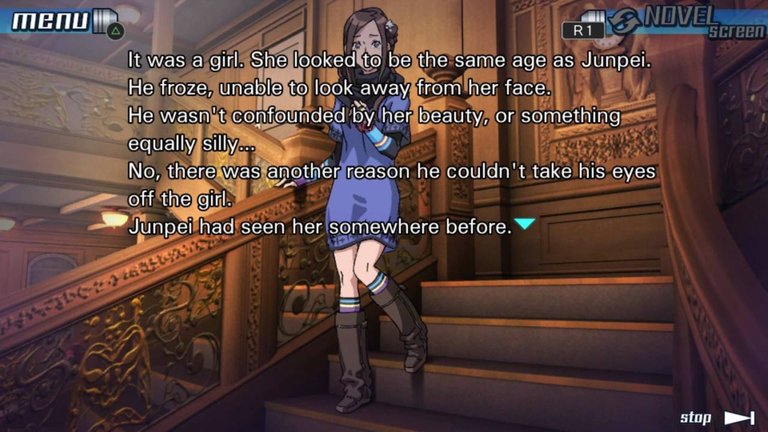 You can easily conclude that I have had other very similar titles, this title is not for everyone. Reading and thinking is not something that everyone likes to do, I understand. The title itself is a puzzle, the approach of the Nonary Game does not seem to have been made by simple scriptwriters, the requirement of mathematical knowledge to imagine that of getting digital roots seems too well thought out. The fact that it poses grotesque and scary scenes without showing images of the style on screen stands out, not many titles manage to recreate that without making use of those images. The game has an excellent art that is very similar to that of an anime, the dialogues are also masterful despite certain inconsistent situations. The decisions or choices, despite looking good, do not feel a real ability to choose, the protagonist ends up doing what he wants, although they do affect the plot quite a bit. It's a pretty attractive title to play if you are one of those people who like these games.
Fácilmente se puede llegar a la conclusión que he tenido con otros títulos sumamente similares, este título no es para todo el mundo. Estar leyendo y pensando no es algo que le agrade hacer a todo el mundo, tengo entendido. El título en sí es un puzzle, el planteamiento del Juego Nonario no parece haber sido hecho por unos simples guionistas, el requerimiento de conocimientos matemáticos para imaginarse eso de sacar raíces digitales parece algo demasiado bien pensado. Destaca el hecho de que plantea escenas grotescas y de miedo sin mostrar imágenes del estilo en pantalla, no muchos títulos consiguen recrear eso sin hacer uso de esas imágenes. El juego cuenta con un excelente arte que es muy parecido al de un anime, los diálogos también son magistrales a pesar de ciertas situaciones incoherentes. Las decisiones o elecciones a pesar de parecer bien, no se siente una verdadera capacidad de elección, el protagonista termina haciendo lo que él quiere, aunque sí llegan a afectar bastante la trama. Es un título bastante atractivo al que debes jugar si eres de la gente que le gustan éstos juegos.