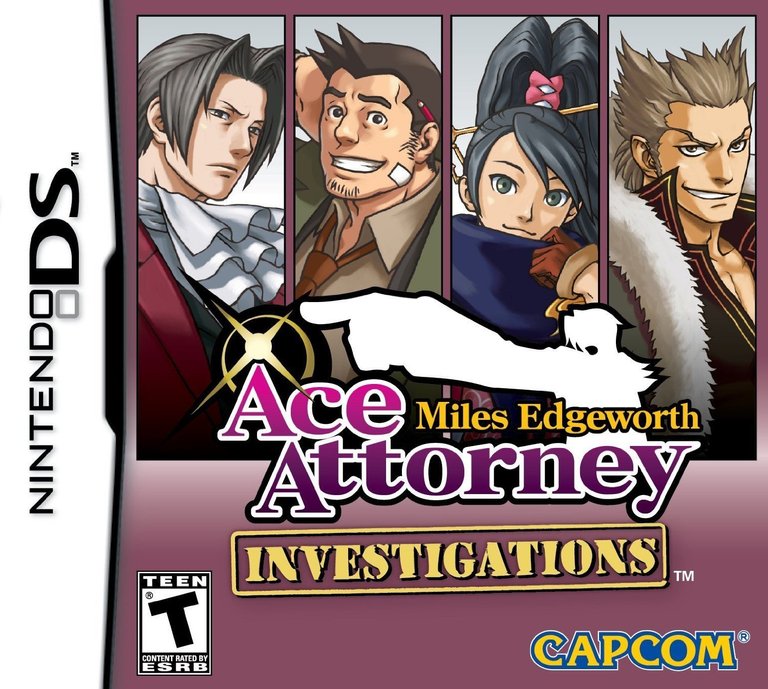 Good morning, afternoon or evening, friends of Hive Gaming! Many of you may not know this, but I'm a big fan of the conversational adventure saga - visual novels about advocacy and research from Capcom, Ace Attorney. When this title was being announced I was very excited, because the main character of this game was going to be one of my favorite characters, the antagonist of the first three games became the main character. Controlling the prosecutor is what I was most excited about and many fans too, this was fulfilled with the release of Ace Attorney Investigations: Miles Edgeworth on May 28, 2009. It is available for Nintendo DS, with a remastering for Android and iOS.
¡Buenos días, tardes o noches, amigos de Hive Gaming! Quizás muchos no lo sepan pero soy un gran aficionado a la saga de aventuras conversacionales/novelas visuales de abogacía e investigaciones de Capcom, Ace Attorney. Cuando este título se estaba anunciando me encontraba muy emocionado, porque el protagonista de esta entrega iba a ser uno de mis personajes favoritos, el antagonista de los tres primeros juegos pasaba a ser el protagonista. Controlar al fiscal es lo que más ilusión me hacía y a muchos fans también, esto se cumplió con la salida de Ace Attorney Investigations: Miles Edgeworth el 28 de mayo del 2009. Encontrándose disponible para Nintendo DS, contando también con una remasterización para Android e iOS.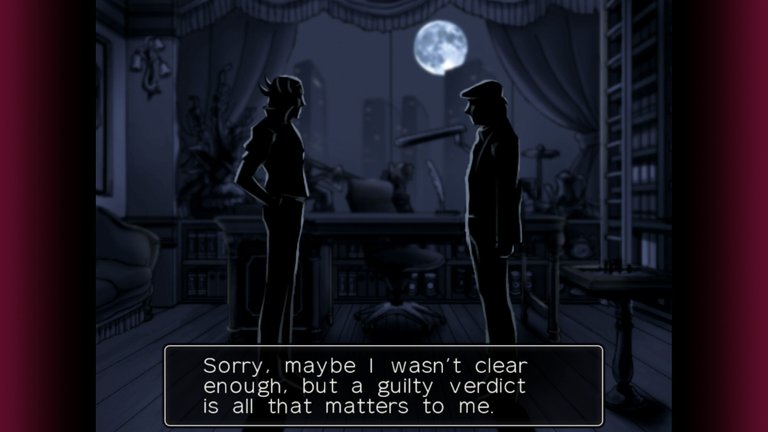 During our adventure we will be the well known prosecutor Miles Edgeworth, who when arriving from a business trip to his office will find that in his absence a murder has occurred in his office. He will be in a position to be accused of being the murderer, in the face of such a situation he will have to prove his innocence. In itself, this would be the basic plot of the first case, which would introduce us to the narrative of the game. Each case will be different and with no apparent connection, until we reach the end, thus counting on a total of 5 cases causing the adventure to be episodic, while we are playing we will see many familiar faces and for those who are new, we strongly recommend playing the previous games for greater enjoyment as we will have several winks to them.
Durante nuestra aventura controlaremos al conocido fiscal Miles Edgeworth, quien al llegar de un viaje de negocios a su despacho se encontrará conque en su ausencia ha ocurrido un asesinato en su oficina. Se verá en la condición de ser acusado de ser el asesino, ante tal situación tendrá que demostrar su inocencia. En sí, esa sería la trama básica del primer caso, lo que nos introducirá en la narrativa del juego. Cada caso será diferente y sin aparente conexión, hasta que lleguemos al final, contando así con un total de 5 casos provocando que la aventura sea de forma episódica, mientras estemos jugando veremos muchas caras conocidas y para los que sean nuevos, se les recomienda encarecidamente jugar los anteriores juegos para mayor disfrute ya que tendremos varios guiños a los mismos.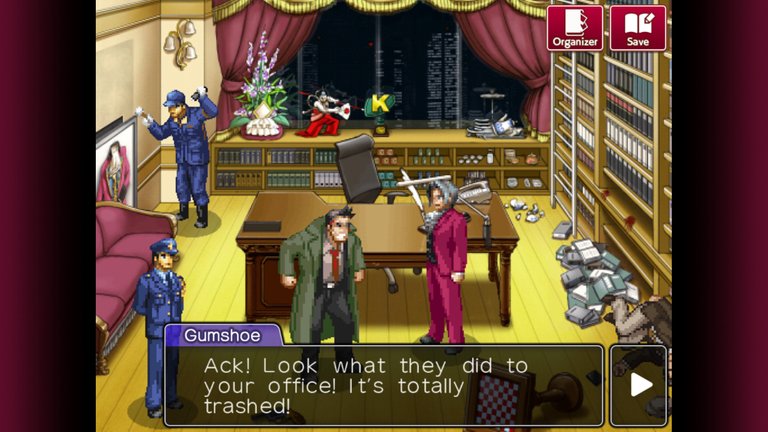 For the creation of this title they focused on giving it a touch of fresh air, improving the research system totally, causing that for the first time in the whole saga we can handle our character in third person; in exchange for this new system the existence of the trials is eliminated. Also a new function called Logic is added, where we will have to tie ends according to the ideas that the character has to arrive to as its name says it, to a logical conclusion. Unlike in the other games, here all the action will take place in a single stage, we will not be moving in different locations as we were used to. Everything happens in one location and is resolved right there, as we move forward in the investigation. As there are no trials, everything will be a straightforward process, investigating, having a confrontation, continuing to investigate, using logic, until the case is solved.
Para la creación de este título se enfocaron en darle un toque de aire fresco, mejorando el sistema de investigación totalmente, causando que por primera vez en toda la saga podamos manejar a nuestro personaje en tercera persona; a cambio de este nuevo sistema se elimina la existencia de los juicios. También se añade una función nueva llamada Lógica, donde tendremos que atar cabos según las ideas que tenga el personaje para llegar a como su nombre lo dice, a una conclusión lógica. En contrario que en los otros juegos, acá toda la acción pasará en un solo escenario, no nos iremos moviéndonos en diferentes localizaciones como se nos tenía acostumbrados. Todo ocurre en una sola localidad y se resuelve allí mismo, según avancemos en la investigación. Al no haber juicios todo será de corrido, investigar, tener una confrontación, seguir investigando, usar la lógica, hasta llegar a la resolución del caso.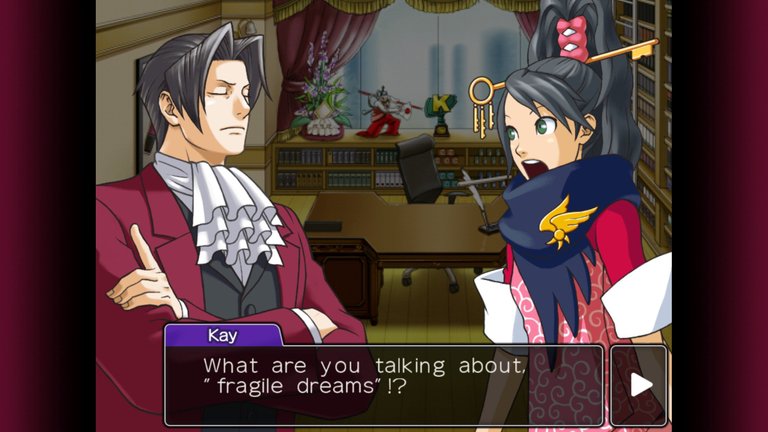 The other mechanics of the previous installments are maintained, such as the Trial Record, which is now called the Organizer, where we will keep the evidence we collect and the profiles of the new people we meet. When we have a confrontation we will proceed to interrogation and find contradictions, during the interrogation we will be able to exert pressure to obtain more information about what we are being told. When we find a contradiction we can protest, presenting the evidence that proves the contradiction, if you make a mistake in presenting the evidence you will be penalized by taking a percentage of your life bar in the process, if you lose your life you will lose the case. If you present the correct evidence, the questioning will continue until your counterpart is unable to defend his or her arguments.
Las demás mecánicas de las anteriores entregas se mantienen, como el Acta de Juicio, que ahora pasa a llamarse Organizador, donde se guardarán las pruebas que vayamos recolectando y los perfiles de las nuevas personas que vayamos conociendo. Cuando tengamos una confrontación procederemos a interrogar y encontrar contradicciones, durante el interrogatorio podremos ejercer presión para obtener más información sobre lo que se nos está contando. Cuando encontremos una contradicción podremos protestar, presentando las pruebas que demuestren dicha contradicción, si te llegaras a equivocar en presentar una prueba se te penalizará quitándote en el proceso un porcentaje a tu barra de vida, si te quedas sin vida, perderás el caso. Si llegas a presentar la prueba correcta, el interrogatorio proseguirá hasta que tu contraparte no pueda defender sus argumentos.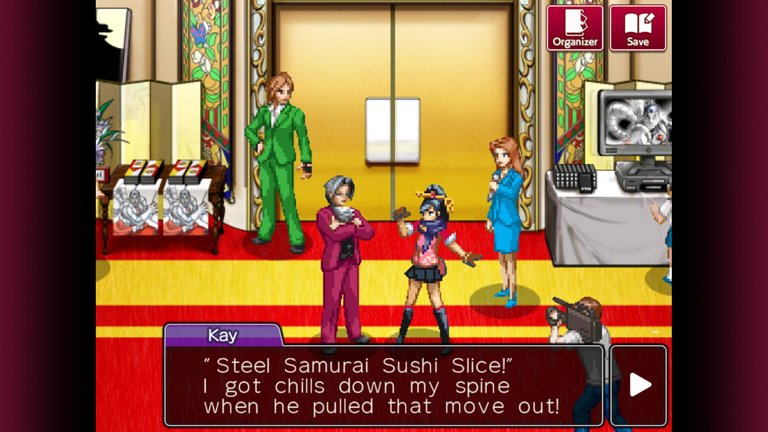 The graphics section obviously includes new things, such as the third-person sprites of the characters that we will now be able to see during our play time in the investigations, each one carefully designed based on the personality of the characters, for example Miles Edgeworth when he runs does it in a very elegant and well cared for way. As for the other sprites, which are in the foreground, the ones we see during the conversations will be of much lower quality than the ones we can find in Apollo Justice, seeming to be a bit pixelated and with the same palette as in the first titles. As for the soundtrack, it's quite good, the songs we find are a mix of those we've heard before, but that doesn't take away from the fact that they are well worked, overcoming the first soundtracks is something almost unlikely to happen. One point of criticism is that perhaps they were able to add more voices to the characters, which they did not do.
El apartado gráfico incluye obviamente cosas nuevas, como los sprites en tercera persona de los personajes que ahora podremos ver durante nuestro tiempo de juego en las investigaciones, cada uno de ellos diseñados con esmero basándose en la personalidad de los personajes, por ejemplo Miles Edgeworth cuando corre lo hace de una manera muy elegante y bien cuidada. En cuanto los demás sprites, que son en primer plano, los que vemos durante las conversaciones serán de mucho menor calidad que los que podemos encontrar en Apollo Justice, pareciendo estar un poco pixelados y con la misma paleta que en los primeros títulos. En cuanto a la banda sonora, es bastante resultona, los temas que encontramos son una mezcla de los que ya hemos escuchado antes, pero eso no le quita el hecho de estar bien trabajados, superar las primeras bandas sonoras es algo casi improbable que pase. Un punto criticable es que tal vez pudieron añadir más voces a los personajes, cosa que no hicieron.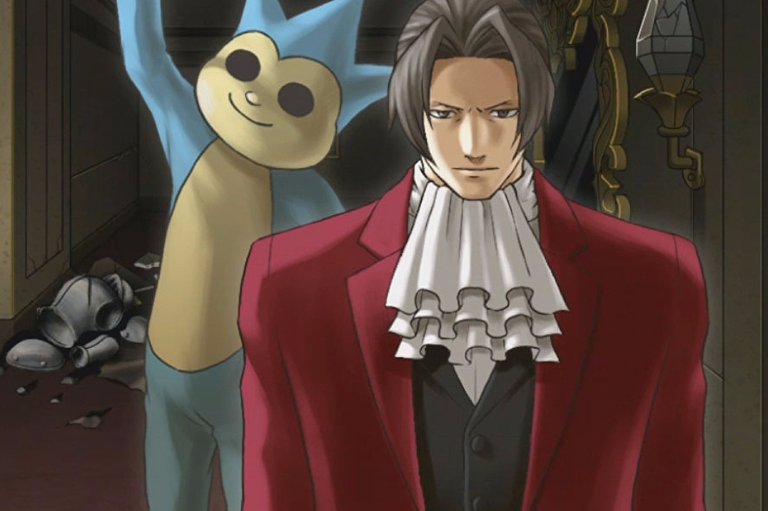 Ace Attorney Investigations: Miles Edgeworth, does enough to give a good touch of fresh air to the saga, coming to be considered in his time the best of it. The fact that Edgeworth has been chosen as the main character was a wise choice, pleasing the most ardent fans. In the adventure, the characteristic humour of the previous installments will be maintained at all times, which is found mostly in the dialogues, provoking comic situations of great calibre. The characters that we meet during the story will bring us very good memories and will be of our total pleasure if you already know them beforehand. Perhaps the trials are a little missed, being that there were events that caused us a 180 degree turn in the plot, having us later to rethink the whole case. The soundtrack and the graphics are quite well done, with total care complying too much with their main function, which is to show us a quality audiovisual content. Anyway, are you a Phoenix Wright fan? You have to play this game, aren't you? Play it anyway, you won't regret it.
Ace Attorney Investigations: Miles Edgeworth, hace lo suficiente para darle un buen toque de aire fresco a la saga, llegándose a considerar en su tiempo el mejor de ella. El hecho de que se haya escogido a Edgeworth como protagonista fue una sabia elección, complaciendo a los más acérrimos fanes. En la aventura, en todo momento se mantendrá aquél humor característico de las anteriores entregas, que se encuentra mayormente en los diálogos, provocando situaciones cómicas de gran calibre. Los personajes que nos encontremos durante la historia nos traerán muy buenos recuerdos y serán de nuestro agrado total si ya los conoces de antemano. Quizás se hecha un poco de menos los juicios, siendo que allí ocurrían eventos que nos causaban un giro de 180 grados en la trama, teniéndonos después que replantearnos todo el caso. La banda sonora y los gráficos están bastante bien hechos, con total cuidado cumpliendo en demasía con su función principal, que es mostrarnos un contenido audiovisual de calidad. En fin, ¿eres fan de Phoenix Wright? Tienes que jugar este juego. ¿No lo eres? Juégalo igual, no te arrepentirás.
---
Credits to TouchArcade for the game screenshots.