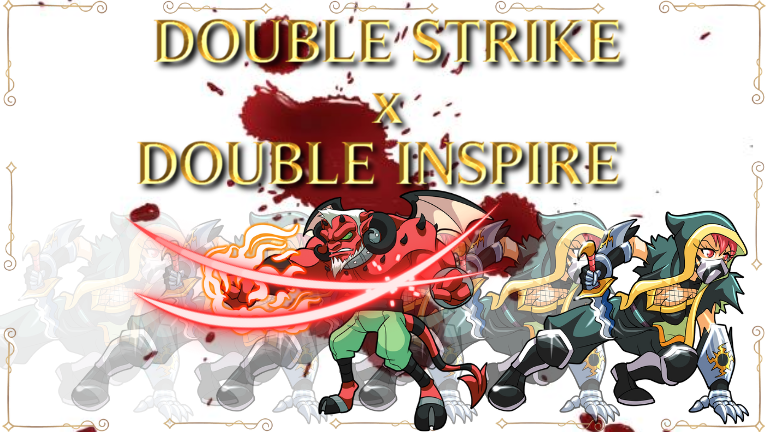 Em Splinterlands existem cartas que causam muito dano utilizando a habilidade Double Strike

para atacar duas vezes, isso pode ser combinado com outras habilidades para atingir resultados ainda melhores.
A principal habilidade que em combinação com a Double Strike

gera os melhores resultados é a Inspire

pois o aumento de +1 de dano

é duplamente efetivo, tornando estes monstros verdadeiras máquinas de matar. Mas o que acontece quando você combina o Double Strike

com o Double Inspire

?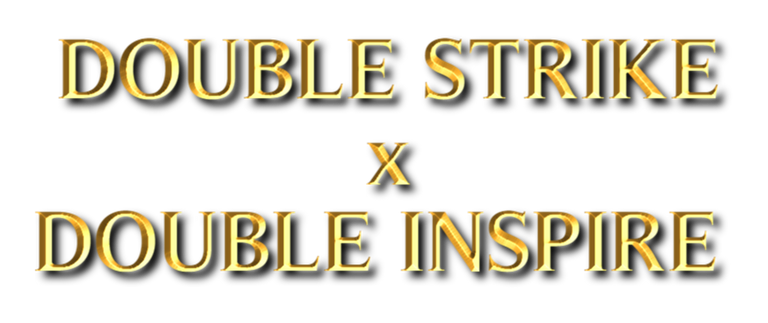 Para montar esse time você precisará mesclar seu time entre as cartas ofensivas que causarão dano massivo e as cartas de suporte que fornecerão os buffs e servirão de escudo para que as outras possam causar seu dano livremente. Este foi o resultado do time que eu montei: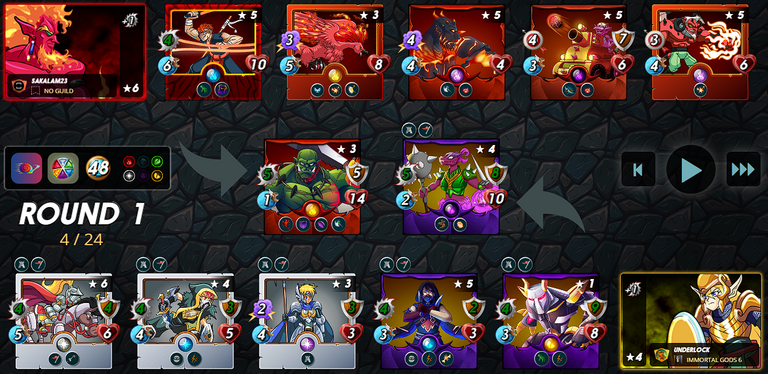 Com o invocador e o Silvershield Knight provendo o efeito duplo de Inspire

eu coloquei o Knight na última posição pois quis manter meus assassinos vivos o máximo de tempo possível.
Com uma linha de frente robusta minha segunda carta também possuía grandes capacidades de tankar dano e ainda fazia ótimo uso dos buffs por possuir o combo de Reach

e Double Strike

, podendo atacar duas vezes da segunda posição.
Protegidos nas posições do meio estão os temidos Silvershield Assassin e o Dhampir Infiltrator, ambos causando incríveis 8 de dano por rodada com seus ataques.
Para garantir a sobrevivência absoluta do time foi escolhido o Defender of Truth por causa da habilidade Protect

que distribui +2 de armadura

para toda a equipe.
O resultado dessa estratégia foi ótimo pois para o oponente seria quase impossível aguentar tanto dano que estava sendo causado pelo meu time. Somando tudo em uma única rodada minhas cartas eram capazes de causar 31 de dano! (sem contar com o Thorns

e o Enrage

da Djinn Chwala)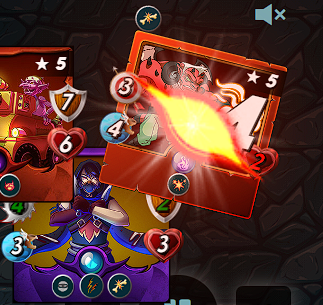 Essa combinação de habilidade é muito boa e pode funcionar perfeitamente em diversas partidas que beneficiem atacantes físicos. Caso você nunca tenha utilizado sugiro que experimente para ver o que é força de verdade!
Muito obrigado a todos que leram até aqui, espero que tenham gostado. Se vocês curtirem meus conteúdos, peço que deixem o seu voto na postagem e sigam o meu perfil para poderem acompanhar as futuras postagens.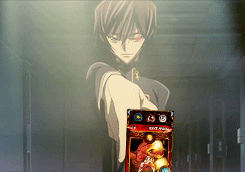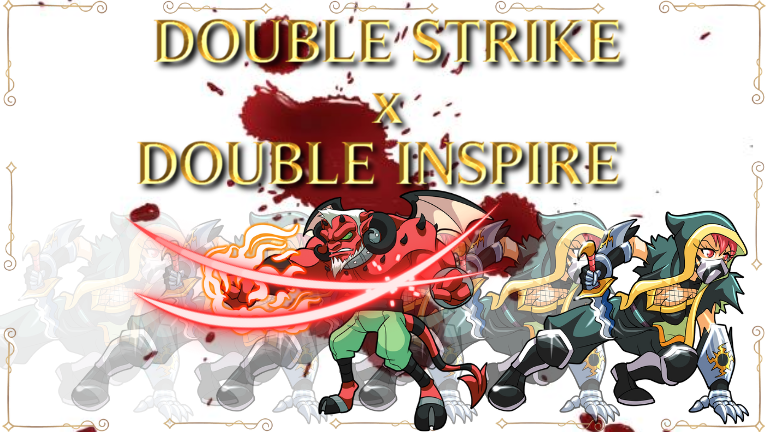 In Splinterlands there are cards that do a lot of damage using the Double Strike

ability to attack twice, this can be combined with other ability to achieve even better results.
The main ability that in combination with Double Strike

generates the best results is Inspire

as the +1 damage boost

is doubly effective, making these monsters true killing machines. But what happens when you combine Double Strike

with Double Inspire

?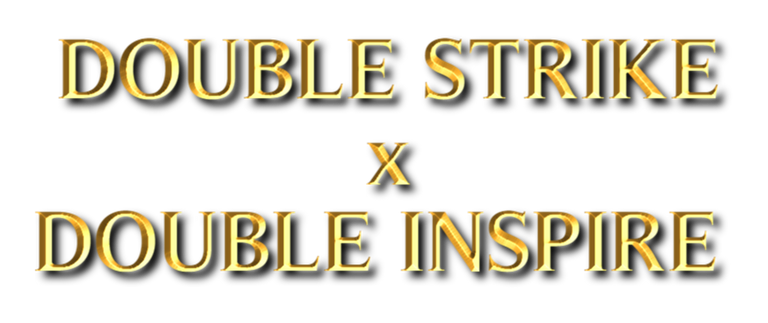 To assemble this team you will need to mix your team between the offensive cards that will deal massive damage and the support cards that will provide the buffs and serve as a shield so that the others can deal their damage freely. This was the result of the team I assembled: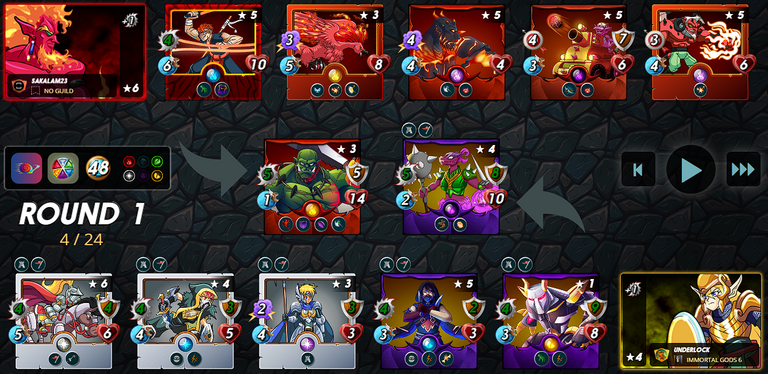 With the summoner and the Silvershield Knight providing the dual effect of Inspire

I put the Knight in the last position because I wanted to keep it my assassins alive as long as possible.
With a strong front line my second card also had great damage tanking capabilities and still made great use of the buffs for having the Reach

and Double Strike

combo, being able to attack twice from second position.
Protected in the middle positions are the dreaded Silvershield Assassin and Dhampir Infiltrator, both dealing an incredible 8 damage per round with their attacks.
To ensure the absolute survival of the team, the Defender of Truth was chosen because of the Protect

ability that distributes + 2 Armor

for the entire team.
The result of this strategy was great because for the opponent it would be almost impossible to withstand so much damage that was being caused by my team. Adding it all up in a single round my cards were capable of doing 31 damage! (not counting Thorns

and the Enrage

by Djinn Chwala)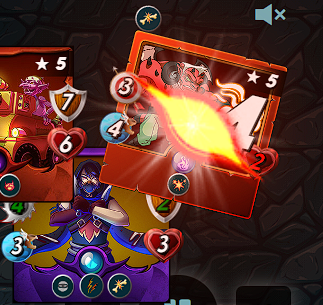 This abilities combination is very good and can work perfectly in many matches that benefit physical attackers. If you've never used it, I suggest you try it to see what real strength is!
Thank you so much to everyone who read this far, I hope you enjoyed it. If you like my content, I ask you to send your vote on the post and follow my profile so you can read future posts.