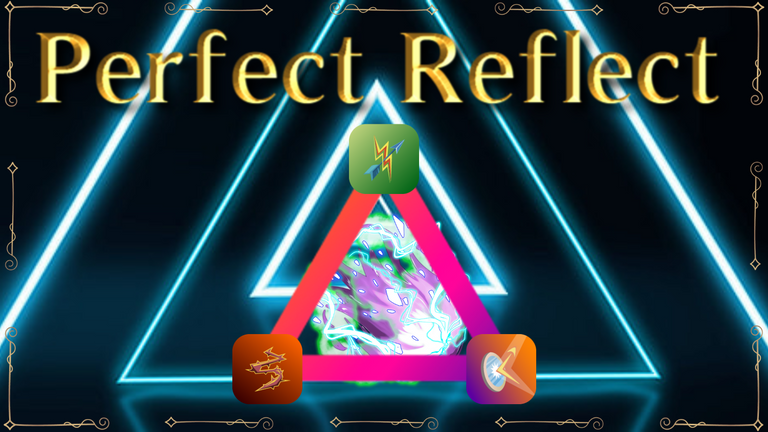 Já fiz uma postagem falando sobre as novas regras de combate do Splinterlands e os motivos para eu ter gostado tanto delas. Essa nova dinâmica que elas adicionam são muito divertidas e permitem que partidas como a que irei compartilhar hoje com vocês aconteçam de vez em quando.
Counterar o time inimigo é a melhor forma de vencer uma partida e as regras de reflect favorecem bastante na hora de montarmos uma estratégia com esse objetivo, mas fica ainda mais fácil quando você consegue criar o reflect perfeito né?


Para ganhar o título de Reflect perfeito é fácil, basta ter as habilidades Magic Reflect

, Return Fire

e Thorns

na mesma carta. Ok, eu retiro o que eu disse sobre ser fácil, afinal somente o Cornealus possui essas três habilidades juntas e para isso ele precisa estar no level máximo!
Mas o que era quase impossível antes se tornou alcançavel graças às novas regras de combate que distribuem essas habilidades para todas as cartas da partida, então com um pouco de ajuda você poderá alcançar a perfeição.

No caso dessa partida as coisas ficaram ainda mais fáceis pois duas das regras de reflect estavam presentes. Sabendo disso já havia uma garantia:

Arqueiros e Melees sofreriam dano independente de qualquer habilidade que os faça atacar alvos diferentes.
Sabendo disso eu resolvi montar minha composição focando em me proteger dos ataques e principalmente contra o único tipo de dano mais viável: o Dano Mágico

. Para isso escolhi o Prismatic Energy para poder aguentar bastante dano e completar a triade do reflect com seu Magic Reflect

.
As outras unidades tiveram como foco debuffar o inimigo de todas as formas possíveis para minimizar seu potencial ofensivo e fazê-lo sofrer mais dano do que era capaz de causar com suas cartas. Para isso optei pelo Fallen Specter com as habilidades de Demoralize

e Headwinds

e completei escolhendo duas cartas com Silence

e também o invocador Thaddius Brood, ou seja, cartas de Dano Mágico

foram TOTALMENTE SUPRIMIDAS e as outras com sua força reduzida, e assim ficou o campo de batalha: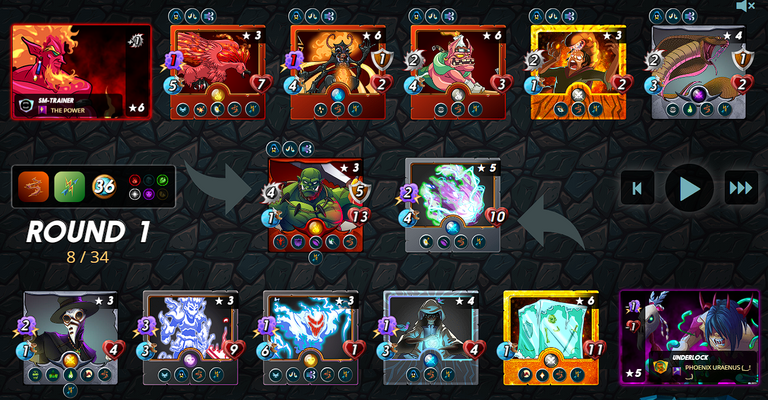 Admito que dei muita sorte pois apesar do oponente ter escolhido o Grum Flameblade que é um ótimo tank contra dano mágico, o fato dele não possuir Magic Reflect

foi o que permitiu que minhas cartas pudessem permanecer vivas aplicando seus debuffs. Viu só como o reflect perfeito realmente faz a diferença?
Após inúmeros ataques na primeira rodada minhas cartas foram pouco feridas, mas o Specter acabou sendo eliminado mas conseguiu derrubar seu atacante por causa do Thorns

.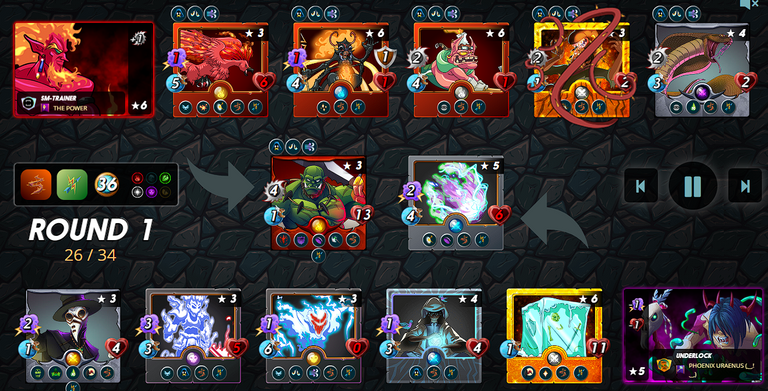 Podemos ver que a vida das cartas inimigas já estava bem mitigada (ignorando o tank). Os três monstros da linha de trás estavam com 1/2 de vida, então assim que atacarem eles já serão eliminados pelo reflect. Sendo assim basta que minhas unidades foquem todo o seu ataque no tank inimigo e foi exatamente isso que eu planejei para minha estratégia. O Doctor Blight é ótimo nisso pela possibilidade de aplicar Poison

pois mesmo caso o oponente consiga tankar todos os meus ataques mágicos ainda seria possível eliminá-lo com esse efeito.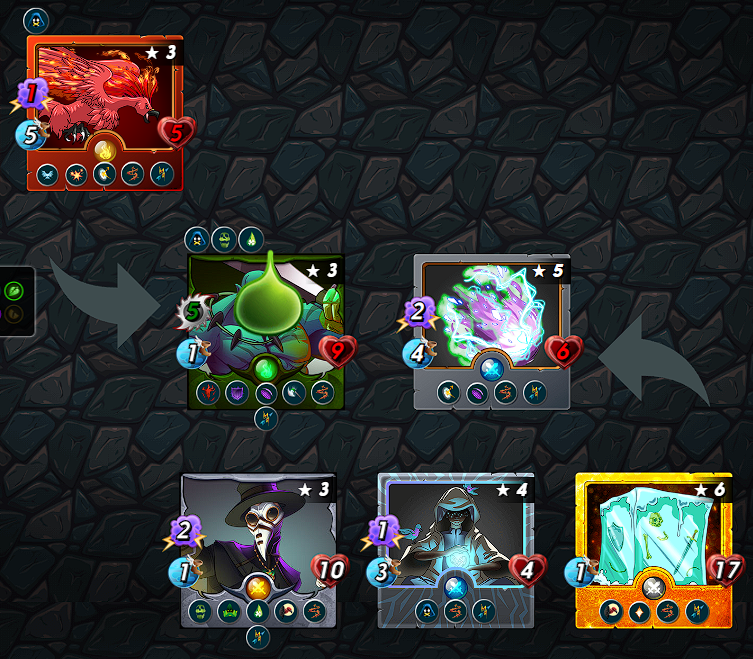 Neste momento já era impossível para o oponente vencer a partida, afinal a Gelatinous Cube já seria suficiente para curar todo o dano recebido. A cada ataque os reflects foram ferindo os dois sobreviventes e eventualmente eles foram eliminados sem dificuldade.


Ao analisar a partida podemos perceber que uma composição mais defensiva focada em debuffs e em completar a triade dos reflects com a habilidade Magic Reflect

foi muito efetiva, entretanto é bom refletirmos que caso o oponente tivesse optado por uma estratégia semelhante e o seu tank também possuísse o reflect perfeito as minhas cartas rapidamente se matariam.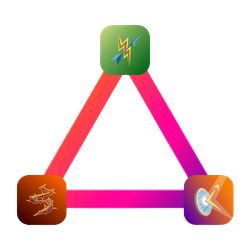 Restaria saber se o Doctor Blight e a Gelatinous Cube conseguiriam trabalhar juntas para vencer os inimigos através do Heal

e do Poison

. Eu sou muito fã destas duas cartas juntas pois elas possuem muita sinergia e se completam muito bem, fica ai a recomendação!
Muito obrigado a todos que leram até aqui, espero que tenham gostado. Se vocês curtirem meus conteúdos, peço que deixem o seu voto na postagem e sigam o meu perfil para poderem acompanhar as futuras postagens.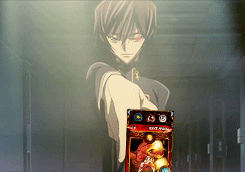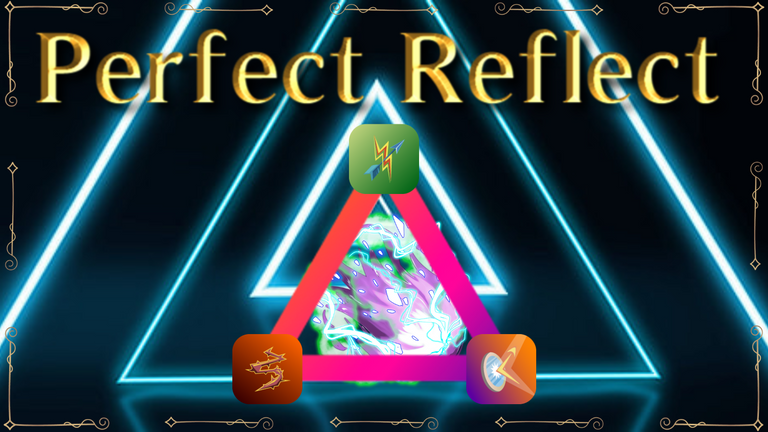 I already made a post talking about the new combat rules of Splinterlands and the reasons why I liked them so much. This new dynamic they add is a lot of fun and allows games like the one I'm going to share with you today to happen from time to time.
Countering the enemy team is the best way to win a match and the rules of reflection are very helpful when it comes to setting up a strategy for that purpose, but it gets even easier when you manage to create the perfect reflect, right?


Earning the title of Perfect Reflect is easy, just have the skills Magic Reflect

, Return Fire

and Thorns

on the same card. Ok, I take back what I said about being easy, after all only Cornealus has these three abilities together and for that he needs to be at the maximum level!
But what was almost impossible before has become achievable thanks to the new combat rules that distribute these abilities to all cards in the game, so with a little help you can reach perfection.

In the case of this game things got even easier as two of the rules of reflect were present. Knowing this there was already a guarantee:

Archers and Melees would take damage regardless of any abilities that make them attack different targets.
Knowing this, I decided to build my composition focusing on protecting myself from attacks and mainly against the only more viable type of damage: Magic Damage

. For that I chose Prismatic Energy to be able to take a lot of damage and complete the reflect triad with its Magic Reflect

.
The other units focused on debuffing the enemy in every possible way to minimize their offensive potential and make them suffer more damage than they were able to deal with their cards. For that I opted for Fallen Specter with the abilities of Demoralize

and Headwinds

and completed it by choosing two cards with Silence

and also the summoner Thaddius Brood to FULLY SUPPRESS Magic Damage cards

and reduce other offensive cards, the battlefield looked like: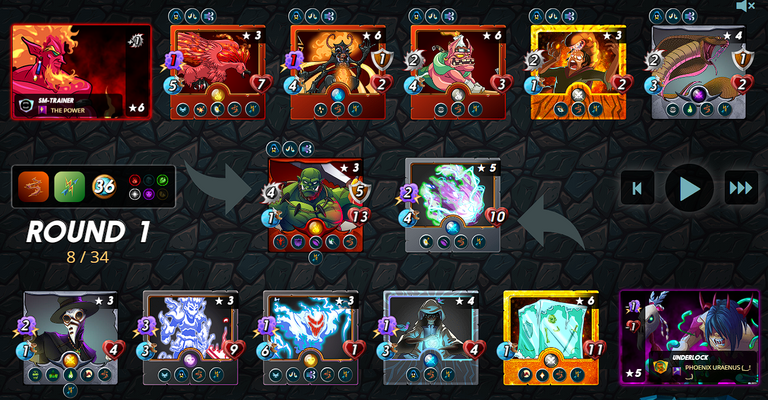 I admit that I was very lucky because despite the opponent having chosen Grum Flameblade which is a great tank against magic damage, the fact that he does not have Magic Reflect

is what allowed my cards to stay alive by applying their debuffs. Did you see how the perfect reflect really makes a difference?
After numerous attacks in the first round my cards were barely damaged, but Specter ended up being eliminated but managed to take down his attacker because of Thorns

.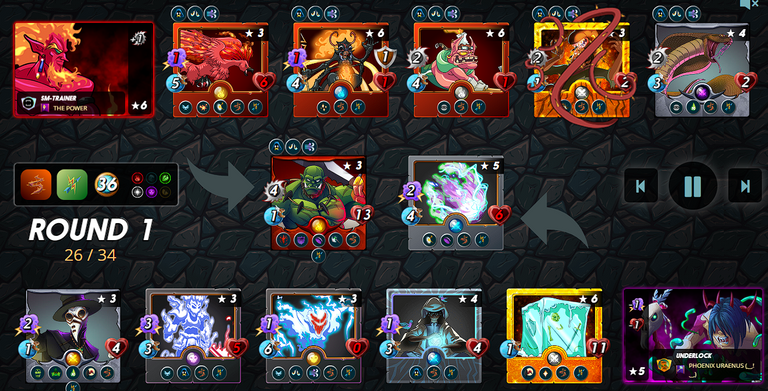 We can see that the life of the enemy cards was already well mitigated (ignoring the tank). The three monsters in the back row had 1/2 life, so as soon as they attack they will already be eliminated by the reflect. So it's enough for my units to focus all their attack on the enemy tank and that's exactly what I planned for my strategy. Doctor Blight is great at this because of the possibility of applying Poison

because even if the opponent manages to tank all my magic attacks it would still be possible to eliminate him with that effect.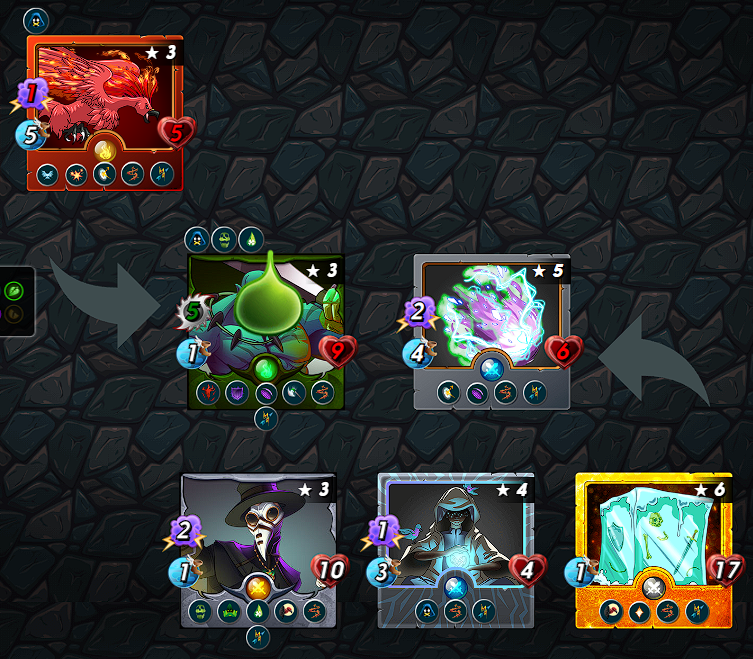 At this point it was already impossible for the opponent to win the match, after all the Gelatinous Cube would already be enough to heal all the damage received. With each attack the reflects were hurting the two survivors and eventually they were eliminated without difficulty.


When analyzing the match, we can see that a more defensive composition focused on debuffs and on completing the reflect triad with the Magic Reflect

ability was very effective, however it is good to reflect that if the opponent had opted for a similar strategy and his tank also had the perfect reflect my cards would quickly kill each other.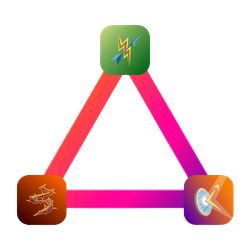 It remains to be seen if Doctor Blight and Gelatinous Cube can work together to defeat enemies through Heal

and Poison

. I'm a big fan of these two cards together because they have a lot of synergy and complement each other very well, here's the recommendation!
Thank you so much to everyone who read this far, I hope you enjoyed it. If you like my content, I ask you to send your vote on the post and follow my profile so you can read future posts.