If you are just joining me I am in the middle of a quest to try out every single PS-Plus Extra game for at least one hour and then write how I feel about the game based solely on that one hour. I think that the first hour of gameplay is absolutely crucial in determining if someone it going to like a game or not, and unfortunately so many companies actually execute this very important hour incorrectly.
This time we have a game that I have never heard of but apparently it must have been popular enough to warrant a sequel.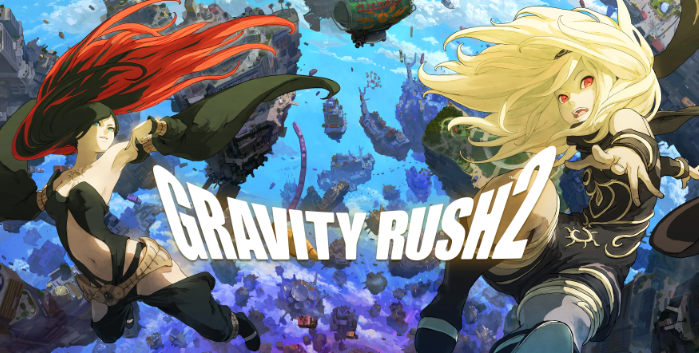 src
This game initially rubbed me the wrong way because we are greeting with a rather long and unskippable cinematic sequence at the start where they introduce the names of the major people involved in making the game.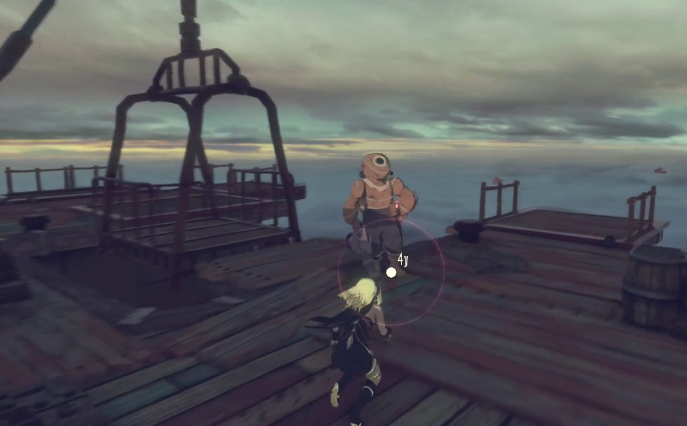 src
Once this rather long section of the game is over you get control and then you are introduced to the controls of the game in an actually really efficient way. Even though the area around you is collapsing, you can't actually die so there's nothing wrong with that.
You play the role of Kat, who at first is just a normal miner but then something happens and her ability to control gravity is revealed. What this means for you as the player is that you can now bound to other parts of whatever map you happen to be on rather quickly. This is a very welcome addition to your powers seeing as how up to that point you were wandering on half a dozen fetch quests to find this person or that and this aspect of all games is something I find annoying.
So up to this point we were not off to a great start because I hate cinematics that cannot be skipped and I REALLY hate fetch-quests that serve no purpose other than to give the player busywork.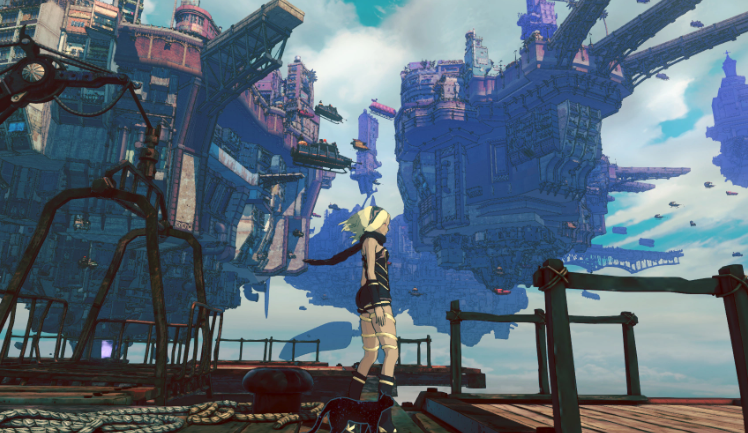 src
The art style in this game is pretty fantastic especially if you are a fan of any sort of anime or manga. I do like how the story interludes that occur every now and then are presented in a comic-book-style production and thankfully, you can speed this along as fast as you want to, or just skip it all if you don't really care about the story.
There is no spoken English dialogue in this game at all and I can't say I am disappointed about that. Some Japanese studios are better off with just getting a good translation rather than hiring voice actors that are just going to screw it up anyway. src
I'm a big fan of the comic-book story layout
After playing for one hour I was impressed with the graphics and how the game operates. I was actually a bit surprised that the PS4 is able to process the graphics as well as it did because you are really zooming around a lot and there is plenty going on around you. I never experienced a slowdown.
I was a little perturbed by the controls because when you are in a battle flying through space, it can be really annoying trying to figure out where the hell the enemies actually are. In FPS games you can do this by simple turning all around but in something where all directions are available to you at all times, this can mean finding your objective can be more annoying than interesting. I also didn't like how the controls use the internal "gyro" function of the PS4 controller. Perhaps you can turn this off in settings but for me, I found it to be something that would simply screw my game up if I tried to use it and I don't like having to keep my controller perfectly still just to be able to navigate around.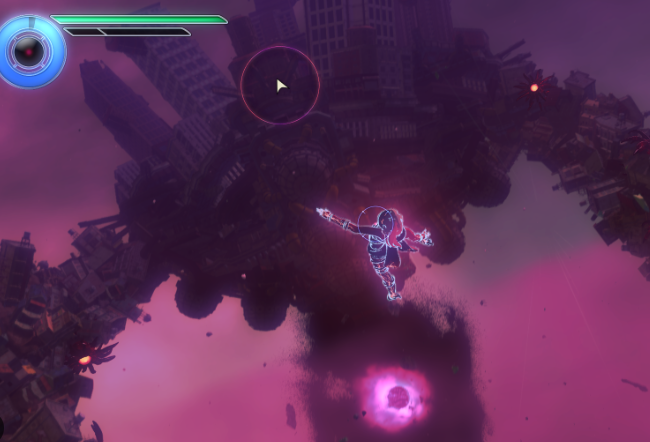 src
Combat is reasonably simplistic thanks to an excellent auto lock-on mechanism that sends you flying towards the enemies weak points. Sometimes I was just hitting the square button mid-air without even checking what it was going to send me flying towards.
While I wasn't hugely impressed with this game in the one hour that I spent playing it I honestly believe that is because they spent so much time with the intro bits that you have no choice but to watch. I think that this game should (and will by me) be given more attention than a single hour.
I think that this is probably one of the more unique games available on PS-Plus Extra, and it is worth checking out for sure, especially for people that are a fan of this art style.
Recommended
---
Games I have already tried in my journey to play at least 1-hour of every PS-Plus Extra game
Gravity Rush 2 (action adventure game with fast movement in every direction. It has RPG elements and a pretty decent story. Make it past the first hour and the game really opens up. Recommended)
All other games I have already reviewed (there are a lot of them)