There are a lot of game franchises out there that are big but for some reason or another I have never played any of them. the Oddworld series of games is one of those. While many of them have achieved critical acclaim and even appear to be something that I would enjoy, I just never got around to them. I don't know why that is but I approached this game with a bit more enthusiasm than others because it appeared to have classic elements of platforming and was also 2D enhanced, which is something that I generally tend to enjoy.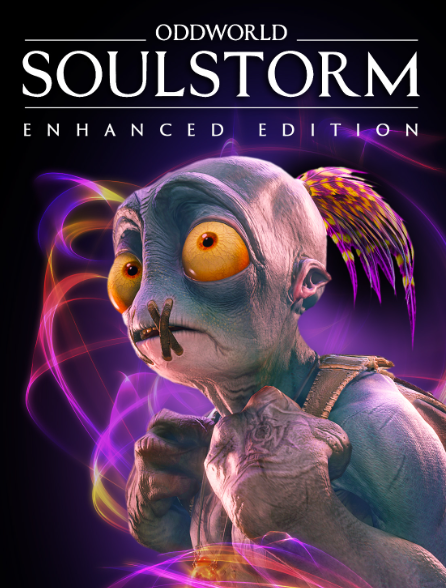 src
Keeping in mind that my criteria for judging all the games I am playing at the moment is how well they impress and engage me "right out of the box" so to speak. I need the game to capture and maintain my attention for the first hour of gameplay. While Soulstorm is definitely impressive with its presentation right out of the gate, that doesn't change the fact that we are immediately presented with something that I absolutely loathe about any gaming experience: A relatively massive and un-skippable series of cinematics.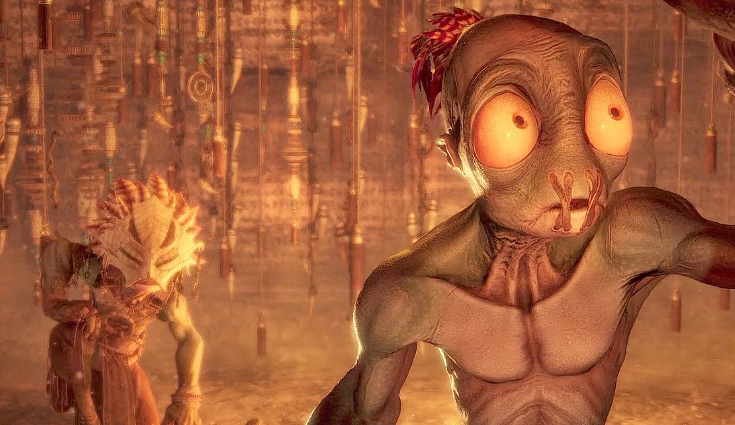 src
It plays like a very nicely-made animated film... something that Pixar would be proud of.... but this doesn't change the fact that I have at this point played exactly zero of the game and I'm already being forced to sit through something like 15 minutes of backstory before I am ever even given control. The fact that it cannot be skipped is something that irritated the hell out of me.
When you do finally get to play the way in which they introduce the controls is simple and intuitive. They get a lot of points for doing this the way that they did.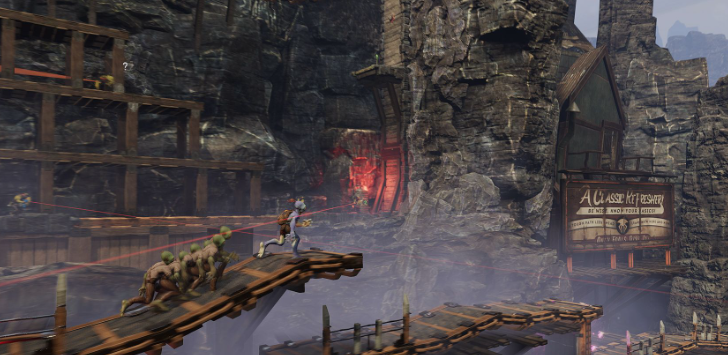 src
The controls are simple and it functions like you would expect a side-to-side platformer to function. The various jumps and what not become progressively more difficult. There are plenty of checkpoints so if you do miss a jump it isn't like you are going to have to go back a great deal. This part was fun to me and the sound and graphics are really quite fantastic. The sense of urgency is maintained by the fact that the longer you take to complete a level, the more of your companions that are going to be executed. I never tried it out but I would imagine there is a certain point that you can reach where everyone dies.
I thought this was going to be a game that I was really going to enjoy but unfortunately this sensation left me after playing for around 2 hours.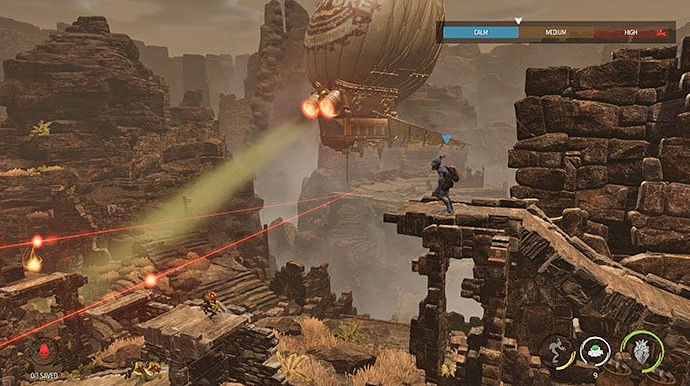 src
I'm not saying that this is necessarily a fault but to me that various sections got harder not in a way that you needed to be better at button combinations but in a sense that you needed to have your timing just right and follow a certain path and honestly, this becomes more tedious than fun after a little while. I became most aware of it during a sequence where you have to avoid snipers while also being under the constant threat of mortar fire. Stand in one place for too long and the mortars will get you, don't stand in one place for too long and the snipers will get you.
You also are forced to take over the bodies of other enemies in order to have them either commit suicide or kill their fellow soldiers but the only way you can do this is by standing still and making yourself very susceptible to mortar fire.
I was able to get past this and was very hopeful that the next level was going to mix it up but unfortunately it just ended up doing more of that.
Another thing that annoyed me about this game is the double-jump + grab the platform above you aspect of it. This exists in many games but there are many instances in this one where you can't really tell if you are below the platform above you or not based on camera angles. It appears as though they were aware of this because it will occasionally correct your positioning and allow you grasp the platform even though you actually were not under it.

src
Now this didn't happen all the time but it happened enough that I started to get really frustrated with it. Some of these sections are very unforgiving and you have a very small window of opportunity to sneak up behind a soldier while his back is turned. So when I waited for the turn, then double jumped only to not be able to grasp the same platform that I have already grasped many times before whilst standing in exactly the same place.... it gets a bit frustrating.
The game is interesting and the story is really compelling with some excellent voice-over work. Unfortunately the game just doesn't have enough variety to really stay all that interesting. You don't really have any chance to get powerups to make it easier either. I realize it isn't a metroid-vania game and I shouldn't have expected it to have those things.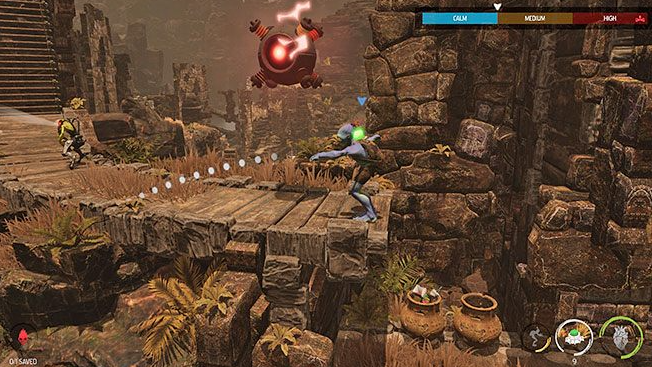 src
You'll find new items that give the game some level of variety such as these stun mines that will incapacitate the soldier in your path for a bit - but then they go and make you repeat this same process another 50 times and that simply isn't fun to me.
I can't really recommend this game because even though I tend to love platformers this one just feels a bit stiff and relies very heavily on puzzle solving rather than being quick or having a command of the buttons. Perhaps this would appeal to some people but it doesn't to me. That being said, I think there are some people out there that would enjoy this but probably not enough to really get into it or ever replay it. It's just "OK."
Lukewarmly recommended for a couple of hours... definitely wouldn't pay money for it
---
Games I have already tried in my journey to play at least 1-hour of every PS-Plus Extra game
Gravity Rush 2 (action adventure game with fast movement in every direction. It has RPG elements and a pretty decent story. Make it past the first hour and the game really opens up. Recommended)
Oddworld: Soulstorm (2D+ platformer with great graphics, sound, and voice-acting. Unfortunately it is plagued with a lot of repetition. Recommended for a few hours)
All other games I have already reviewed (there are a lot of them)