Hello, hivers and garden lovers!
It's been almost 2 months since my last garden post, I guess I'm way overdue for writing about my garden. This definitely falls into the category of "shit happens".
At this point, I've been done with the green bean harvest for several weeks, and I'm almost done with harvesting the tomatoes. The late season tomatoes have been stubborn about getting ripe, and some of them have been getting bad spots before they get close to ripe, which makes them unusable. Still, I haven't done too badly with my tomato harvest this year. I have 6-1/2 dozen pints of stewed tomatoes canned, and 3 quarts of tomato sauce. I think I've done ok in spite of slow ripening and rot spots.
I didn't take a lot of pictures of the garden in the past month, but I do have some to show you. These pictures are from a month ago, 8-25.
This was the tomatoes.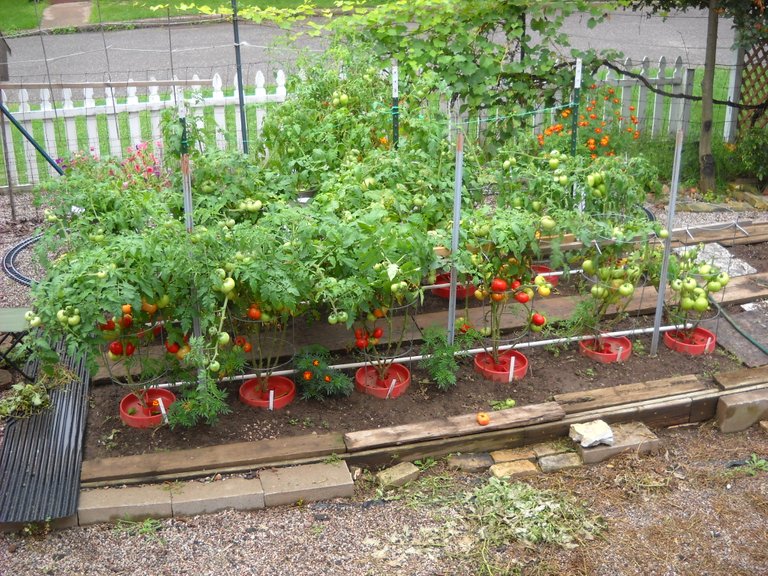 The greenhouse paste type tomatoes did pretty well this year, other than a bit of blossom end rot at the beginning. I solved that problem with a calcium/magnesium supplement when I fertilized the plants.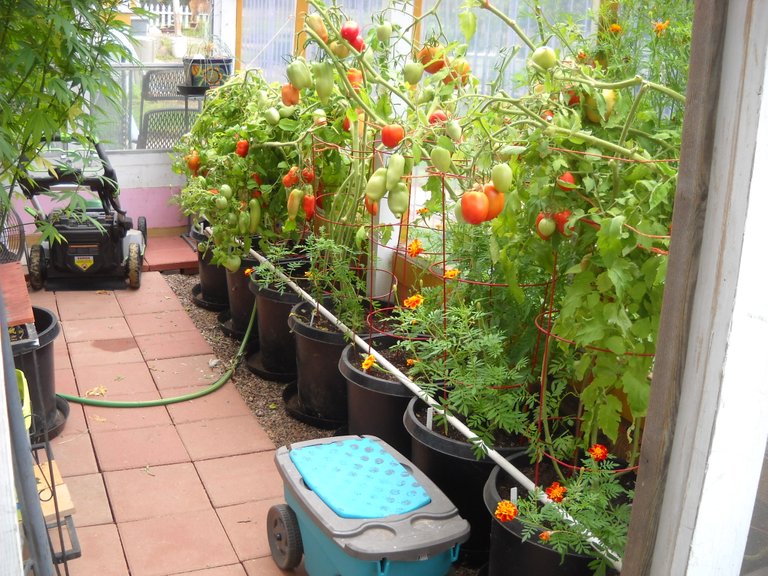 These are the green bean plants. I got a good harvest from these bush type plants.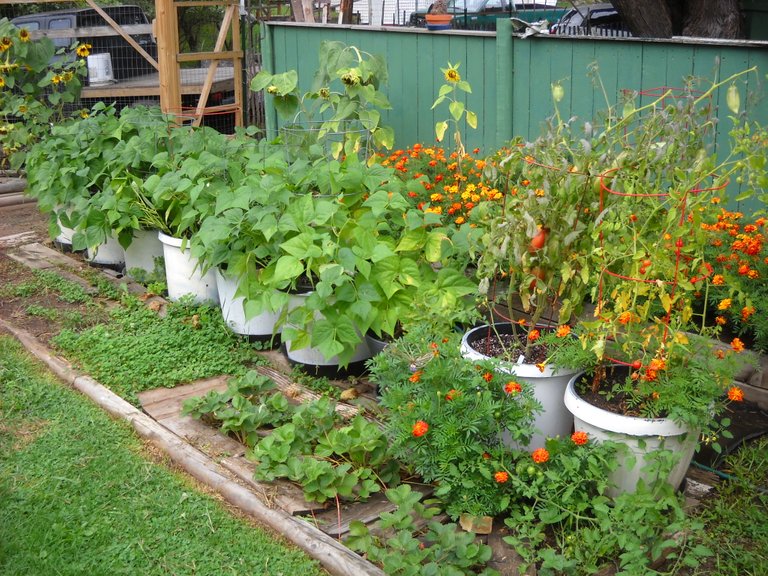 Here's my pole beans. These also did pretty well. I didn't plant too many pole beans, the trellis is about 10 feet long and probably about 7 feet high. I use garden twine in the trellis for the beans to climb on.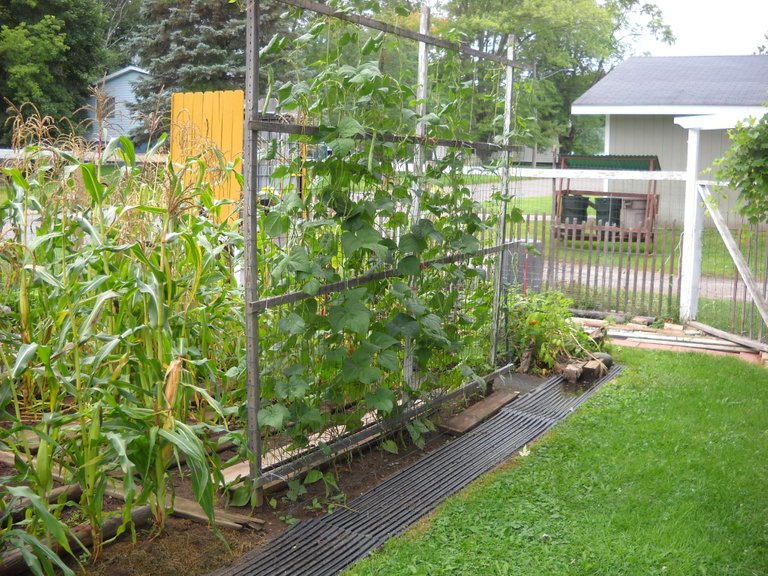 I also had some bush type green beans planted in my low raised bed. I got a good harvest from these plants also. With these bean plants, I sat on my rail car to pick the beans. It's pretty handy for that.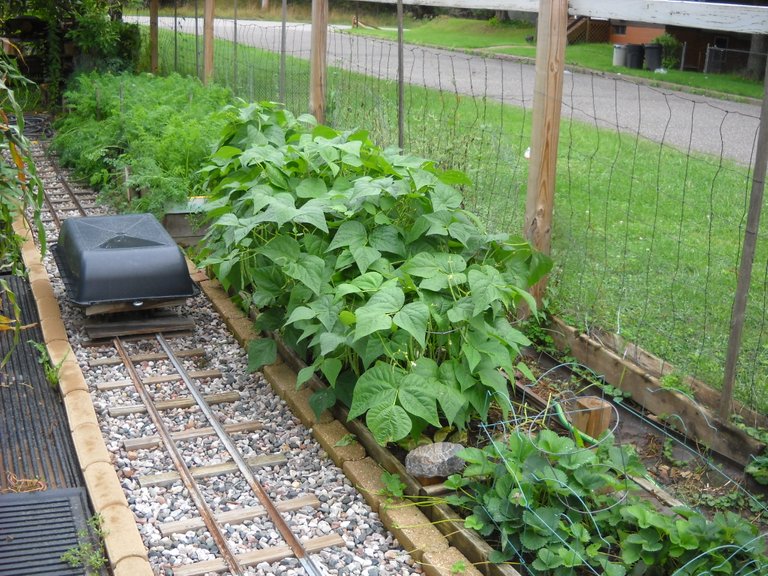 Here's the carrots. Once they got going, they did quite well. I thinned them out several times to give them more space to grow.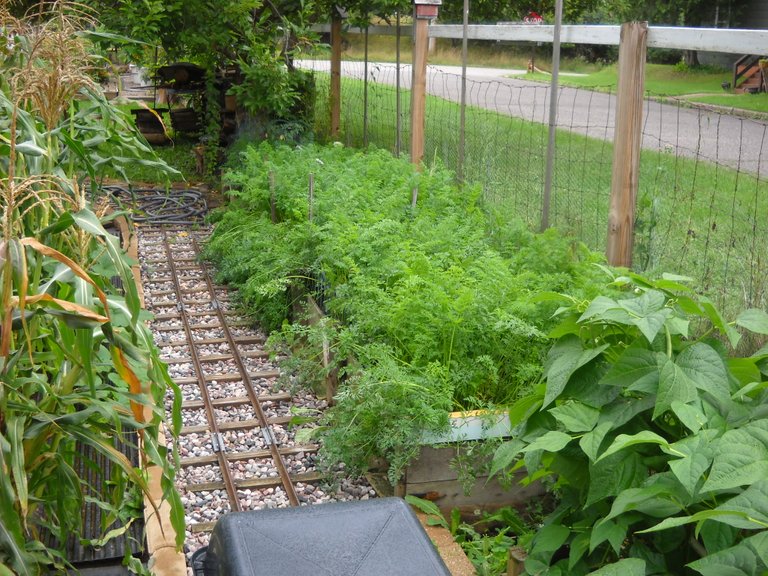 This was the Dakota White flour corn that my housemate planted this year. It's a short season native heirloom corn that doesn't grow too tall and is ready to pick for drying in the first weeks of September when planted at the end of May.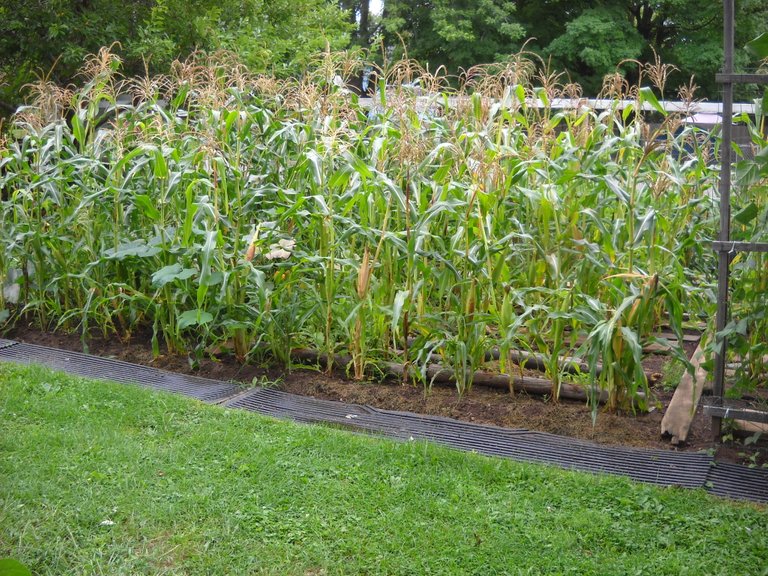 And now for some new pictures. I took these today.
This is an overview of the main garden. For those of you who are interested, you can see most of my garden railroad in this picture. It curves around the far end of the garden to the back fence gate.
As you can see, the corn has been harvested and the stalks removed and piled up next to the bean trellis. I'll run them through the shredder once I get the machine out. They make good garden mulch.
My sad tomato plants. Some of the tomatoes are actually about ripe...Some of them have bad spots and aren't worth attempting to use.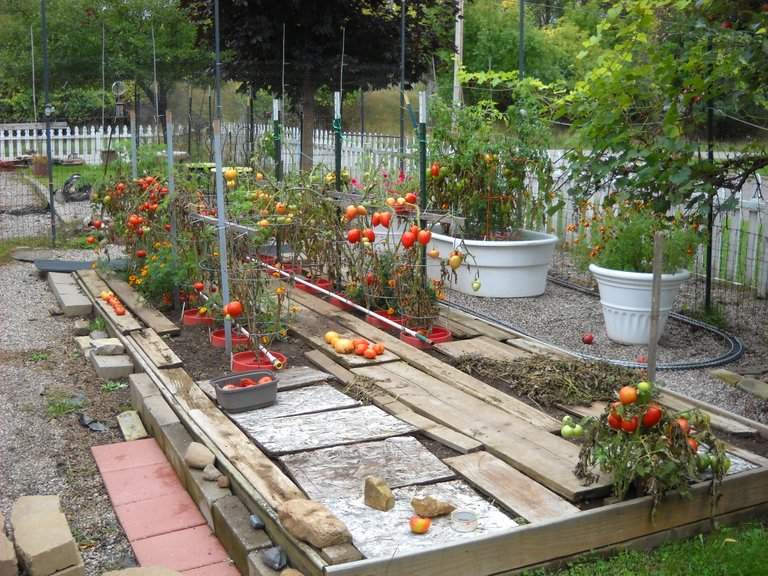 The greenhouse tomatoes are almost done. Most of these are about ready to pick and process for sauce. They ripen frustratingly slow this time of year.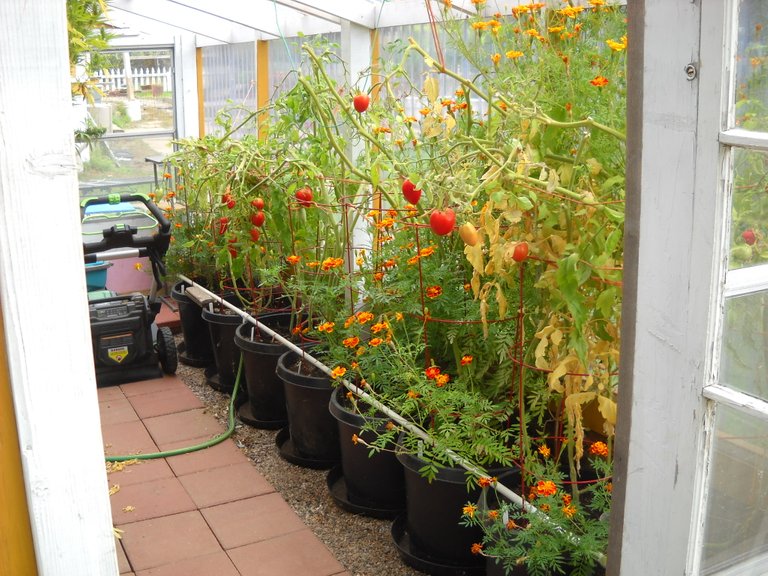 All the container bean plants have been pulled and thrown outside the fence for the deer to clean up, but the marigolds are in full bloom.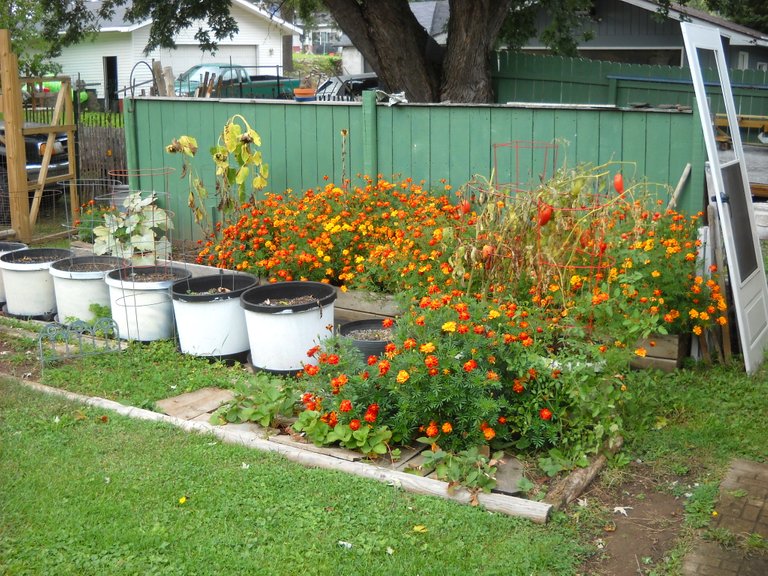 The bean trellis. I let some of the beans go on the plants for seeds for next year. Hopefully they'll dry instead of getting moldy. That will depend on how much wet weather we get while the pods are drying up on the vines.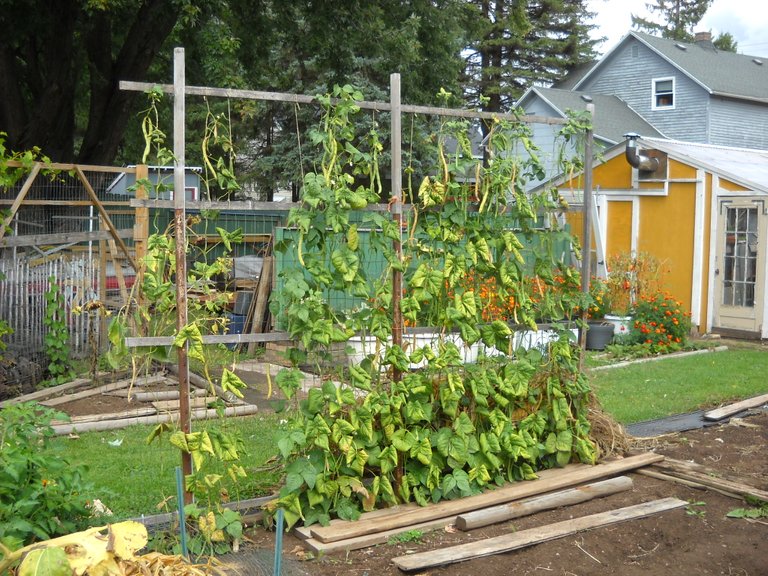 The carrot tops are certainly growing well, I hope the carrots are getting fat under them. I haven't pulled any yet, I want them to get as big as they will before I have to harvest them. I wait until it gets cold outside to harvest the carrots.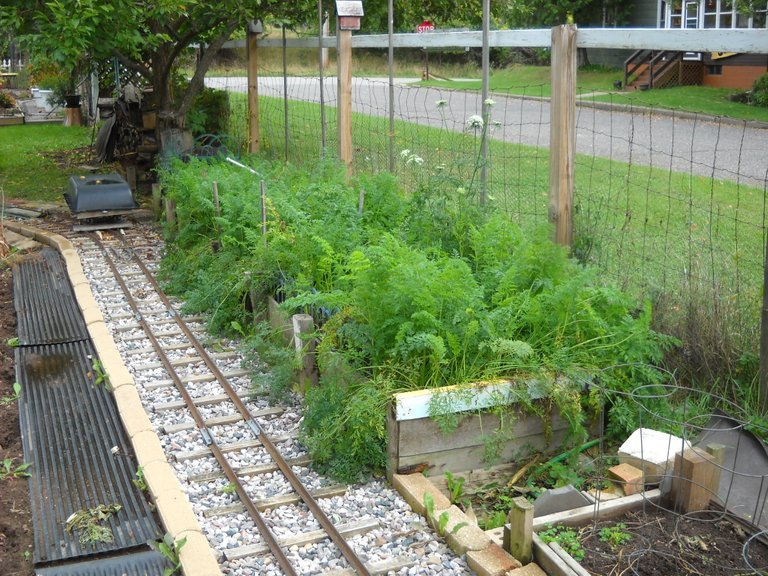 I haven't taken any pictures of my plots at the community garden in a while. The potato plants have mostly all died back now and the rows are ready to be harvested. Also, the pumpkin plants have died now, but I have more pumpkins this year than I had last year. I guess that should be a subject for another post.
That's all I have for this post, I hope you found it interesting!