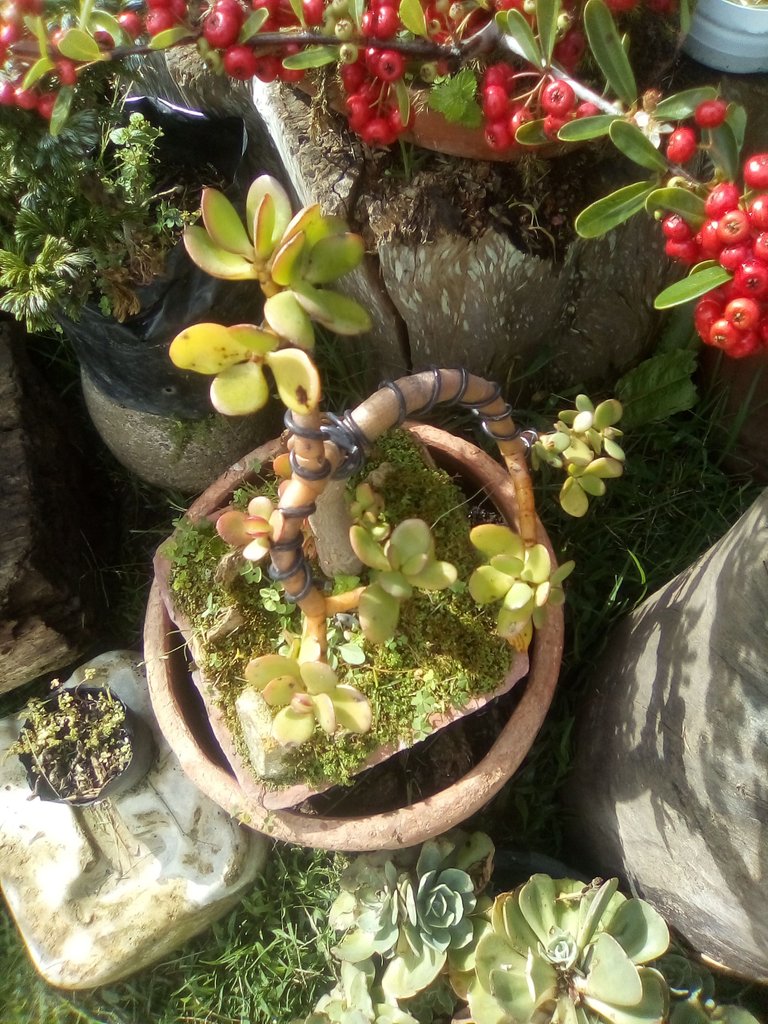 Last year I was in Colombia and a couple gave me a job cleaning at their house. They had many dogs, but the most beautiful thing was their bonsai scattered throughout the house.
This garden is the hobby of the gentleman while the lady takes care of the dogs, but it has been a long time since she has put together a plant. He told me that he would teach me how to make bonsai and to help him take care of the ones he already has.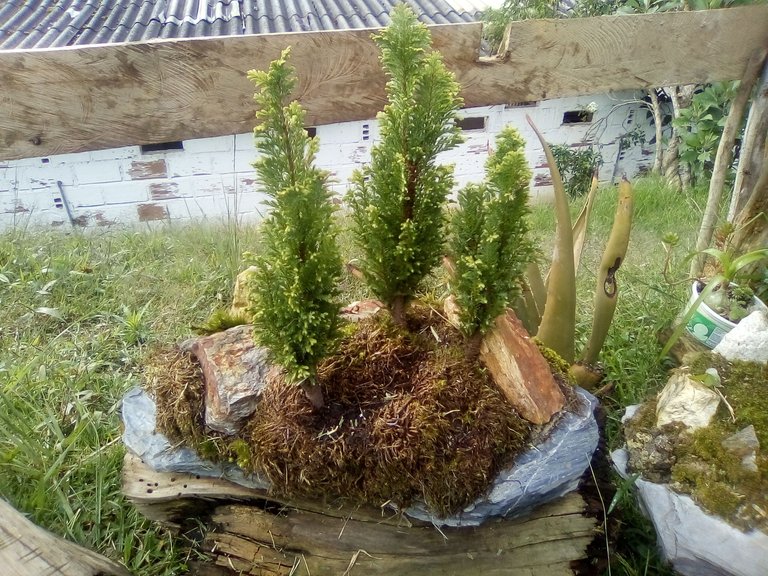 In September 2020 they moved to a much larger house with a lot of land. When we got to the site I realized the enormous amount of plants it had, of all kinds and sizes.
Immediately I began to look for stones and dry tree trunks that were in the place and I began to distribute them in the form of a ladder. The intention was to have some higher and others lower and a third intermediate line but not linear.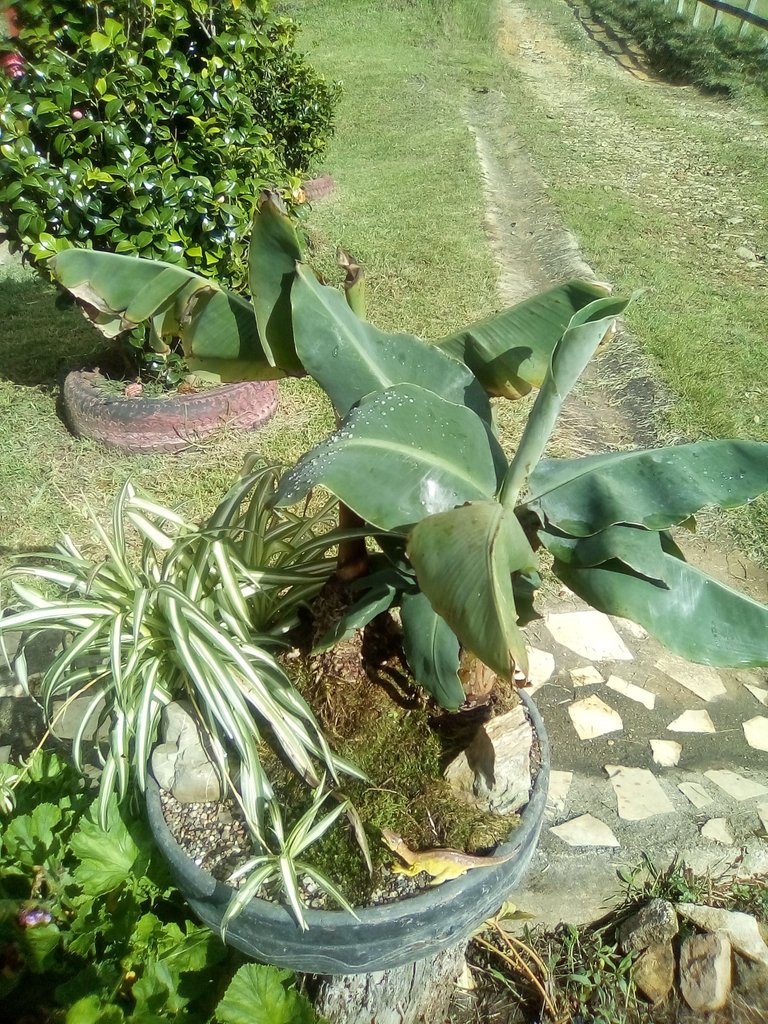 The man really liked the decoration I made and the distribution that I gave to all the people, I told him that that way everyone who visited him would see his beautiful garden. Unfortunately we had to come from Colombia, but I left him a good job in his garden.
Bonsai takes time and dedication. You have to tie the trunk of the plant to give it growth to where you want and to where you want. It is something relaxing and very patient, the result is that tiny plant as if it had grown all its size but in miniature.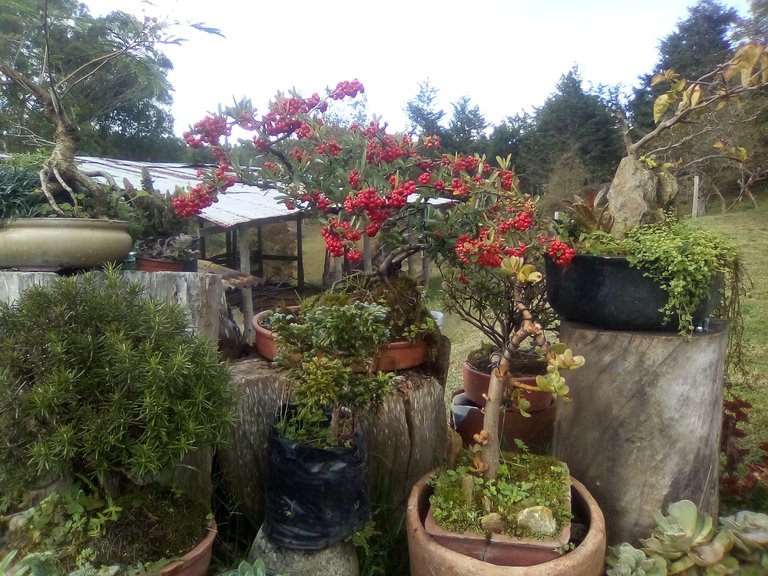 The plants that I liked the most were the red ribs and the banana ones. I would have liked to see if it would have miniature bananas. This is my entry to the @hivegarden contest where they invite us to show a garden, ours or that of a friend, so I show you this one that is very special.
I invite to @solominer and @gardenofcarmen to participate through this link:
https://hive.blog/hive-140635/@riverflows/is-it-october-already-more-garden-journal-fun-on-hive
Español:
El año pasado me encontraba en Colombia y una pareja me dio trabajo limpiando en su casa. Tenían muchos perros, pero lo más bonito eran sus bonsais regados por toda la casa.
Este jardín es el pasatiempo del señor mientras la señora cuida de los perros, pero desde hace mucho no ha vuelto a armar una planta. Me dijo que me enseñaría a hacer bonsai y que le ayudara a cuidar los que ya tiene.
En Septiembre del 2020 se cambiaron de casa, para una mucho más grande y con mucho terreno. Cuando llegamos al sitio me di cuenta la cantidad enorme de plantas que tenía, de todo tipo y de todos los tamaños.
Enseguida comencé a buscar piedras y troncos de árboles secos que habían en el lugar y los comencé a distribuir en forma de escalera. La intención eran que quedaran unos más altos y otros abajo y una tercera línea intermedia pero no lineal.
A el señor le gustó mucho la decoración que hice y la distribución que le di a todos los meteros, le dije que de esa forma todo el que lo visitara vería su hermoso jardín. Lamentablemente nos tuvimos que venir de Colombia, pero le dejé un buen trabajo en su jardín.
El bonsai lleva tiempo y dedicación. Tienes que amarrar el tronco de la planta para darle el crecimiento hacia donde tú quieres y hasta donde tú quieres. Es algo relajante y de mucha paciencia, el resultado es esa plantita diminuta como si hubiera crecido todo su tamaño pero en miniatura.
Invito a participar a @solomier y a @gardenofcarmen mediante este enlace: