It's a beautiful early autumn day here in the south east of England. The sun is shining and the sky is blue and it's a pleasant 17C. I managed to find a sunny spot in the garden this morning to sit, watch some videos and perhaps even top up my levels of vitamin D before the weather changes for the worse.
My garden has continued to be a bit of a building site this year, although I have finally cleared the back garden of most of the building equipment, broken bricks etc, and rotovated it, raked it reasonably flat and planted some grass seed. I've also planted some wild flower seeds at the back of the lawn in the hope that they will attract wildlife into the garden next year.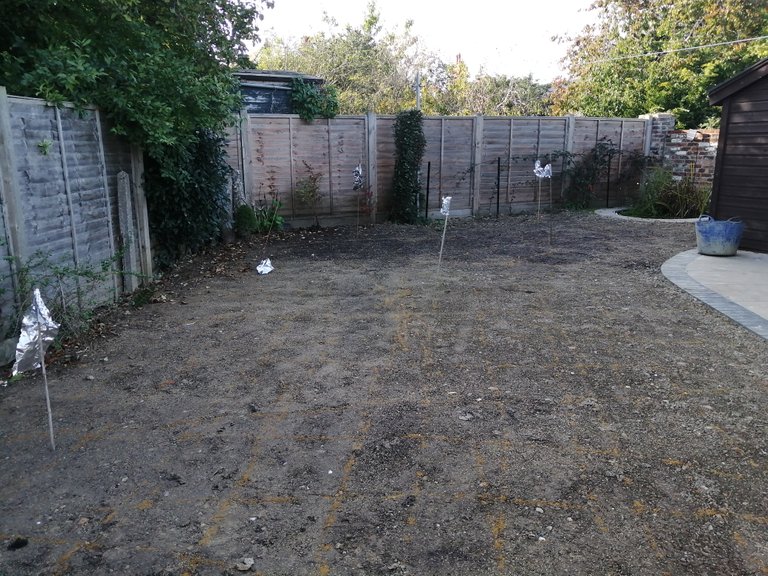 I rotovated this area with an electric rotovator/tiller and was surprised by how well it worked. I was going to hire a petrol powered rotovator but then saw I could buy an electric one for less than the price of hiring a petrol one for a day. It was money well spent, especially as I need to do the same in the front garden.
I planted the grass seed 5 days ago, so it's only just starting to germinate here and there. At the moment it's a bit like the downy hair on a bald man's head. But hopefully, given a few weeks, it will soon be a green lawn.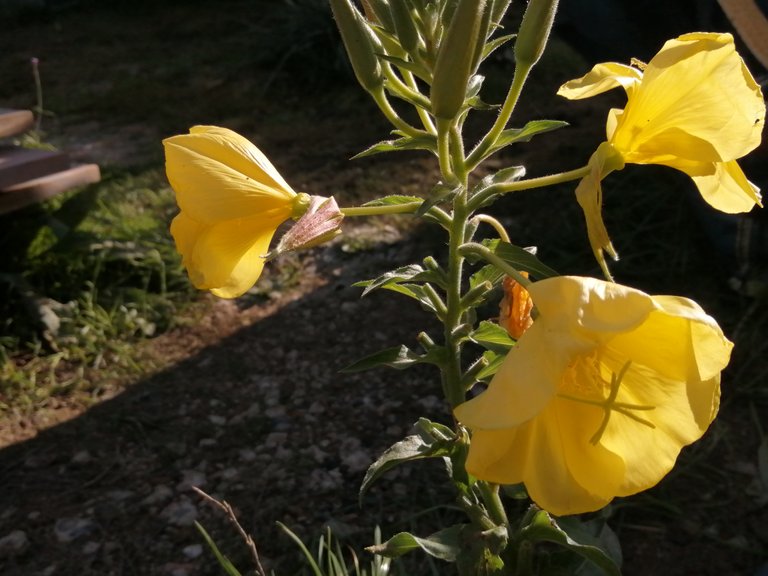 There are some wild flowers that like a garden that looks like a building site, these morning primroses are quite happy between bags of sand and piles of paving. They found their own way there and look beautiful. I hope they will self seed in other parts of my garden.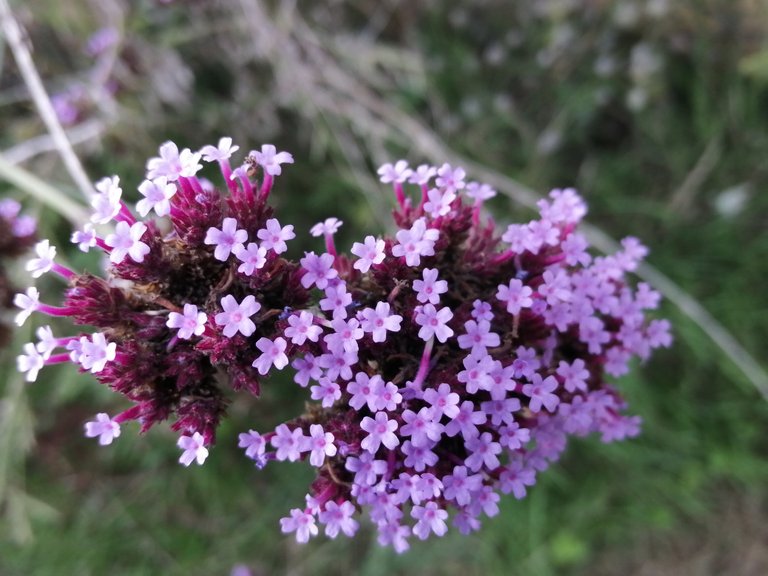 This a close up of a verbena flower. I grew these on from some plug plants last year, however I didn't realise quite how tall they get and put them under a window. I will move them later into a better position. They are definitely worth growing as they have been flowering from spring until now.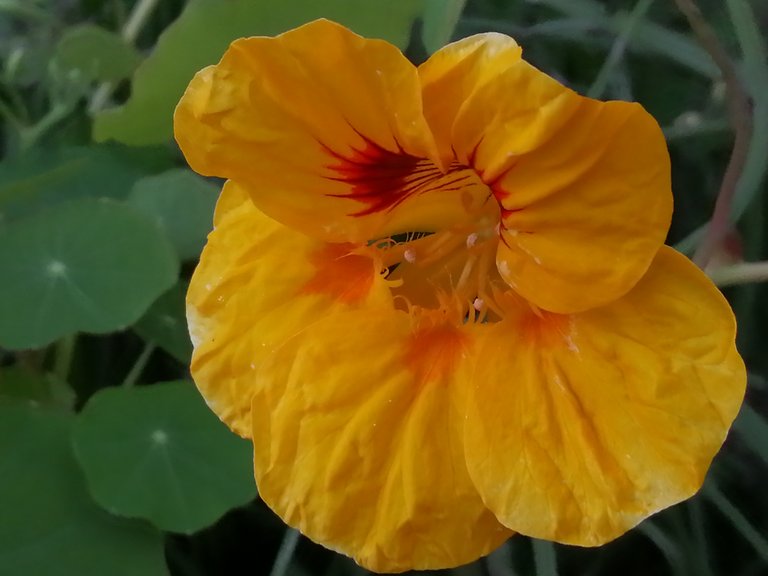 I planted some nasturtiums in my garden a number of years ago and the have self seeded ever since. But they nearly always flower late in the season. I'm not sure why, but they add a bit of colour until we get a hard frost. I'm surprised they have even survived given the state the garden is in and how many times the area has been disturbed.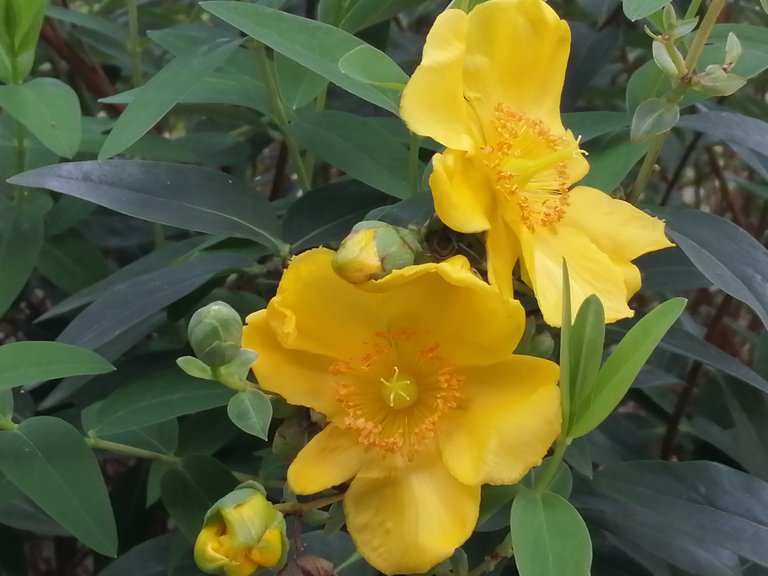 This St John's wort has been in my garden for years and was already well established when I moved here 15 years ago. It was only recently that I found out what it is. I'm hoping to propagate more of it as it looks beautiful throughout the summer.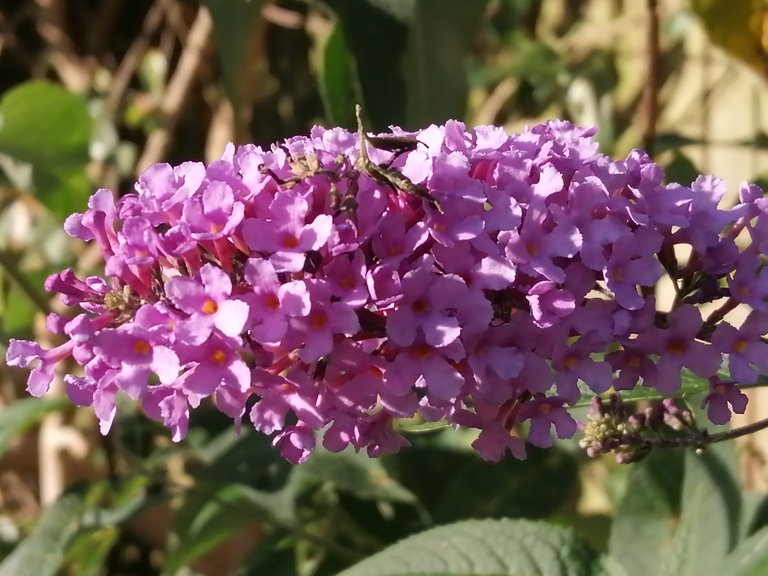 With the unusually hot weather we've had this year in the UK, I thought my buddleia plant wasn't going to flower,. But the recent rain seems to have given it a kick start and it is now in flower, although probably too late for most butterflies.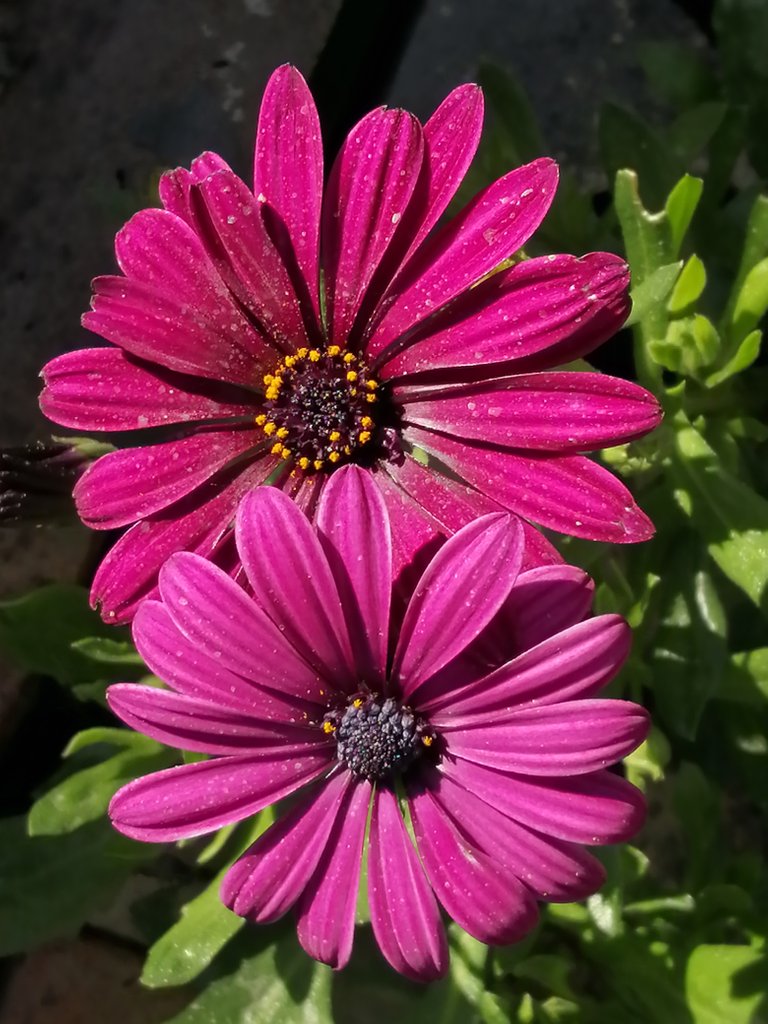 I don't know what this flower is, it was one of my bargain plug plant purchases. I really should make a note of what I put in my garden but that would mean me having to be organised!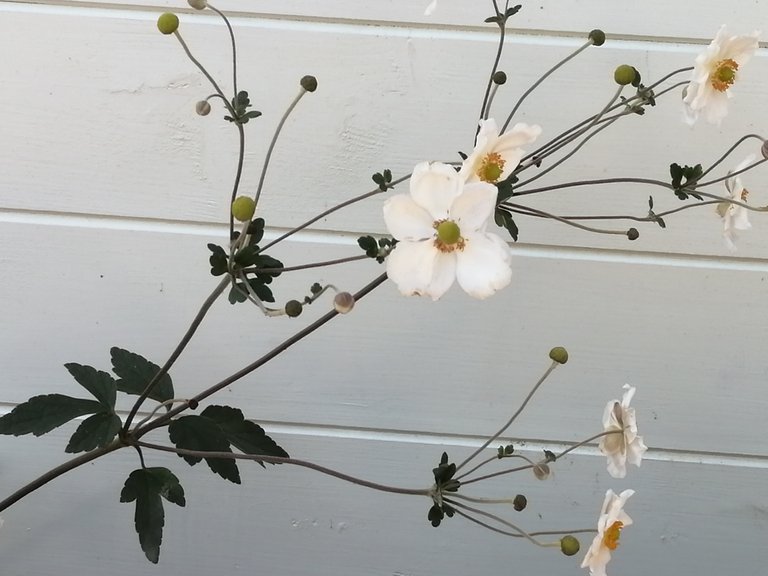 This japanese anemone is a real survivor. There was a huge bed of these when I first moved here. But I had a large garden cabin built over them a few years ago. This should have killed them, but some how at least one plant has survived and has come up from underneath the cabin. I think the light green colour of the cabin really brings out their delicate beauty.
The rose at the top of this article is a miniature variety and is another example of survival in spite of neglect. For many years it lived in a container and was often not watered for days. Last year I put it in the ground. At that time it was a mass of dead lichen covered branches, with only a few green ones. I trimmed all of them off and hoped for the best. And it has picked up beautifully even though its in the building site part of the garden.
I hope you enjoyed looking around my garden. I have big plans for next year. I've already ordered some seeds for me to plant. I will just need to make sure I make a note of what it is I've planted!
All photos are mine, taken with my android phone.