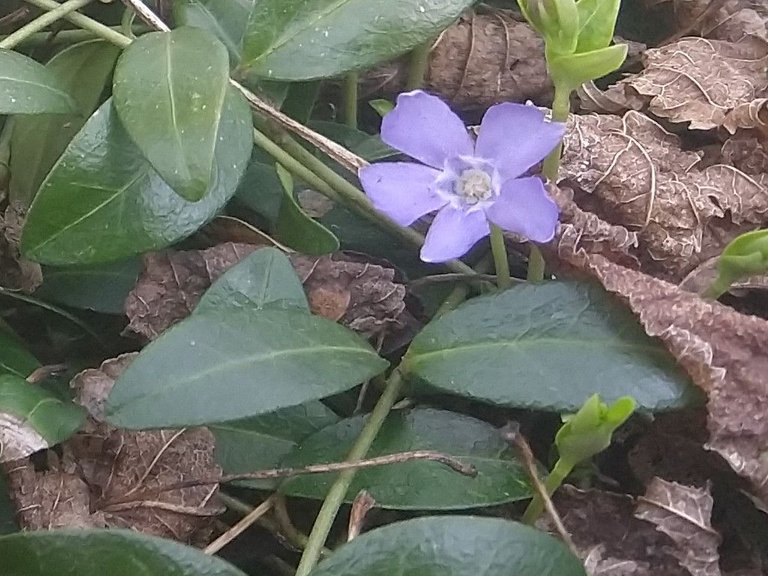 crappy photo of a very pretty flower which I will soon have in super abundance

I intended to write a post about my seedlings, and of all the progress I am making on my veggie garden.
While pondering what to tell you all, I was absent-mindedly pulling up periwinkle, which was growing in a spot I had other plans for. Here's my first pull and the tiny area I managed to pry the stuff out of the ground in.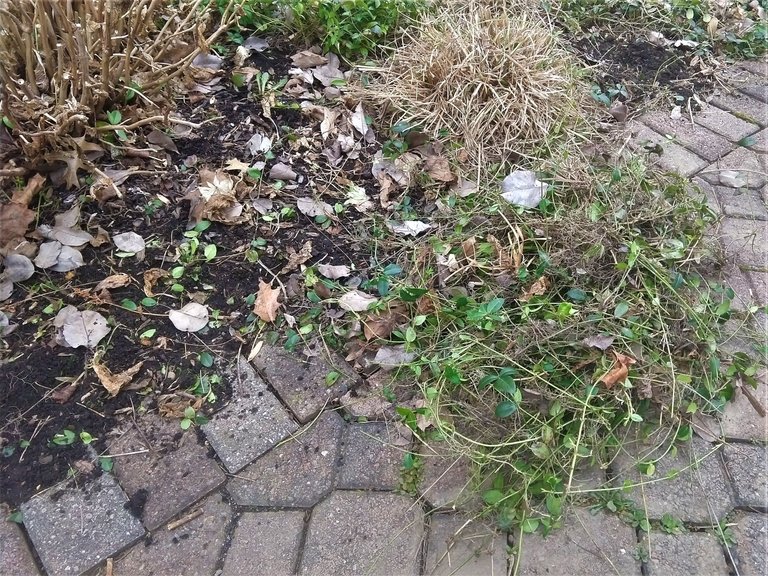 another crappy photo - sorry!

Now that I knew that this pulling of Vinca Major (commonly known deceptively as "periwinkle") would take some doing, I looked up to see just how much of the stuff I have.
It's everywhere!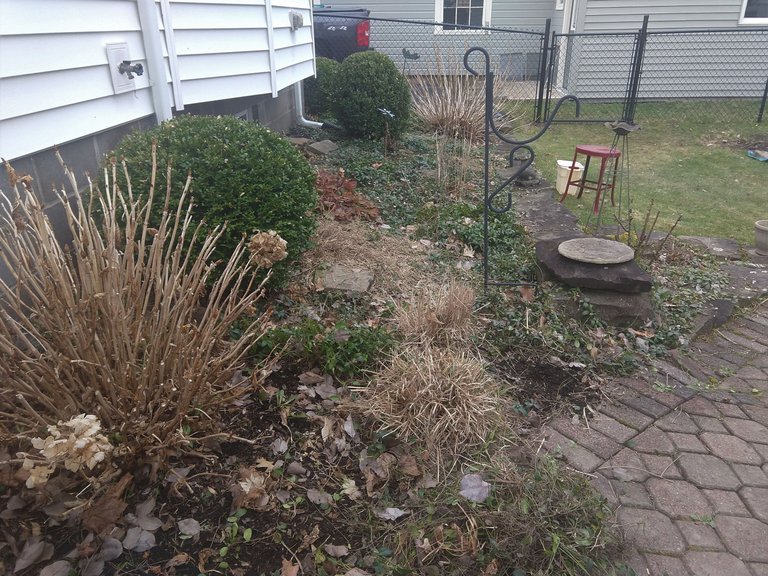 all across the north side of the house is covered in the stuff
Vinca creeping down toward my "lawn"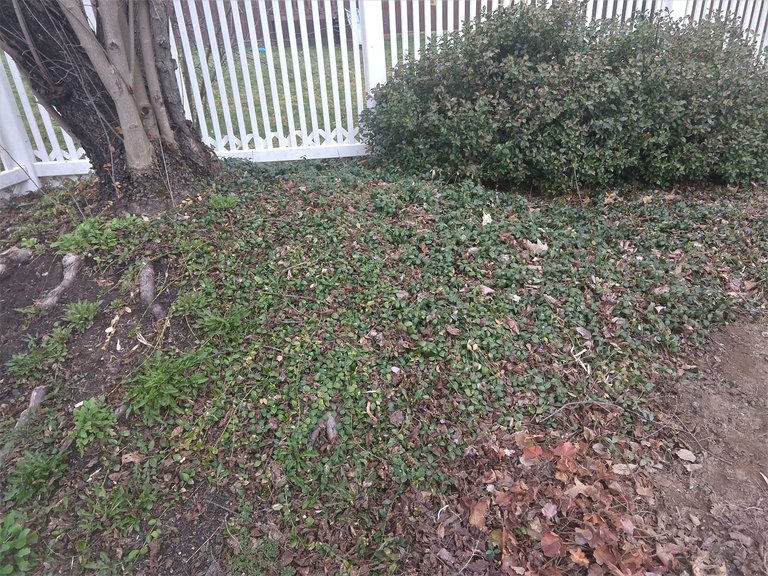 all along my back fence!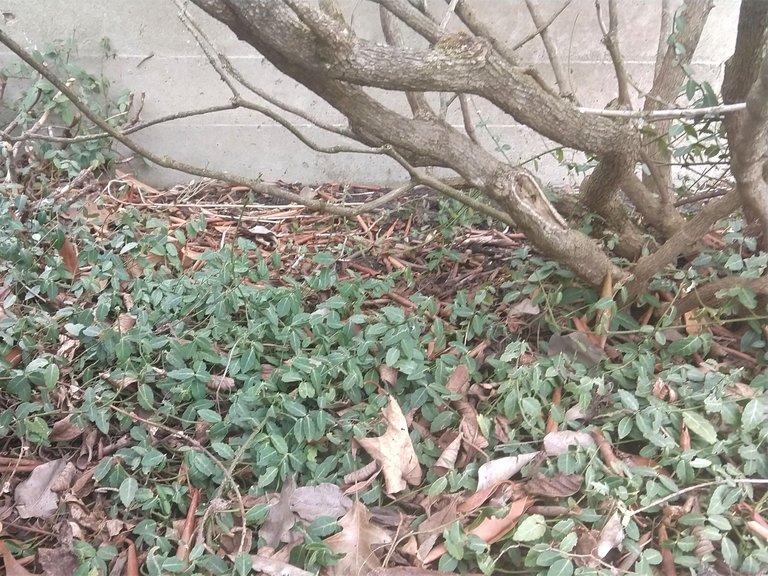 a different variety under a rhododendron next to my garage

As if that is not enough
I am quite excited about what I am going to do with this walkway, which probably hasn't been used in 20 years, but it's solid vinca! Not one other thing is growing back here, besides lovely moss.
I see lots of potential, but first, I gotta rid the space of periwinkle!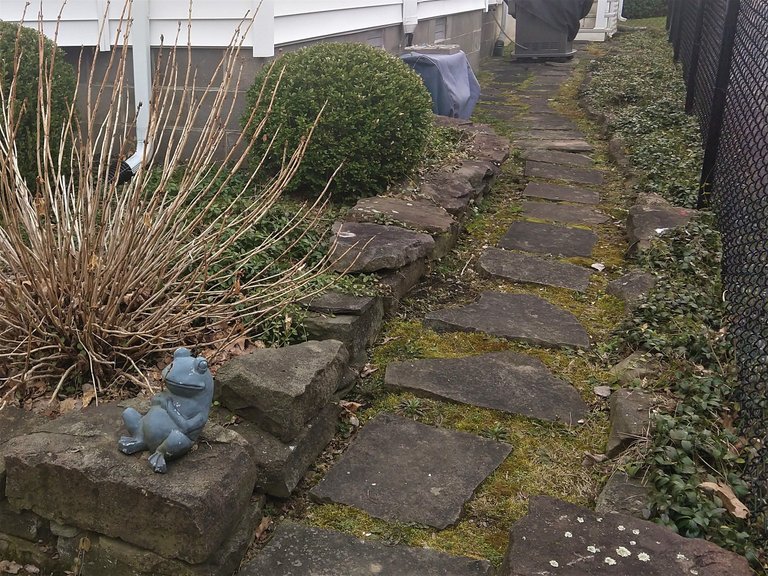 The entire walkway to a back door, both sides, nothing but vile vinca
I had this stuff in my last yard, but it stayed contained. I loved it back there, and was puzzled by @carolkean's loathing of it. Now I get it. Hey, Carol, any tips on how to get rid of this? I know (after spreading garlic mustard absolutely everywhere) not to put any of it in my compost pile. But how on earth do I get rid of it?!
And @futuremind, I know there are folks in this community who would be interested in your indoor garden. I am one of them!

In case you want to know more
The plant has some excellent qualities. It will thrive and bloom under almost any sun conditions. It's very pretty while in bloom which it does for a good part of the season, and is evergreen, making it an excellent ground cover, as long as you don't intend to grow much of anything else besides trees and shrubs. This stuff has no business being in a flower bed though.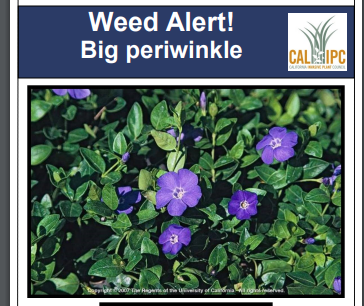 Here's a link to some more quick information about a plant some find pretty, but I now find to be a nuisance.

This is my entry to the Hive Garden Community's monthly garden journal challenge where the gardeners of Hive strut their stuff. I've learned a lot from these posts, so get over there and check out the gardens of the world! And show us yours while you are there.
Join The Hive Garden Community!

---

barn page break by @thekittygirl
all crappy photographs by me!