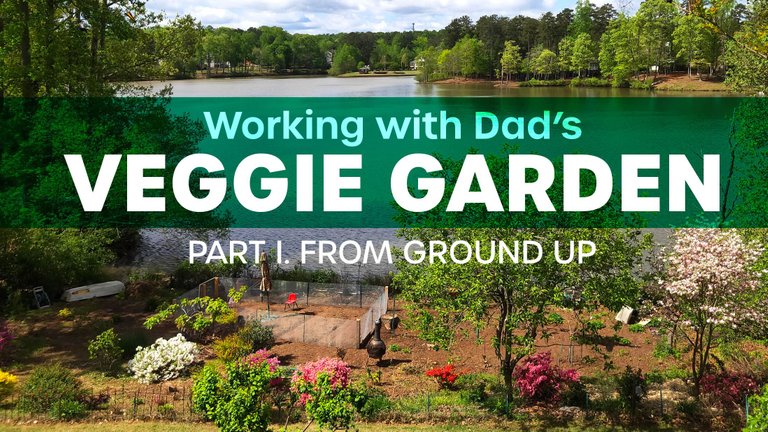 Part I. BUILDING A GARDEN FROM GROUND UP
It was the year 2020 when I closed and put on hold all work related matters in the back burner and told my parents I will be living with them with my wife and son for ONE year. It was something I wanted to accomplish as a bucket list in my life. Long story short, I have been away from my parents for a very long time... the year 2020 was a special year. I was free....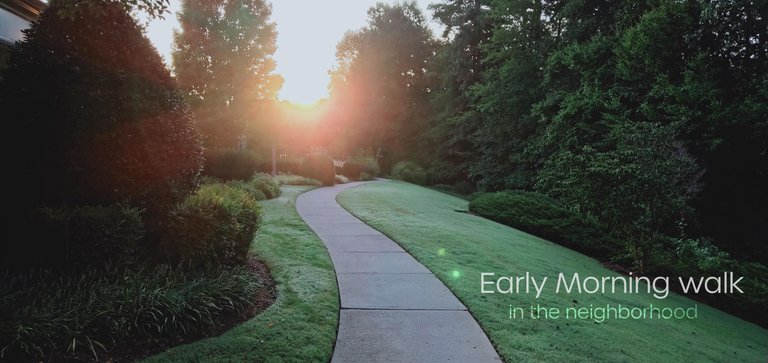 These trails you see above and below are the morning and evening walking trails in my parents neighborhood. The walk takes about a good 30 mins and its perfect for the whole family. My parents walk this trail 2 times a day every day. I got to really fall in love with this place in such short time. Before living with my parents I didn't know anything about Georgia.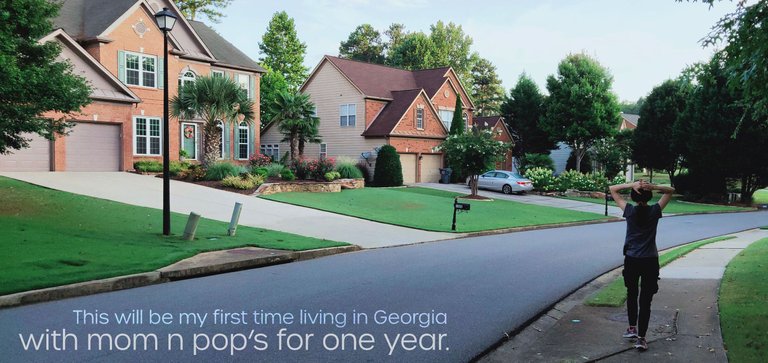 For this personal bucket list I had to get my wife permission cause I know its not easy for the wife to live with the in-laws. I think this is a very universal thing. It happens in every culture... I wanted to give my wife an experience what its like to stay with my parents so she can have an understanding of my background. Plus my son gets to be with grandma and grandpa! They usually give the best and spoil kids with toys and goodies. For one year I think its ok. hehehehehe.
The most important part of this was that I get to be with my parents once again.... I felt like the high school kid I was back when I was 17.... Really.. no joke. There was a vibe in motion where it felt like a paused video tape just went back on play mode. It was in paused mode the beginning I left my parents to USA.... 1998 and now its 2020...its been 22 years.
I think my mom and my dad were pretty happy to greet me. Staying for one full year was my decision.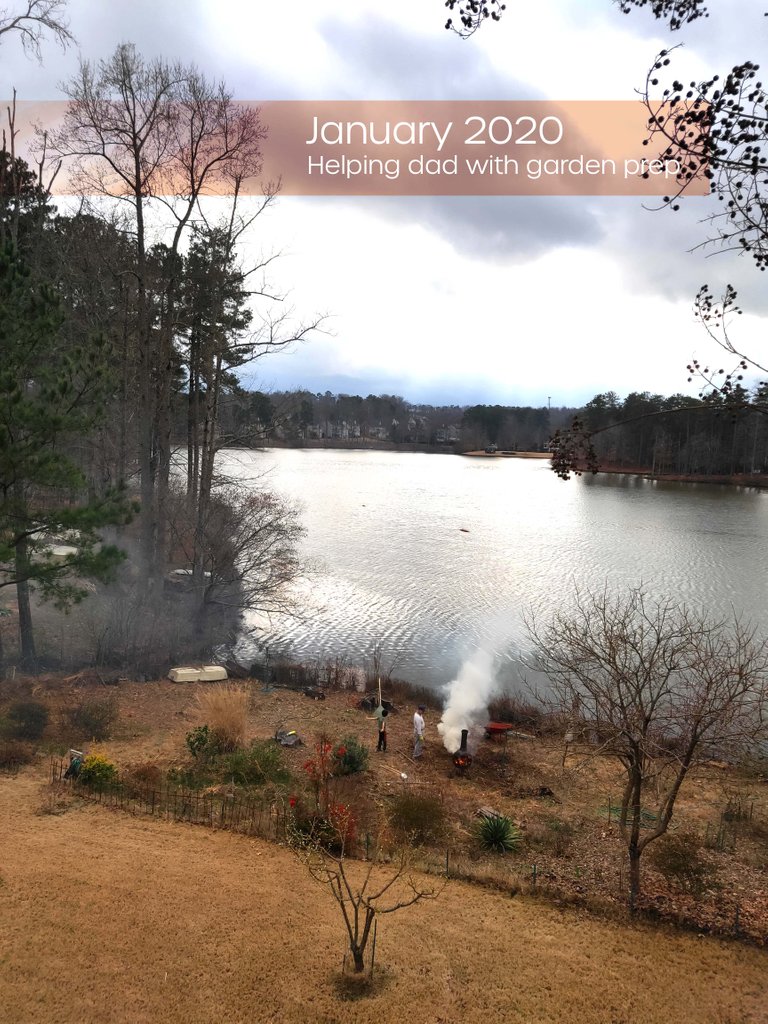 So we came to Georgia in January 2020. There were some things dad asked me to do right off the bat. The photo you see above used to be a flower garden a long time ago my mom said. But now it was just a bunch of weeds. So my dad asked me to help him trim off some weeds and help him burn it off. I love that smell of soot.... I really reminds me of my parents and their home. At the time I didn't really think much about why is dad burning these weeds and trying to make space for something. I didn't know what to expect so just did what he told me to do and went on with my own business.
The next month in February snow came to Georgia. It really felt good... like a real Christmas at the time even though it was way past it. During this month it was too cold to go outside so the one thing I indulged in was to eat as much of mom cooking. February was eating month for me.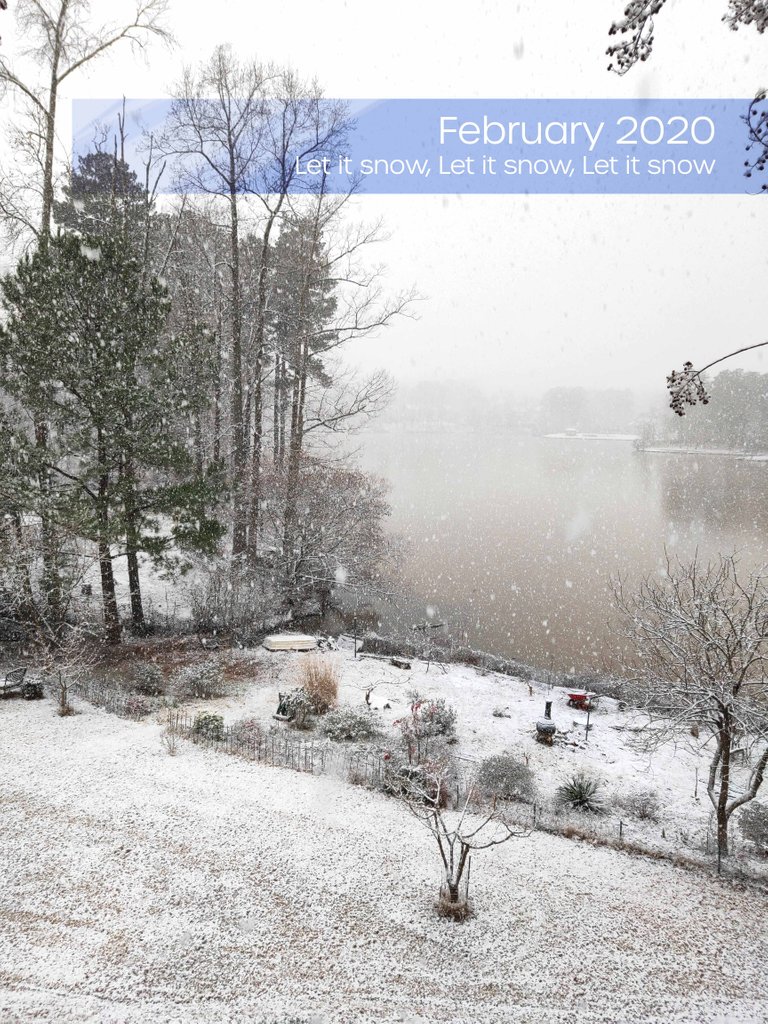 March was coming up and the weather was starting to get warmer and warmer. One day during a dinner session at home with my parents my dad said he want plant/grow/harvest his own veggies. I never saw my dad farm or garden before so I was thinking he picked up a new hobby recently. That's great because at his age maybe a bit of exercise and good healthy eating is probably what is best for him. However, I also told him that we dont have a garden.. and was suggesting maybe we can do one of those indoor herb growing kit I saw at home depot.... and then he paused me for a sec.
"Lets grow our own veggies in our vegetable garden." dad said.
"But I don't see any garden... what do you mean lets grow our own veggies?" I asked my dad while I was trying to look for one in the backyard through the window in the balcony.
Dad replied looking at me with a confident look, "We are going to make a garden from ground up... see that grass land over there? Lets build a garden there."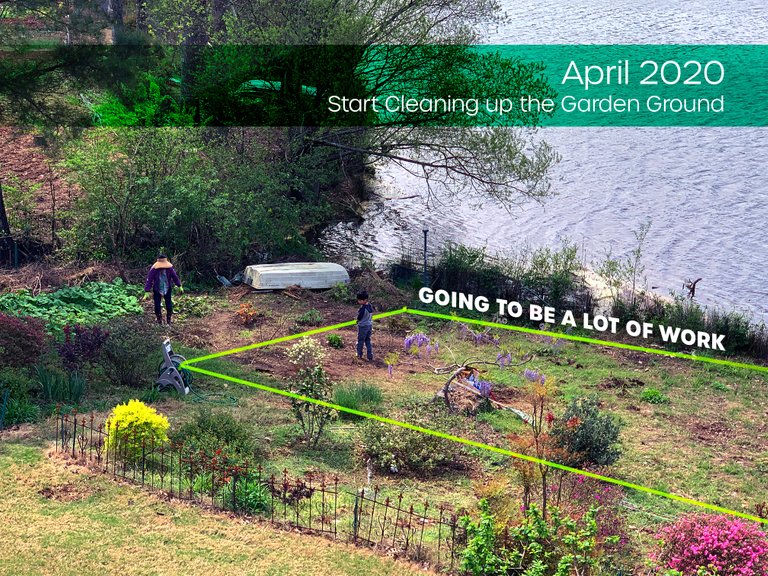 I replied back looking straight at that grass area,
"We are going to need to hire some people to get all that grass and hard dirt dug out and put a fence around it. Who are you gonna use? You got friends who can do some labor work?"
He looks at me again and says,"WE are going to do it... you and me." I kept looking at that grass area.
My mind - "Shit.shit...ahhhh shit. From day one???"
My mouth - "Alright pops. Let do it."
My dad is the type where once he put his words into it... I puts all his effort into finishing it whatever it takes. The problem is he doesn't know when to stop and often overworks himself to exhaustion. We even fought because of that same ego... but oh well, dad is always going to be dad. Just go with the flow~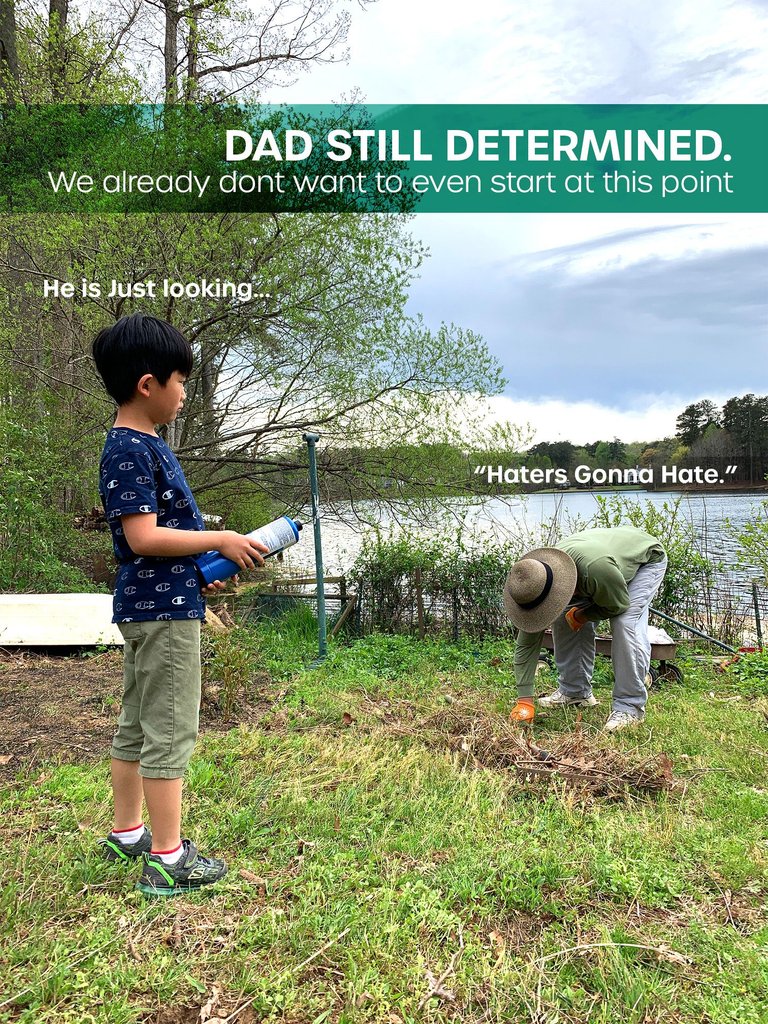 During the winter time the land where my dad mentioned seemed not too bad and was thinking maybe we can just use some hand tools to create a small basic 2-3 meter square land. However dad had different plans... while I am here he wanted to make one as large as he can with double the man power given to him. OK no problem, how hard can it be right? As spring was coming one day with some hand tools dad asked me to join him and get the land prepared.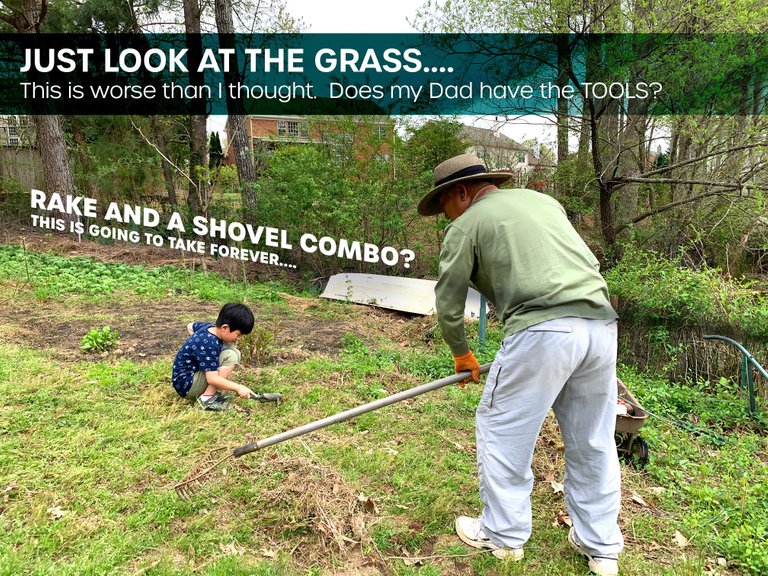 As you can see on both top and bottom photos, the grass and weed grew so fast and thick! I swear during the winter time there was just light brown dead grass. Wow... they grow real fast! My son tagged along insisting that he will help because it was his first time seeing and using gardening tools. Little did he know the labor that went with it... :)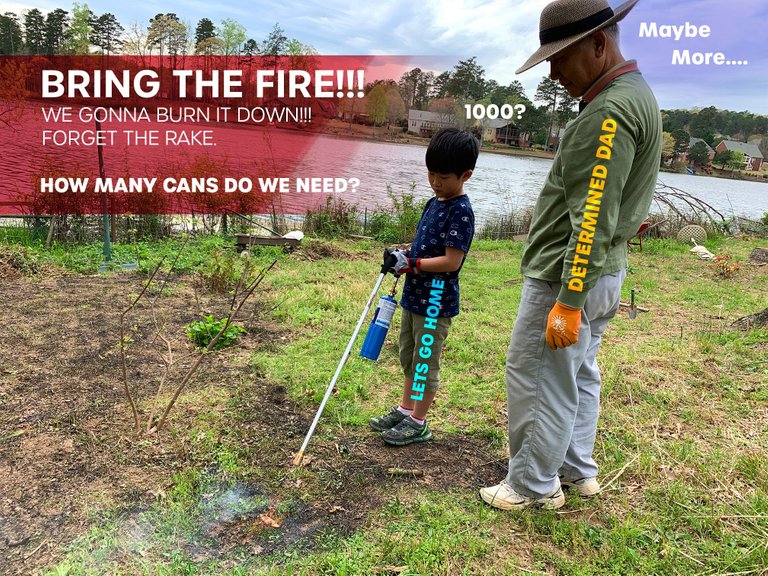 After several hours removing the larger bits of weed and branches as much as we can. Dad pulled out this fire torch thingy and started to teach my son how to use a torch properly. Ahhhh kids love to play with fire... yes. So for the first hour my son was having a blast torching everything in his path. I asked dad how much area are we going to burn out the weed? He wanted something like a tennis court size. That is a lot of gas we are going to use! He just smiles...yup.
I knew this was basically going to be a full time job for the moment until we finish it completely. and talk about full time work my body was aching like hell due to the muscles I never really used before working at the office.
It has been a while feeling this pain... its usually the pain that happens all over your core muscles area after you do the first 2 weeks of weight lifting. That soreness.... pain like this really makes me feel alive. Like and dont like at the same time kinda pain.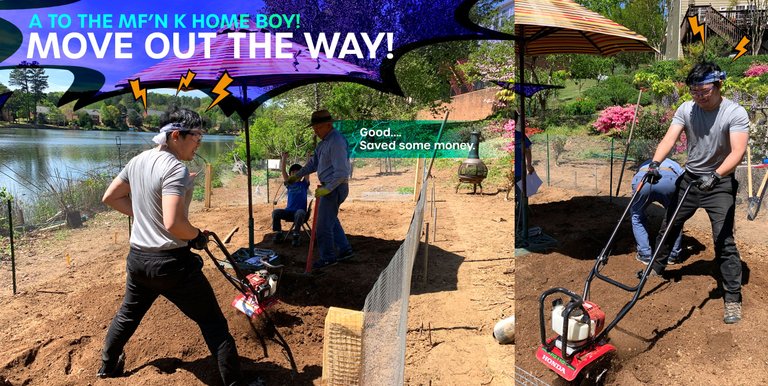 The next several days it was my time to shine in putting in a shit ton of elbow grease to turn the soil. After we completely burned off the weed and grass for a few days dad brought in the machines. I like tools with motors... they are my type of toys. and thank god for it too cause in the beginning we were using pick axes and realized the ground was way too hard. Went to home depot and rented one of these babies.
It took a while to get used to but I got the hang of it and started to turn the soil inside out. Since the land we are using is next to the lake, I have to say that the quality of the soil dad chose a really good spot. It looked really good, had a good rich soil smell, and plenty of moisture, grubs. We took out as much rocks as possible and left with just pure good soil.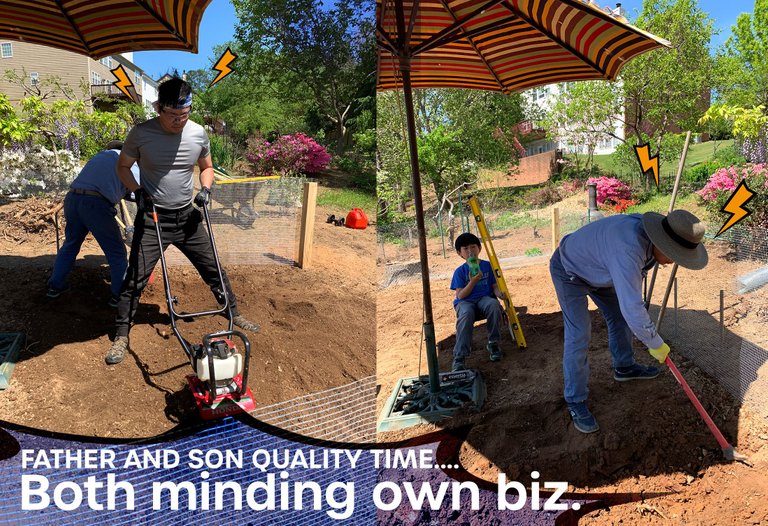 When both dad and I are in the zone, we are just dead quite and just doing our thing. Trying to just finish the job. I guess it really has to do with the DNA when it comes to work. We tend to get in the zone and forget about reality.
As days were going by I actually felt a lot more healthier and sweat less. Got some really good sunshine tan I have not been for some time. I actually started to like getting a good workout from this. Not sure if I want to do this for life but once in a while I think its great for the body and probably the mind as well.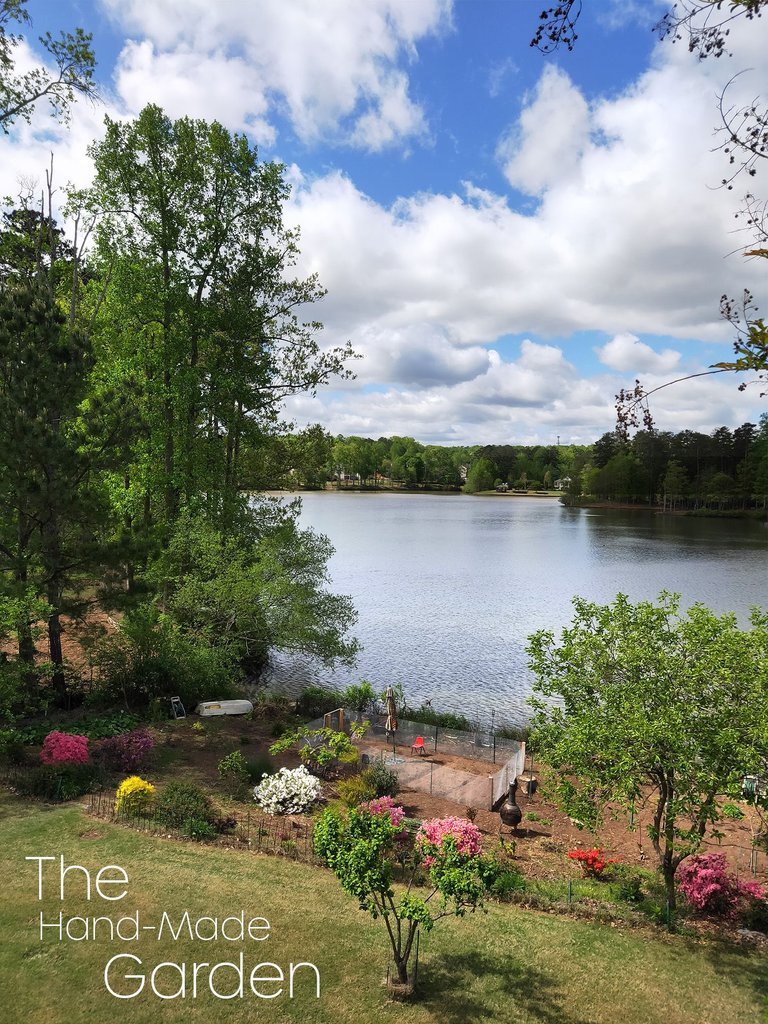 Once the soil was turned then what looked like a mortar bomb went off started to slowly become a garden as we divided the soil in sections and adding a fence to make sure the animals around us wont take the veggies we worked so hard on. As the fence went up and small veggies planted it really looked pretty nice! My son like to water the plants here with the hose we dad fabricated a separate water pipe line that draws water from the lake to the soil. That was a pretty smart idea.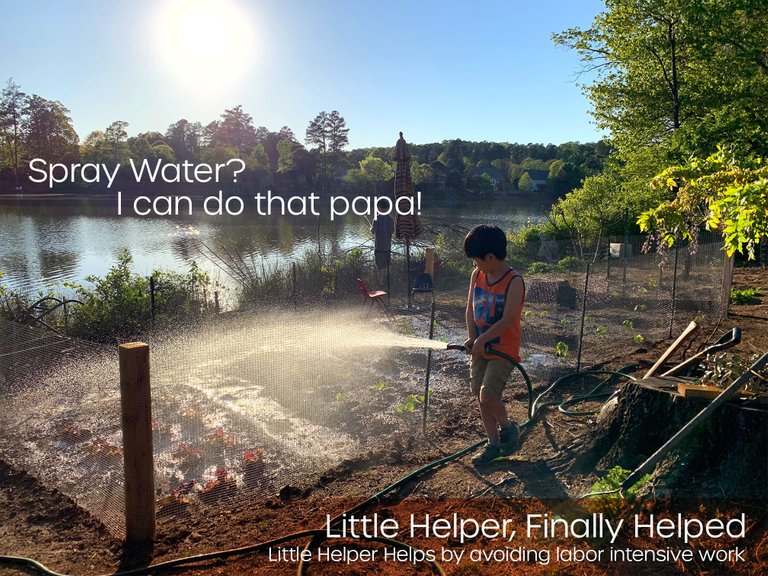 During the time while I was missing in action for 20+ years it seems my pop's learned a few tricks. Actually I am damn impressed at the things he knows how to do actually. At the same time since this is my family's work project I also gave my all into these few months and the care we both put in the results were way more impressive than I have ever imagined.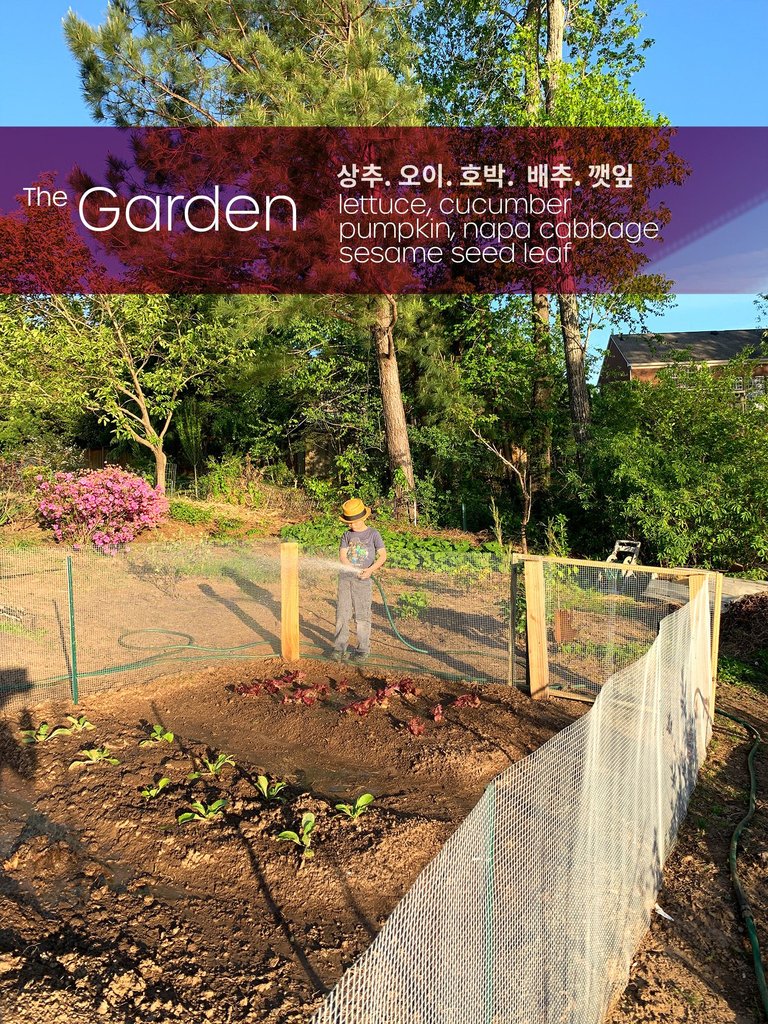 A lot of things I do and see lately, for example this garden work project... in the beginning what looks like a joke, with an ambitious mindset can turn a weed grass patch of nothing into a beautiful garden that gives back amazing vegetables. I realize don't underestimate ambition... if you are determined enough you will eventually get there.
This experience made me think of one of my favorite quotes.
"Champions aren't made in gyms. Champions are made from something they have deep inside them-a desire, a dream, a vision. They have to have the skill, and the will. But the WILL must be stronger than the skill."
Muhammad Ali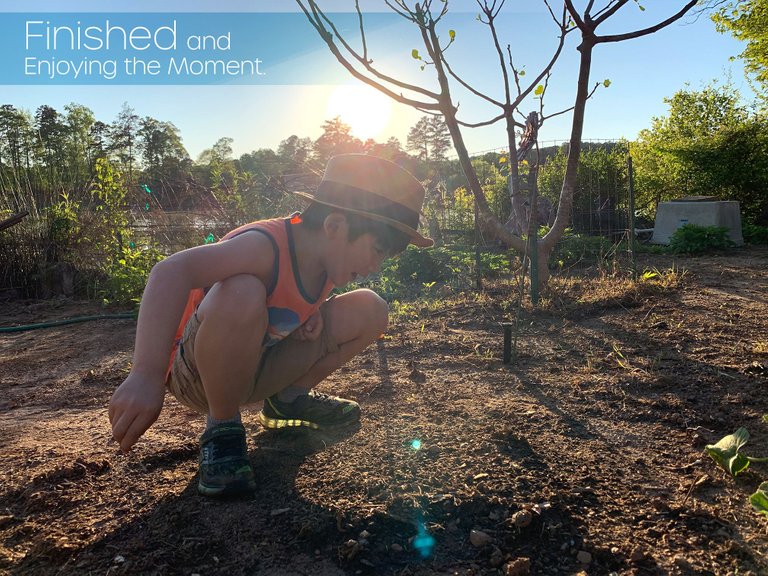 My son just enjoying the garden area like a playground. Good to see him happy at such simple things. Looking back at the memories, dad worked me out good when building the damn garden. I dont think I will ever forget it. And today's blog is about how we built that damn vegetable garden from freakin ground up scratch to when I see the photo's now... "Hey... Its actually pretty good vegetable garden!!!"
I didn't get paid any money from dad, but I did get to use his fishing gear!!! Went fishing and caught some fish too at our lake!!! Its what I wanted and needed~ Cheers pops.
---
What happened to the veggies we planted?
Was everything smooth till the point of harvest?
Was there even a harvest to eat?
Stay Tuned for Part II. - The end result of harvesting... You Reap What You Sow a bit too much. 🤣
Here is a sneek peak....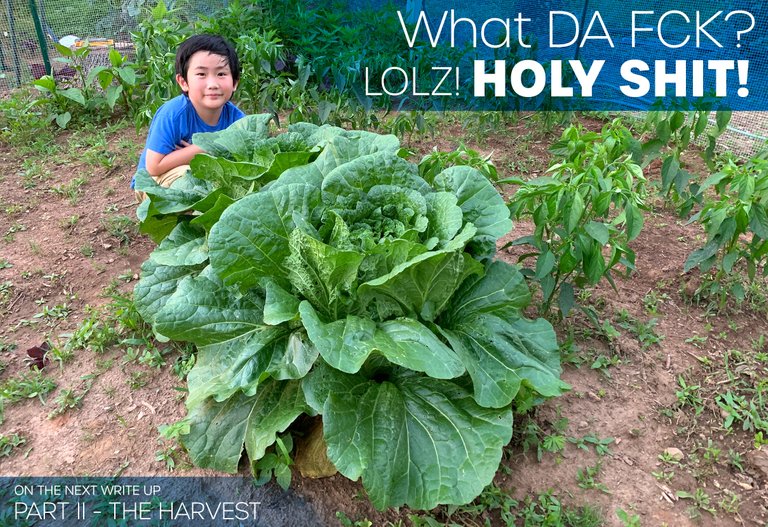 Thanks for checking out my posts! I really appreciate it and I am constantly thinking of new ideas and discoveries in my daily life what can inspire our community on Hive and if you like what you see let me know. So I can create more of it. :)
Set Da Tone!!!~