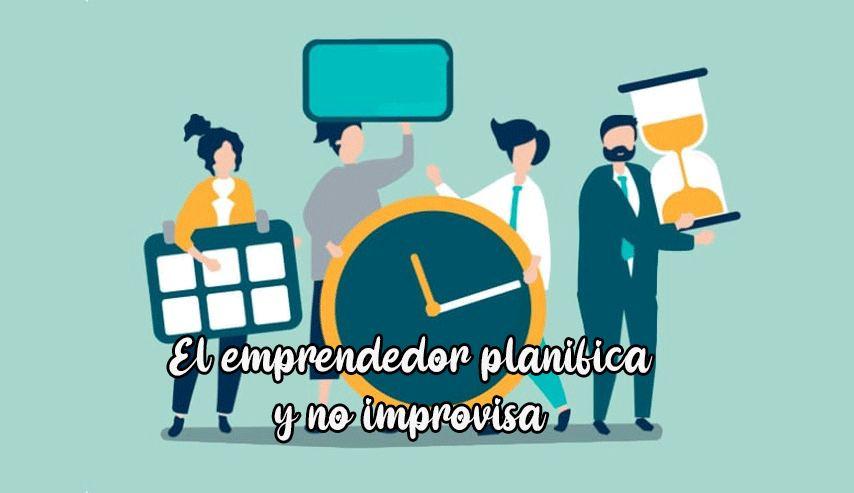 source

ES
Hola mis queridos lectores de Be Entrepreneur, a partir de este momento compartiré con todos ustedes un artículo semanal dónde hablaré de temas sobre como crecer en el emprendimiento en la actualidad, de interés para todos los emprendedores de esta comunidad, una vez a la semana compartiré desde mi punto de vista cómo periodista y emprendedora, mi emprendimiento es una venta de helados caseros al mayor, puedes seguirme en Instagram como @quetetas_mcbo, hablaré sobre los diferentes e innovadores temas referentes a emprender, crecer y aprender de negocios, dónde podrás dar tu opinión y además proponer temas para las próximas semanas en Discord puedes conseguirme como (soyalex#4012) por si tienes alguna sugerencia o deseas tener más información.
El emprendedor improvisa y no planifica
Cuando te lanzas a emprender hay demasiados aspectos que debes tener en cuenta para iniciar un negocio con el fin de obtener algún beneficio económico, debes tomar en cuenta, que existen muchos modelos para planificar, en internet puedes conseguir gran cantidad, con el auge de las nuevas tecnologías ¿Por qué no poner en práctica la planificación, si es la mejor manera de trabajar?, no es bueno andar por la vida improvisando, aunque a veces las cosas salgan bien y fluyan de manera natural, muchas veces también se salen de control, ya que sin objetivos establecidos es difícil conquistar el éxito.
Planificación
Esta herramienta es de mucha utilidad no solo en la vida de un emprendedor, es un tema de importancia para el acontecer diario de una persona, puesto que su propósito es que las cosas sucedan según el orden que adaptemos, por ejemplo, una persona al despertar lo primero que hacer es ir al baño, luego de asearse, toma agua y se prepara un café o desayuno, luego se alista para salir, pero antes el día anterior, planifica lo que se va a colocar de ropa, a que hora más o menos quiere llegar, coloca una alarma, en las mujeres podríamos decir que es un patrón y es cierto, si nos planificamos para muchas cosas en el diario por qué no hacerlo para un negocio.
Cómo bien saben, planificar es una herramienta de gran utilidad en el mundo, la gran mayoría planifica parte de sus días y es que cuando queremos tener un emprendimiento exitoso hacemos lo necesario para obtenerlo.
La importancia de la planificación, desde mi punto de vista, es que cuando quieres tener un negocio propio, debes tomar en cuenta que nos enfrentamos a oportunidades y debemos tomar riesgos, por eso la planificación es una herramienta necesaria. Es oportuno recalcar que las necesidades de nuestros clientes importantes, conocerlas para iniciar una búsqueda con mucha creatividad y dar respuesta a esa necesidad, por eso debemos tener cuidado a la hora de iniciar en un nuevo proyecto y revisar minuciosamente que no estemos haciendo algo sin sentido. No es bueno dejar todo a la suerte, se pudiera decir que para lograr tener éxito es necesario analizar como mínimo estas 4 etapas de la planificación:
1.- Analizar el tipo de trabajo que se quiere realizar y tener claro a dónde quieres llegar, cuál es la meta.
2.- Determinar los objetivos para empezar a trabajar en las metas y revisar el mercado.
3.- Establecer un Plan de estrategia dónde debes elegir el tipo de cliente, coordinar y controlar una ruta para lograr el objetivo, decidir si será un proyecto a largo, mediano o corto plazo.
4.- Evaluar resultados; en este punto tendrás excelentes resultados, luego vas a seguir creciendo al descubrir que la clave del éxito es la planificación.
La planificación ayuda a organizarte en todas las áreas y te dará los recursos necesarios para tener un negocio, es tan poderosa que si la utilizas de manera correcta te hará triunfar en la vida.
Recuerda siempre trabajar en los sueños que dejaste a un lado, es el momento de comenzar a actuar. Apoya esta publicación -si es de tu agrado- y comparte –reblog- para que más usuarios puedan unirse a nuestra comunidad, también puedes utilizar las etiqueta #Planificacion #BeEntrepreneur y, también puedes utilizar entre tus etiquetas, la de algunos de nuestros aliados: #hispapro, #r2cornell y #ecency.
EN
Hello my dear readers of Be Entrepreneur, from now on I will share with all of you a weekly article where I will talk about topics on how to grow in entrepreneurship today, of interest to all entrepreneurs in this community, once a week I will share from my point of view as a journalist and entrepreneur, my venture is a sale of homemade ice cream wholesale, you can follow me on Instagram as @quetetas_mcbo, I will talk about different and innovative topics regarding entrepreneurship, growing and learning about business, where you can give your opinion and also propose topics for the next weeks on Discord you can get me as (soyalex#4012) in case you have any suggestions or want to have more information.
The entrepreneur improvises and does not plan
When you launch yourself to undertake there are too many aspects that you must take into account to start a business in order to obtain some economic benefit, you must take into account, that there are many models to plan, on the internet you can get a lot, with the rise of new technologies Why not put into practice the planning, if it is the best way to work?, it is not good to walk through life improvising, although sometimes things go well and flow naturally, often also get out of control, because without established objectives is difficult to achieve success.
Planning
This tool is very useful not only in the life of an entrepreneur, is an important issue for the daily events of a person, since its purpose is that things happen according to the order that we adapt, for example, a person waking up the first thing to do is go to the bathroom, then wash, He/she drinks water and prepares a coffee or breakfast, then gets ready to go out, but before the previous day, he/she plans what he/she is going to wear, at what time he/she wants to arrive, sets an alarm, in women we could say that it is a pattern and it is true, if we plan for many things in the daily life, why not to do it for a business.
As you well know, planning is a very useful tool in the world, the vast majority plan part of their days and when we want to have a successful venture we do what is necessary to get it.
The importance of planning, from my point of view, is that when you want to have your own business, you must take into account that we face opportunities and we must take risks, that is why planning is a necessary tool. It is appropriate to emphasize that the needs of our customers are important, know them to start a search with a lot of creativity and respond to that need, so we must be careful when starting a new project and thoroughly review that we are not doing something pointless. It is not good to leave everything to chance, it could be said that to be successful it is necessary to analyze at least these 4 stages of planning:
1.- Analyze the type of work you want to do and be clear about where you want to get to, what is the goal.
2.- Determine the objectives to start working on the goals and review the market.
3.- Establish a strategy plan where you must choose the type of client, coordinate and control a route to achieve the goal, decide whether it will be a long, medium or short term project.
4.- Evaluate results; at this point you will have excellent results, then you will continue to grow by discovering that the key to success is planning.
Planning helps you get organized in all areas and will give you the necessary resources to have a business, it is so powerful that if you use it in the right way it will make you succeed in life.
Always remember to work on the dreams you set aside, it's time to start acting. Support this publication -if you like it- and share -reblog- so that more users can join our community, you can also use the hashtag #Planificacion #BeEntrepreneur and, you can also use among your tags, the one of some of our allies: #hispapro, #r2cornell and #ecency.

Recursos Utilizados | Resources Used
La imagen del banner y el divisor fueron realizadas y editadas con Photoshop Cs 6 | The image of the banner and the divider were made and edited with Photoshop Cs 6.

Todas las imágenes fueron tomadas por mi con mi celular | All images were taken by me with my cell phone.

Traducido con www.DeepL.com | Translated with www.DeepL.com/Translator.