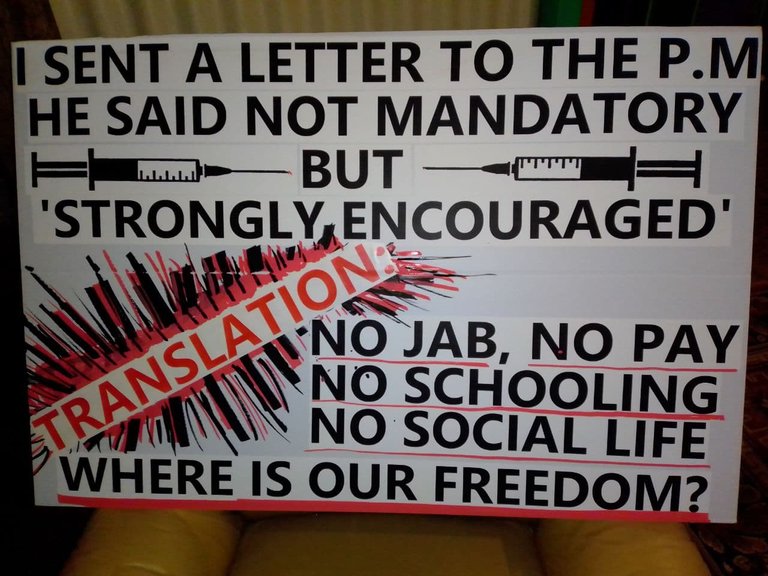 Heya peeps,
I'm going to repost all things shared on the Telegram channel (t.me/westaussierights) every once in a while to keep things syncronised and backed up on the blockchain.
By the way, welcome to WARN - a place where you can still get through to others in an organic network that is unaffected by Cancel Culture!
First of all there is a MASSIVE
MEDICAL FREEDOM RALLY
Happening in Scarborough @ 12pm, Tomorrow, Saturday the 20th of February, 2021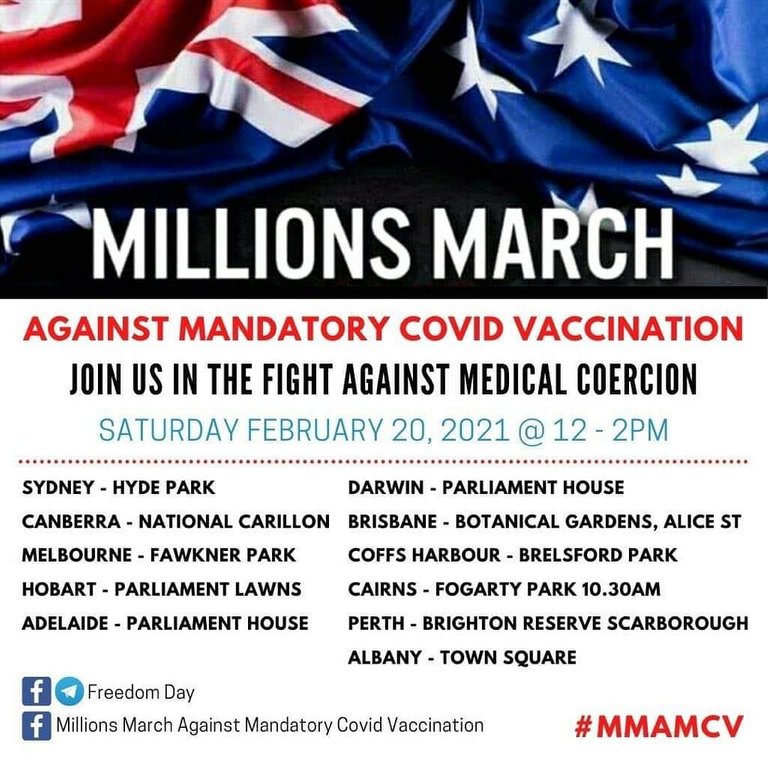 Find the invite here: https://myemail.constantcontact.com/It-s-Go-Time--Rally-Newsletter-Feb-2021.html?soid=1101800214009&aid=IzthFilsawQ
So get out there! Make some placards and make some networks! I'll be there with bells and whistles. The above picture is one side of my large placard.
Put your slogan and placard ideas in the comments or on the Telegram channel!
Bring your camera, do a live stream! We have to be our own media!
---
Next post on Telegram:
The clear and concise 'New Normal' doco by happen.network was shared - https://muse.ai/vc/CRFPmJ1?fbclid=IwAR3k6b3YKyk-1zza1duLStSjW63XJTtCDhnw8GZLL0a0nu_LKa3Fgbn5Si4
---
Next post on Telegram:
This image was shared, I'm pretty sure the 'war crimes' thing is a legal thing - but someone could adapt it a bit print out a bunch and hand them out at the rally (wearing a theatrical nurses outfit? lol - with rubber gloves?? haha):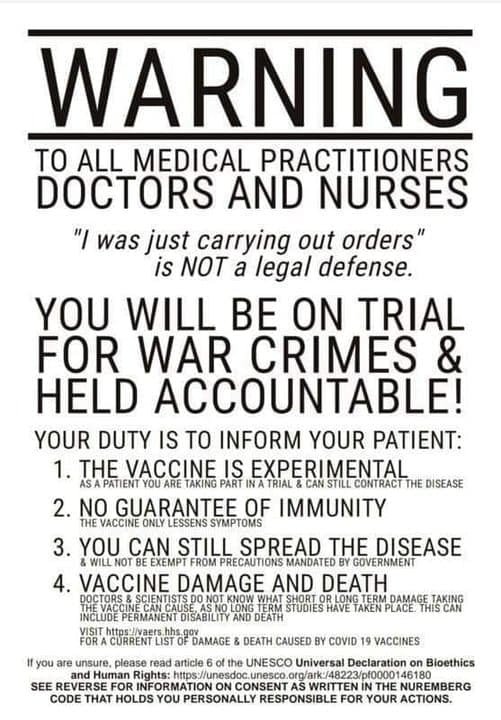 ---
Next post on Telegram:
On September 26,2020 I published an open letter to the Prime Minister in response to a letter I received back from sending a letter to him - it goes into some detail regarding the covid histeria and the vaccine scam the West Australian people need to stand up against! https://peakd.com/hive-122315/@montycashmusic/an-open-letter-to-the-prime-minister-of-australia
---
That letter that was sent back to me had the words 'strongly encouraged' in it: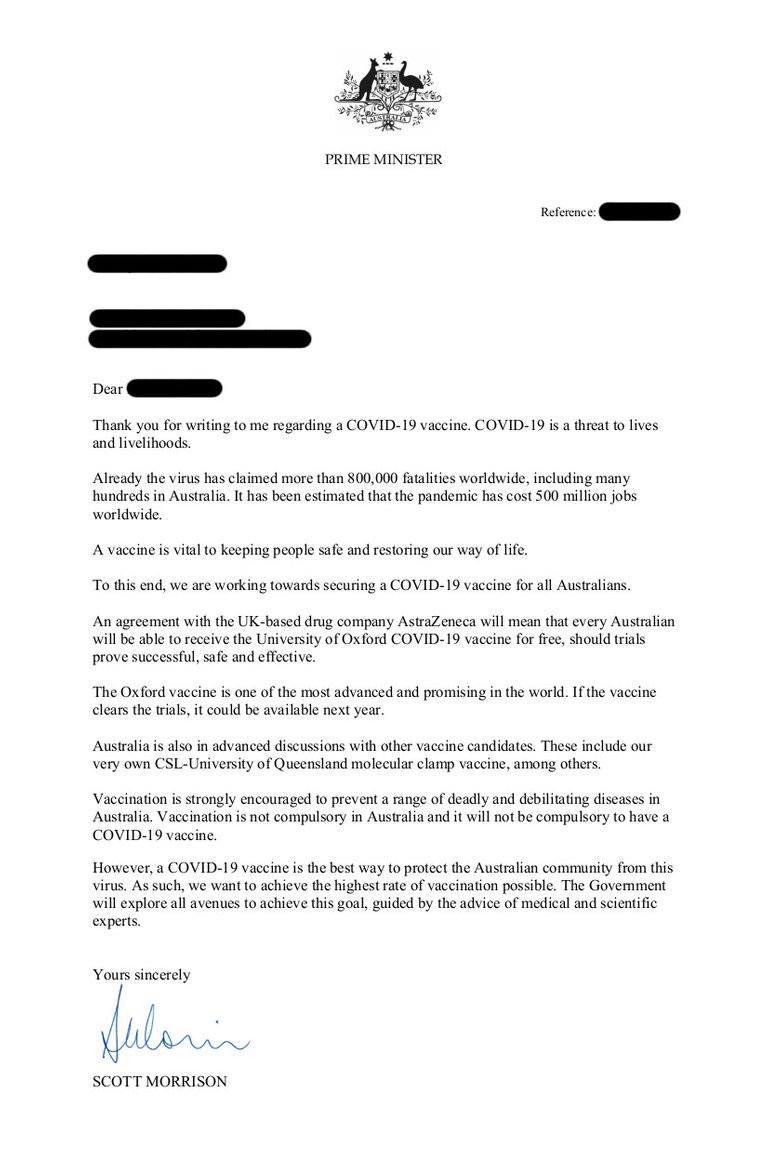 ---
Next post on Telegram:
How far will 'strongly encourage' be taken in Australia? Get an idea of how the fear protocol is causing people to fall inline with a mandatory vaccination program even in countries that claim to be free like Australia. How far will West Aussies allow this to go? https://peakd.com/news/@pressfortruth/no-vaccine-no-food-now-a-reality-in-israel-the-uk-and-nyc
Great video by @pressfortruth!
---
Stay safe and sane people... and stay connected!
In Love,
Monty
Statement of Mission: Western Australian Rights Network is not affiliated with any political party it is a network of genuinely concerned individuals. We are shocked at the waning rights of Western Australians. This affects ALL people that live here from ALL walks of life. WARN is a place to share and discuss issues that affect our rights. Thank you!
Cheers to @aagabriel for getting involved! Let's find more West Aussies to make this network flourish!
ps. Here's the opposite side of my placard! hehe