Chiang Mai is sometimes referred to as the "City of a Thousand Temples" and while I am quite certain there are not that many of them there are quite a few. It seems like no matter which direction you head in you are going to encounter a temple there, regardless of how populate the area is.
For example. I was just riding towards something that I was intentionally going to visit near a friend's house when Google maps sent me down a road that no longer exists or at least not in the capacity that it is displayed on their app. So therefore, I was terribly lost. Thankfully it wasn't too hot of a day (for Thailand) and I had plenty of water. Plus, I live in a city whose extended metropolitan area has more than a million people in it so you can only get but so lost here.
The next thing I know this very unusual temple sat directly in my path and I just had to go and check it out.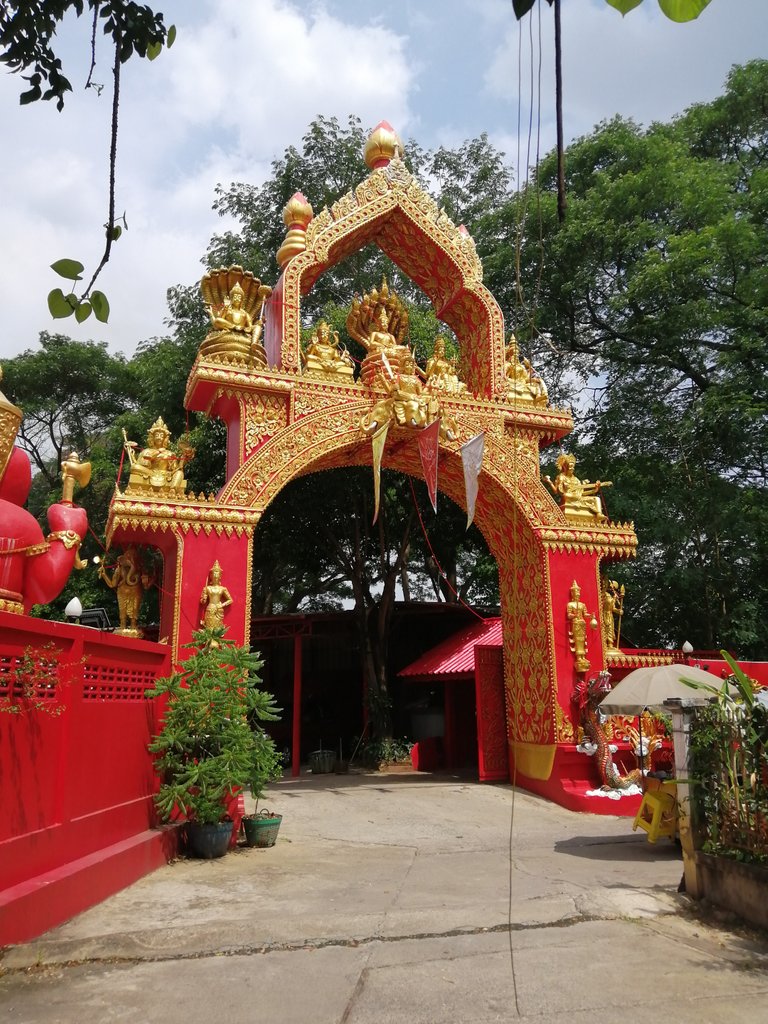 When I say that this temple is usual I don't mean that the architechture was anything out of the ordinary. Most temples are like this style at least as far as the hundred or so that I have seen. What was unusual about it was that it was red. I mean extremely red, everything was red.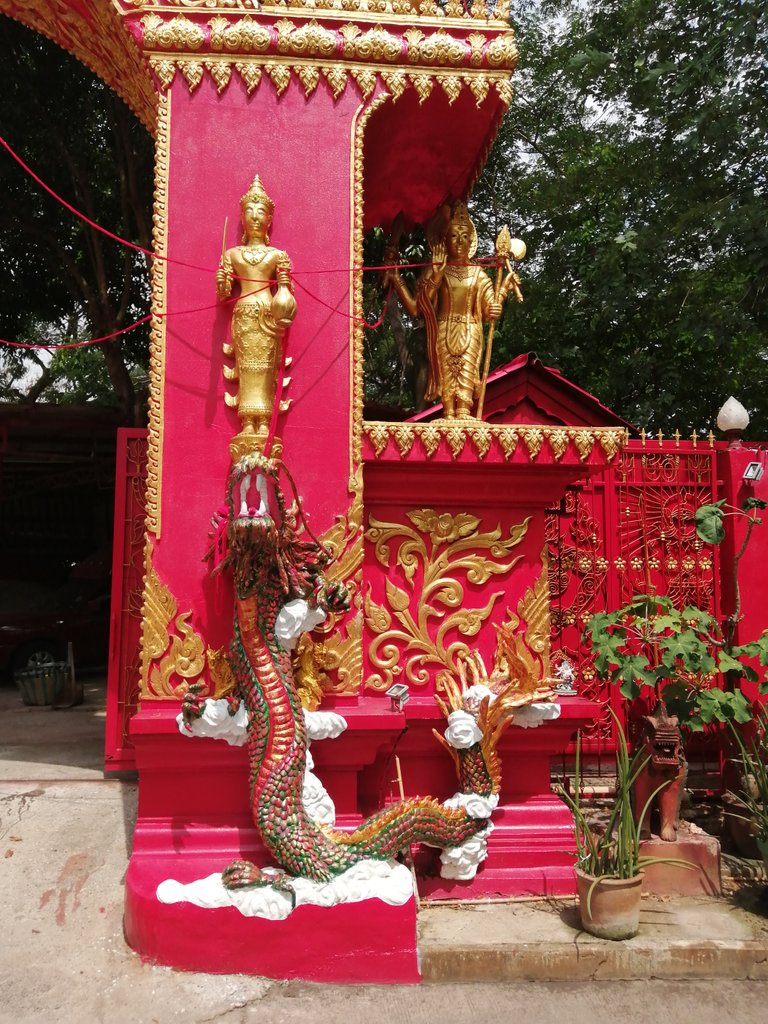 The gold coloring is very common with temples and it does appear to be a "go to" color for most temples in Thailand but most of them go for a primarily white or polished grey primary color with gold accents. I have never seen a nearly completely red temple before.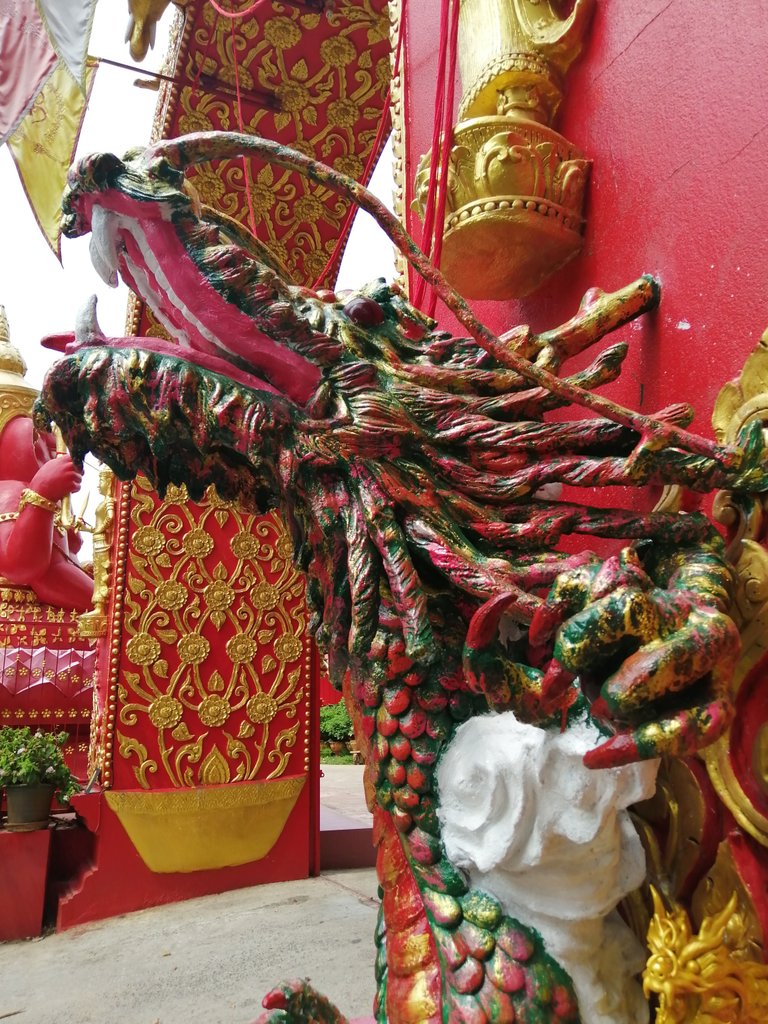 The level of detail on this dragon sculpture (which was just cement, unfortunately and probably from a mold and mass produced) still would have taken someone who is quite talented and has very steady hands quite a lot of time and vision. It likely would have been tough to get a "do over" if he (or she) went astray with the painting process.
There were dragons featured all around the exterior of the temple walls and all of it seemed to have been very nicely maintained. One thing about paint work in the heat and humidity of Thailand is that you really got to stay on top of it because the sun really wears down any painted surface in a hurry. This is evident in a lot of the other temples that are not as nicely maintained as this one was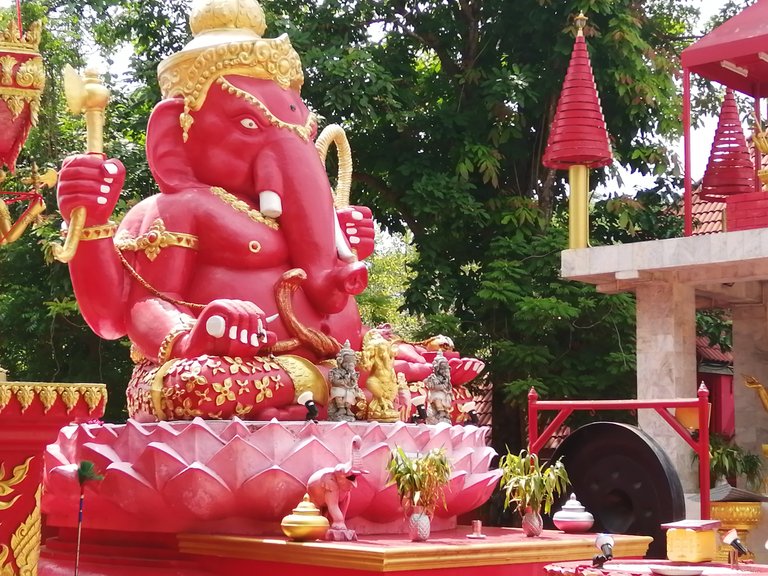 This part of the temple surprised me the most. I'm not really up to speed on my religions but I always thought that this sort of representation was Hindu in nature, not Buddhist. It was prominently featured in the main courtyard so it must be of some importance. I should probably ask a Thai person about this because I am quite interested to know if there is some sort of crossover between the religions.
I would have liked to have taken more pictures of things inside the complex but I was dressed in a tank top and shorts and was feeling a little "under-dressed" for a religious building, so it was more of an "in and out" visit for me and I also didn't enter any of the buildings that most likely contained the Buddhas. I'm not super clear on the protocol but I don't want to upset anyone, even if it is unintentional so I made my visit very brief and put a bit of money in the donation box on my way out.
The point of all this is that this city is just such a mysterious wonderland. There was nothing mainstream or special about this area that I was in and it was pretty off the beaten track as well. This is definitely not a tourist attraction and it was around 20km from the city center, well away from where travelers would end up if there were visiting.