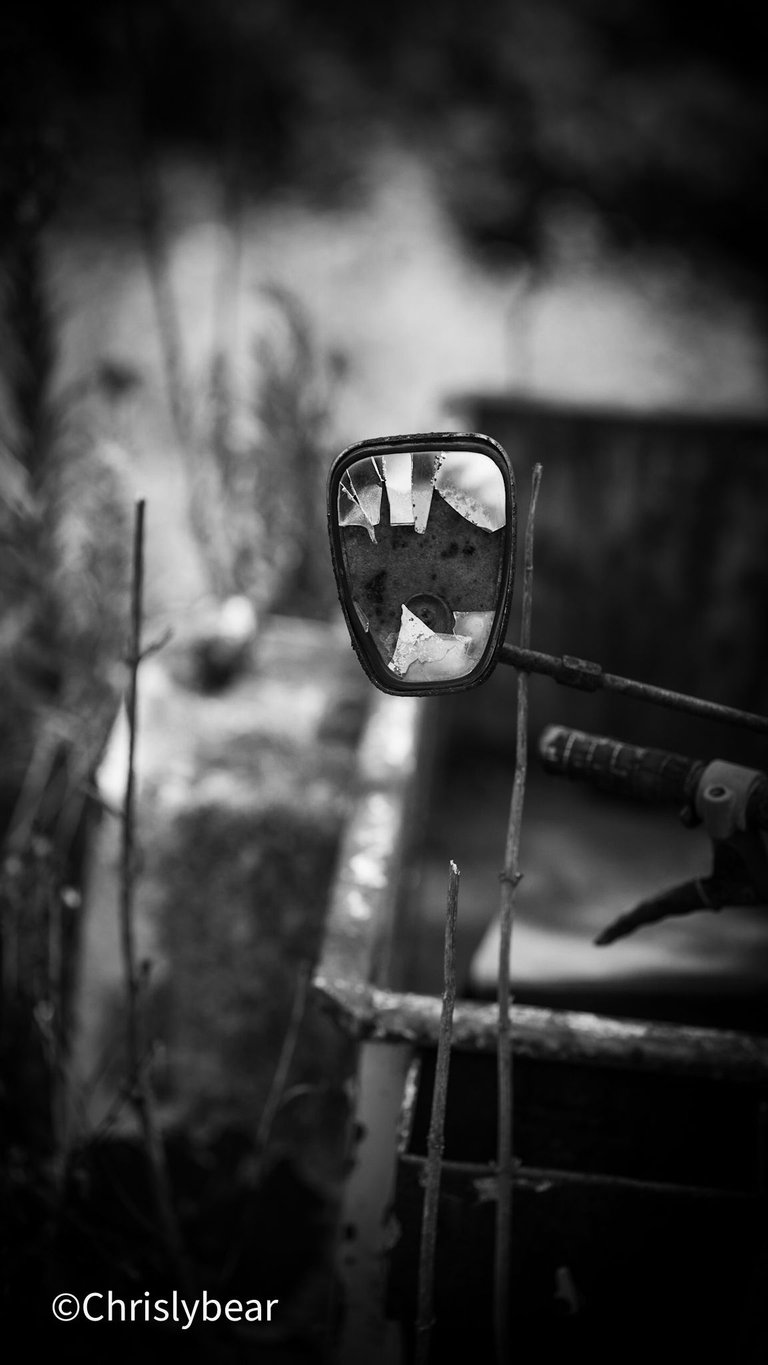 This Photo is my entry to the #Monomad Challenge
Breaking a mirror means 7 years of bad luck - at least that's what superstition says. In my photo what I submit for the Monomad-Challenge you can see an old abandoned moped with loading area - whose side mirrors are broken. So I can say with a clear conscience that the 7 years of bad luck are not dedicated to me. (Quickly knock 3 times on wood)
Overall, the whole motif is quite interesting, although somewhat awkwardly placed. A little off a small hiking trail was on a green area all sorts of discarded items, that moped was also there. Purely from the Zustandher I could even imagine that one could restore with a bit of craftsmanship and love, that whole. Estimated stands the good piece but already some years there, pity actually.
A few years ago I always wanted to restore an old car, but I would not be able to do so until today, because I lack the knowledge. When I am older, perhaps already graying or bald and have way too much time, I would like to try to learn such a craft.
Einen Spiegel zu zerbrechen bedeutet 7 Jahre Unglück - so besagt es zumindest der Aberglaube. In meinem Foto was ich für die Monomad-Challange einreiche sieht man ein altes verlassenes Moped mit Ladefläche - dessen Seitenspiegel zerbrochen sind. Ich kann also mit ruhigem Gewissen sagen dass die 7 Jahre Unglück mir wohl nicht gewidmet sind. (Schnell 3 mal auf Holzklopfen)
Insgesamt ist das ganze Motiv recht interessant, wenn auch etwas ungünstig platziert. Etwas abseits eines kleinen Wanderweges befand sich auf einer Grünfläche alles mögliche an weggeworfenen Gegenständen, dass Moped stand ebenfalls dabei. Rein vom Zustandher könnte ich mir sogar vorstellen, dass man mit ein bisschen handwerklichen Geschick und Liebe, dass ganze restaurieren könnte. Geschätzt steht das gute Stück aber schon einige Jahre dort, Schade eigentlich.
Vor einigen Jahren wollte ich immer mal ein altes Auto restaurieren, aber dazu wäre ich bis heute nicht in der Lage, da mir das Wissen dazu fehlt. Wenn ich älter bin, vielleicht schon ergraut oder kahl und viel zu viel Zeit habe, würde ich gerne versuchen ein solches Handwerk zu erlernen.