Greetings dear readers and photo fans !!!
¡¡¡ Saludos queridos lectores y fanáticos de las fotografías !!!
---
Hace varios años atrás, estuve en el Núcleo de Sucre de la Universidad de Oriente, acompañando a mi esposo que dictaría unas clases en el programa de Maestría en Gerencia. Las clases se dictaron en la escuela de Ciencias Administrativa, y por supuesto mientras mi esposo trabajaba, yo me distraje tomando algunas fotografías.
Several years ago, I was at the Núcleo de Sucre of the Universidad de Oriente, accompanying my husband who would teach a few classes in the Master of Management program. The classes were given at the School of Administrative Sciences, and of course while my husband was working, I was distracted by taking some pictures.
---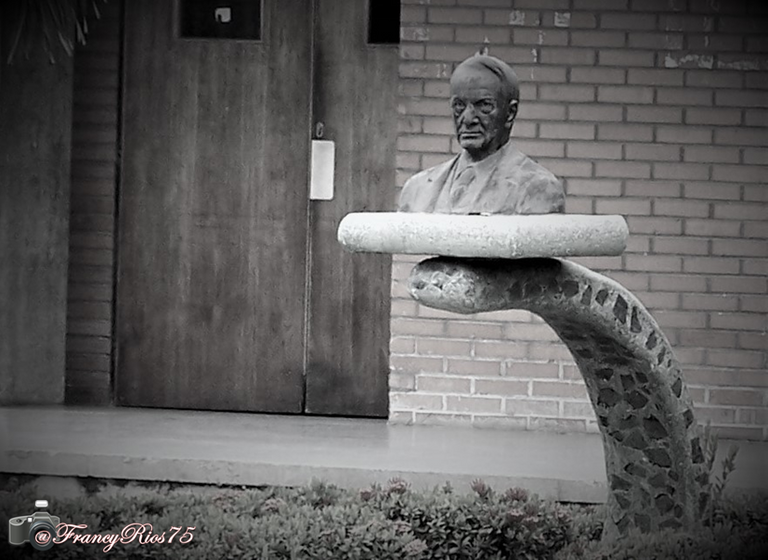 Mientras recorría las instalaciones me encontré con el busto que hoy día les muestro, debo ser sincera al decirles que no tengo idea de quien se trata. Si mal no recuerdo no tenía ninguna inscripción con el nombre de la persona a quien rendían homenaje, imagino que algún amigo de lo ajeno se robó la placa.
While touring the facility I came across the bust that I show you today, I must be honest in telling you that I have no idea who it is. If I remember correctly, there was no inscription with the name of the person to whom they were paying homage, I imagine that some friend of the others stole the plaque.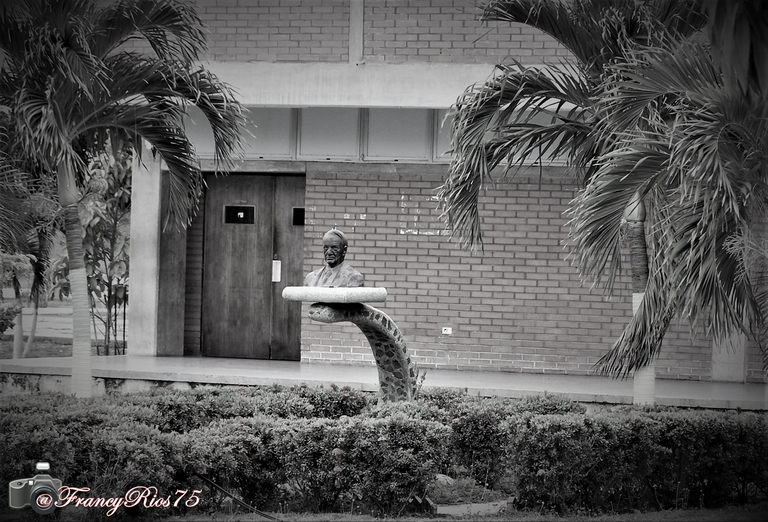 Así que ahora, para los que ven el busto del personaje desconocido, solo pueden preguntarse quién era él y cuál sería su aporte, para merecer el digno honor de que su rostro fuera inmortalizado en los espacios de la escuela de Ciencias Administrativa, de la Universidad de Oriente.
So now, for those who see the bust of the unknown character, they can only wonder who he was and what his contribution would be, to deserve the worthy honor of having his face immortalized in the spaces of the School of Administrative Sciences, of the Universidad de Oriente.

Esta es mi entrada para el desafío #monomad – del 14 de noviembre, gracias por la iniciativa, espero les guste mi trabajo, si están interesados en participar AQUÍ les dejo el link.
---
This is my entry for the #monomad - November 14th challenge, thanks for the initiative, I hope you like my work, if you are interested in participating HERE I leave you the link.

Contenido y fotografías de mi propiedad intelectual
Información Técnica
| Cámara | Pentax * istDL |
| --- | --- |
| Lente | * Pentax 18-55 |
| Iluminación | Luz Natural |
| Locación | Cumaná, Estado Sucre, Venezuela |
Content and photographs of my intellectual property
Technical information
| Camera | Pentax * istDL |
| --- | --- |
| Lens | * Pentax 18-55 |
| Lighting | Natural Light |
| Location | Cumaná, Sucre State, Venezuela |
---