Prologue
Gestion des deux jeux crypto NFT sur hive que je fais quotidiennement :
1- Rising Star
2- Hashkings
Video
Analyse
Rising Star
Bien que les starbits continuent de choir, le jeu reste habituellement stable.
Dans la vidéo ici nous ajoutons 36 cartes à notre collection, on a eu un double rare, et le crash nous réserve la petite surprise... Pourquoi diable est-ce que cela s'est planté...
Jux nous le dira lors de la résolution du soucis :-)
Mais n'ayez crainte, on ne perd jamais rien avec les bugs, Juxta veille à ce que les roll backs aient lieu ! Merci pour cela d'ailleurs.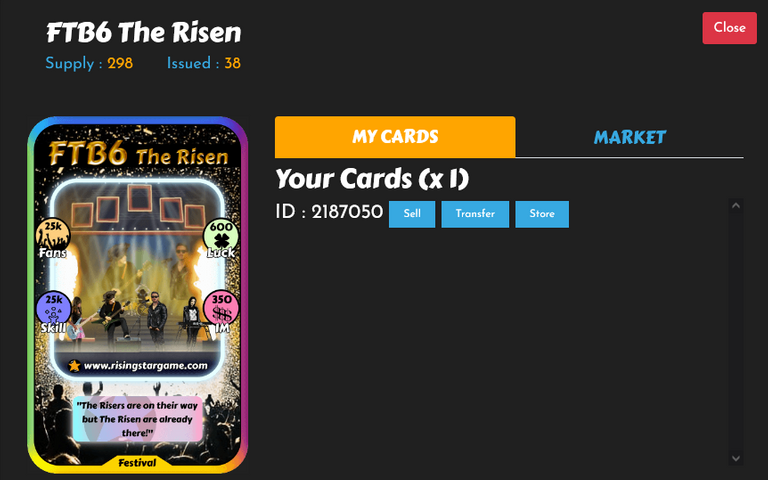 Vous avez vu ? qui c'est qui a the risen ? Mhh ?
C'est moiii :-)
J'aurais voulu le savoir y a un an, ainsi j'aurais fait 4 séries de chaque festival, mais pas grave j'ai sacrifié the risers ave cplaisir pour une carte qui fait le double de John !
Hashkings
Bugs persistants au niveau visuel pour le farming, mais le jeu continue a fonctionne comme il se doit, et permet de créer régulièrement du BUD à revendre, y compris de l'H2O .
Rentabilité existante.
Nous continuons donc à y jouer.
Conclusion
Nous nous retrouverons dès que j'ai à nouveau 200.000 starbits, puisque nous ne travaillons pas par intervalles de temps, mais par intervalles de gains.
Les 100.000 starbits convertis en hive, vont, entre autre servir à renforcer le compte avec
lequel nous jouons.
Bon dimanche à tous !
---
A bientôt,
≋𝕴𝖙𝖍𝖆𝖗𝖆 𝕲𝖆ï𝖆𝖓≋
@itharagaian


≋≋≋≋≋≋≋≋≋≋≋≋≋≋≋≋≋≋≋≋≋≋≋≋≋≋≋≋≋≋≋≋≋≋≋≋≋≋≋≋
Helping my projects / Tipping :-) ???
Hive BlockChain Donations: https://hivelive.me/donate/itharagaian
Helping the author (paypal) : https://www.paypal.me/Lordolivier
We of course accept cryptos:
BTC : bc1qxtaam3mq62kpa0vlafjlpdfluqt6anh22qyu3k
DASH: Xuetc3zEDQfx7WGHpJUtPdrgB4tQJEQbat
DOGE: DD5MZYCeEA68D4FLNmqt51VUEg8mG3yeHR
LTC : ltc1q32fq9ae55l0zmrqjc5h763s8x0y2dv7pwk699c
ETH : 0x710c5Ea59F8ae07b7C005C516B7865CDd94Fa52a
All donations are appreciated and welcomed,
thank you.
≋≋≋≋≋≋≋≋≋≋≋≋≋≋≋≋≋≋≋≋≋≋≋≋≋≋≋≋≋≋≋≋≋≋≋≋≋≋≋≋
Proud Member of LaTaverne - @hive-143869