For english, please scroll a little bit down
Une nouvelle catégorie pour MiNaVA
ART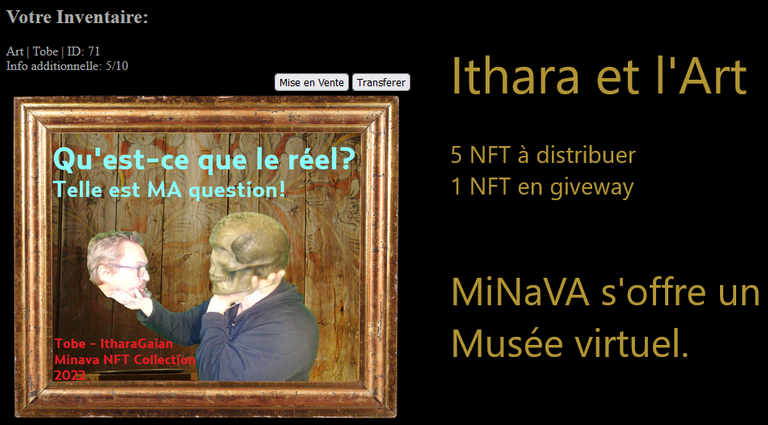 L'Art tout comme le réel m'a toujours posé question, alors mélangeons les deux à la façon de Shakespeare. Tout le monde connaît l'image de Hamlet regardant ce fameux crâne pour se poser la question existentielle : Être ou ne pas être, telle est la question.
La voici tournée en dérision avec comme support un art naïf, où je me pose la question sur le réel plus que sur l'existence, en inversant le sujet de l'interrogation.
---
Fond et tableau sont des images prises sur internet, toutes deux libres de droit. le crâne fait partie de ma collection "Alchemy". Et le sujet, est votre serviteur.
---
Sommes-nous réels ou non ?
Qu'est-ce que le réel ? Une projection sur un écran sphérique de taille de l'univers comme le prétendent certains ? Du vide parsemé de poussière d'étoiles ? Une simulation mentale ?
Je pense sincèrement que jamais nous n'aurons la réponse à cette question, du moins pas en tant qu'humanité comme nous la connaissons. L'ère du verseau arrive, là, peut être aurons-nous quelque bribes d'info en plus, mais guère plus ...
10 NFT's MiNaVA
Je Minte donc 10 exemplaires de ce tableau NFT.
1 Pour mon épouse @florenceboens , 2 pour mes enfants @letenebreux et @lithajacobs .
1 Que je garde précieusement.
5 Que je place maintenant à disposition sur notre marché NFT
1 Que j'offrirai en Giveaway à une date ultérieure.
Un autre NFT, de type décoration est toujours suspendu en GiveAway, je vous en parlerai fort bientôt, mais j'attends un Trigger bien précis avant de le lancer :-)
Acquérir un exemplaire
Le tarif de ce tableau est lui aussi soumis à un traitement digne de l'Art ...
Chacun d'entre eux est numéroté.
Tous les tableaux sont proposés à 50 ECU.
Sauf le premier et le dernier avec les numéros 1 et 10 donc, qui eux seront à 100 ECU
C'est un tarif arbitraire pour tester le marché. Nous avons observé le prix d'autres œuvres, en sachant que ItharaGaian est déjà un artiste ayant vendu des œuvres IRL dans l'international.
D'autres pièces viendront bien vite enrichir la collection.
Cherchez ART dans le marché pour retrouver facilement le tableau :
http://itharagaian.duckdns.org/nft/Market.html
Notre micronation se dote d'un musée, pour recueillir les œuvres micronationales et celles de ses citoyens.
Chaque donation au musée fera l'objet d'un article et l'œuvre sera conservée à l'abri afin que chaque citoyen puisse en jouir.
Voir @minava.museum (en court de construction).
---
ENGLISH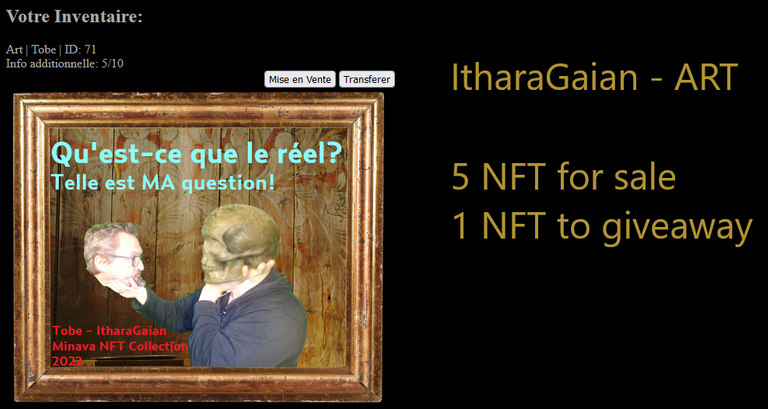 A New Category for MiNaVa
ART
Art like reality always intrigued me. So I decided to mix both of them like Shakespeare Could have done. Eveyrone knows the image where Hamlet, staring at the famous skull asks himself "To be or not to be, that's the question"
Here is my own version of it, with naïve art style, where I question more reality itself than existance, by swapping the subject of the interrogation.
---
Background and borders are free images from internet, the skull is part of my "Alchemy" collection and the subjet is me, myself and I :-)
---
Are we real or not ?
What exactly is reality ? A galatic sized show on a spherical screen, like some suggest? Emptyness with particles of star dust thrown here and there? A mental simulation or even just a dream?
I suppose we won't ever have the final answer, not as human species as we know it. Maybe some partial informations with the coming Aquarius era, but it won't be much more than that.
10 NFT's MiNaVA
I now MINT 10 units of this NFT picture.
1 for my spouse @florenceboens and one for each of my children @letenebreux and @lithajacobs .
1 for me to keep :)
5 Now available in our NFT Market.
And one that I will offer in giveway very soon.
Another nft will begivenaway, I do not forget about it, it's the Decoration you can see in signature, I just wait to good moment and trigger to launch the giveaway.
Acquire one of them ?
The pricing of this artwork is done as follow:
Each artwork is numbered, they will all be proposed at 50 ECU, except the very first and last ones, known as 1 and 10 on 10 ... Those two will be sold for 100 ECU
Of cours eit's arbitrary pricing, but we checked other artworks existing and one should remember that ItharaGaian has already sold other artworks internationally. (IRL)
Other artworks will soon join this collection.
Search for keyword ART in uor market place to easily find this NFT amongst the others:
http://itharagaian.duckdns.org/nft/Market.html
Our principality now has its own museum, we shall store and protect artworks from our citizens.
Every donation to the museum will be the source of a post and the artwork will be kept safe so each and every citizen might enjoy it.
See our @minava.museum (under construction).
---
A bientôt,
≋𝕴𝖙𝖍𝖆𝖗𝖆 𝕲𝖆ï𝖆𝖓≋
@itharagaian


≋≋≋≋≋≋≋≋≋≋≋≋≋≋≋≋≋≋≋≋≋≋≋≋≋≋≋≋≋≋≋≋≋≋≋≋≋≋≋≋
Helping my projects / Tipping :-) ???
Hive BlockChain Donations: https://hivelive.me/donate/itharagaian
Helping the author (paypal) : https://www.paypal.me/Lordolivier
We of course accept cryptos:
BTC : bc1qxtaam3mq62kpa0vlafjlpdfluqt6anh22qyu3k
DASH: Xuetc3zEDQfx7WGHpJUtPdrgB4tQJEQbat
DOGE: DD5MZYCeEA68D4FLNmqt51VUEg8mG3yeHR
LTC : ltc1q32fq9ae55l0zmrqjc5h763s8x0y2dv7pwk699c
ETH : 0x710c5Ea59F8ae07b7C005C516B7865CDd94Fa52a
All donations are appreciated and welcomed,
thank you.
≋≋≋≋≋≋≋≋≋≋≋≋≋≋≋≋≋≋≋≋≋≋≋≋≋≋≋≋≋≋≋≋≋≋≋≋≋≋≋≋
Proud Member of LaTaverne - @hive-143869