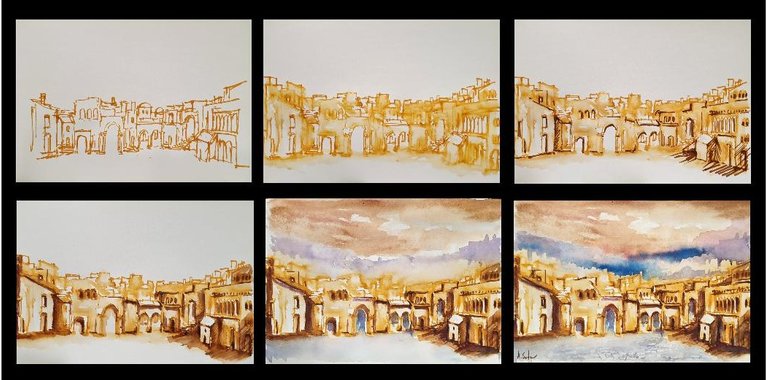 A small town


2 0 2 0   
watercolor on paper
---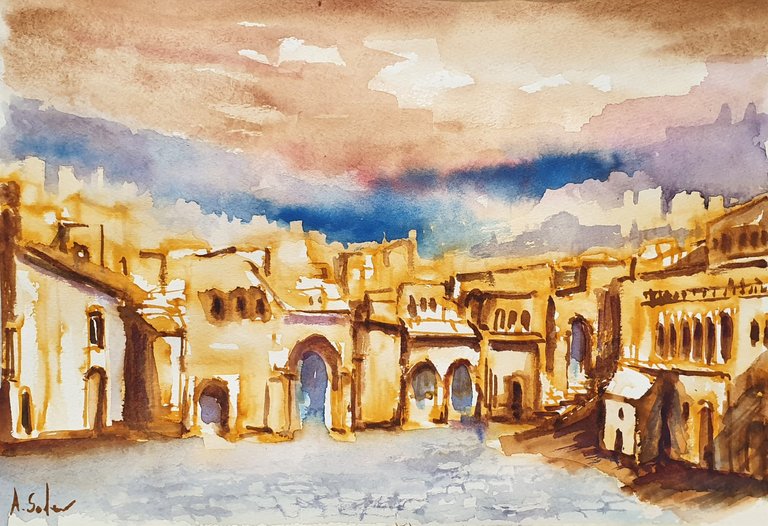 How to paint a small town
---
Hello everyone dear friends and welcome back to my blog.
How to give birth to a small town? With a little imagination we can begin
Also to the use of the construction techniques we know, stone, wood, brick or concrete, we can make a sketch of the houses for example with the color orange.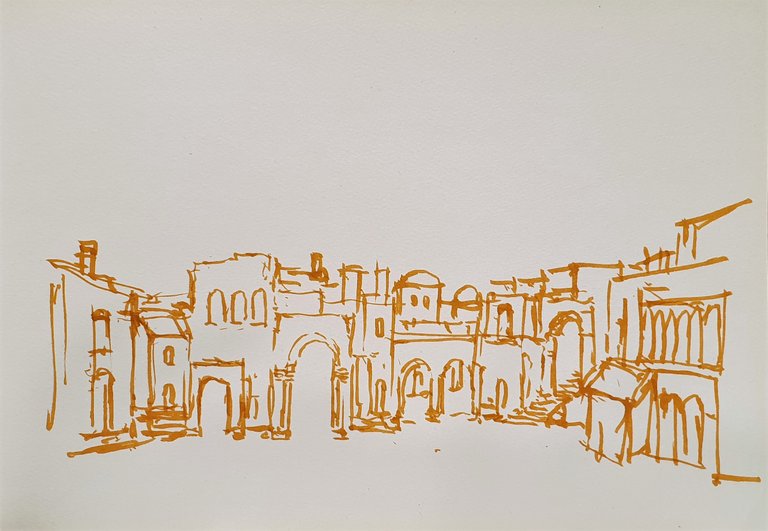 And here was the first part of the drawing. If we pass a brush wet with water on the lines of the houses we get an effect of softness of the shapes.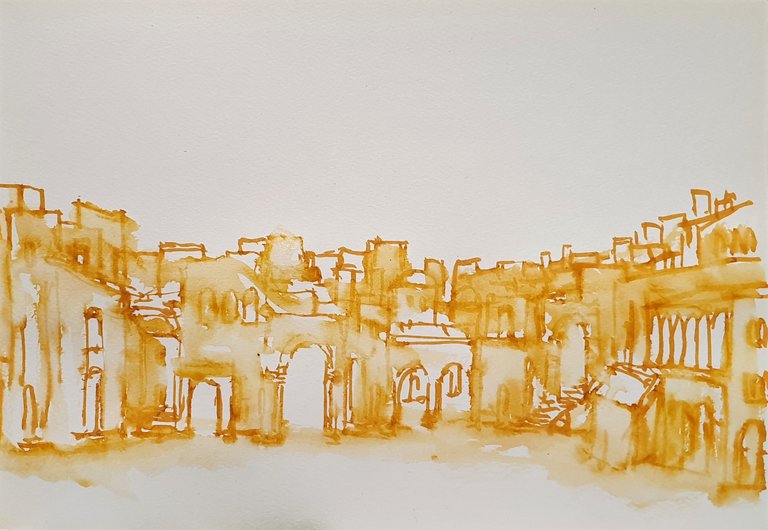 We then move on to give the first signs of brown to start giving the first plays of shadows on the buildings.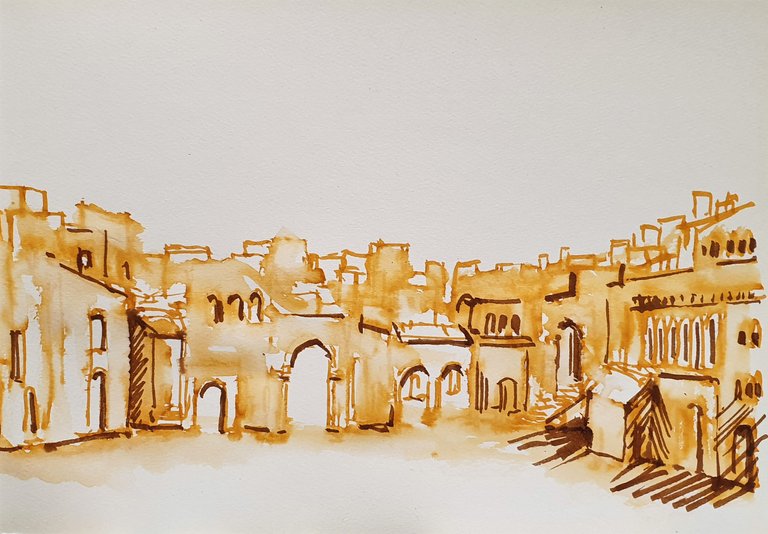 We always use brown watercolor colored water to extend the shadows on the other houses and create more softness and bright contrasts.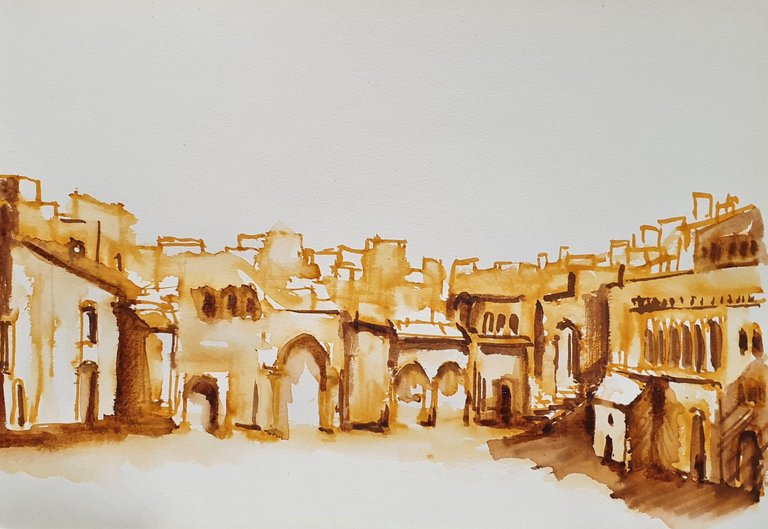 Later we can begin to give the first brushstrokes on the wet sheet to represent the sky.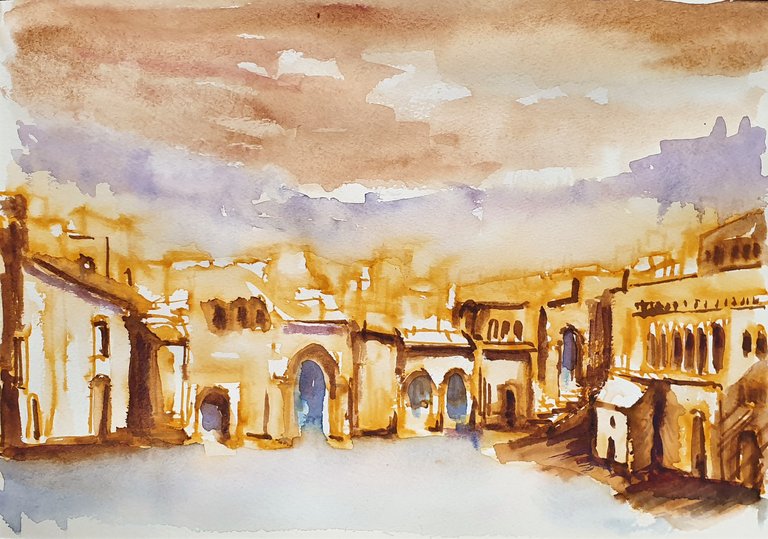 Finally we paint parts of the denser sky in cerulean blue to give a detachment with the buildings below.
To close some pictorial strokes of color on the pavement of the square.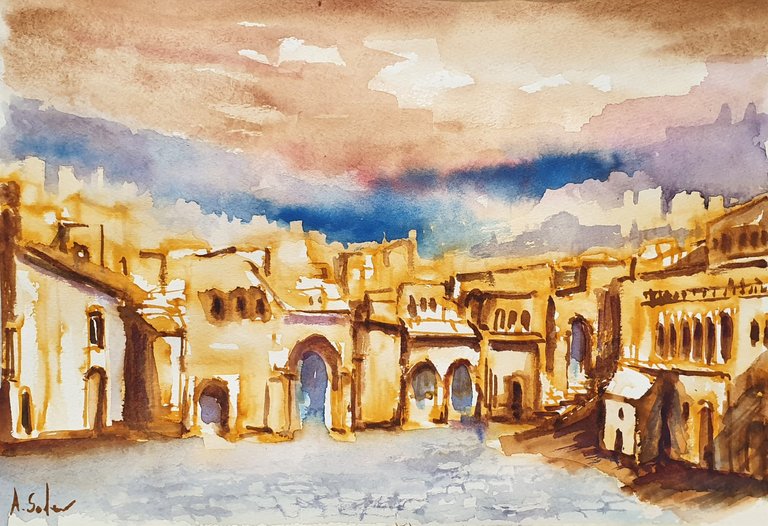 A hug with a lot of imagination.
Armando.
Come dipingere un piccolo paese.
---
Ciao a tutti cari amici e ben tornati sul mio blog.
Come far nascere un piccolo paese? Con un poco di immaginazione possiamo cominciare.
Oltre all'uso delle tecniche costruttive che conosciamo, pietre, legno, mattoni o cemento, possiamo fare uno schizzo delle case ad esempio con il colore arancione.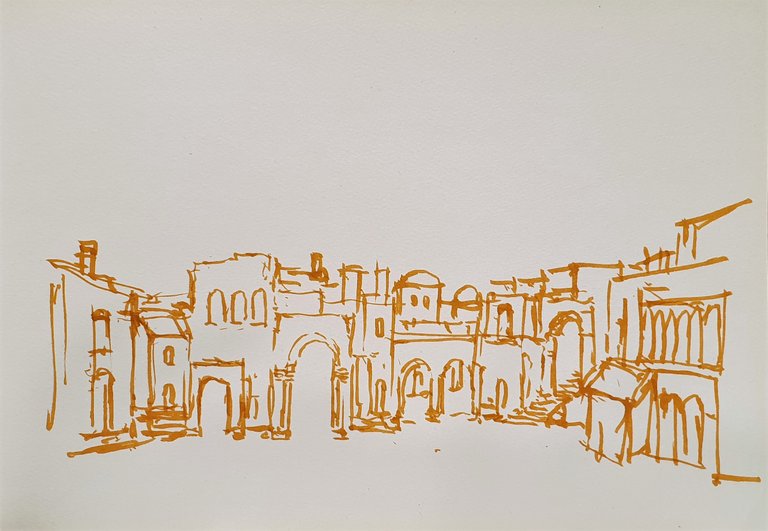 Ed ecco che è nata la prima parte del disegno.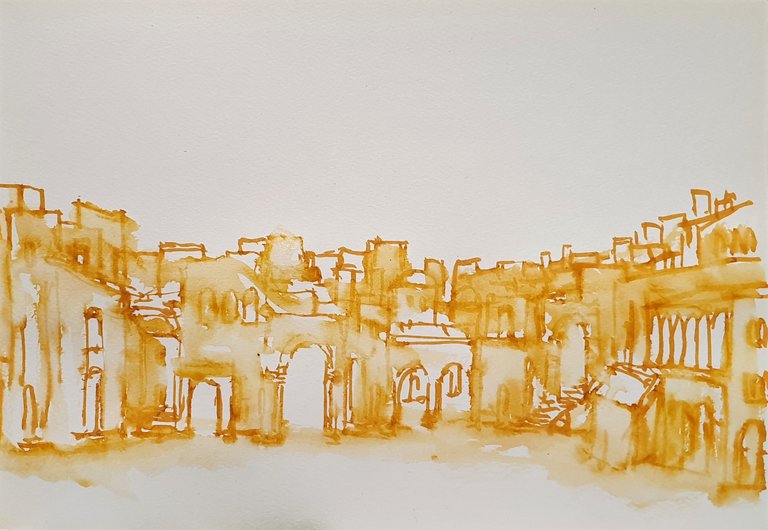 Se passiamo un pennello bagnato con acqua sulle linee delle case otteniamo un effetto di morbidezza delle forme.
Passiamo poi a dare i primi segni di marrone per cominciare a dare i primi giochi di ombre sugli edifici.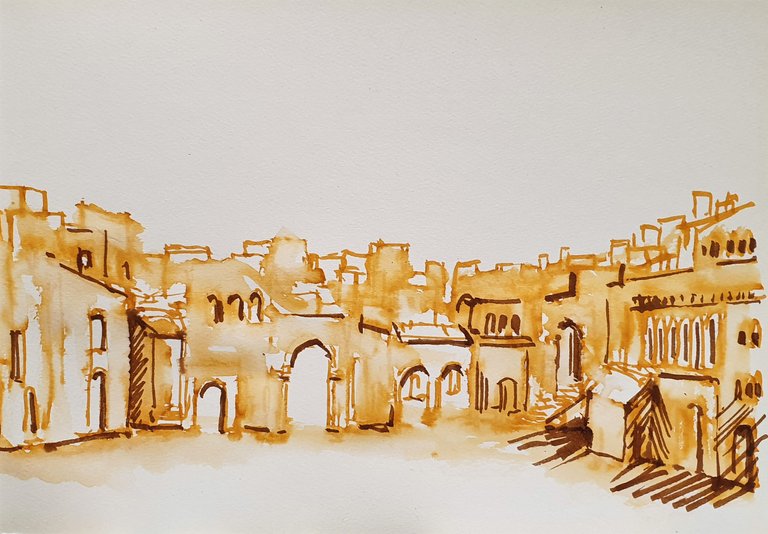 Usiamo sempre l'acqua colorata ad acquarello marrone per estendere le ombre sulle altre case e creare più morbidezza e contrasti luminosi.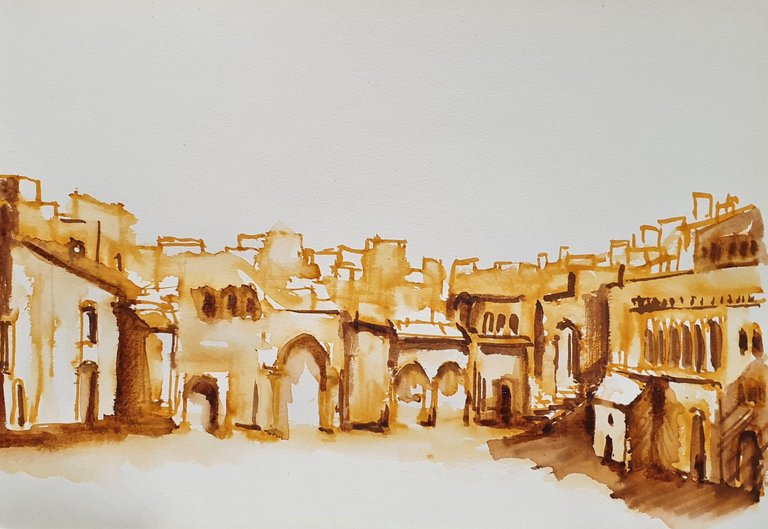 In seguito possiamo iniziare a dare le prime pennellate sul foglio bagnato in modo da raffigurare il cielo.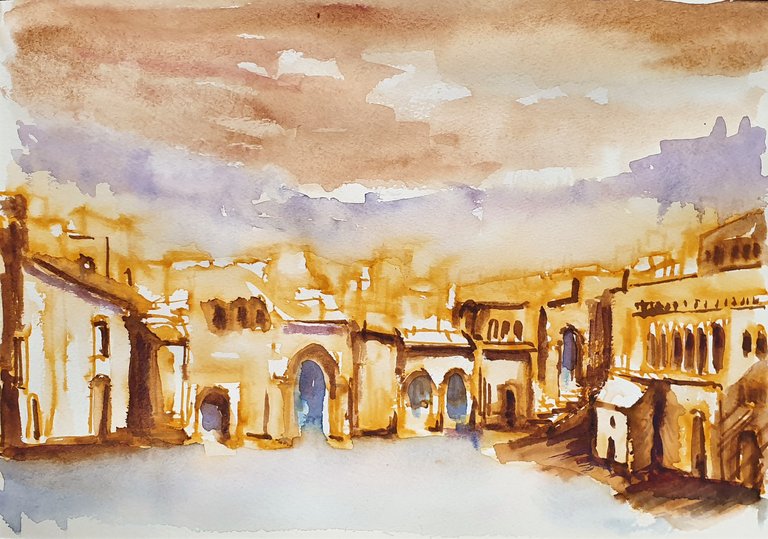 Infine dipingiamo parti di cielo più denso di colore blu ceruleo per dare uno distacco con gli edifici sottostanti.
A chiudere qualche tratto pittorico di colore sulla pavimentazione della piazza.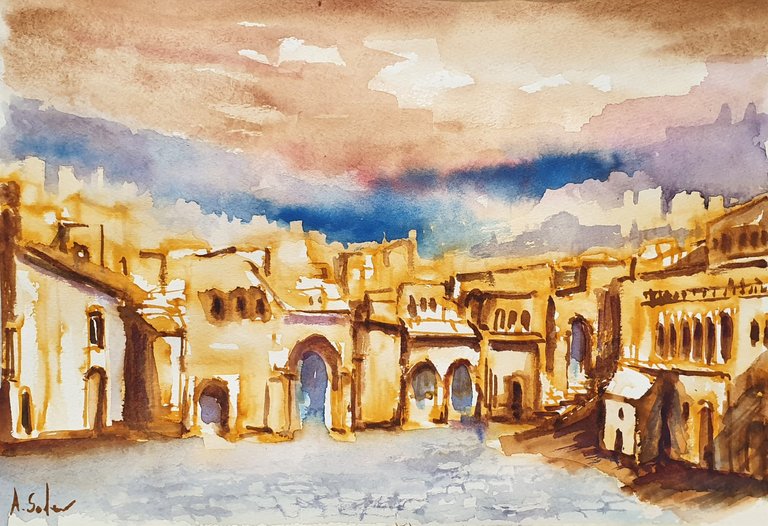 Un abbraccio con molta immaginazione.
Armando.