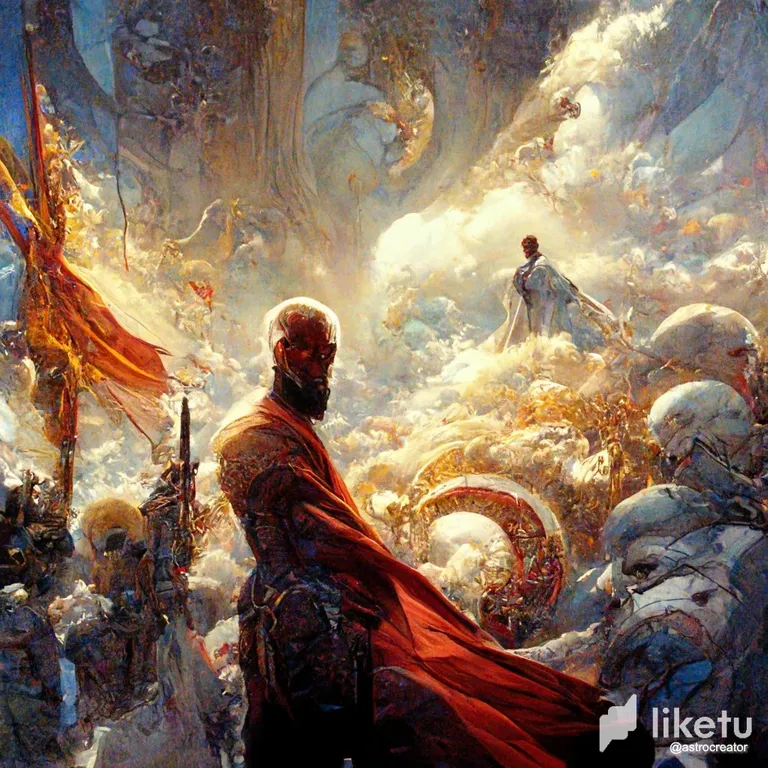 It may happen that randomness creates truly fascinating images of great character, an example of what I have just written is the image I have proposed above, even if there is nothing clear and easily recognizable, the work as a whole assumes a very endearing meaning and charm. It seems to be in front of a Renaissance painting, full of details and details that make the work rich and full of light and splendor. In this work it seems to be in front of a main character with a royal red cloak, following impadi warriors armed with spears, in the background a magical and chaotic setting, very crratteristica is the light that makes everything bright and gaudy. This of course is what I see in it, but I'm sure each of us will be able to see something different in it.
I hope you enjoy this new content, as always I invite you to let me know what you think.
Può capitare che la casualità crei delle immgini veramente affascinati e con un grande livello di caratte, un esempio di ciò che ho appena scritto è l'immagine che vi ho proposto qua sopra, nonostate non ci sia nulla di chiaro e facilmente riconoscibile, l'opera assume nel suo complesso un senso, ed un fascino molto accativante. Sembra di trovarsi di fronte ad un dipinto rinascimentale, ricco di dettagli e particolari che rendono l'opera ricca e carica di luce e sfarzo. In questa opera sembra di trovardi di fronte ad un personaggio principale con un mantello rosso regale, al suo seguito guerrieri impadi armati di lance, sullo sfondo un ambientazione magica e caotica, molto crratteristica è la luce che rende tutto luminoso e sgargiante. Questo ovviamente è quello che ci vedo io, ma sono certo che ogniuno di noi potrà vederci qualche cosa di differente.
Spero che questo nuovo contenuto sia di vostro gradimento, come sempre vi invito a farmi sapere cosa ne pensate.
---
For the best experience view this post on Liketu