Splinterlands is my favorite game on the blockchain, it was also the first game ever since my debut in the gamers world of Dapps, which started over a year and a half ago. During this time I have always played with a lot of interest and I state that the world of Heartstone style cards has never fascinated me and I admit I started a little late because I had more than a few doubts about it. But, driven by the many posts and comments of the players of the Hive community, I decided to try and I bought the initial kit of cards for a value of $ 10, also payable in crypto.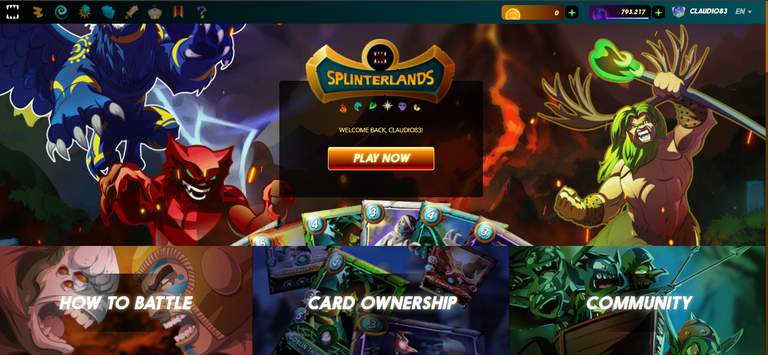 ---
Initially the game did not immediately hit me, not being practical in the genre and I could not understand what I had to do but the learning takes place through practice and after a couple of days I had acquired the basics to be able to level up and get new cards and new DE tokens. DEC is a token that is obtained by winning challenges against other users and can be used inside the Splinterland shop to buy cards from the market, decks of cards. potions to increase the probability of obtaining valuable cards or being traded on the exchange https://hive-engine.com/ or https://leodex.io/market/DEC in exchange for other crypto.
The constancy in playing has produced and in the long term a passion that today does not yield but continues to be stronger and stronger. From an economic point of view, my investment of $ 10 in 2019 today has significantly evolved, both for the rewards obtained in these months and for an increase in the valuation of the DEC token, which multiplied exponentially as the game began to spread. across the blockchain. But we are only at the beginning.

The world of video games has hundreds of millions of fans and the turnover exceeds 2 billion dollars annually, data in continuous growth demonstrating the very active market which has not known any crisis to date. Splinterlands is therefore an excellent investment for my finances but also a really fun and exciting game and when a user manages to play and earn, then this is happiness.
If you want to try to play I leave you the link of my referral https://splinterlands.com?ref=claudio83
Airdrop UNTAMED paper
At the end of the UNTAMED card sales cycle, based on the number of packages purchased, you are entitled to the possibility of obtaining an airdrop card for approximately 100k packages, for a total of 13 airdrop cards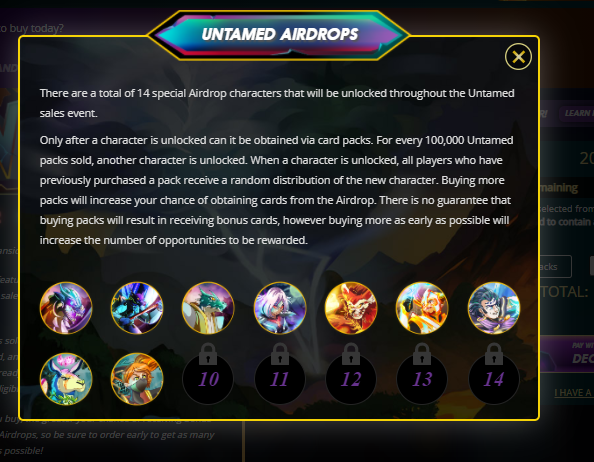 ---
This time I was lucky and I finally got my first BEATRIX IRONHAND airdrop card, belonging to the Earth element, the value is about $ 0.60 at the moment on the market, but it can change suddenly.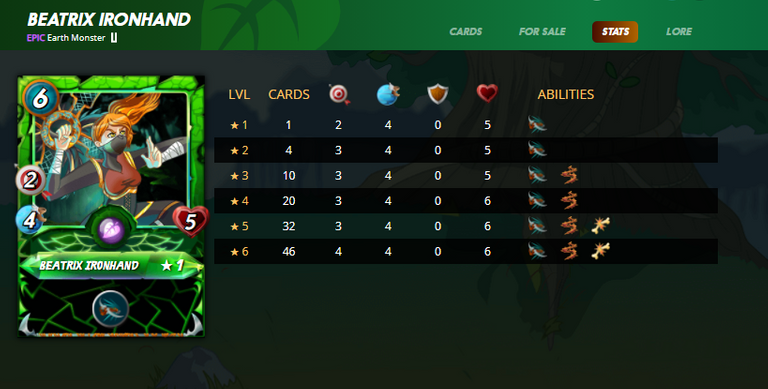 ---
---
ITA
Splinterlands è il mio gioco preferito sulla blockchain, è stato anche il primo gioco in assoluto dal mio esordio nel mondo gamers delle Dapps, iniziato ormai oltre un anno e mezzo fa. Nell'arco di questo tempo ho giocato sempre con molto interesse e premetto che il mondo della carte stile Heartstone non mi ha mai affascinato e ammetto di aver iniziato un pò ritardo perchè avevo più di qualche dubbio in merito. Ma, spinto dai tanti post e commenti dei players della comunità di Hive, ho deciso di provare ed ho acquistato il kit inziale di carte per un valore di 10 $, pagabile anche in crypto.
Inizialmente il gioco non mi ha subito colpito, non essendo pratico nel genere e non riuscivo a capire bene cosa dovessi fare ma l'apprendimento avviene attraverso la pratica e dopo un paio di giorni avevo acquisito le basi per poter avanzare di livello ed ottenere nuove carte e nuovi token DE. Il DEC è un token che si ottiene vincendo le sfide contro gli altri utenti e possono essere utilizzate all'interno del negozio di Splinterland per acquistare carte dal mercato, mazzi di carte. pozioni per aumentare la probabilità di ottenere carte di valore oppure essere scambiati sull'exchange https://hive-engine.com/ o https://leodex.io/market/DEC in cambio di altre crypto.
La costanza nel giocare ha prodotto e a lungo termine una passione che ad oggi non cede ma continua ad essere sempre più forte. Dal punto di vista economico, il mio investimento di 10 $ nel 2019 oggi si è notevolmente evoluto, sia per le ricompense ottenute in questi mesi e sia per un aumento della valutazione del token DEC, moltiplicatosi esponenzialmente man mano che il gioco ha iniziato a diffondersi su tuttala blockchain. Ma siamo solo all'inizio.

Il mondo dei videogiochi ha centinaia di milioni di appassionati ed il fattura supera i 2 miliardi di dollari annuali, dati in continua crescita a dimostrazione del mercato molto attivo e che ad oggi non ha conosciuto crisi. Splinterlands è quindi un ottimo investimento per le mie finanze ma anche un gioco davvero divertente e appassionante e quando un utente riesce a giocare e guadagnare, allora questa è la felicità.
Se volete provare a giocare vi lascio il link del mio referral https://splinterlands.com?ref=claudio83
Airdrop carta UNTAMED
Al termine del ciclo di vendita della carte UNTAMED, in base al numero di pacchi acquistati, si ha diritto alla possibilità di ottenere una carta airdrop ogni 100k pacchi circa, per un totale di 13 carte airdrop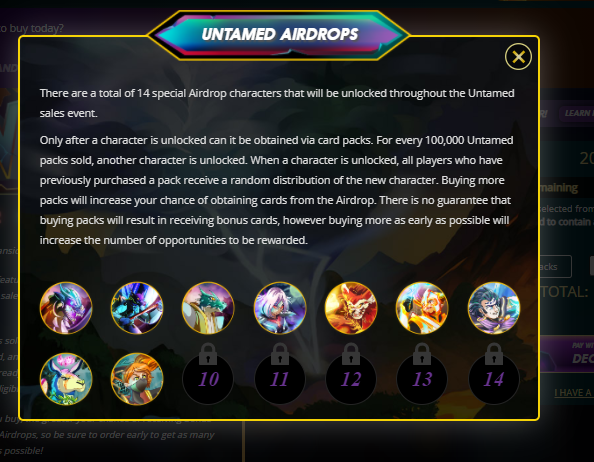 ---
Questa volta sono stato fortunato ed ho ottenuto finalmente la mia prima carta airdrop BEATRIX IRONHAND, appartenente all'elemento Terra, il valore è di circa 0.60 $ al momento sul mercato, ma può variare in modo repentino.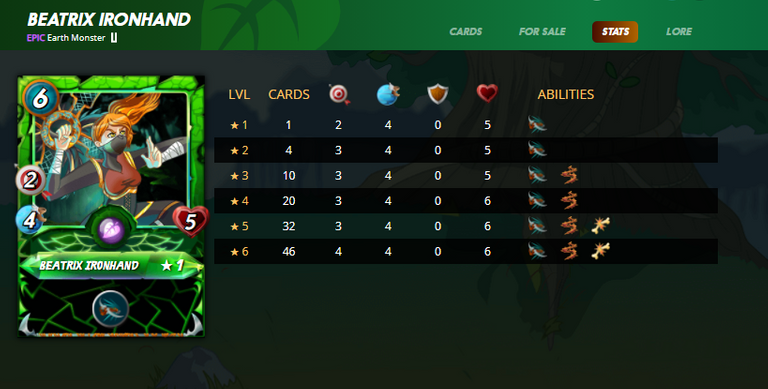 ---