Hello Splinterland warriors!
How are you all guys hope you will be blessed and fine. In today's post, I will be sharing the one rift watcher pack with gold league advancement and two card upgradation plus focus rewards from today in my main account.

BRAMBLE PIXIE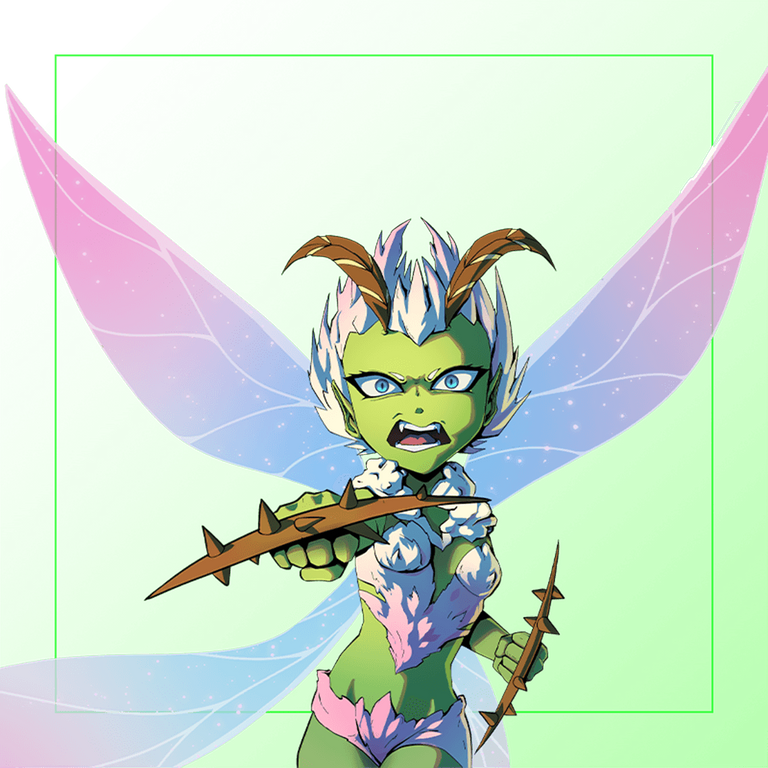 Mischievous and violent creatures, bramble pixies live in abundance in the forest realm of Folia, where they spend their time tormenting woodland creaturesRead more
BRAMBLE PIXIE is a new card from the rift watchers edition which is from the earth splinter with reach-ability and can be used in high mana battles in the 2nd position to attack the first enemy monster. However, i am not using this monster in my battles because of itsslow level while i will upgrade this card later when this card becomes cheaper so i will target level 6 of this card as i can easily use the level 6 version of this card where i can get healing while at level 4 by combining 30 BCX i can get the 4 melee attack from this card so upgrading this card to level 6 can make some sense to get the healing, and higher melee attack.

GOLD LEAGUE ADVANCEMENT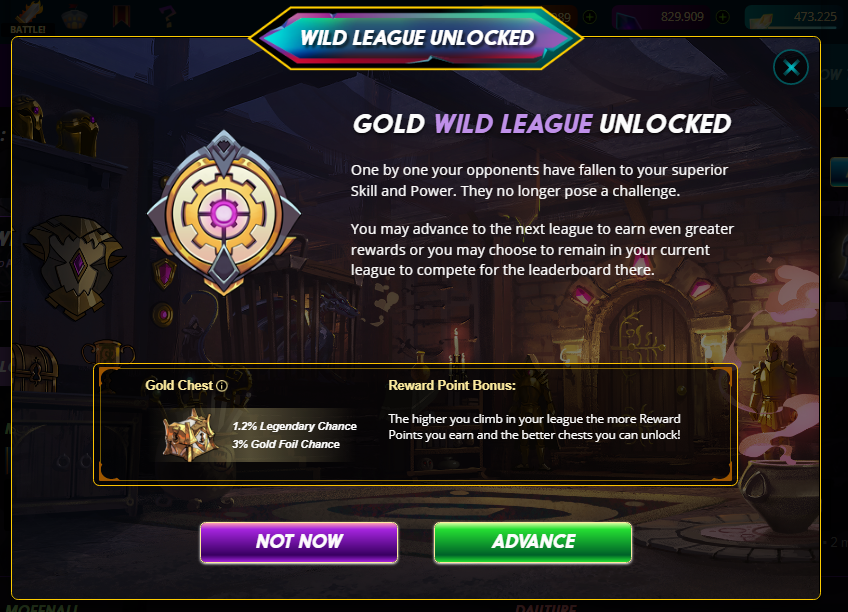 It is been a long time since i did not play battles in my main account because of the renting which is why my rating and league remain in the silver league yesterday i started battles again and slowly increased my rating but today i played some more battles and finally reached back to gold 3 league and also the focus chests for tomorrow will be in the gold league i am aiming to reach the diamond league so far but it would be difficult because of strong players. However, the season-end rewards target for this season is 30 i hope i can achieve this target to get some good rewards at the end of the season.

UPGRADED TO LEVEL 4
DEEPLURKER: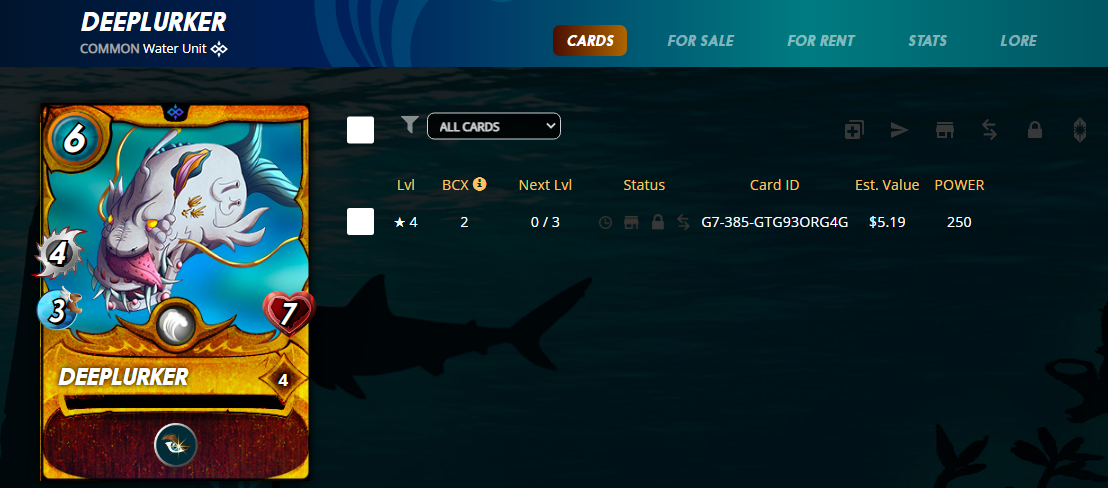 Well, recently with my rental earnings i bought some packs from the market to reinvest my earnings in the game to get some good cards from the packs, especially the legendary cards but i have got some common and rare cards from the packs opening so i got one DEEPLURKER a common card from the water splinter in gold foil worth $2.5 while one i got recently from the pack opening in my alt so i combined both BCX in gold foil worth $5.1 and i will be using this card in my main account so how i upgraded this card from my rental earning to reinvest in the game and increase your profit in many ways.

DIEMONSHARK: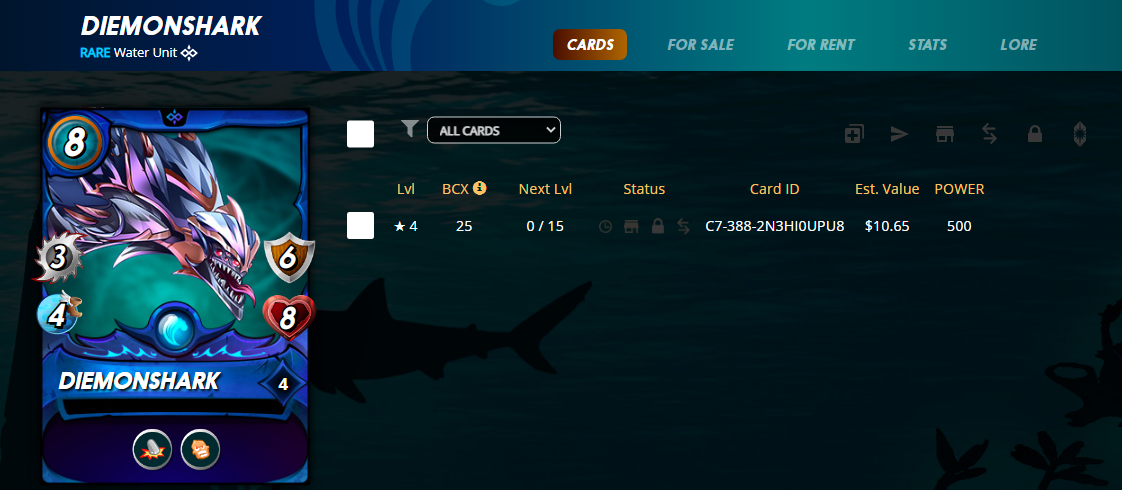 I upgraded one more card to level 4 from my rental earning as i bought lots of BCX with DEC and some i got from the packs opening which i sold for buying a gold card two BCX worth $5 each but i realized later when i sold 6 BCX in regular that buying two BCX in gold will make it level 3 so i bought back and make this card to level 4 with a small investment of $10 total profit from the rental earning.

RIFT PACK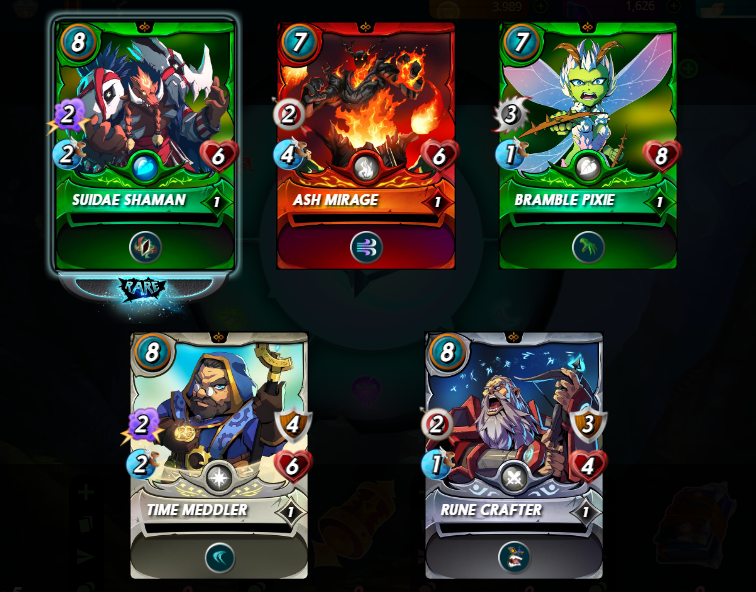 Here is another rift pack with a single rare card and 4 common cards from it and almost all the cards in this pack are explained and shared including the current one which i shared above the bramble pixie from earth splinter while the rare card i shared in last week which i got in gold foil and rest of the 4 cards is already shared in this week.

FOCUS REWARDS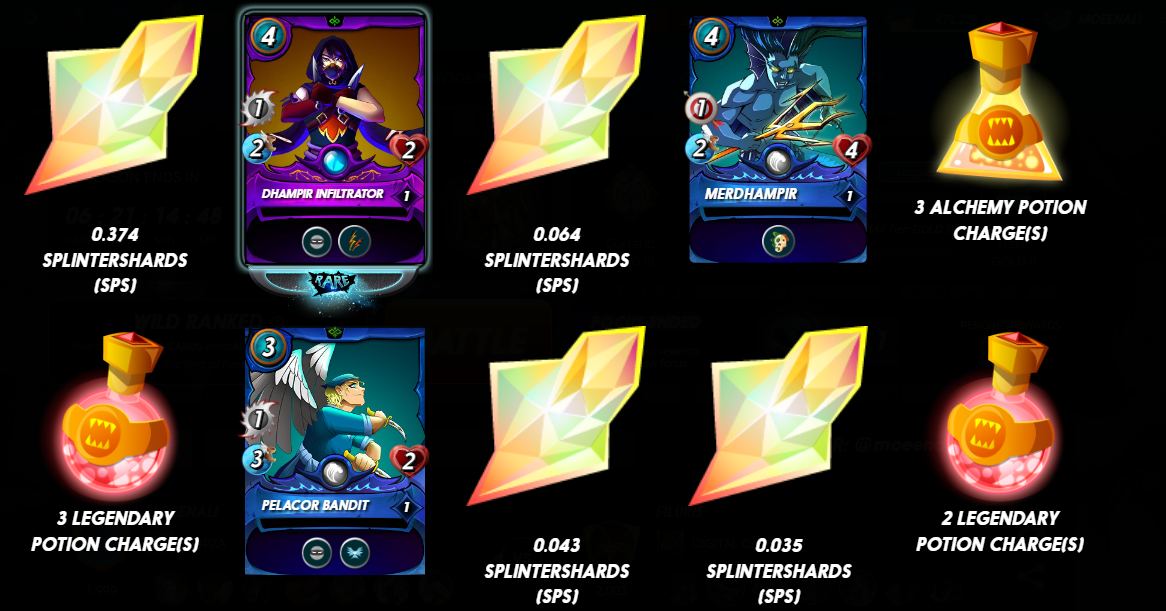 The focus rewards from today with the silver league which i claimed in my main account and almost made 11 loot chests and got these rewards including one rare and lots of potion charges with a small portion of SPS so tomorrow's rewards will be better because of the gold league chests i am playing battles in the gold league to get higher RP points and make at least 6 to 8 loot chest for tomorrow.

All images are from the Splinterlands website

If you are new to this game then signup here to play the game click here for signup
---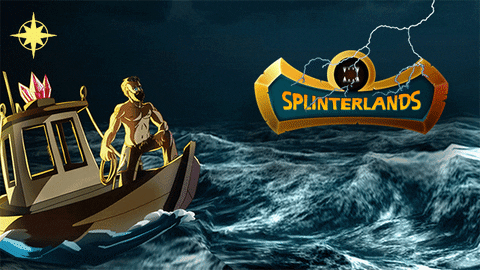 ---
Thanks For visiting my Blog
Best Regards @moeenali