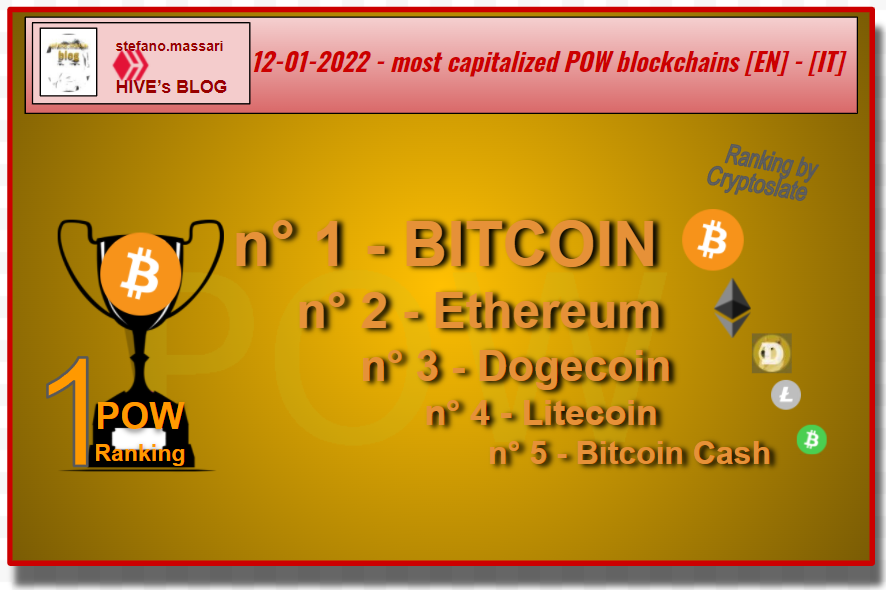 Ranking source: https://cryptoslate.com/cryptos/proof-of-work/
---
~~~ La versione in italiano inizia subito dopo la versione in inglese ~~~
---
ENGLISH
Classification
Today I went to view the Cryptoslate site and more specifically the section of the most capitalized Proof of work blockchains. My intent is to keep myself updated and keep the people who follow me updated. I believe that in 2025 this market will increase even more, so I think it is better to keep ready....
Link to the site where I got the information from: https://cryptoslate.com/cryptos/proof-of-work/
Let's see what are the top 5 most capitalized blockchain POWs.
Following the ranking of the top 5 is the ranking of the other 5 that round out the top 10.
The ranking of the top 5 most capitalized blockchain proof of work are as follows:
01 - Bitcoin (BTC)
02 - Ethereum (ETH)
03 - Dogecoin (DOGE)
04 - Litecoin (LTC)
05 - Bitcoin Cash (BCH)
Below is the ranking from 6th to 10th place:
06 - Ethereum Classic (ETC)
07 - Monero (XMR)
08 - Bitcoin SV (BSV)
09 - Zcash (ZEC)
10 - Kadena (KDA)
Considerations
Today, Proof of work blockchains are considered old generation blockchains. There are blockchains with architectures other than POW that have faster and cheaper transactions. Bitcoin however is part of this generation, Bitcoin was the first digital currency created on blockchain, and this was created with a consensus proof of work algorithm. An important note from this ranking in my opinion is that among these top 10 blockchain POWs there are two that are privacy coins, namely Monero and Zcash. In July Zcash and Kadena were not part of this ranking now they occupy the ninth and tenth place respectively. These two coins have taken the place of Decred and Dash.
Conclusions
Compared to July 2021, the ranking of the top three blockchain proof of work has not changed, Bitcoin remains in first place, as Ethereum in second and Dogecoin in third. Instead, I find the exchange of positions between fourth and fifth place quite important. Litecoin overtakes Bitcoin Cash and moves up to fourth place. Litecoin years ago was referred to as the silver of blockchain coins, over time it lost some popularity, but these days it is regaining some of the strength it had in 2017.
Question
What are your thoughts on this ranking? What are your favorite blockchain POWs?
Previous Posts
https://hive.blog/hive-146620/@stefano.massari/20-11-2021-ranking-of-the-most-popular-blockchain-games-en-it
Disclaimer
I am not a financial advisor, so what is written in this post is a personal opinion, not financial advice. If you want to invest, you have to do it consciously and on your own responsibility.
Referral
My HIVE referral link:
https://hiveonboard.com?ref=stefano.massari
---
ITALIAN
Classifica
Oggi sono andato a visionare il sito di Cryptoslate e più precisamente la sezione delle blockchain Proof of work più capitalizzate. Il mio intento è tenermi aggiornato e tenere aggiornate le persone che mi seguono. Io credo che nel 2025 questo mercato aumenterà ulteriormente, quindi penso che sia meglio tenersi pronti..
Link al sito da cui ho appreso le informazioni: https://cryptoslate.com/cryptos/proof-of-work/
Vediamo quali sono le prime 5 blockchain POW più capitalizzate.
Di seguito alla classifica delle prime 5 c'è la classifica delle altre 5 che completano la top 10.
La classifica delle 5 blockchain proof of work più capitalizzate sono le seguenti:
01 - Bitcoin (BTC)
02 - Ethereum (ETH)
03 - Dogecoin (DOGE)
04 - Litecoin (LTC)
05 - Bitcoin Cash (BCH)
Qui di seguito la classifica che va dal sesto al decimo posto:
06 - Ethereum Classic (ETC)
07 - Monero (XMR)
08 - Bitcoin SV (BSV)
09 - Zcash (ZEC)
10 - Kadena (KDA)
Considerazioni
Oggi le blockchain Proof of work sono considerate blockchain di vecchia generazione. Ci sono blockchain con architetture diverse dalla POW che hanno transazioni più veloci e meno costose. Bitcoin però fa parte di questa generazione, Bitcoin è stata la prima moneta digitale creata su blockchain, e questa è stata creata con un algoritmo di consenso proof of work. Una nota importante di questa classifica a mio avviso è che tra queste prime 10 blockchain POW ce ne sono due che sono privacy coin, cioè Monero e Zcash. A luglio Zcash e Kadena non facevano parte di questa classifica ora occupano rispettivamente il nono e il decimo posto. Queste due monete hanno preso il posto di Decred e Dash.
Conclusioni
Rispetto a luglio 2021 la classifica delle prime tre blockchain proof of work non è cambiata, Bitcoin rimane al primo posto, come Ethereum al secondo e Dogecoin al terzo. Invece trovo abbastanza importante lo scambio di posizioni tra il quarto e quinto posto. Litecoin sorpassa Bitcoin Cash e si porta al quarto posto. Litecoin anni fa veniva definito come l'argento delle monete blockchain, con il passare del tempo ha perso un po' di popolarità, ma in questo periodo sta riprendendo un po' della forza che aveva nel 2017.
Domanda
Cosa ne pensate di questa classifica? Quali sono le vostre blockchain POW preferite?
Post precedente
https://hive.blog/hive-146620/@stefano.massari/20-11-2021-ranking-of-the-most-popular-blockchain-games-en-it
Referral
Il mio referral link di HIVE:
https://hiveonboard.com?ref=stefano.massari