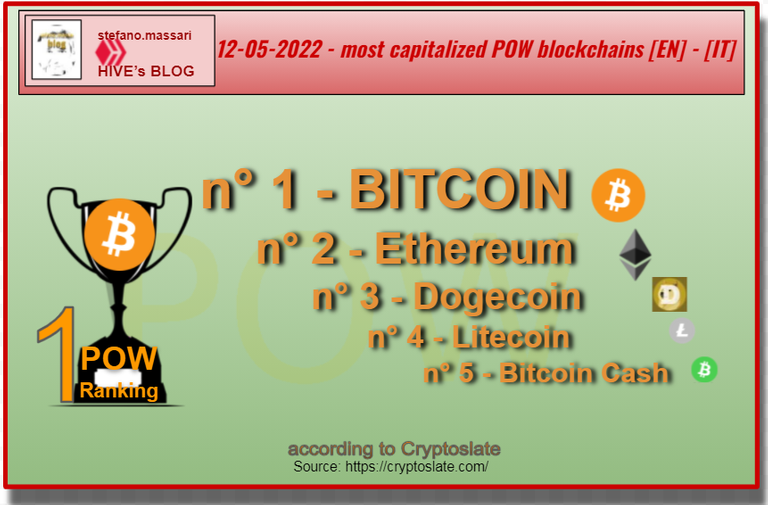 Ranking source: https://cryptoslate.com/cryptos/proof-of-work/
---
~~~ La versione in italiano inizia subito dopo la versione in inglese ~~~
---
ENGLISH
Ranking
Today I went back to look at the Cryptoslate site and more specifically the section of the most capitalised Proof of work blockchains. I think it is interesting to check this ranking to see how first generation blockchains still attract capital.
Link to the site where I got the information: https://cryptoslate.com/cryptos/proof-of-work/
Let's see which are the top 5 most capitalised POW blockchains.
01 - Bitcoin (BTC)
02 - Ethereum (ETH)
03 - Dogecoin (DOGE)
04 - Litecoin (LTC)
05 - Bitcoin Cash (BCH)
Below is the ranking from 6th to 10th place, which completes the Top 10:
06 - Ethereum Classic (ETC)
07 - Monero (XMR)
08 - Bitcoin SV (BSV)
09 - Zcash (ZEC)
10 - Kadena (KDA)
Considerations
It was mid-December 2021 when I last looked at this ranking. In the top 5, no change has occurred after 6 months. All the top 5 cryptocurrencies have remained in their positions. In the Top 10, there is some news. The sixth and seventh places still remain assigned to Ethereum Classic and Monero, but from eighth onwards there are changes. ZCASH moves from non-place to eighth, and Bitcoin SV relinquishes its position to Zcash, and is now in ninth place. Kadena drops out of the top 10 and gives way to Dash (DASH)
Conclusions
In the ranking of the most capitalised blockchains BITCOIN remains the absolute King. The capitalisation of BTC today, 12 May 2022, is $521 billion. As a comparison, we can take the market capitalisation of McDonald's, which today is 180 billion, as an example. So today BTC is worth almost 3 times the capitalisation of McDonald's. In second place in this ranking is ETH with $224 billion, almost half of BTC.
Question
Excluding Bitcoin, which of these 10 proof of work projects do you like best?
Previous Posts
https://hive.blog/hive-146620/@stefano.massari/12-01-2022-most-capitalized-pow-blockchains-en-it
Disclaimer
I am not a financial advisor, so what is written in this post is a personal opinion, not financial advice. If you want to invest, you have to do it consciously and on your own responsibility.
—-
ITALIAN
Classifica
Oggi sono tornato a visionare il sito di Cryptoslate e più precisamente la sezione delle blockchain Proof of work più capitalizzate. Ritengo interessante controllare questa classifica per vedere quanto le blockchain di prima generazione attirano ancora capitali.
Link al sito da cui ho appreso le informazioni: https://cryptoslate.com/cryptos/proof-of-work/
Vediamo quali sono le prime 5 blockchain POW più capitalizzate.
01 - Bitcoin (BTC)
02 - Ethereum (ETH)
03 - Dogecoin (DOGE)
04 - Litecoin (LTC)
05 - Bitcoin Cash (BCH)
Qui di seguito la classifica che va dal sesto al decimo posto che completa la classifica della Top 10.:
06 - Ethereum Classic (ETC)
07 - Monero (XMR)
08 - Bitcoin SV (BSV)
09 - Zcash (ZEC)
10 - Kadena (KDA)
Considerazioni
Era metà Dicembre 2021 quando ho visionato per l'ultima volta questa classifica. Nella top 5, dopo 6 mesi non è avvenuto nessun cambiamento. Tutte le prime 5 criptomonete sono rimaste nelle loro posizioni. Nella Top 10 c'è qualche novità. Il sesto e settimo posto rimangono sempre assegnati ad Ethereum Classic e Monero, ma dall'ottavo in poi ci sono dei cambiamenti. ZCASH dal non posto passa all'ottavo, ed è Bitcoin SV che cede la sua posizione a Zcash, ed ora si trova al nono posto. Kadena esce dalla top 10 e lascia il posto a Dash (DASH)
Conclusioni
Nella classifica delle blockchain più capitalizzate BITCOIN rimane il Re assoluto. La capitalizzazione di BTC oggi, 12 maggio 2022, è di 521 miliardi di dollari. Per fare un paragone possiamo prendere come esempio la capitalizzazione di mercato di McDonald's, che oggi è di 180 miliardi. Quindi oggi BTC vale quasi 3 volte la capitalizzazione di McDonald's. Al secondo posto di questa classifica troviamo ETH con 224 miliardi di dollari, quasi la metà di BTC.
Domanda
Escluso Bitcoin, quale tra questi 10 progetti proof of work vi piacciono di più?
Post precedente
https://hive.blog/hive-146620/@stefano.massari/12-01-2022-most-capitalized-pow-blockchains-en-it
—-
Il mio referral link di HIVE:
https://hiveonboard.com?ref=stefano.massari
My HIVE referral link:
https://hiveonboard.com?ref=stefano.massari