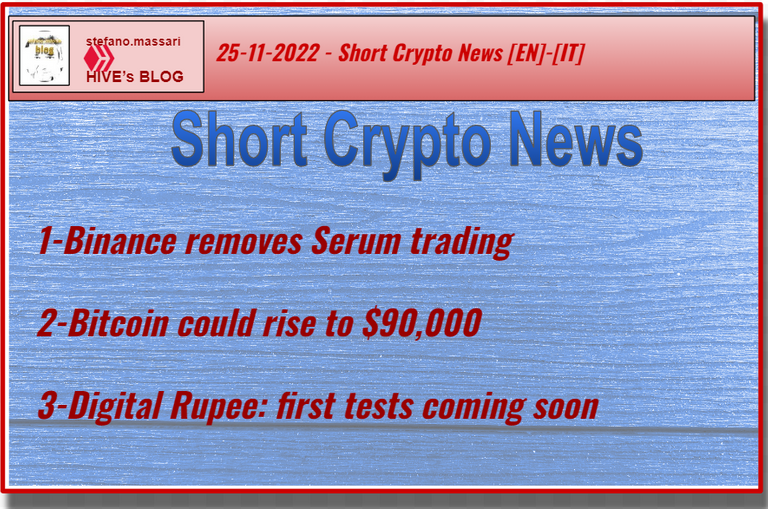 ---
~~~ La versione in italiano inizia subito dopo la versione in inglese ~~~
---
ENGLISH
Short news from the world of cryptocurrencies
1-Binance removes Serum trading.
Without specifying the cause, Bilance is removing Serum trading on its platform.
After the FTX crash that caused problems for Solana, more problems are on the way for this blockchain. Serum is a decentralised exchange created on Solana with the mission to provide the user experience of DeFi (Decentralised Finance) with some aspects of classic exchanges. The Serum token is the SRM.
Serum is built to run decentralised exchanges and offers low transaction costs, but it seems to have collaborations with FTX, Alameda Research and Solana. Now it is Serum, another Solana project, that is suffering the pressure of the bad situation with the collapse of FTX and Binance removing its trading.
2-Bitcoin could rise to $90,000
According to some analyses Bitcoin is in line for movement indicating an imminent rise in value. Analyst Henrik Zeberg states that Bitcoin is preparing for a strong run upwards. The strength that BTC is accumulating is similar to that of March 2020 and in the next upward rally it could reach $90,000 or $110,000. In short, according to some analyses it is not excluded that Bitcoin could approach the $100,000 mark in 2023.
3-Digital Rupee: first tests coming up
The RBI (Reserve Bank of India) is preparing to test the digital rupee. According to some sources, the first test could take place as early as December. The currently stated goal is to create a digital rupee that lives alongside the current one, there is no intention to replace the old system. Rupees and digital rupees will live together at the same time.
My opinion
1-Actually I consider Serum and Raydium to be the most interesting DeFi applications of Solana and this news could create further problems for both the digital exchange and the blockchain on which it is built.
2-I honestly don't think Bitcoin can make any big upward movements in a short time, in fact I think it has to drop to $10,000 before having a new bullish cycle. As far as I'm concerned, I don't think Bitcoin can reach $100,000 in 2023.
3-I have always thought that digital currencies cannot replace current currencies in the short term, it will take years before digital currencies take over. I think we will have to wait until 2030, but we will see. However, this news makes it clear that several states are thinking of introducing CBDC (Central Bank Digital Currency) digital currencies.
Question
What do you think of these three pieces of news? What is your opinion on them?
Previous Posts
https://hive.blog/hive-146620/@stefano.massari/29-10-2022-short-crypto-news-en-it
https://hive.blog/hive-146620/@stefano.massari/20-10-2022-short-crypto-news-en-it
https://hive.blog/hive-146620/@stefano.massari/04-10-2022-short-crypto
https://hive.blog/hive-146620/@stefano.massari/26-09-2022-short-crypto-news-en-it
Referral
My HIVE referral link:
https://hiveonboard.com?ref=stefano.massari

ITALIAN
Notizie brevi dal mondo delle criptovalute
1-Binance rimuove il trading di Serum.
Senza specificare bene la causa, Bilance rimuove il trading di Serum sulla propria piattaforma.
Dopo il crollo di FTX che ha causato problemi a Solana, per questa blockchain sono in arrivo altri problemi. Serum è un exchange decentralizzato creato su Solana con la missione di fornire all'utente l'esperienza della DeFi (Finanza Decentralizzata) con alcuni aspetti dei classici exchange. Il token Serum è l'SRM.
Serum è costruito per eseguire degli scambi decentralizzati ed offre bassi costi di transazione, ma sembrerebbe che abbia collaborazioni con FTX, Alameda Research e Solana. Ora è Serum, un altro progetto di Solana, che sta soffrendo la pressione della brutta situazione che si è venuta a creare con il crollo di FTX e Binance ne rimuove il trading.
2-Bitcoin potrebbe salire fino a 90.000$
Secondo alcune analisi Bitcoin sarebbe in linea con la costruzione di movimenti che indicano un aumento di valore imminente. L'analista Henrik Zeberg afferma che Bitcoin si stia preparando per una forte corsa al rialzo. La forza che sta accumulando BTC è simile a quella di marzo 2020 e nel prossimo rally al rialzo potrebbe raggiungere i 90.000$ oppure 110.000$. Insomma, secondo alcune analisi non si esclude che Bitcoin potrebbe avvicinarsi al valore di 100.000$ nel 2023.
3-Rupia digitale: primi test in arrivo
La RBI (Reserve Bank of India) si sta preparando a testare la rupia digitale. Secondo alcune fonti il primo test test potrebbe avvenire già nel mese di dicembre. L'obiettivo attualmente dichiarato è quello di creare una rupia digitale che viva insieme a quella corrente, non c'è l'intenzione di sostituire il vecchio sistema. Le rupie e le rupie digitali vivranno insieme contemporaneamente.
La mia opinione
1-Attualmente considero Serum e Raydium le applicazioni DeFi più interessanti di Solana e questa notizia potrebbe creare ulteriori problemi sia all'exchange digitale sia alla blockchain su cui è costruito.
2-Sinceramente non credo che Bitcoin possa fare grossi movimenti al rialzo in breve tempo, anzi, penso che prima di avere un nuovo ciclo rialzista debba scendere fino a 10.000$. Per quanto mi riguarda non credo che Bitcoin possa raggiungere i 100.000$ nel 2023.
3-Ho sempre pensato che le monete digitali non potranno sostituire nel breve le monete attuali, ci vorranno anni prima che le monete digitali prendano il sopravvento. Io penso che dovremo aspettare il 2030, ma staremo a vedere. Questa notizia fa comunque capire che sono diversi gli Stati che stanno pensando di introdurre le monete digitali CBDC (Central Bank Digital Currency)
Domanda
Voi cosa ne pensate di queste tre notizie? Qual'è la vostra opinione a riguardo?
Post precedente
https://hive.blog/hive-146620/@stefano.massari/29-10-2022-short-crypto-news-en-it
https://hive.blog/hive-146620/@stefano.massari/20-10-2022-short-crypto-news-en-it
https://hive.blog/hive-146620/@stefano.massari/04-10-2022-short-crypto
https://hive.blog/hive-146620/@stefano.massari/26-09-2022-short-crypto-news-en-it
Referral
Il mio referral link di HIVE:
https://hiveonboard.com?ref=stefano.massari
---
source news 1:
https://coingape.com/solana-latest-news-binance-decision-serum/
source news 2:
https://cointelegraph.com/news/will-bitcoin-hit-110k-in-2023-3-reasons-to-be-bullish-on-btc-now
source news 3:
https://blockchain.news/news/the-rbi-will-pilot-retail-cbdc-in-december
THE END