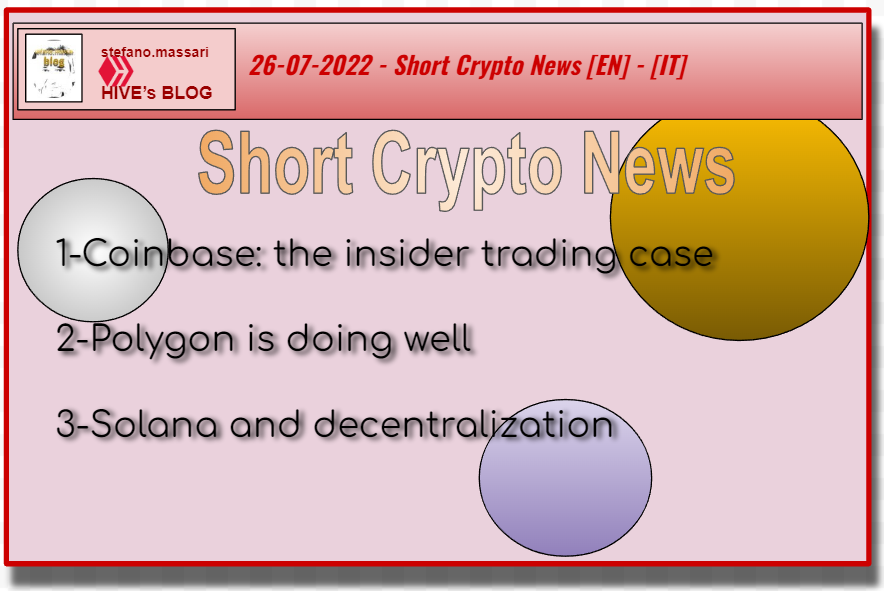 ---
~~~ La versione in italiano inizia subito dopo la versione in inglese ~~~
---
ENGLISH
Short news from the cryptocurrency world
1-Coinbase: the insider trading case.
Coinbase responds to SEC insider trading case, replying that none of the tokens it lists are securities. Coinbase has had to respond for an allegation of cryptocurrency insider trading.
A former Coinbase product manager has been charged with fraud in connection with an alleged insider trading scheme involving cryptocurrencies. This would appear to be the first such charge in the cryptocurrency field. Paul Grewal (Coinbase's chief legal officer) says Coinbase has a rigorous process for analyzing digital assets before making them available on exchanges, and this process has been reviewed by the SEC.
2-Polygon is doing well
Over the past 30 days Polygon has recovered very well. It seems that ETH whales have come in on this token. In the last 30 days it has gone from a low of $0.43 to a high of $0.96. Today, July 25, the MATIC token has a value of $0.82. Some data showed that ETH whales bought about $3 million worth of MATIC tokens in two days near July 20.
3-Solana and decentralization
There is widespread thinking in the cryptocurrency world that Solana is a blockchain project with some degree of centralization, but instead Solana claims to be more decentralized than people think. Unstoppable Finance, a German company that created the Ultimate wallet, claimed that Solana is more decentralized than people think..
My opinion
1-Coinbase continues to have some problems. I think it is a time when it is suffering vis-à-vis BINANCE and it is also not a good time for the value of its stock on the stock exchange. This not-so-good news continues to reduce the popularity of this digital exchange.
2-Polygon had a very good 2021 in which it became very popular, but even in this first half of 2022 it has been getting noticed. I think it will be one of those projects that is destined to stay and maybe, in the future, we will even see it enter the TOP 10 of Coinmarketcap's ranking.
3-In the past I've read many articles criticizing Solana for being not very decentralized, I honestly don't really know what to say, although I think it may be acceptable for a blockchain to take a certain path, i.e. to go from centralized to decentralized.
Question
What do you guys think about these three pieces of news? What is your opinion on them?
Previous Posts
https://hive.blog/hive-146620/@stefano.massari/21-06-2022-short-crypto-news-en-it
Referral
My HIVE referral link:
https://hiveonboard.com?ref=stefano.massari
---
ITALIAN
Notizie brevi dal mondo delle criptovalute
1-Coinbase: il caso di insider trading.
Coinbase risponde alla SEC per il caso di insider trading, rispondendo che nessuno dei token che elenca sono titoli. Coinbase ha dovuto rispondere per un'accusa di insider trading di criptovalute.
Un ex product manager di Coinbase è stato accusato di frode in relazione ad un presunto schema di insider trading riguardante le criptovalute. Questo sembrerebbe la prima accusa di questo genere nel campo delle criptovalute. Paul Grewal (responsabile legale di Coinbase) afferma che Coinbase ha un processo rigoroso per analizzare gli asset digitali prima di renderli disponibili sugli exchange e questo processo è stato esaminato dalla SEC.
2-Polygon sta andando bene
Negli ultimi 30 giorni Polygon si è ripreso molto bene. Sembra che su questo token siano entrate le balena di ETH. Negli ultimi 30 giorni è passato da un minimo di 0,43$ ad un massimo di 0,96$. Oggi 25 Luglio il token MATIC ha un valore di 0,82$. Da alcuni dati è emerso che le balene ETH hanno acquistato circa 3 milioni di dollari di token MATIC in due giorni, vicino al 20 luglio.
3-Solana e la decentralizzazione
Nel mondo delle criptovalute è diffuso il pensiero che Solana sia un progetto blockchain con un certo grado di centralizzazione, invece Solana afferma di essere più decentralizzato di quanto si pensi. Unstoppable Finance, società tedesca che ha creato il wallet Ultimate, ha sostenuto che Solana è più decentralizzata di quanto le persone pensino..
La mia opinione
1-Coinbase continua ad avere qualche problema. Credo che sia un periodo in cui sta soffrendo nei confronti di BINANCE ed inoltre non è neanche un buon momento per il valore delle sue azioni in borsa. Queste notizie poco belle, continuano a ridurre la popolarità di questo exchange digitale.
2-Polygon ha avuto un buonissimo 2021 in cui si è reso molto popolare, ma anche in questa prima metà del 2022 si è fatto notare. Credo che sarà uno di quei progetti destinati a rimanere e forse, in futuro, lo vedremo anche entrare nella TOP 10 del ranking di Coinmarketcap.
3-In passato ho letto molti articoli in cui si criticava Solana di essere poco decentralizzata, sinceramente non saprei bene cosa dire, anche se credo che possa essere accettabile per una blockchain un certo percorso, cioè passare dal centralizzato al decentralizzato.
Domanda
Voi cosa ne pensate di queste tre notizie? Qual'è la vostra opinione a riguardo?
Post precedente
https://hive.blog/hive-146620/@stefano.massari/21-06-2022-short-crypto-news-en-it
Referral
Il mio referral link di HIVE:
https://hiveonboard.com?ref=stefano.massari
---
source news 1:
https://www.cnbc.com/2022/07/22/coinbase-blasts-sec-over-insider-trading-case.html
source news 2:
https://coingape.com/polygon-matic-flips-this-token-to-become-most-traded-crypto-among-eth-whale/
source news 3:
https://cointelegraph.com/news/solana-said-to-be-more-decentralized-than-people-think-but-there-s-more
_
THE END