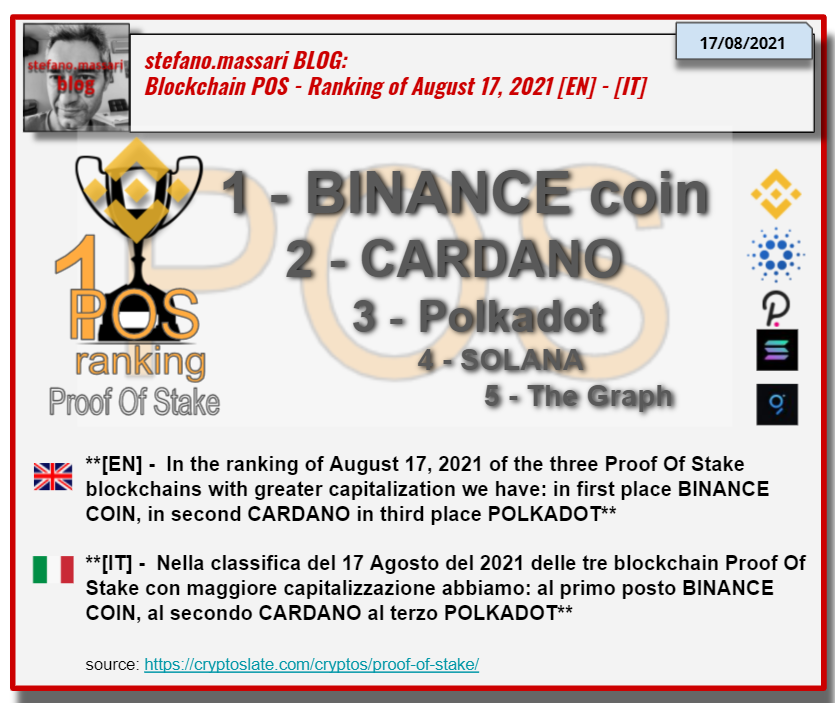 [EN] - In the ranking of August 17, 2021 of the three Proof Of Stake blockchains with greater capitalization we have: in first place BINANCE COIN, in second CARDANO in third place POLKADOT
[IT] - Nella classifica del 17 Agosto del 2021 delle tre blockchain Proof Of Stake con maggiore capitalizzazione abbiamo: al primo posto BINANCE COIN, al secondo CARDANO al terzo POLKADOT
source: https://cryptoslate.com/cryptos/proof-of-stake/
---
ENGLISH
Considerations
Among the Proof Of Stake blockchains with the most capitalisation we have in first place Binance Coin. In April 2021 Binance Coin was also in first place. We can say the same about the second and third places, occupied by Cardano and Polkadot respectively. In fourth place we have a change in the ranking. Solana took a step forward from fifth place to fourth. In fifth place there was a new entry. Fifth place is now occupied by The Graph, which enters the top 5 for the first time.
Binance Coin has a capitalisation of 72 billion dollars, Cardano 66 billion dollars and Polkadot 25 billion dollars.
We will now check the positions from 6th to 10th place:
06-Avalanche
07-Neo
08-Cosmos
09-Algorand
10-Elrond
There are some interesting news regarding these 5 positions. NEO lost one position and went from sixth place to seventh. Avalanche now occupies sixth place and in three places it climbs from tenth to sixth. Cosmos remains in eighth place. In ninth place, Algorand drops two places, while in tenth place we have a new entry, Elrond.
Conclusions
Binance Coin remains firmly at the top of the Proof of Stake blockchains with the most capitalisation. Watch out though for Cardano, in the last week it has grown by 32% and is getting very close to Binance Coin's capitalisation. Polkadot has a rather low capitalization compared to the two cryptomonets mentioned above, I don't think it will be able to take the place of Binance Coin or Cardano in the coming months.
Question
Do you think Cardano can reach and exceed Binance Coin's capitalization in the next 6 months?
Previous post
https://hive.blog/hive-146620/@stefano.massari/6w7mb9-stem73-blockchain-news-ranking-of-the-pos-blockchains-en-it
Referral
My HIVE referral link:
https://hiveonboard.com?ref=stefano.massari
---
ITALIAN
Considerazioni
Tra le blockchain Proof Of Stake con più capitalizzazione abbiamo al primo posto Binance Coin. Anche in Aprile 2021 Binance Coin occupava il primo posto. Non è cambiato nulla neanche nel secondo e terzo posto, occupati rispettivamente da Cardano e Polkadot. Al quarto posto, invece, abbiamo un cambio in classifica. Solana fa un passo in avanti e dal quinto posto passa appunto al quarto. La novità si presenta al quinto posto. Il quinto posto ora è occupato da The Graph che entra così per la prima volta nella top 5.
Binance Coin ha una capitalizzazione di 72 miliardi di dollari, Cardano di 66 miliardi di dollari, Polkadot di 25 miliardi di dollari.
Ora andiamo a verificare le posizioni dal sesto al decimo posto:
06-Avalanche
07-Neo
08-Cosmos
09-Algorand
10-Elrond
Ci sono delle interessanti novità che riguardano proprio queste 5 posizioni. NEO perde una posizione e passa dal sesto posto al settimo posto. Ora chi occupa il sesto posto è Avalanche, che in tre messi scala la classifica e passa del decimo al sesto posto. Cosmos rimane all'ottavo posto. Al nono posto scende Algorand che perde due posizioni, mentre al decimo posto abbiamo un nuovo ingresso, cioè Elrond.
Conclusioni
Binance Coin rimane saldamente al comando delle blockchain Proof of Stake con più capitalizzazione. Attenzione però a Cardano, nell'ultima settimana è cresciuta del 32% e si sta avvicinando molto alla capitalizzazione di Binance Coin. Polkadot ha una capitalizzazione piuttosto bassa rispetto alle due cryptomonete citate prima, non credo che potrà prendere il posto di Binance Coin o di Cardano nei prossimi mesi.
Domanda
Voi pensate che Cardano possa raggiungere e superare la capitalizzazione di Binance Coin nei prossimi 6 mesi?
Post precedenti
https://hive.blog/hive-146620/@stefano.massari/6w7mb9-stem73-blockchain-news-ranking-of-the-pos-blockchains-en-it
Referral
Il mio referral link di HIVE:
https://hiveonboard.com?ref=stefano.massari