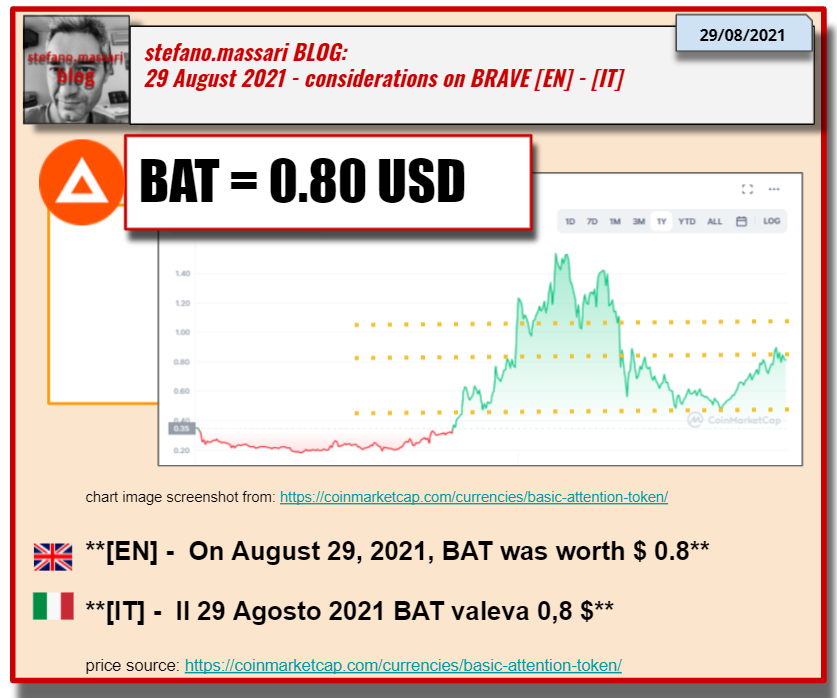 ---
ENGLISH
Considerations
BAT is the cryptocurrency with which Brave users who view advertisements are rewarded.
Looking at BAT's one-year chart, we see that in the second half the price has risen nicely. During this last year, the BAT token reached a high of 1.5 $, while the minimum was 0.18 $.
Link to the official website: https://brave.com/
In the last month I received 1.5 BAT by surfing with BRAVE.
Conclusions
The rewards in BAT for surfing and viewing advertisements in my opinion are still a bit low, while I think that the value of the BAT token is bound to increase with time. I think BAT has a 70% chance of returning to its all-time high before the end of 2021.
Question
Do you use BRAVE browser?
Previous post
https://hive.blog/hive-146620/@stefano.massari/stem73-news-brave-in-april-2021-the-value-of-the-bat-token-went-up-en-it
First post made on this topic
https://hive.blog/hive-146620/@stefano.massari/stem73-news-brave-the-crypto-browser-brief-analysis-en-it
Referral
My referral link to HIVE:
https://hiveonboard.com?ref=stefano.massari
---
ITALIAN
Considerazioni
Il BAT è la criptovaluta con cui vengono ricompensati gli utenti di Brave che visionano le inserzioni pubblicitarie.
Andando a settare il grafico di BAT ad un anno, notiamo che nella seconda metà il prezzo ha subito un buon rialzo. Durante questo ultimo anno il token BAT ha toccato un massimo di 1,5 $, mentre il minimo è stato di 0,18 $.
Link al sito ufficiale: https://brave.com/
Nell'ultimo mese ho ricevuto 1,5 BAT navigando con BRAVE.
Conclusioni
Le ricompense in BAT per navigare e visionare inseriti pubblicitari a mio avviso sono ancora un po' scarse, mentre credo che il valore del token BAT è destinato a salire con il tempo. Penso che BAT abbia un 70% di possibilità di tornare al suo massimo di sempre prima della fine del 2021.
Domanda
Voi usate BRAVE browser?
Post precedente
https://hive.blog/hive-146620/@stefano.massari/stem73-news-brave-in-april-2021-the-value-of-the-bat-token-went-up-en-it
Primo post fatto su questo argomento
https://hive.blog/hive-146620/@stefano.massari/stem73-news-brave-the-crypto-browser-brief-analysis-en-it
Referral
Il mio referral link di HIVE:
https://hiveonboard.com?ref=stefano.massari